Ever since Santa Cruz added a much anticipated e-Bike into the range, just like the general public, their Factory Race Team riders have been absolutely loving the new bike.
Take a quick glance at Peaty or Minnaar's social media channels these days and every second post is of the lads razing along the trails aboard their Hecklers. Peaty has been a long time friend of the mag and we recently caught up with him for a chat about his set-up and a little insight into how he rides the newest toy in the shed.
Photos // Jim Topliss
[E]vo: G'day Steve! Mate we sure have been seeing plenty of you out and about on SantaCruz's new Heckler recently. What is it about e-Bikes that you enjoy? 
Steve: Eh up Mate! Yeah, it's been nice getting to know the new Heckler recently, for me it gives me the chance to explore new riding areas and go to places I usually wouldn't. I feel like I plan my pedals more, but when I ride the Heckler I can just point and shoot anywhere and not be so worried about which climbs I might have to hit. I live close to short but steep trails, so the heckler gives me way more DH time on rides.
Did it take long to get used to the whole e-Biker thing, motor assistance and the extra weight, etc, when you first rode one out on the trails? 
Not really, the Heckler weights not much more than a DH bike that I have ridden for years, so that part of it was quick. The power is strange at first and I feel like I'm still learning this to be as efficient as possible to get the most out of the ride.
What length rides do you tend to do when you head out on the e-Bike? 
Same as my normal rides really, but I'm also exploring more so sometimes I've been out longer, 2 hours plus usually. If I fancy an epic day then I can take a spare battery in a pack too.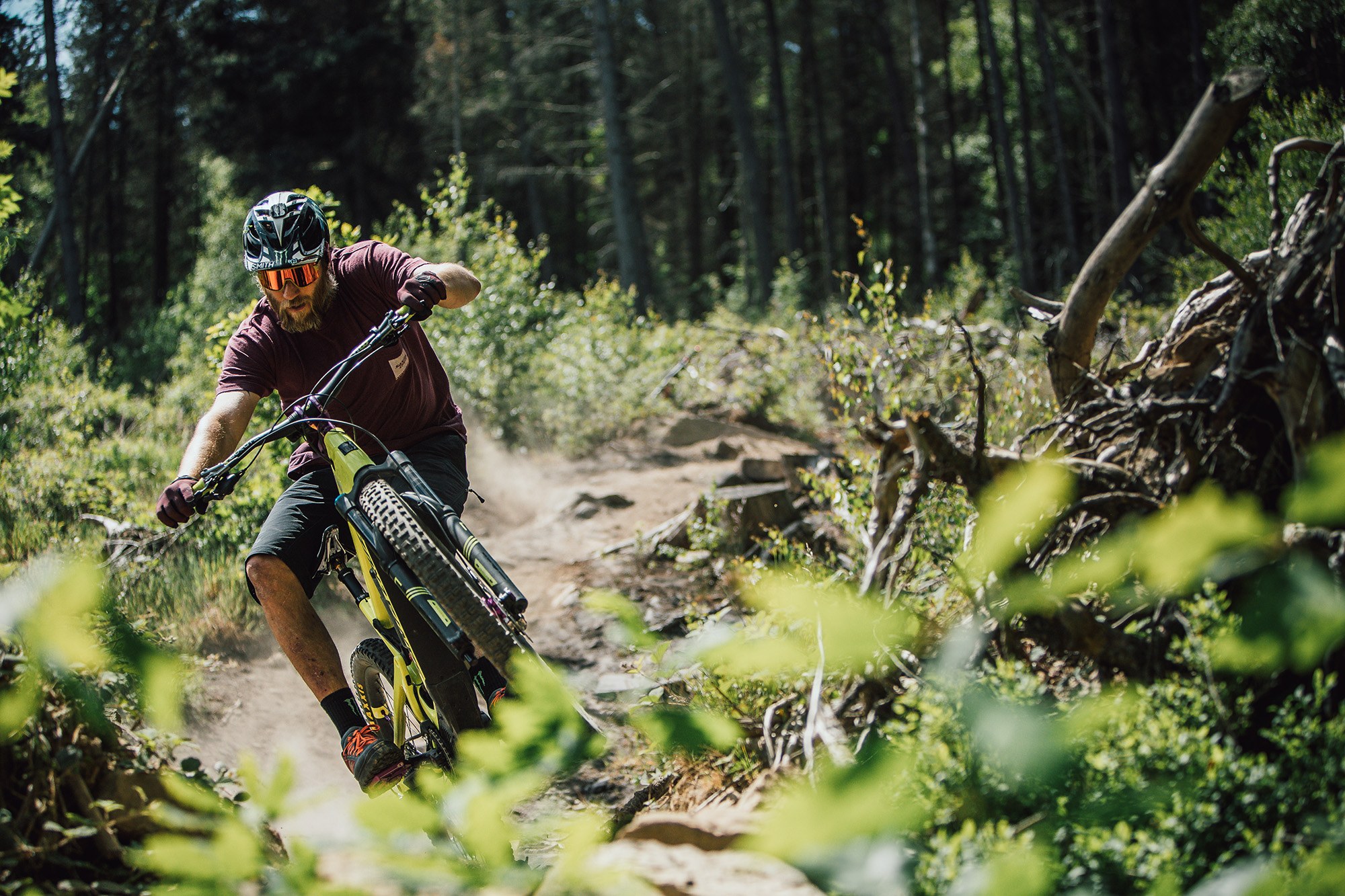 In terms of what you carry during a ride do you find yourself packing different gear when you're heading out for a raze on the Heckler as opposed to a regular trail bike? 
No, the same items do the same stuff. There is not much you can't do on the Heckler without the normal tools, Repair kit and Pouch of Peatys tubeless sealant, just in case.
The Heckler utilises a Shimano Steps e8000 motor which features 3 power mods (eco, trail, boost), do you switch between those different modes during a ride or do you tend to stick with one? 
I tend to ride in Eco the most, it's a bit more of a workout that way and obviously the battery last's a little longer. When it gets steeper for a while I'll change into Trail mode. And of course, if I fancy a mad blast out on my own then boosts adds another fun lever to the ride.
You're a big fella obviously, how long can you get out of a battery before it goes flat?
Depends on the trails, if the ups are steep and long it will drain a little quicker, but I would say a good average blast for me on this bike is 2 1/2 to 3 hours easily.
Tell us a bit about how you've got your Heckler set-up, component wise? 
If I'm honest mate I have been a bit of a tart with this Heckler! Haha I've done a little throwback to the 90's with a splattering of purple parts from Chris King with Hubs and Headset, then Burgtec just dropped the new MK3 stem so I have that, Headset spacers and cap, Axles, and Crank caps in Purple with 38mm High rise bars and Cloud Saddle. It's a Shimano engine and those guys supply my XTR shifting and braking needs too. Fox Suspension front and back, with 36's up front and DPX2 factory shock on the rear and a 175mm Transfer factory Dropper. Santacruz Reserve 30 rims with Maxxis Minion DHR 2 rubber, and Peatys products Purple vales, Tubeless sealant and Rim Tape. A few finishing touches with Lizard skin Peaty grips, Crankbrothers Stamp pedals and a new Peatys Products Magnetic Bottle.
Have you experimented much with different suspension settings? 
I've played around a little but keep going back to my usual. I like quite a stiff bike for my size and enjoy using the body to generate trail speed so the bike can feel really stiff to other people.
Hey, what's is your 'go to' tyre preference and pressures for the e-Bike? 
1.9 bar back and 2.0 front, old school measurements… Haha!
And finally, what do you think the future will hold for e-Bike development and trends?
It's certainly here to stay, I love the fact I have friends that have come back to riding because of e-Bikes, and it also levels the playing field when a group of mates are out on them. I believe they will only get lighter and have better battery power. as much as I love to ride my normal bike, I also like the exploring side of things on the e-bike.