To this day I vividly remember the first time I ever saw an Avanti and I thought it was the most badass looking bike on planet earth! The year was 1998 and this particular bike was being ridden by a very young, yet very large, Nathan Rennie, whom most of you will recognize as the lad that went on to become one of the most iconic mountain bikers to ever point a bike down a hill. Avanti was one of Nathan's first sponsorship deals and the bike he had was one of the wildest looking machines I have ever seen, even to this day. The down tube on the thing had a massive diameter, like as fat as a rugby ball, and it featured an equally massive rear shock, and the whole bike was black and it had these sweet Avanti graphics written all over it. From that point on, Avanti had won a place in my heart forever.
Avanti was originally launched in New Zealand over 30 years ago and over that time the brand has swung in and out of 'coolness' with the high-end MTB market, like a lot of brands tend to do. But in recent years we've noticed quite the resurgence of Avanti back in the market. They're gaining a lot of traction and their latest premium MTB range is certainly pulling its fair share of attention and excitement. We've been seeing a heap of Avanti's out on the trails across Australia this summer and the particular model that we've spotted the most is this one right here, the 27.5" wheeled Torrent all-mountain machine. Curious to see for ourselves, we were quick to put our hand up for a review and a few weeks later this impressive looking stead arrived at our office.
The Avanti Torrent is a 150mm (rear), 160mm (front) travel, 27.5" wheeled trail bike which is available in three different models; the 'S1' and 'S2' which both feature alloy frames, and then the top of the line 'CS' model which boasts a carbon frame. We've been riding the S2 which is the higher spec of the alloy models and comes in at a very affordable price tag of just over four grand which makes this bike a hot contender in the competitive 'mid-level' trail bike category. At a glance, the Torrent S2 certainly looks to offer a lot of 'bang for your buck' and we were frothing to get it out on the trails!
Whilst unpacking the bike we could tell straight away that Avanti's team of engineers had poured a lot of attention and detail into designing the Torrent's frame. The lines and curvature of its hydroformed aluminium tubeset flows smoothly from front to back. And even though there are visible welds where each tube meets, I feel that Avanti have managed to create an overall quite seamless looking frame. We dig its overall styling too. Stealthy, dark purple with a splash of hot orange accents all of which really set the appearance of the bike off nicely.
The Torrent suspension platform has been created using a 4-bar linkage, with what is essentially a Horst Link system to deliver 150mm of rear wheel travel. It also utilizes a one piece integrated rocker link, and to increase the frames rear end stiffness, the Torrent uses a Syntace X-12 rear thru-axle system. Avanti have named the Torrents linkage their 'Tru4' design and they state that the 4-bar mechanism positions the rear axle on the isolated seat stay. This then optimises the "virtual pivot point" so the suspension system operates efficiently and independently of rider effects, braking, accelerating, etc. Adding to the bike's pleasing aesthetic appearance is its cable management. Tidy external cable routing tucks everything away neatly down the underside of the bike's downtube.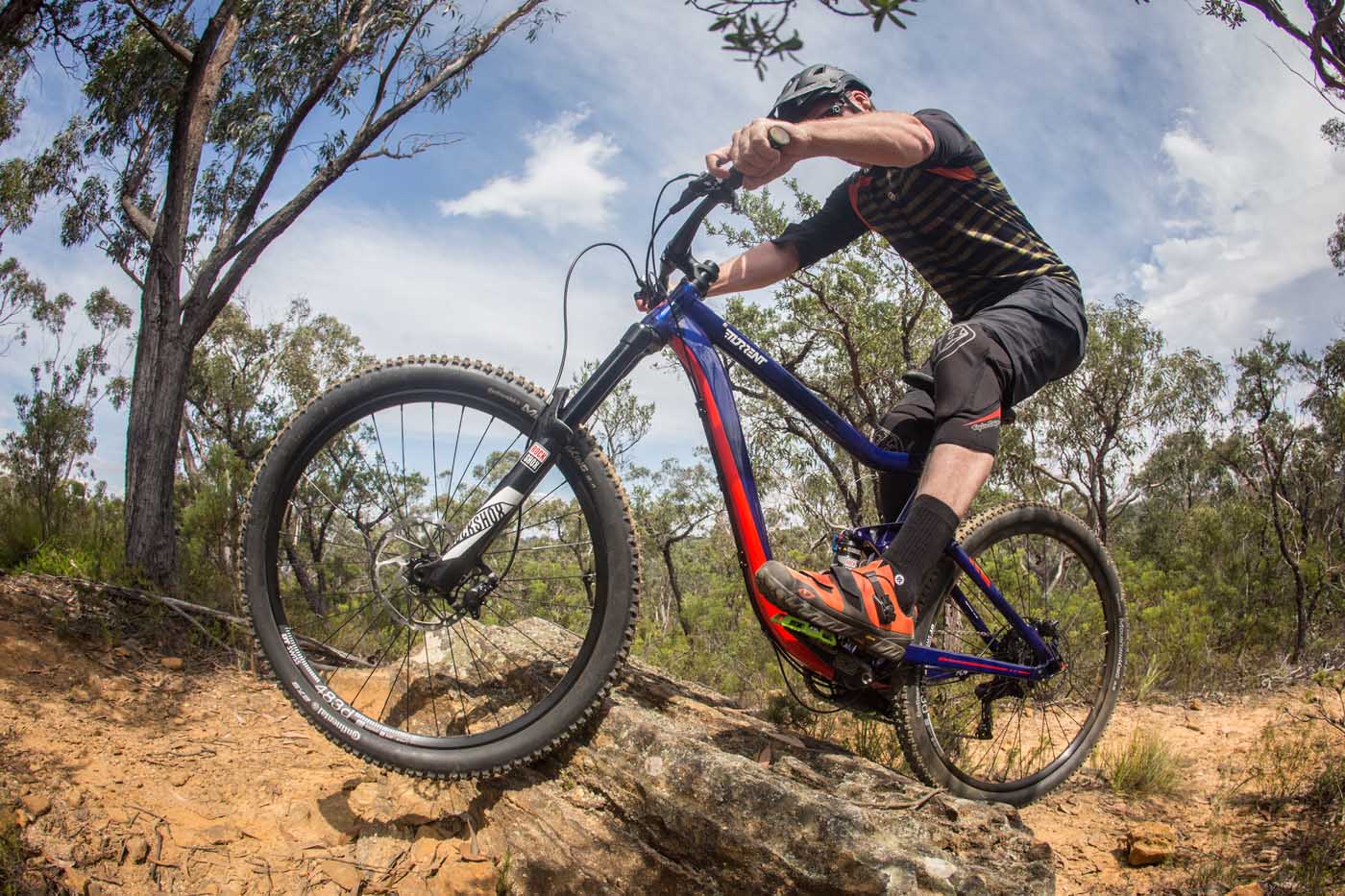 It's cool to see that even at this price point, modern mountain bikes are coming with well thought out component specs that have clearly been selected for trail handling performance. A wide range 1x drive train with chain device for example, and then good suspension, a dropper seat post, nice wide bars and a short stem, a larger front brake rotor – these are all the types of thing 'real riders' want on their bikes and not so long ago they'd have had to upgrade their parts after they'd bought their bike. The Torrent S2 comes stock with all these goodies.
The S2's features a wide range 1-by specific drivetrain. This 11 speed set-up is taken care of with a mix of Shimano (so you know it's going to be super durable and reliable) featuring an XT rear derailleur, SLX shifter, 11-42T cassette, e*thirteen TRS cranks with an integrated 30 tooth chainring and finally, an e*thirteen TRS guide to ensure you never drop your chain. Throughout the entire time I rode this bike I couldn't fault the performance of this drive train in any way. Considering the fact that the Torrent's price tag is roughly half the price of most bikes that I get to ride, I could have forgiven it if it only performed half as well, but that wasn't the case at all.
Another great spec choice is the bike's KS Integra dropper post which works smoothly, consistently and is remote adjustable. As I've come to expect over the years, the Rock Shox Pike RC fork (160mm travel) performed excellently. They're stiff, lightweight and even straight out of the box their up and down action is buttery smooth and ready to eat up every last bump out on the trails.
The stopping is taken care of by Shimano and even though Deore is a lower spec, the 180mm rotors on the front and 160mm on the rear did a great job of stopping us. They worked well and are easily adjustable, what more could you want?
If there was one area that Avanti saved a few bucks, it'd be on the Deore brakes. Considering that Deore is right down the entry level end of Shimano's range I really wasn't expecting a lot out of the performance of these brakes. However, they did actually work pretty well. I was surprised how consistent the lever 'feel' was throughout each ride too, even when the brakes got nice and hot after a long decent, they didn't noticeably 'pump' or 'fade'.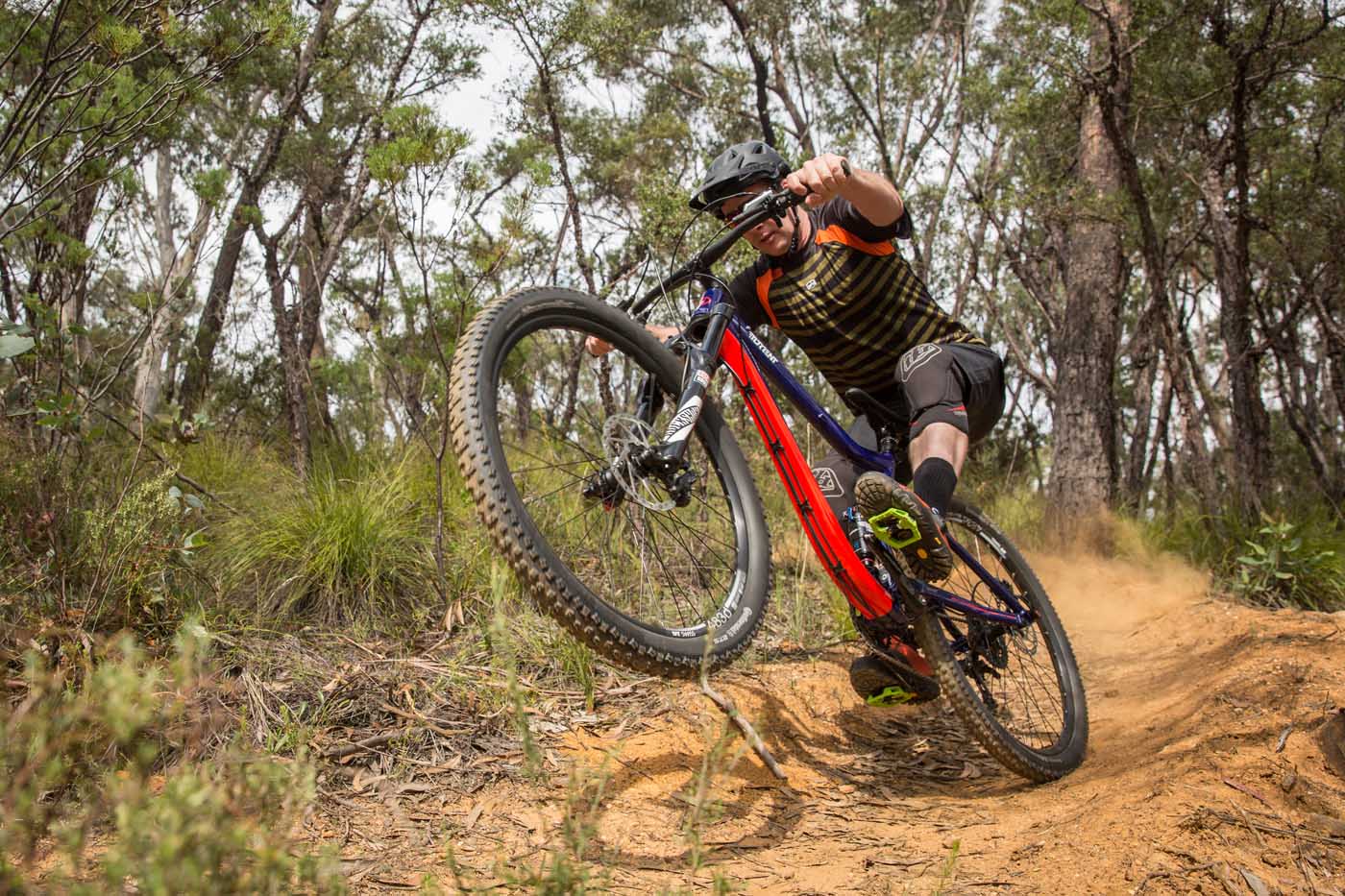 Enough talking about the Torrent's spec, let's move on to how it rode… I reckon Avanti have pretty much nailed the geometry on this bike. Within the first half ten minutes of riding it, I already knew I liked the bike. Short chainstays, slack head angle, low bottom bracket and 27.5 wheels are all fashionable 'buzz' words right now for good reason; they all make riding really fun.
When the trail heads towards the sky there might be quicker climbers in this class of bike, but the Avanti would not be far off the mark from the best. The bike's rear wheel traction under power is outstanding thanks to the small bump compliance delivered by its Rock Shox Monach shock. I rode the majority of the time with the shock open and never really felt like it needed more compression dampening to pedal well. It's not as happy in this position while in the granny gear, but the added traction is a welcome trade off. When sending the bike off jump and drops, the bigger hits were comfortable on the Torrent and even though I opted to set the bike up a little on the softer side, bottoming out its suspension was never an overly harsh experience.
The Torrent S2's frame is stiff, strong, has really nice angles, and it's capable of riding aggressively when you really want to get out and party. With just a few minor component upgrades the Torrent will be a bike that will serve you well out on the trails for a few seasons. Overall the Avanti Torrent 2 is a capable all-mountain machine and considering its very affordable price tag of just over four grand, makes this bike a hot contender in the competitive 'mid-level' trail bike category.
Review // Will Mackie
Photos // Richard McGibbon
SPECIFICATIONS
Frame // 6061 Ultralite Custom Formed Alloy, 150mm Travel 'Tru4' Independent Suspension System, Cartridge Bearing Pivots, 1.5″ Tapered Headtube, Syntace X12x142, ISCG05 Mount, Internal and External Dropper Post Routing.
Wheel size // 27.5"
Available sizes // Small – XL
Fork // RockShox Pike RC fork (160mm travel)
Rear Shock // RockShox Monarch Debonair Rear shock (150mm travel)
Seat Post // KS LEV dropper post
Cranks // e*thirteen TRS cranks with integrated chainring
Rear Derailleur // Shimano XT
Brakes // Shimano Deore brakes.
Price // $4299.95
Browse // www.avantibikes.com/au