At 150mm of travel front and rear, coupled with relatively modest geometry numbers, the Spectral:ON slots itself into the all-rounder/playful trail bike category.
Reviewer // Blake Nielsen  Photos // Matt Staggs
Given the Spectral:ON's geometry package and its amount of travel which category does the bike slot into and what type of rider is it aimed at?
While the suspension package is very capable, it's not put together to be a self shuttle'able downhill bike. It's very nimble in the way that the bike moves underneath you on cue and loves tight technical riding. It invites you to jump around and will put a huge smile on your face, while tempting you to ride up pinches that you thought surely weren't possible as if you were an amazing trials rider. It's like a Swiss Army knife, very capable of many different things, but doesn't necessarily lean towards one particular genre. The type of rider who will enjoy this bike the most will be someone who likes to play around on the bike a bit more, rather than be about all out speed. A Jack of all trades you could say.
Talk us through the Spectral:ON's frame? With a carbon fibre front triangle, an alloy rear end and very sleek lines throughout this is definitely up there with the best looking of e-bikes. It's not trying to hide the fact that it's a pedal assist weapon, rather using the necessary size of the downtube that is housing it's battery as a design feature. Aside from some smaller features such as the integrated seat tube clamp and the tool free bolt up rear axle, the frame doesn't that've anything particularly out there going on. It's construction is quality, the carbon finish on the inside of the frame is very nice which is confidence inspiring. A solid alloy rear end, coupled to the front end via some high-quality linkage bearings and pivot bolts. We tested the stealthy grey/black colour scheme but there is also a beautiful green/teal colour option too.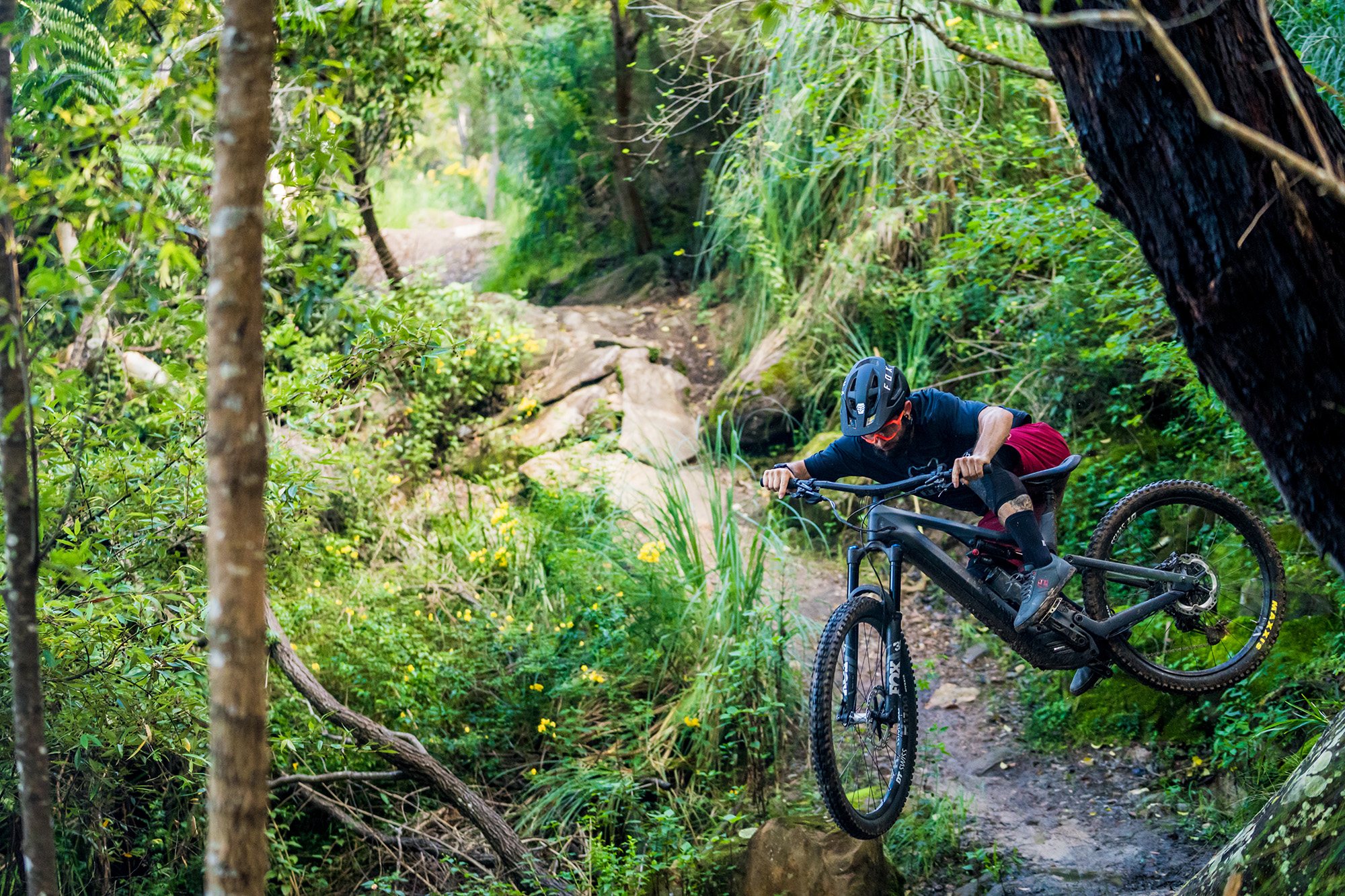 The bike's suspension design is what Canyon call their 'Triple Phase Suspension' linkage, how does it work and how does it feel out on the trial? Canyon offer their Triple Phase Suspension with 3 key features. A sensitive beginning stroke to offer traction and control and increased mid-stroke support helping to keep momentum through berms and jumps. As well as a progressive end stroke for the bigger hits and a bottomless feel. This was my first time experiencing a Canyon dual suspension bike and I was straight away impressed with how the mid-stroke of the design kept the bike up in its travel, especially considering the weight of the bike. If there's one thing Canyon (all e-bike manufacturers for that matter) could have done though is make the suspension curve a little more progressive, at the end of the day we can add more air tokens to the shock, but with the added 10 or so Kg I always find myself going to the extremes of tokens straight away. I was quite impressed by the claimed and true mid-stroke support from the suspension design, a characteristic that is usually attained by a custom shock tune is at your fingertips out of the box with the Triple Phase Suspension design.
We all know that 'Blake Nielsen' is a big fan of a mullet wheels set-up, so we were pretty stoked when this bike arrived sporting a 27.5" rear wheel and 29" up front? Yep, we are seeing more and more big manufacturers offering their bikes with a mullet setup straight out of the box, or geometry that allows you to make the change yourself without sacrifice. I am forever sampling all of the wheel size options and setups and I see no disadvantage to having the smaller back wheel. You don't get that "hung up" feeling on edges or holes with a 27.5 rear wheel like you do on the front wheel. You do however have a lot more control of the back of the bike if it's more compact, this is a big advantage when changing the direction of a 23kg bike in a hurry. Of course, everyone will have their own reasons for liking particular wheelsizes, I like to describe the mullet setup as being the best of both worlds though.
One of the big talking points of the Spectral is that it boasts Shimano's new EP8 motor. Having spent a lot of time riding e-MTB's with a Shimano Steps E8000 motor, what are the biggest differences that you found between the two power units? The new EP8 ticks all the boxes as a solid all round performer, and it does 'it all' just that bit better than its predecessor. It's a bit lighter, quieter and more powerful. But I would say by far the most impressive and advantageous improvement is the reduction in resistance when the motor is off or above it's 25km/h assistance limit. Shimano claim that there is 36% less resistance which is substantial and if you have ridden the older e8000 model, straight away noticeable. Alongside these factors, the shape of the motor has changed and shrunk. This allows for more clearance in the underside as well as being a bit more aesthetically pleasing, and easier for manufacturers to incorporate the lines of the motor into their frame design.
EP8 has been copping a bit of flack from people online regarding noise issues, did you notice anything like that and what's your overall take away about the new motor? For the record, I have had my hearing checked regularly for my day job before we talk on this topic (ha-ha). There's online and forum talk that has put a shadow on the EP8 setup which I think is unjust. There is a very short noise on the take up of the new clutch system in the motor, which is also responsible for the huge performance increase from the "drag when not driving" perspective, so that is a pretty good trade off. As far as that motor whine while dosing the power goes, it's very negligible to say that it's "worse" than any other motor. It's a necessary part of the magic experience of e-biking, add some trail noise in there and I'm sure you won't be able to hear it anyway because the ends of your smile will be covering your ears. Another thing to take into consideration is the frame that the motor is mounted to. Remember that noise that you were sure was your headset but ended up being your cassette not being quite tight enough? Bike frames have always resonated noise in funny and annoying ways.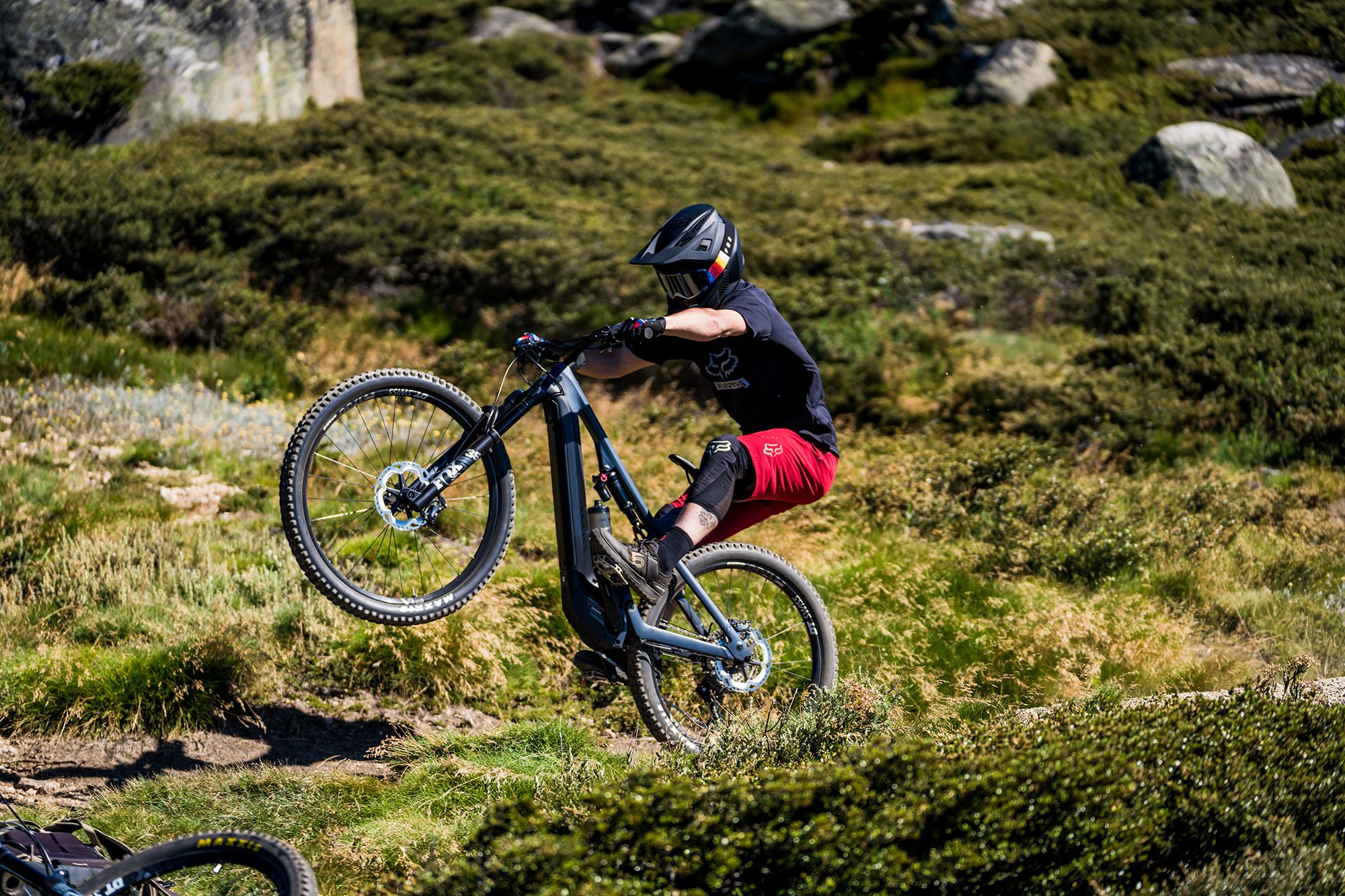 The bike obviously comes with a lovely big 630Wh battery – did you find it a nice luxury to have that much extra juice in the tank for whenever you need it? The progression and efficiency of these batteries is actually scaring me, imagine where we will be in 5 years time! On several occasions now I have run out of power before the Canyon has, I have completely drained the battery once and left myself with a 6km pedal home which was absolute torture, however for science's sake I found out that I was able to get 55km and 2400m vert in one ride of DH laps, straight down and back up some of the Blue Mountains most gnarly trail. I'm really not convinced you need much more than 630Wh worth of battery. Whether it's going for a longer distance, or keeping that motor in Boost mode on the climbs, that much stored energy on tap is a great thing.
Weight wise the Canyon is at the lighter end of the spectrum of a lot of (full size battery) trail e-MTB's on the market. That being the case, did it feel manageable and 'balanced' whilst you're riding? At an advertised 23kg out of the box, with some solid hard hitting components Canyon have done very well in getting the weight balanced between the wheels and as low as possible. Even though it may not necessarily be any lighter than other bikes in it's category, due to the more play inspired geometry numbers, the bike feels lighter on the trail than most.
It feels incredibly nimble, while still having that bit of extra weight that you can use to your advantage when looking for traction or holding a line through the rough stuff!
When you first spot the Canyon Spectral:ON CF 8 in the flesh one of the very first things that punches you in the eyeballs is that 1-piece carbon bar and stem, which also integrates the Shimano digital display. What's your take on it and how does it handle?  At first, in all honesty, the Canyon CP12 carbon cockpit does look like something from a spaceship. With some extra curves to keep the backsweep of the setup on trend with the geometry of a conventional bar and stem it does feel a bit odd to sit behind it and look at. To actually ride the setup though is normal, it feels nice and the appearance has certainly grown on me. Overall, though, the weight savings of the package are somewhat lost on an e-bike, so I'm not sure it's entirely worth the extra added cost.
Compared to other e-MTB's that you've been riding lately how does the Canyon Spectral:ON CF 8 stack up and what are your final thoughts on this rather exciting machine? I've really been liking this style of 'mid travel' for e-MTB, a lot more that I thought I would to be honest having ridden so many long travel e-MTB's recently. For me, the humble e-MTB could have always been a long travel gravity beast, because why not? The motor assistance would carry a bit of slack getting it back to the top right! But after getting the suspension set-up correctly for the Spectral:ON, I quickly realised that this mid travel weapon was going to be as fun as any bike I'd ridden, even if it had the extra 10kg's worth of battery and motor. After each ride one thing that would always come to mind was how well balanced the bike is, making it very easy for the rider to be in a confident riding position at all times. A very reliable spec on the bike and colour options on both ends of the spectrum is sure to please almost everyone too!
I think Canyon have done really well with this bike, there isn't anything that has been done that's very out there or ground breaking. It is just a very solid bike that rides well in literally any situation you put it in! A real smile making machine.
Specifications
Frame // Carbon front triangle, alloy rear.
Size options // S-XL
Fork travel // 150mm
Rear travel // 150mm
Wheel size // Mullet 27.5" rear, 29" front
Motor // Shimano EP8
Battery // 630Wh
Weight // 23.5kg
Price // $10,895
Browse // www.canyon.com