'Total control, unparalleled bump-eating suspension, and a fine-tunable geometry are hallmarks of the all-new Stumpjumper EVO Expert. ' Lofty words from Specialized to say the least! Long time [R] tester Blake Nielsen got his hands dirty onboard their new Swiss Army knife of bikes on everything he could, from home trails to Thredbo. Read on!
Reviewer // Blake Nielsen   Photos // Matt Staggs
Let's start nice and easy with your first impression of the Evo once it arrived at [R]evo's office?
The first thing you're drawn to is the beautiful high gloss over raw carbon finish that graces the top half of the bike, while the bottom drips with a beautiful celeste paint job (on our Expert model). It has still got the same Stumpjumper frame shape that we have loved for the last few years, which we were a little surprised about given the redesign of the Demo and Enduro. The bike has ticked all the boxes on the looks department for us though and is finished to the highest quality like you'd expect from such a brand.
The 'new' Stumpy Evo was released late in 2020 – what is so different between this bike and the version it superseded?
The latest version has definitely stepped into the Swiss Army knife range of bikes, with 3 individual head tube angle settings thanks to some smartly designed and supplied headset cups, 2 position BB height adjustment and the option to run as a full 29er or "mullet" setup with an interchangeable yoke to keep the suspension feeling as it should. As well as being offered in carbon, it's been a big year of updates for the Evo model.
Hit us with the key geometry numbers and the adjustable features of the Stumpy Evo?
Like I mentioned above, you've got the choice of setting the bike up with 3 individual head angle settings with the interchangeable cups, each change will give you 1 degree difference. Steep – middle – slack in the low BB setting gives you 65 – 64 – 63 degree head angles respectively. Add 0.5 degrees to that for the high BB position. The reach on the bike isn't huge, I was on the S3 size which gave me 444mm reach. I was comfortable but if you're after a particularly long bike you may want to upsize from your normal choice. You have a nice comfortable climbing position thanks to the 77 degree seat tube angle and a playful rear end with a 441mm chain stay and 1229mm wheelbase on the S3.
How do the headset cups work and did you play around with different set-ups during the review?
The headset cups are a breeze to work with. There is one eccentric cup which gives you the steep and slack position. Another cup with the central bearing position gives you the middle position. To swap them out is no harder than a normal clean of your headset bearings. A couple of basic tools and grease, a bit of mechanical know how and 10 minutes "presto" the Evo has changed into a different machine.
Specialized utilise a different take on frame sizing called S-Sizing. What is the theory behind it and how did the S3 frame size (as reviewed) feel to you?
Specialized have been sizing up some of their models with "S-sizing" for a couple of years now. They have copped flak from people not looking into what this actually means. They are sizing bikes based on "style". The smaller the s-size, the more agile and in turn less stable the bike, the larger the s-size, the less agile and more stable the bike. Across all the sizes they are working hard writhing their designs to keep the stack and standover of their frames as low as possible, to give the rider more room to move around on top of the bike or more the bike underneath themselves easier. The S3 for myself is bang on, I don't like a long reach bike, traditionally I ride a medium however in some brands these are far too long in the reach for me, but a small is too low in the seat tube length. I like that the big S is trying something different here with sizing.
The Evo showcases Specialized's latest generation SWAT compartment – how does it work and what did you think about it?
The Specialized SWAT systems may seem a bit gimmicky at first, but once you live with them you won't want to leave them. Storage, Water, Air, Tools is the acronym. The Evo features the SWAT storage compartment in the down tube accessible by the removable bidon cage mount. Inside you will find a neat little tool bag to keep things from rattling around and an awesome, flexible water bottle with about 650mL capacity. This weight is right over the BB, exactly where you want it and has saved my thirsty a$$ a few times in these hotter months.
You will also find a multi-tool hidden in the bottom of the bidon cage, all included! How good is that.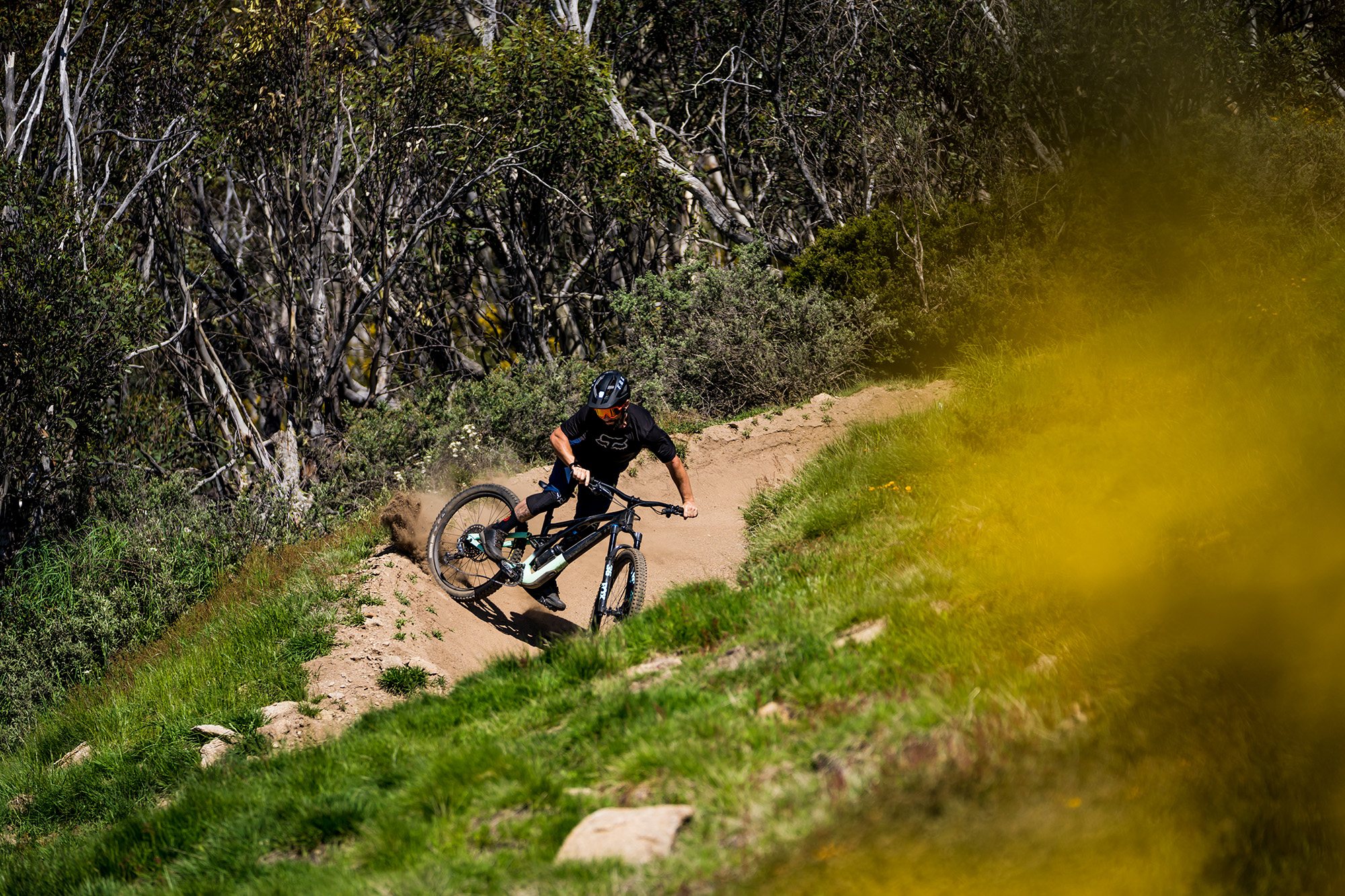 Let's talk about how the Evo rides. Where does this bike really excel?
Whenever I talk to people about this bike I catch myself describing as a really aggressive trail bike. The bike will certainly blast downhill runs all day and let you do a 100km epic adventure but it's most at home right in the middle of that while turning the fun factor up to 11. It's particularly nimble and playful in mullet mode compared to other bikes in its travel class and is stiff in all the right places to accommodate for the aggressive riding style that you might have if playful is up the pointy end of your priorities when searching for your next bike.
Tell us about some of the different types of trails you tackled on the Evo – did you ever get it in over its head?
The Evo and I have been through just about every trail scenario possible in the last few months, some 8+ hour all mountain epics to full days of chairlift runs in Thredbo. It handled it all as well as you'd expect from a 160/150mm bike. The only time we felt the bike was in over its head was 4+ minute downhill runs, even then it was only due to the shock heating up (that poor Fox DPX2 was glowing) a larger air capacity shock or coil would have seen us a bit more comfortable in these scenes. But that's a bit picky, all in all I think this is the most versatile bike out there at the minute.
Does the Stumpy Evo like to fly?
Haha, please refer to [R]evo YouTube for some fine examples in our Evo shredit. We are talking Platinum level frequent flyer miles whenever you ride this thing!
How does the bike pedal in terms of efficiency?
Very, very well. It had been a while since I'd ridden a non-E Specialized bike at length. Once I had a nice suspension setup I was genuinely quite surprised by the efficiency of the platform. Couple with the modern climbing position you will no doubt find yourself getting up those climbs or pedalling across the flatter sections easier than you expected.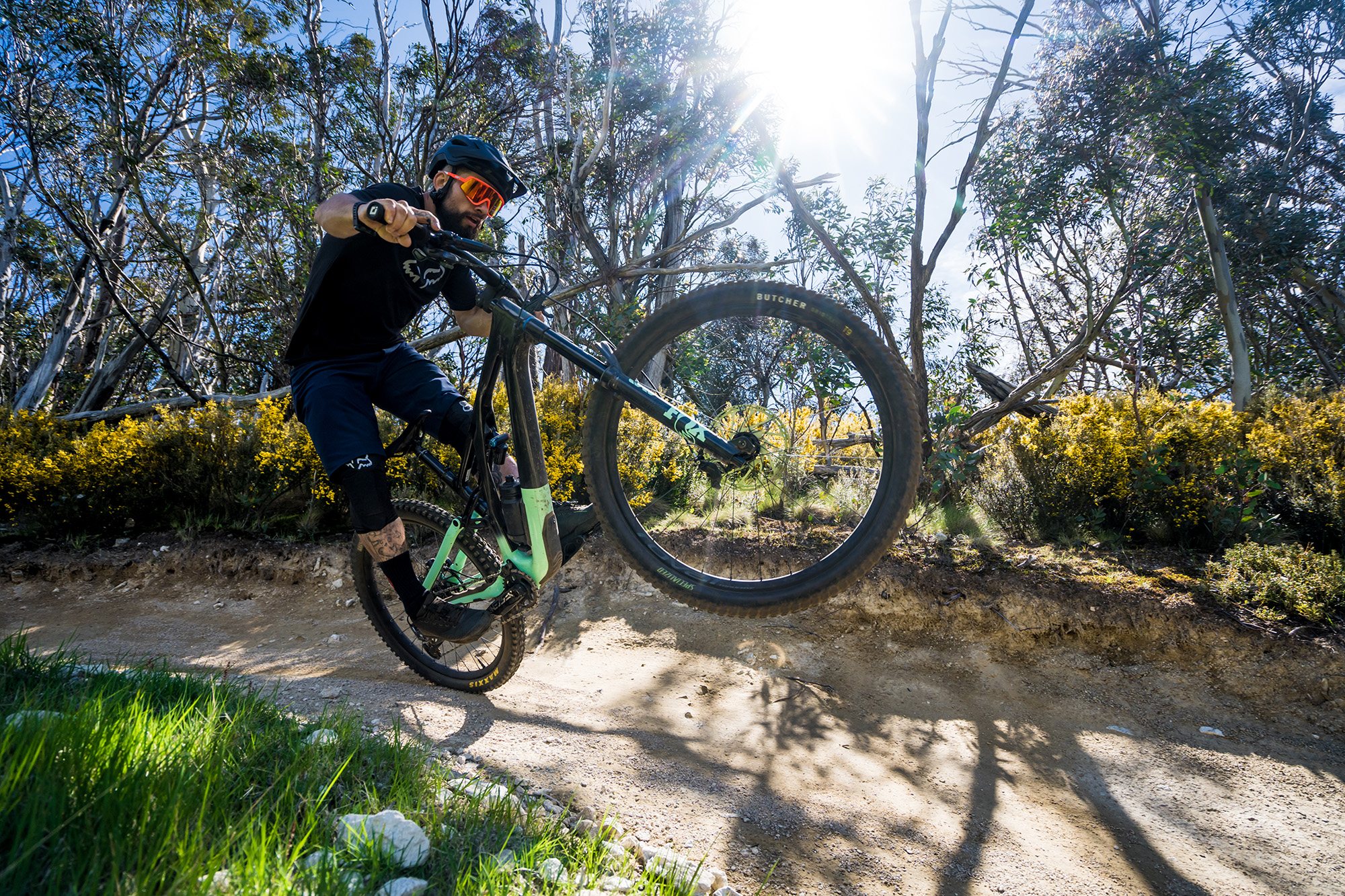 When designing the bike Specialized were mindful that they wanted riders to be able to swap between the rear wheel out in order to run the bike as a mullet. Did you give that set-up a crack during your time aboard the bike and if what difference did it make?
I have been a huge fan of the beautifully named mixed wheel size bike setup for some time know, so when I found out that the new Evo had measures in place from the factory to be interchangeable between straight 29er and mullet I was super excited. I am not a tall man (172cm) and even for my small stature I have even shorter legs, so my biggest gripe with 29inch rear wheels is their constant lust for making contact with my tooshy and trying to pitch me over the bars while putting a hole in the back of my favourite riding shorts. But that could just be me. I have helped influence many people convert to at least trying a mullet bike by describing it this way "You lose no grip by making the rear wheel smaller, but the bike is a huge amount more fun, agile and aggressive. Manoeuvring in the air is infinitely easier, square edge hits feel the same and if you get into trouble, it's much easier to get out of". Take that as you will, but if you are curious about it this could be the bike for you!
The 'Expert' model comes with a price tag of $9300, given the ride quality and performance that the bike packs, does its price tag seem reasonable? 
Put it this way, in life nice things are always going to be expensive. It doesn't matter if it's a bike, car or a house. The amount of R and D that goes into developing these fine machines and the materials that their made out of can easily be overlooked, this combined with the Covid inflation put on everything within the industry now I have to say it comes in on the value side for me for sure. I said it earlier, the Evo can be described as the Swiss Army knife given the amount of adjustment it has, you really are getting a few different bikes in one with it (plus another rear wheel to go full options).

Specifications
Frame // Full carbon fiber (FACT 11m) chassis front and rear.
Wheel size // 29" (but also 'Mullet' ready)
Travel // 160mm / 150mm
Spec // Fox Float 36 fork, Fox Float DPX2 rear shock, SRAM Code RS4 brakes, X-Fusion Manic dropper post, SRAM X01 Eagle drive train (10-52t) w' SRAM Descendent cranks, Roval Traverse alloy wheels, Specialized bar-stem-saddle and tyres.
Price // $9300
Browse // www.specialized.com/au