Wowzers there can be no denying that the Kenevo SL is an amazing looking bike in the flesh. Blake Nielsen took the reigns of the latest Kenvo to grace our shores…
Hit us with your first impression once the bike arrived and you got to sit on it and check it out in detail?
I thought they were sending us an e-Bike to review? That's not an e-Bike? Surely!? Honestly this bike had me drooling from the moment I first saw it. In typical Specialized fashion, the quality of the entire packaging is second to none. We are loving the understated colour scheme and graphics (or lack thereof) and the way the lines of the bike resemble the Enduro for the most part. There is plenty to be in awe of with this beast of a bike!
You could argue that it looks even better than its naturally aspirated brother.
Of course, the 'SL' in its name stands for Super Light and it certainly doesn't fail to deliver on that promise. Tell us a bit about the first time you picked this bike up, how light does it feel in the hands and also how does that lack of heft translate once you get out on the trails?
When first picking the SL up from the head office, I did not believe that the battery was installed until I powered it up. Technology is an amazing thing and the advancements in batteries and motors since e-bikes were conceived is crazy, this is the pinnacle of exactly that. It is hard to tell the difference between a beefy enduro build and the SL by hand. Out on the trails, the "added" weight, in my opinion is a key part to why this bike handles so damn well. With an already low slung linkage and shock, the fact that the motor and battery are so low means that the bike is incredibly stable. Such a low centre of gravity is a huge advantage through the corners while pushing the limit of grip. The whole package is super predictable.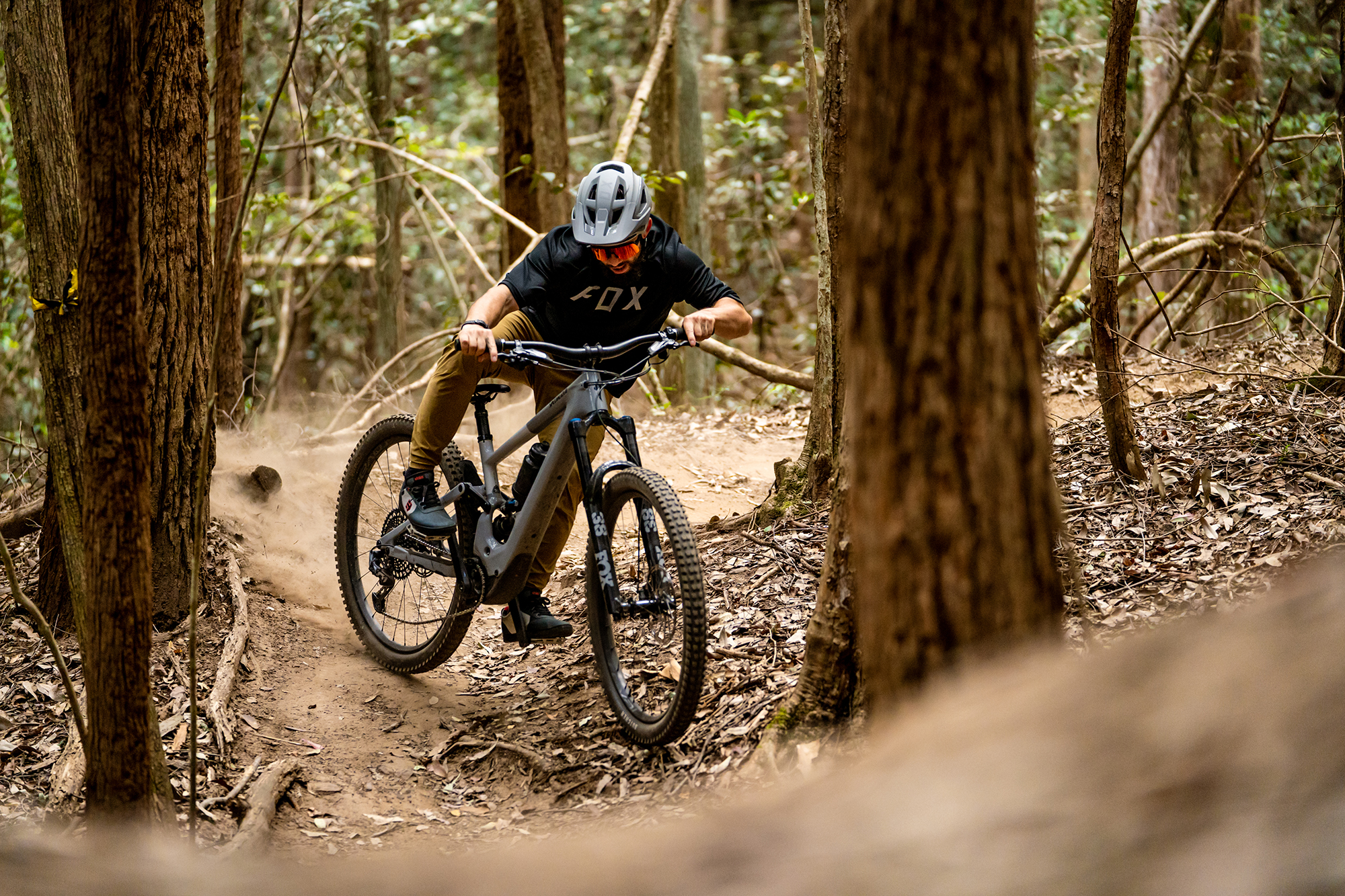 Beside the 'super light' part the other thing that sets 'SL' models apart from regular Specialized e-Bikes is that they feature much smaller motors and batteries which intentionally have a reduced 'power' or 'assistance' output. Tell us a bit about that concept and how it translates out on the trails?
By dropping the weight, thanks to the mentioned smaller and lighter motor and battery, the Kenevo SL does basically make its own category for the purist that still wants the added "smiles per hour" of an EMTB. That is the easiest way to describe it, have you ever seen a person being sad on an Ebike? No, it's impossible! Naturally we still have different modes of assistance, so depending on how hard you do or don't want to push yourself physically on a given ride the appropriate modes can be selected. For so many people this opens up so many more avenues of riding, which is amazing. The Kenevo SL does this in its own special way by making you forget sometimes that you're on an Ebike at all.
During the 'first impressions' video that we put together on this bike (if you haven't checked it out yet head on over to our YouTube channel) we mentioned that the Kenevo SL uses a Brose motor. However, as about 159 viewers were quick to point out, that was incorrect and in fact the bike is powered by the 'Specialized SL 1.1 motor' providing 35 Nm of torque, which is about half the torque on a regular e-MTB. That being the case, how does the power delivery, responsiveness and smoothness of the motor feel whilst you're riding? And, does the reduced amount of power and assistance compared to a standard e-MTB feel enough when you're blazing the trails?
Every time new iterations of a particular motor are released my mind literally boggles, imagining where these machines will be in another 5 or so years. The SL 1.1 motor makes gains in every aspect over its predecessor, the nitty gritty of the power delivery, responsiveness and how smooth it all operates are certainly noticeably better. These motors are also belt driven, so they are already a step above in those aspects over other brands straight away. Once again, these aspects of the Kenevo SL are to somewhat bridge the gap between regular mountain bikes and "full fat" EMTB's.
Now you actually reviewed the original Kenevo a year or two ago and that bike was of course essentially a DH bike with a motor. Comparing that rig to this next generation 'SL' version, how different are the two bikes and is it a little confusing why Specialized have opted to keep running the same name?
The two versions of the bike could not be more different to be honest. They both do their own jobs very well, but they are totally different kettles of fish so to speak. The Kenevo feels like a big bruiser with the extra weight behind it, very fun in its own way, but probably not for everyone. The Kenevo SL is far more refined and an all rounder, it will trail ride to your hearts content and then send harder than you're willing too, more than likely. To be honest it is a bit odd that it's called the Kenevo SL, a play on the "Enduro" (E-Nduro maybe?!), but hey, it's still a Kenevo at heads I guess.
Okay let's get down to specifics about this rig. How much travel are we talking, wheels size, geometry package, etc, and how does it all fuse together once you take it for a roll out in the bush?  
Specialized have gone large in all aspects on the Kenevo SL. We are talking 170mm of plush travel front and rear. 29inch wheels front and rear. A super adjustable geometry package, the head angle can be adjusted between 62.5 and 64.5 degrees in 3 different settings via headset cups. A reach of 460mm, chainstay of 447mm and wheelbase at 1269mm on the S3 size. As you'd expect from Specialized, there's no surprises out on the trail, all aspects of the geometry work hand in hand very well with each other for a very polished and predictable ride.
The 'Mastermind TCU' display built into the top tube looks amazing and functions as the information hub of the bike. Tell us a bit about it?
These type of tech advances sure make me excited to see the future of Ebikes!! This little colour screen on the top tube, just behind the headset shows you everything you need to know about your Kenevo SL, or your ride. With the normal stuff like battery %, current ride mode, speed, distance ect, it also includes a few parameters that are cool for the bike nerds like myself. Rider input power and motor power output are displayed live when scrolling through the display options. Is this super necessary? Not at all, but it is a cool thing to keep an eye on for interests sake.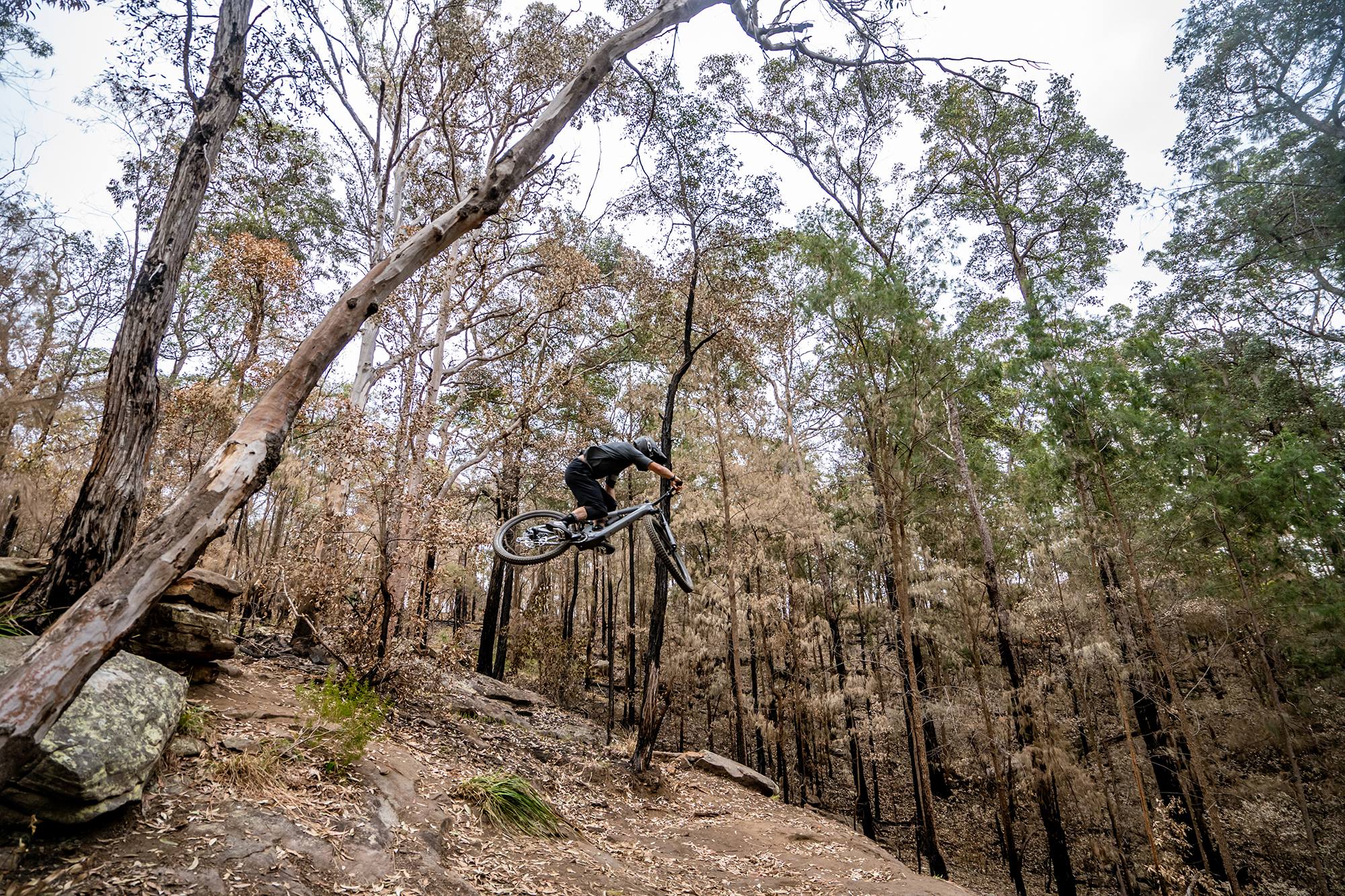 We've heard all kinds of wild rumours about the Kenevo SL, ranging from people that take the battery out altogether and ride it, to people that ride it with the motor turned off (with the battery still in) and still get around the trails no problems. Having spent a bunch of time on this bike do any of those rumours hold any weight (pardon the pun) in your eyes?
The versatility of the Kenevo SL from this point of view is next level. On my very first ride I had sampled a pretty tough climb with the motor turned off, it really felt no different to my own 16kg enduro bike. This adds so many options when it comes to travelling with the bike, including removing the main battery and travelling with the range extender in your carry on. The way that the motor disengages and the fact that it is belt driven means there is no noticeable drag whatsoever when the motor is turned off (or over the pedal assist speed limit for that matter).
The Kenevo SL is of course designed to take on more challenging trails than a regular Levo. Just how capable does the bike handle down the rough stuff and where do you find its limits?
I have pushed this bike damn hard and its limits are that of the most capable 170mm enduro offerings anywhere. Touching on the centre of gravity point again, this creates a great sense of being planted through choppy sections, encouraging you to go faster. This coupled with extensively adjustable geometry and quite a long wheel base mean that the bike is built for hauling. It was very difficult to make the bike feel unsettled.
For people reading this that might be trying to decide which way to go, with a super light all-be-it less powerful and less battery range e-MTB such as this, or for a full blown 'heavier' regular e-MTB with a more extended battery range, what kind of guidance would you give them having now lived with quite a few different types of e-Bikes yourself?
As previously mentioned, the SL bridges the gap between regular MTB's and your "full size" e-bikes. The best way to look at figuring out which way to go would be to do an assessment of your most regularly ridden trails. Is the range of the SL's battery long enough to get you around? If yes then in my eyes, the SL is the way to go. After riding full power motors from multiple different manufacturers, I don't feel any huge disadvantage to the lesser powered SL 1.1 motor. Learning the techniques of riding with the assist can be far more beneficial than simply having more power. On the range note, being smart with battery usage you can get more than the advertised range using your own watts more than most people give Ebike riders credit for.
And finally let's talk coin… The Kenevo SL is offered in 3 complete packages here in Oz, with pricing starting at $13,800 for the Comp model, then going all the way up to the S-Works model which carries an eye watering $24,200 price tag. The version we've been testing is of course the 'Expert' model which is the mid-level and it'll set a customer back $16,300. Far out that's a lot of money for a mid-spec! Is it justifiable though in terms of the trail performance and trail experience that the bike offers, or is it just a sign that the world has gone mad and this bike is just simply overpriced?
Don't get me wrong, that's a whole lot of money, but I have convinced myself that it is in fact good value. Hear me out, you are literally getting 2 bikes in one here. The performance when the bike is powered up and helping you boost around is jaw dropping and a pure laugh the whole time. While turned off, whether the battery is in or out, you genuinely have a bike that performs just as well, if not better due to the low centre of gravity and sprung weight than a lot of hard hitting regular enduro bikes!! I could be crazy (my wife will tell you I am) but there have been times while reviewing this weapon that I've considered advertising my enduro bike and emtb to do just that!
Specifications
Frame // Full carbon 'FACT 11m' front and rear.
Travel // 170mm front and rear
Wheel size // 29'er
Motor // Specialized SL 1.1, 
Battery // Specialized SL1-320, fully integrated, 320Wh
Spec // FOX FLOAT 38 Performance Elite 29 fork, FOX FLOAT X2 Performance shock, SRAM X01 Eagle drivetrain, SRAM Code R brakes, Roval Traverse 29 wheels, Specialized Butcher tyres.
Price // $16,300
Browse // www.specialized.com