While 7 speed cassettes and rear derailleurs with clutches in them are not new to the downhill scene, the budget option for these components from the SRAM crew has not been out for very long.
I've had it on my big bike for several months now and given it a hell of a workout to see how it fares up though replacing my X01 drivetrain with its budget brother felt like a step backwards initially. I was very pleased with how the GX stepped up to the plate though, from a few of the gnarliest national rounds I've ever ridden to my local DH track that has probably seen me do a million push runs on. The stealthy black get up was taking every case, wrong line, miss shift and crash like an absolute champion.
The fundamentals of what makes a downhill bike feel good vary from person to person, some can't do without top of the line suspension, some need carbon wheels or frame, and I myself can't feel comfortable without my favourite set of grips! While suspension, frame/geometry choices & tyre selection can all have a direct link to how fast, or how much fun can be had in your runs, the drivetrain on your bike has a much smaller impact on your fast/fun metre. It can however have a big impact on your wallet!
Enter the GX family, coupled with the new alloy crank from the Descendant line. With some small weight sacrifices and a few minor tech changes, you can save yourself some serious coin whether you're building a new bike from scratch, buying a stock build or fitting it to your current ride.
SRAM PG-720 CASSETTE AND PC-1130 CHAIN
This tasty little black number is basic, which is all it needs to be. A light spacer sits behind the 7 separate cogs which range from 11 – 25 teeth and will all mount onto your regular style splined free hub body. No need to go sourcing the costly XD driver for this puppy. It has the regular Power Glide (PG) tooth profile that SRAM have used for years so you know it will shift consistently and directly every time you put thumb to shifter. The 1130 chain is the workhorse of SRAM's 11 speed spaced line-up, not much can really be said about technology with chains, and surely I'm not the only one that notices how much better the coating on SRAM chains is compared to all the rivals out there? They have some serious 11 secret herbs and spices mix going on with this.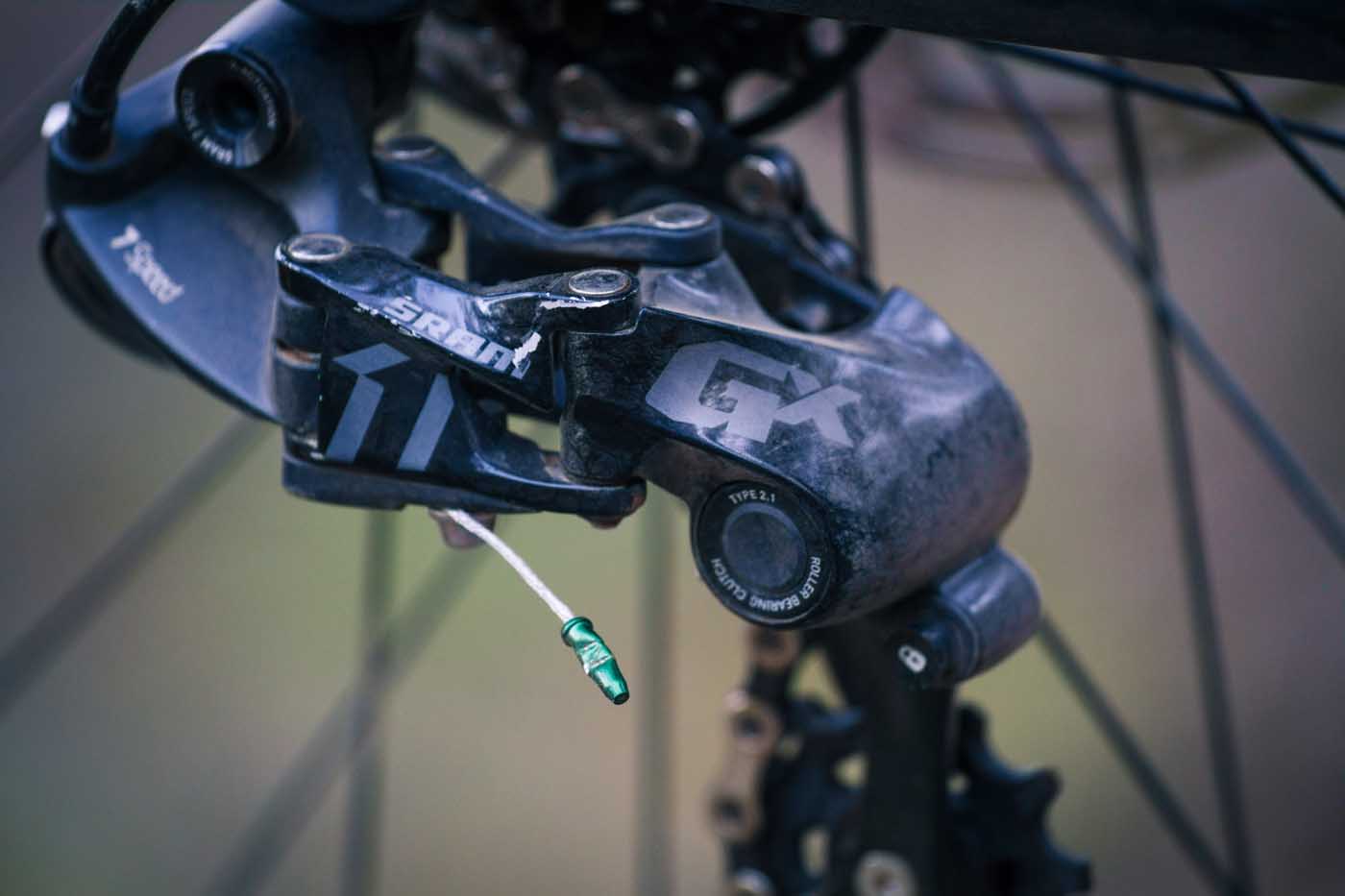 GX DH REAR DERAILLEUR
I can't even remember what rear derailleur's were like before the introduction of the roller bearing clutch a few years ago? Maybe my mind has just blocked those horrible memories of the haggard sounds that used to come from bikes. The GX has the latest version of the clutch, type 2.1. It has the same X-horizon technology as the top range Eagle drivetrain which makes the shifting silky up and down the cassette. It also has an updated B-tension plate and a revised mounting bolt to the derailleur hanger. Although these aren't the most exciting new features, they are solving big headaches for anyone who had suffered from the previous B-tension tabs breaking off and the older style T25 bolt unthreading itself. The new beefier tab and 5mm Allen key bolt are blessings in disguise for this silent little unit.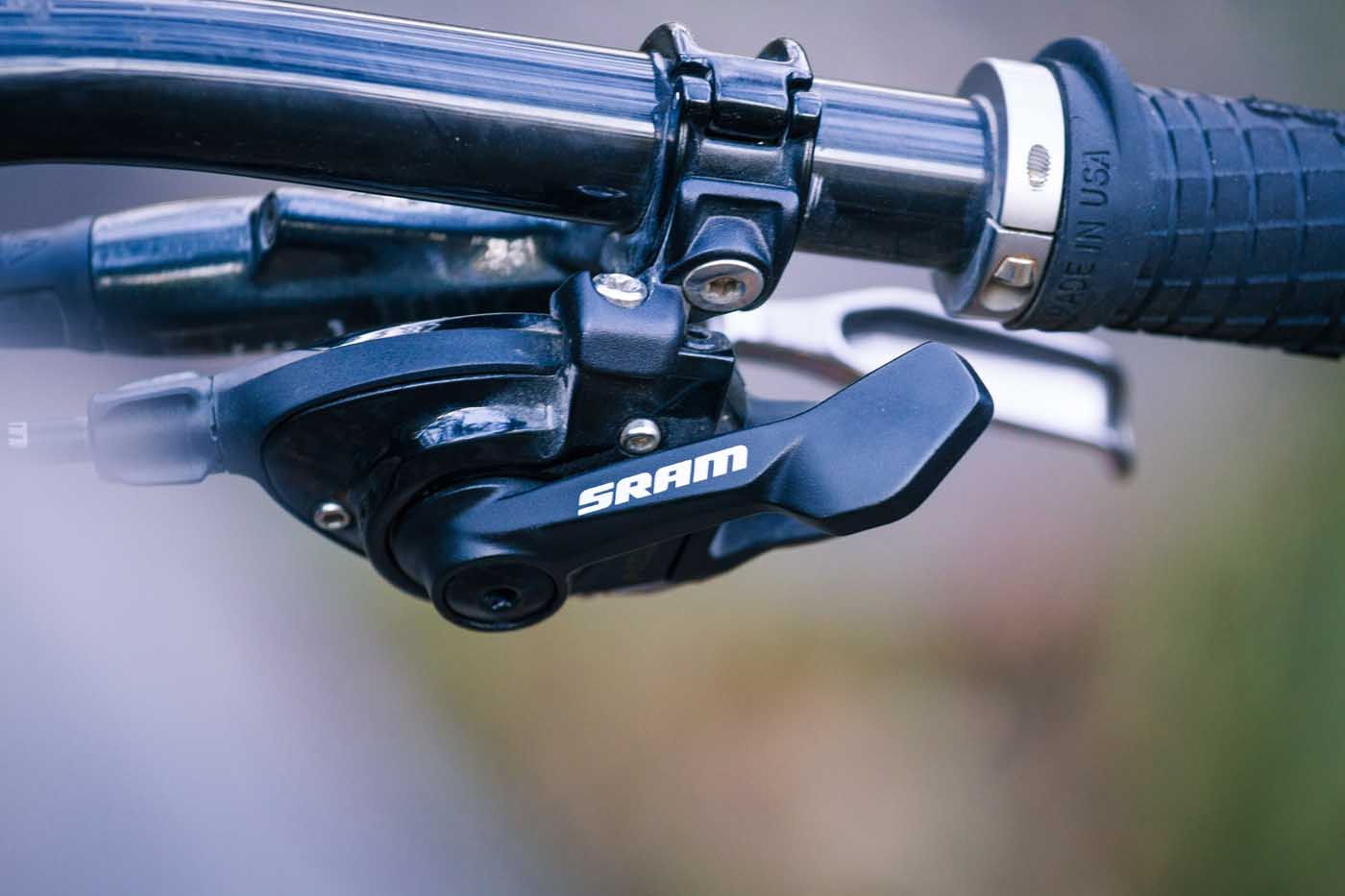 GX DH TRIGGER SHIFTER
The only notable difference between the GX shifter and the X0 model is the thumb paddle for shifting up the cassette. With a slightly squarer shape and no option to rotate its starting position, it actually comes in at 3 grams lighter than its much more expensive brother.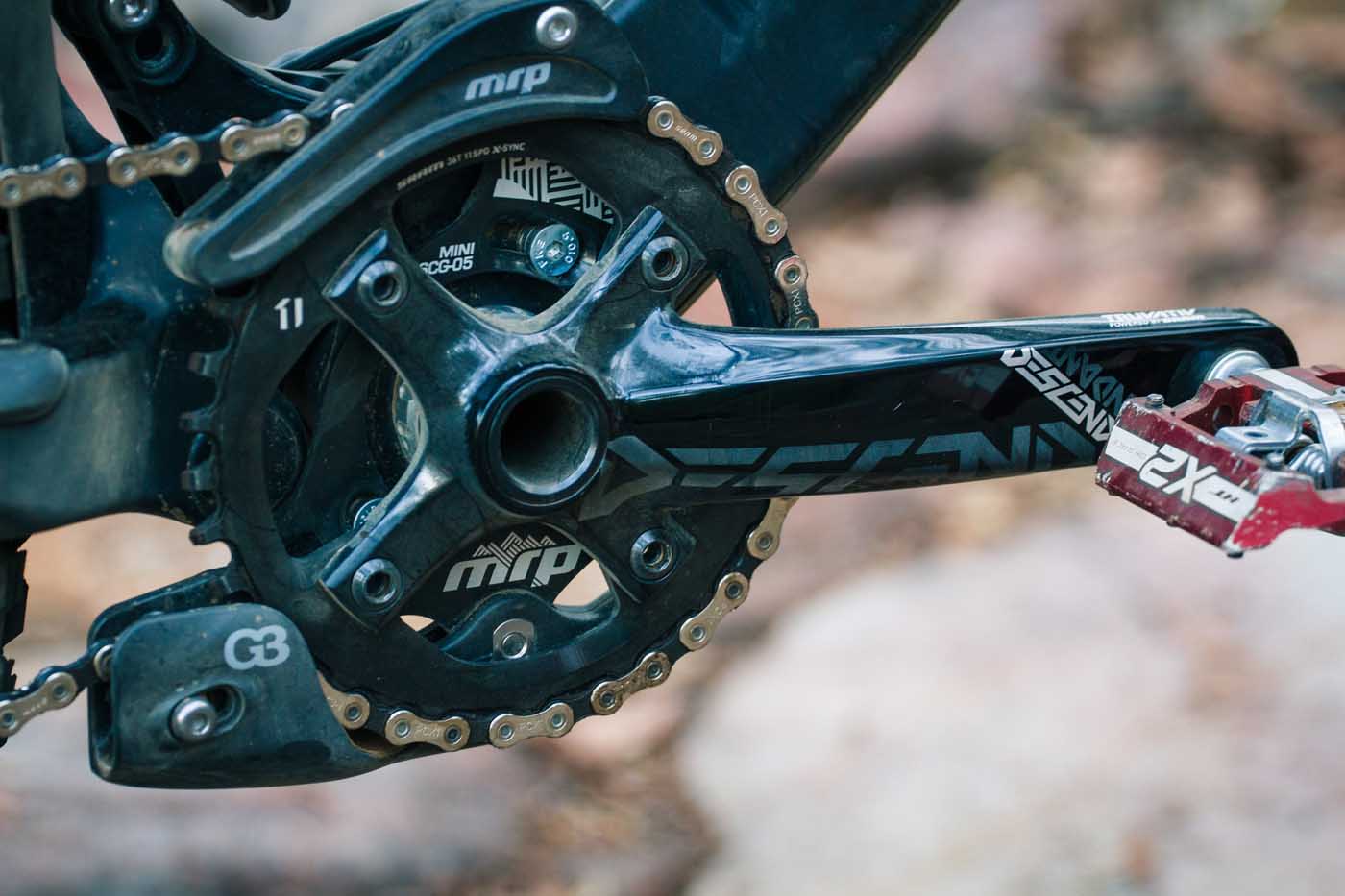 DESCENDANT DH CRANKSET
The rebirth of the Truvativ Descendant line was something I thought would have happened a long time ago. Growing up, I had Descendant cranks on a few of my bikes and I always loved them, so I was excited to try out the latest version. I haven't run alloy cranks on any of my bikes for quite a while now, so I was hoping I'd be able to get a good feel for just how solid this dedicated DH pair would feel compared to some of the other very pricey carbon options out there. I would like to think that I have a pretty good feel for different components, the effects of their varying weights and features while riding, given my experience across many years of riding and racing different disciplines. I could not feel any difference between the premium option from SRAM's DH crankset offering and the Descendant on a DH bike though. The weight, nor the stiffness difference was apparent under riding conditions. The only thing I could pick at is the fact that the DH version of the Descendant (the 83mm spindle option, which is the standard for virtually all downhill bikes) is not available to have a tidy direct mount chainring fitted, a 94mm BCD 4 bolt chainring. But that's just me being a bit of a fussy parts wanker. The chainring fitted does have the patented SRAM X-Sync tooth profile, which I really do believe is the best in the game.
THE TRICKLE DOWN EFFECT
The trickle-down effect is nothing new, it happens in cars, golf clubs, TV's. It's just the nature of progression for products advancing. One thing I've noticed in the last few years in the bike industry however, is that the gap between high end products and their "low" end brothers is getting smaller. That's not to say that the technology isn't advancing as fast these days, but you really are getting more bang for your buck with some more entry level gear. As far as DH specific drivetrains go, there has only ever been a few options from the two big S's. With the release of Box's One line of gear last year, surely SRAM and Shimano would be feeling the heat, not only from a design/feature point of view but also price point. All in all, the GX DH drivetrain performed with a lot more promise than I was expecting. Pretty amazing considering it costs a lot less dollar bills than the components I'd usually run on my bikes. SRAM have certainly nailed it with their GX level!
SRAM are proudly distributed in Australia through Monza Imports www.monzaimports.com.au/cycling/
Reviewer // Blake Nielsen
Photos // Ben Sykes