Say hello to the latest release from Transition Bikes called the Spur, which slots into a category that the brand hasn't had an offering in to date.
Ever heard of a bike category called 'down country'? If not, think of it as 'XC' but without the mandatory shaving of your legs and removing the peak from the front of your helmet. From a traditionally very gravity orientated bike brand we were more than a little curious when we heard that Transition were releasing a 'down country' bike. We weren't sure what to expect from a brand new short travel package given the company's reputation for exploring the extreme angles in bike design… However, we of course jumped at the opportunity review the bike. And so, without further ado let us introduce the all new short travel trail slayer from Transition Bikes, the 'Spur!'
Reviewer // Scott Prendergast  Photos // Matt Staggs
What was the first thing we thought when we saw the bike in the flesh?
Well true to their trademark when we first unwrapped the Spur, we could instantly see what the hype was all about. We immediately knew they were onto something pretty cool, a sleek XC style rig with all the cool lines and modern geometry in a 29'r. But! We really wouldn't really consider the Spur as your average XC bike, it's got all the features of any high end XC bike but with a little extra mongrel packed in for good measure. To be honest, after we got this bike together, we could not wait to hit the trails.
Fair enough, give us all the basic low down!
Boasting what Transition have labelled their SBG Technology (Speed – Balanced – Geometry) they have gathered a real reputation for some of the more aggressive angles with their bike designs. You can tell the Spur no different in the sense that they have designed this bike from the ground up and paid a lot of attention to detail with the bike. With their long, low, slack design, steeper seat angle, for pedaling efficiency, and short offset forks, the Spur is no different to the rest of their whips which are known to handle well, pedal well and retain those playful characteristics without compromising performance. Transition Bikes have applied all of their SPG technology to this 120mm XC trail slayer, that's right, 120mm of front and rear wheel travel, 29-inch wheels and super lightweight. This sucker is designed to pedal yet still eat any terrain you throw its way.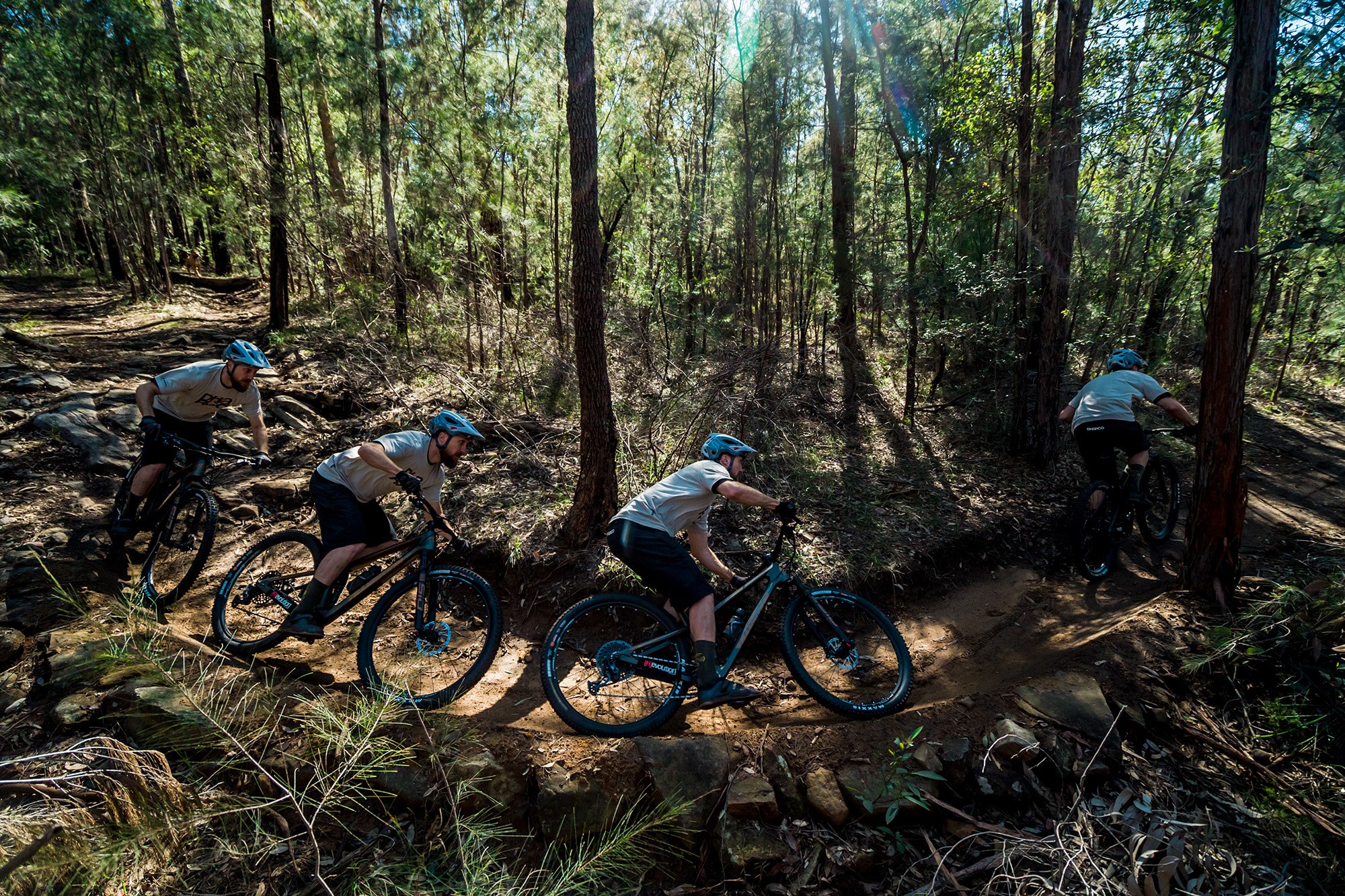 Sounds promising, now tell us a bit more about the frame design.
The Spur has a full carbon frame and swing arm and runs a new 'SIDLuxe' rear shock and new SID fork from RockShox. The rear shock is activated by being compressed by small carbon fiber rocker link. A little thing you may notice which is a little different to Transitions other trail slayers, and something we see more consistently in short travel bikes, is the absence of a rear axle pivot. Transition have opted to go with what they refer to as a 'carbon tuned pivot-less flex stay.' In short, what they have done is integrate flex pivots in the rear swing arms which flex a few degrees under impact or shock actuation near the rear down axle pivot. This is a common tried and test design amongst a lot of short travel bikes. There are obvious benefits with the reduction of weight with the elimination of a pivot bearing in this area, however this is not sole reason Transition have gone with this design, even though it's probably saved them in excess of 200 grams.
Sure, in a longer travel bike the lack of this pivot may impact slightly on how active your rear suspension is under load or heavy braking, but for 120mm of travel there is enough flex to work like a bearing and you will have no issues in this area.
As a matter of fact, it highlights to us the attention paid to the detail and the thought process behind this bikes design. We ran the rear shock setup with about 30 percent sag however suspension setup is obviously a personal thing depending on what you ride, where you ride and how competent you are as a rider. The information we have read about this bike indicates this bike has a very consistent linear rate in the rear suspension and will work well if running the bike between 25 to 35 percent in sag.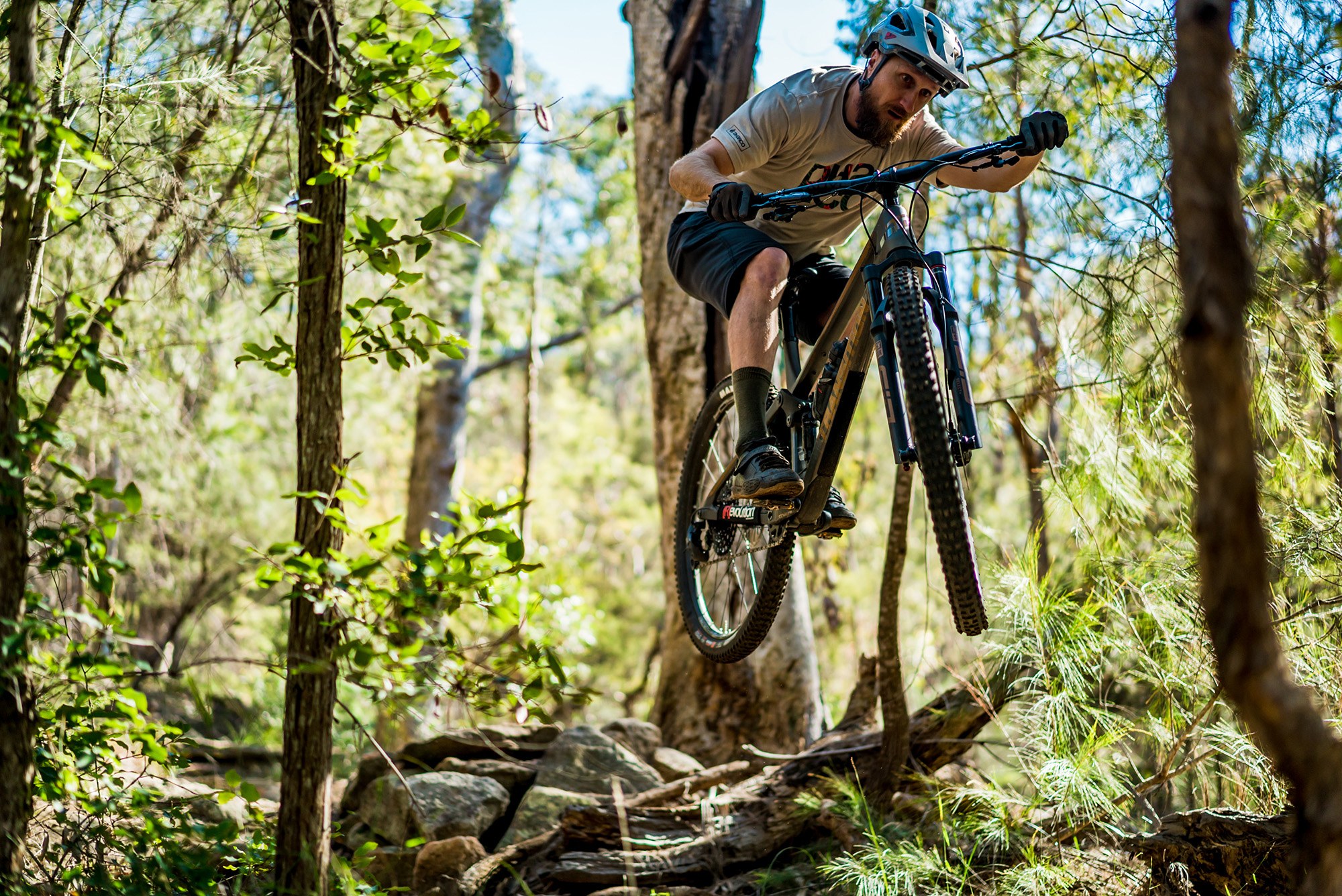 So, who is this bike really designed for XC or Trail?
Well that a pretty good question because it's kind of both. If you're an XC racer who wants a nice dual suspension bike you can tweak to be a little more XC then this is your whip. Or if you're a gravity feed rider who dabbles in some XC for race fitness or fun all day rides, again this is a bike you can tweak to be a little more aggressive. With their 'GiddyUp' suspension design, being a suspension system, which Transition Bikes state is "designed to behave intuitively across a broad range of setups." What we mean by that is Transition have designed this bike so you could run a 37.5mm stroke SID shock reducing the bikes travel to 100mm rather than running the stock 45mm-stroke SID shock. Chuck on some XC race tires and you're in full XC race mode with the benefits of a whip which will still handle the descents like a beast, or you can run it stock at 120mm of rear travel.
The Spur also comes stock with Maxxis tires, 29 x 2.4 with EXO casings and a longer stroke dropper post, we tested this bike in a large which has a 180mm 'OneUp' dropper. Some other cool features include SRAM G2 four piston brakes front and rear, 50mm stem and 800mm bars. As you can see by these components this XC style bike is still super light weight yet is built and designed with all the modern mod cons of any aggressive freeride/enduro style whip. So, in other words this bike is designed to go anywhere, do anything and do it all day long. If you want to go on some absolute all-day mountain missions, then this sucker should be your weapon of choice.
Cool what other cool features do I get?
Well I guess that will depend on your budget, Transition offer this rig in a number of different builds, being an XX1, XO or GX build, you can also buy a Spur as a frame set. We tested the Spur with SRAMs all new GX drive chain. Along with the components and suspension products listed above this bike boasts some other cool items which include; FSA headset, RaceFace Aeffect Stem, ANVL bars, Stans wheels and as mentioned Maxxis Tires. Overall you can buy this bike with a stack of components depending on what you like and how much you want to spend.  Of note this bike runs a threaded bottom bracket which is super cool along with the frames headtube ability to take press fit head set cups, which allow a rider to fit an angled/adjustable headset if desired.
Yeah cool, you have our attention, can you tell us some more about the aggressive frame angles?
True to form Transition haven't held back, we tested this bike in a large which for an XC style whip has some really aggressive angles, which include; 480mm reach, 75.9 degree seat tube, 66 degree head angle along with a 44mm offset fork. As you can see by these numbers, they are not far from some of your more aggressive longer travel whips on the market. Why not just say the seat tube angle is 76 degrees you might ask? Well its not, it's 75.9 which highlights Transition Bikes mindset and attention to detail, this attitude has transferred into the quality of their bikes which are obviously built by riders for riders. These angles, along with the 'GiddyUp' suspension design and their trademark SBG technology collectively means that Transition Bikes have created a really unique short travel whip.
Some other cool things of note are the fact that there is plenty of room for a bottle and cage, along with another mount under the downtube. There are also mounts on the underside of the top tube for a bolt on tool kit/tube storage or nutrition.  All the cable routing is internal making for a nice clean looking bike and there is good chain stay protection to ensure your bike is quiet and protected from damage as a result of chain slap. With only 120mm of travel we still wouldn't really compare this bike to any of the other XC bikes out there, it really stands alone as an aggressive style all day trail shredder.
Sounds Radical! How did this weapon handle the trails?
To be honest we don't really test a lot of XC style bikes at Revolution, due to the fact that we have always been a little more gravity focused. With that said when we first got our hands on this sucker, we were super impressed, it looks amazing. Since then we have done a hell of a lot of riding aboard the Spur; XC laps, some big all day missions and we have given this bike a good nudge on some of our more aggressive local DH lines just to see how this bike stacks up in comparison to some of its longer travel brothers and sisters.
From the onset this bike felt really good. With its low, long, slack design it felt really nice with its low stand over height, roomy cockpit area and slack head angle. Obviously, we knew this bike would pedal a lot better than some of the more aggressive whips, but we were still quite surprised at how well it pedaled and climbed. In short, this bike pedals amazingly well, it climbs super well, and even for a slacker 29'r the front wheel didn't wander, which is normally an attribute of longer enduro bikes. This bike was super easy to shift your weight around and made those undulating sections of trail super fun, which is more a characteristic of an eBike. This bike maintained momentum really well, pedaled awesome over stuff and was super-fast and efficient over a variety of different trails and terrain.
With the amount of attention Transition Bikes have paid to making this bike descend well we were super excited to see what the hype was about.
Make no mistake people when we hit some heavier trails, we knew we were riding a lighter shorter travel bike and at times we had this sucker stretched to capacity, this thing is no 'Sentinel' or 'Patrol' but it wasn't designed to be. However, for 120mm of travel this bike was super capable, we hit a heap of rough stuff at speed and this rig had us laughing at actually how capable it was. It just goes to show that it's not all about the length of the suspension travel, the geometry of bikes is such a huge factor in how well they handle. Some cool aspects of how this bike handled were the fact that it jumped super well, cornered amazing and was super fun and playful on a variety of trails, it defiantly put a smile on our dial.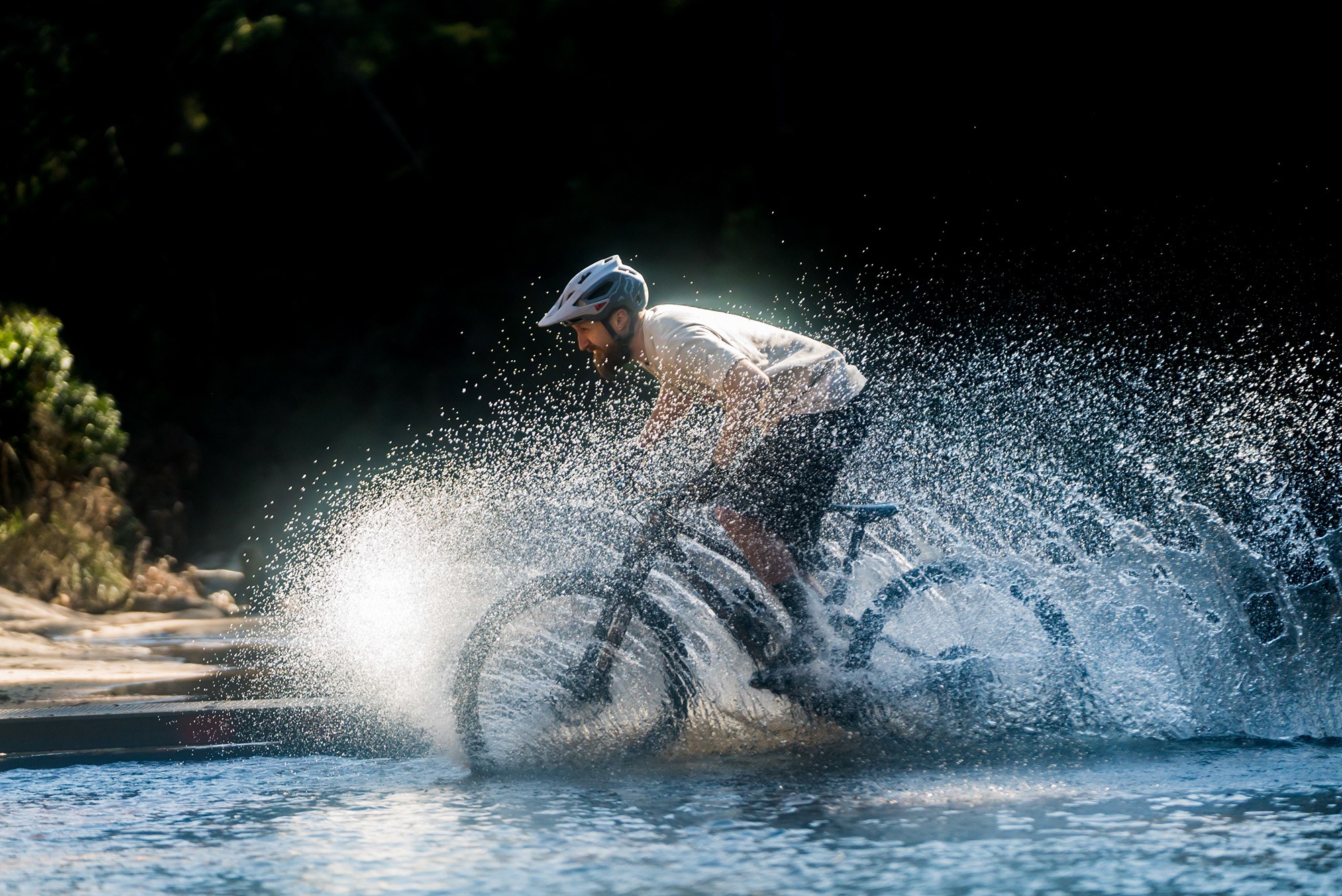 Overall any type of MTB rider should have something like this in their collection because this thing can pretty much do it all. From XC races, all day missions through the back country, through to hot laps on your local trails, the Spur has you covered when it's time to pedal. There is no time like now people we aren't getting any younger, go get one! [R]