Like it or not punks, big wheeling is what's hot right now!
We have been lucky enough to have our hands on a number of new pushys, including a brand-new 2018 Trek Slash 9.7 for review. With a huge season within the world of downhill and Enduro both domestically and internationally, you cannot deny 29' inch wheels are making their mark on disciplines of MTB that years ago we would've thought may have stayed committed to the traditional 26' inch or 27.5' inch wheel.
It's fair to say that by now most riders know the pros and cons of all wheel sizes but what a lot of people don't know is that Gary Fisher was instrumental in introducing the 29' inch wheel to mainstream MTB years ago and as a result ,Trek was on the front foot years prior to this evolution of wheel size becoming mainstream.  Decades ago you couldn't really imagine riding a 150/160mm travel rig with a 29'er wheel; it would have been frankly a slug to pedal. Fast forward to today and with the development of lighter stronger materials, suspension technology and MTB frame geometry, it's safe to say we have stepped into a modern era of MTB. 
Trek is a brand synonymous with bicycles. Today they are still at the fore front of technology with no compromise for quality. Their range of 'Slash' Enduro weapons are available in a number of models which include; the 9.7, 9.8 and 9.9. We have been lucky to have a 2018 Slash 9.7 to punish for some time and as far as build quality goes, this whip is impressive. This bike has been designed to take on everything you can throw at it, with an aggressive trail riding/enduro bike in mind this puppy has been developed to bomb the harshest descents with the ability to yet cruise the accents with ease.
This sucker boats 160mm of fork travel and 150mm of rear wheel travel, a knock block head set, OCLV Mountain carbon fibre mainframe with alloy stays with an ABP suspension design. The frame is accompanied with a Custom RockShox Deluxe RT3 Thru Shaft shock featuring Trek's proprietary 'aktiv' damper system. The geometry of this frame has a 65.6° head angle, 74.1° seat tube angle, 433mm chain stay length, ISCG 05 chain guide tabs and the Trek slash also comes with a Mino Link adjustable geometry system and comes standard with boost front and rear, making customizing your ride a breeze.
Since the days of the 'Remedy' the 'Slash' has really been developed as the new and improved beef cake. With a new focus on frame design, Trek has really concentrated on weight, strength and rigidity of this weapon. The complete internal cable routing and a 'Control Freak' system that holds down the internal cables to prevent noise and rattle just highlights the attention to detail Trek has with all their bikes. Not only does this bike look great, it rides freaking awesome but we'll get to that soon.
Ok, we will try and limit the tech talk but some facts about the Slash models were interesting and in particular if you are thinking of investing in a Slash 9.7. The 9.7 still comes with an OCLV Mountain carbon fibre mainframe however with the 9.7, Trek has implemented an alloy sub frame. With budget in mind, Trek has been able to deliver a quality Enduro sled without compromising performance.
The 9.7 is also accompanied with some awesome components some of which include; RockShox Yari fork, Bontrager Drop Line seat post, 1 x 11 SRAM chainring design NX drive chain, Truvativ Descendent cranks and SRAM guide brakes making this whip a beast at an affordable price of $5499.00 retail.
But the million-dollar question is how does this ride? Well the setup re: suspension settings, tyre pressures and basic setup was a breeze. As soon as we threw a leg over this trusty steed we felt comfortable. It has a nice low, long slack feel and even though it was a smaller bike than we've tested recently, and shorter in the top tube than previous test bikes we didn't feel at all cramped, if fact the cock pit area felt nice and open. As we mentioned above, this rig was freaking awesome to ride! We put this bad boy through its paces from XC, Downhill, Trail and Enduro style riding. One thing we really noticed for 150mm rear end it felt bottomless, it tackled extremely rough terrain and made it butter smooth whilst maintaining traction through all the loose chatter. And those BIG! PHAT! NASTY! hits, well they were eaten for breakfast.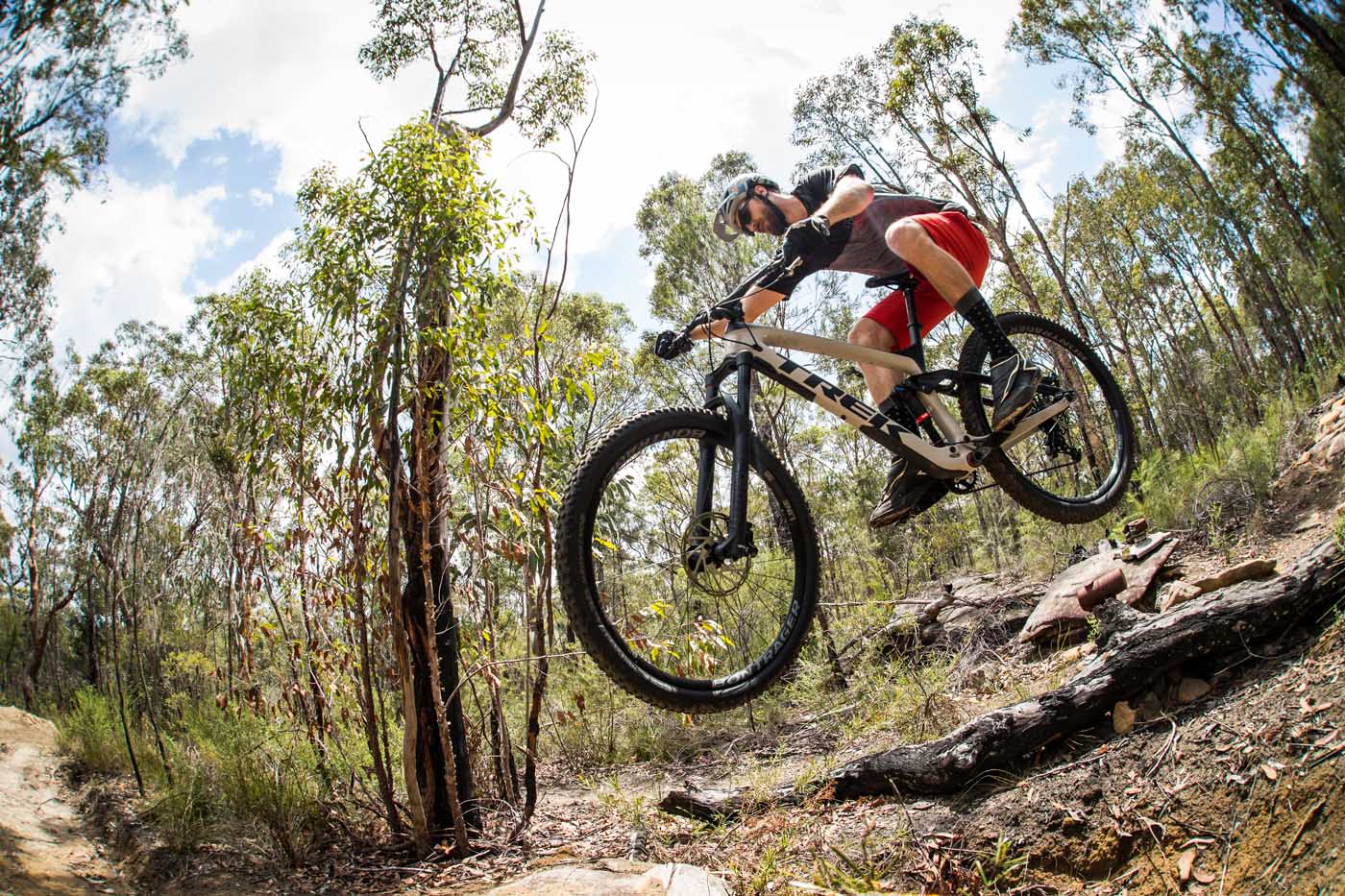 This whip corners amazingly and the pedalling efficiency for such a big bike really was a surprise. All of the loose technical climbing all of a sudden felt weird like you were cheating yet when we hit those descents, the 9.7 turned on its beast mode! The only blight on the rig was we found the stock wheels a little heavy but for the price of this bike, that's being a little nitpicky on our behalf.
On a personal note, for a bike retailing for under $5500 big ones with this type of build quality we had to keeping reminding ourselves this wasn't riding a boutique whip. There is no doubt this bike is still distinctly a Trek and if you're a rider who may have a DH background, aggressive Enduro/Trail Rider or Racer and want a quality whip the Slash may be what you need to scratch that itch.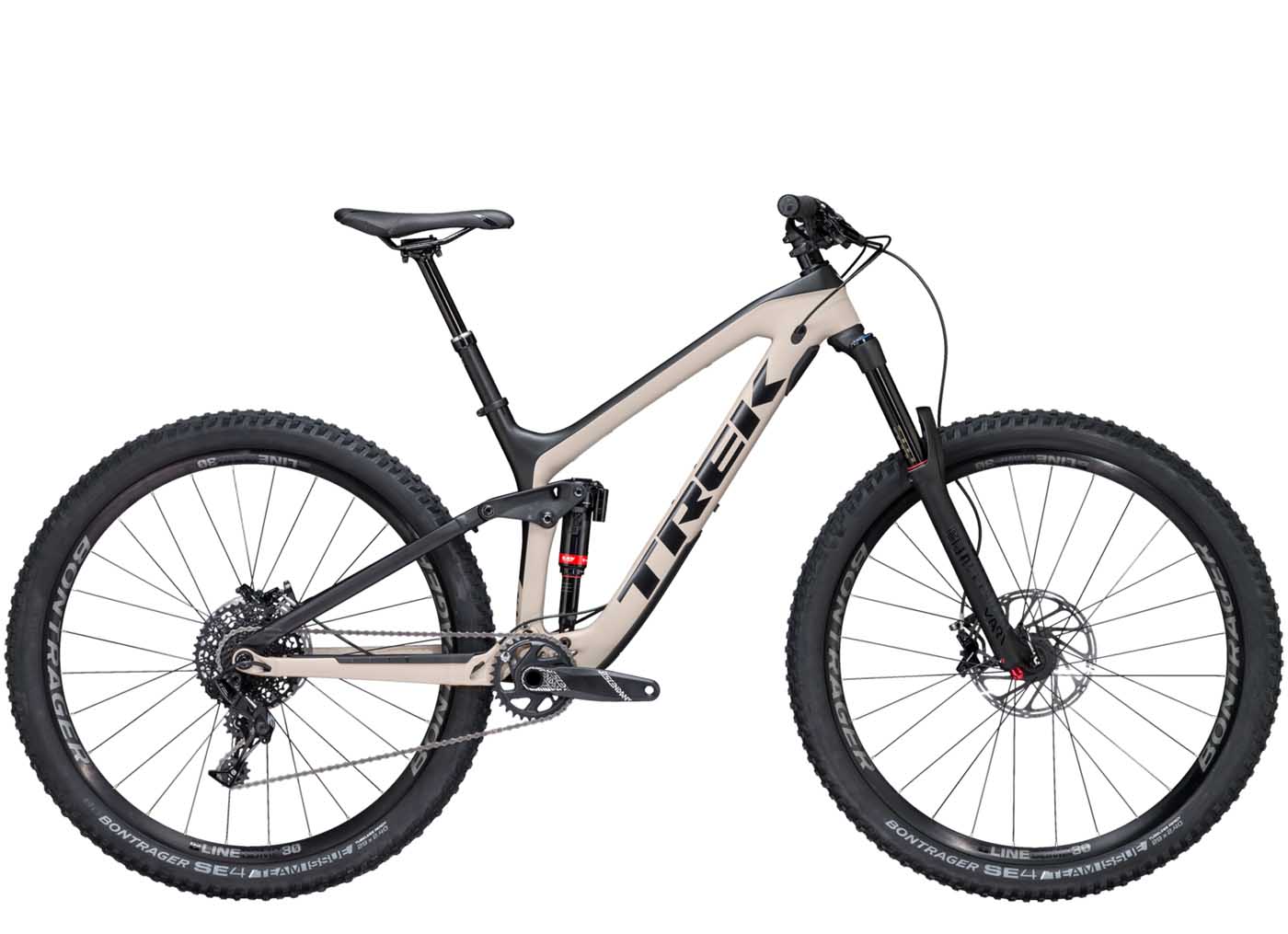 Trek Slash 9.7
Frame // Trek's proprietary OCLV Carbon Fibre Mainframe w/Alloy Stays
Travel // 160mm front, 150mm rear
Sizes // 15.5", 17.5", 18.5", 19.5" (tested), 21.5"
Spec // RockShox Yari RC fork, RockShox Deluxe RT3 shock, SRAM Guide brakes, SRAM Descendant/NX 1x drivetrain, Bontrager Drop Line dropper post, Bontrager Line Comp 30 wheels.
Price // $5499.00
Browse // www.trekbikes.com/au