In replacing their ageing SB5 model Yeti set out to put the party back into MTB with their latest trail bike frame design. When we first heard that the SB140 was coming we wondered if there was really much point in the Colorado based brand adding another model to their already impressive trail bike range given that the new bike's amount of travel was pretty close to what was already there.
As their names suggest, the SB130 packs 130mm of travel, it's a given then what the SB150 has. So why would Yeti go to such lengths to develop a brand-new bike which features only 10mm more or less than its two existing models? Well, as it turns out, only focusing on the amount of travel of the new SB140 is akin to us having had our heads in the sand because this new bike is in fact a lot different to its siblings. The SB140 is a cutting-edge showcase of Yeti's latest way of thinking about frame design and 'new age' geometry. With such a variety of different trail sleds these days you always tend to categorise a style of bike with its specified race or competitive format, such as DH, XC, Enduro, etc, etc… Well, let us ask you about a new category of bike that is slightly outside all of those previously mentioned; the category called 'fun!' In our minds that is precisely where the new Yeti SB140 falls into place. A mid-travel trail slayer! 
Reviewer // Scott Prendergast  Photos // Matt Staggs
Okay, okay you have our attention so tell us a little more about this rumoured fun factory?
The hotly anticipated Yeti SB140 was built to put the 'Fun' into MTB and we'll tell you why! Just after the release of the SB165, it was rumoured the SB140 would be next, sure as the sun will rise Yeti have again delivered us another impressive whip. Marketed as what Yeti call the 'Rip' bike it sits somewhere between an EWS winning enduro race bike and an everyday trail bike. Think of the SB140 as a rowdy aggressive style trail bike with all the new low, slack geometry of an enduro bike. Sounds pretty good hey. Sounds fun hey? Well that's exactly what we're talking about. Take all the seriousness out of MTB, this bike is built specifically for all round good times.
All sounds good so far, how's about a breakdown of the new bike's facts and figures?
In short, the Colorado based bike builders have delivered another dream machine. A company which has a reputation for high end, class leading mountain bikes the SB140 is no different. They have yet again produced another beautiful piece of boutique machinery. The SB140 frame has a high modulus full carbon front and real triangle which runs 160 mm of travel up front and 140 mm travel in the rear. Our test bike was a large which has a 480 mm reach, 65-degree head angle, 77-degree seat tube angle and 433 mm chain stays, it also runs a 37.5 mm short offset fork partnered with 27.5-inch wheels. Without boring you with the other numbers you can basically see this bike was built to be low, long and slack. From the word go it has been designed and built to pedal well and corner on rails, it climbs amazingly and descends like any long travel beast on the market. Depending on your flavour the SB140 is also available in several colours (Inferno, Smoke, Turquoise), not to mention Yeti stand by their product and offer a lifetime frame warranty.
Hmmm so far so good, keep going, what about its spec?
Well depending on what you like there are a number of different options when it comes to components. The build which we tested (Sram XO1) boasts all sorts of goodies including a Fox Factory 36-160mm fork, Fox Factory  DPX2 rear shock, Factory Cane Creek 40 Inset Taper headset, Race Face Next R 780mm wide carbon bars (35mm), Race Face Next R Stem (35mm), Sram XO1 carbon crank (170mm), Sram XO1 12 speed drive chain, Sram Code RSC brakes (203mm – 180mm Rotors), Fox Factory Transfer 150mm Dropper, DT 350 hubs with 27.5 Raceface ARC 30mm hoops, Maxxis Minion DHF 2.5 EXO+ front, Maxxis Minion DHR II 2.4 EXO+ all topped off with a WTB Yeti Custom saddle. Sounds good doesn't it?! Keeping in mind there are several different build options depending on your budget and desired dream build. Yeti also offer the SB140 in the Carbon series GX model, which is said to be about 220 grams heavier in the frame, the strength and stiffness of the frame are the same in all models however if you're on a budget this is a cheaper option which is going to look and perform the same. The C model uses a heavier carbon fibre layup where the higher priced models use a different carbon layup with the result being a bike with the same strength, but lighter construction.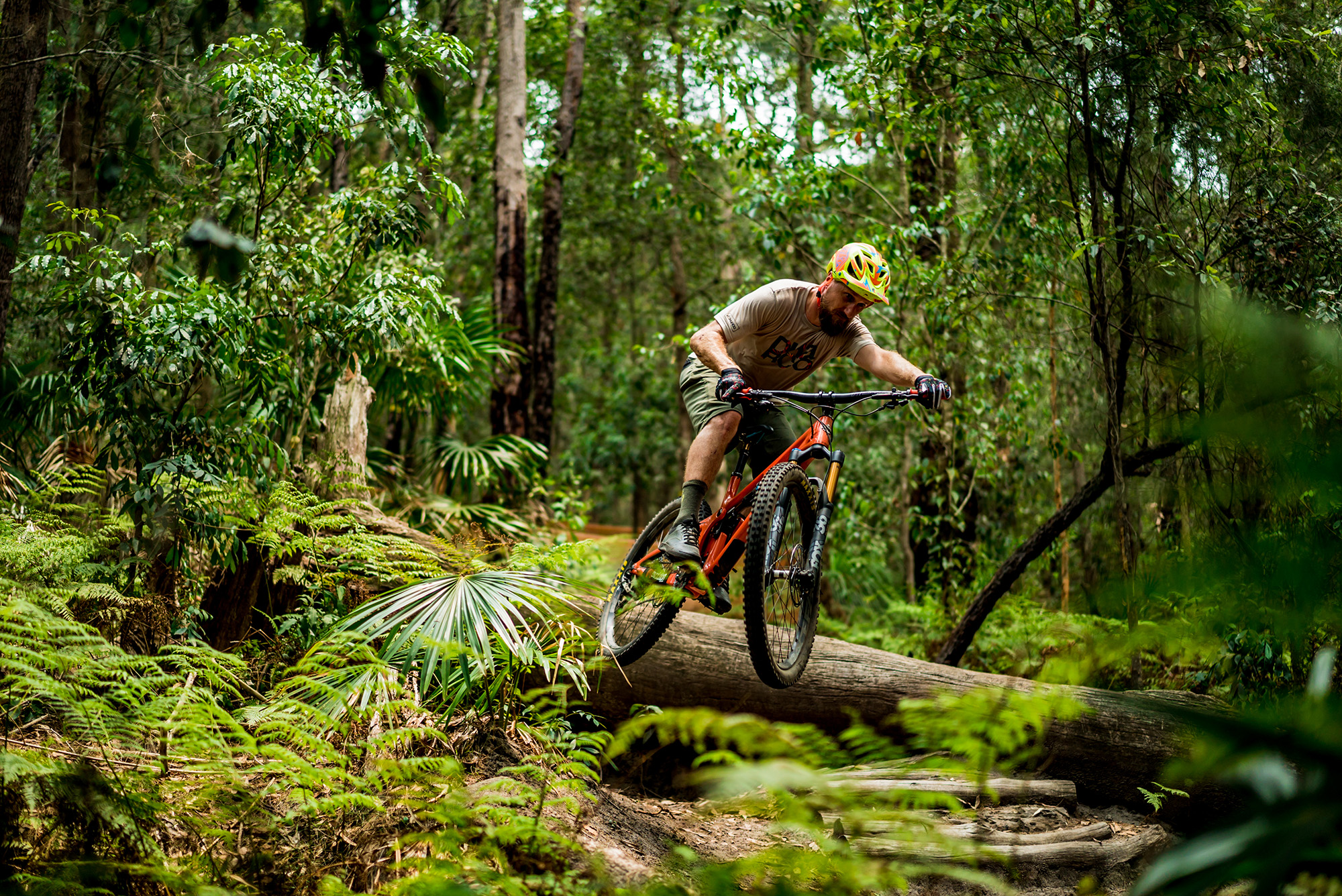 Alright that all sounds awesome but what did you think of the rig when you got your hands on it?
It's safe to say that every time we get our grubby little hands on a new whip from Yeti's range they never disappoint. From the moment we first cast an eye over this rig our eyes opened a little wider our mouths opened a little wider and we just had a short silent stare at this machine. The overall aesthetics of this bike are nice, the burnt orange paint job, along with the attention to detail Yeti have paid to the SB140 Turq Series frame were really pleasing, but we've come to expect that from this Colorado based company. And yes, there is heaps of room for a water bottle which was a bit of an issue with the SB5. It is fair to say the crew here at [R]evolution was super exited to put this sucker through its paces on the trails!
We've all heard a little about the 'Switch Infinity' suspension platform, tell us a bit more about that, what are your thoughts?
Ok, we have spoken a little bit about this when we previously tested the SB150, to give you a basic run down on Yeti's 'Switch Infinity' design, The ability for the main pivot to move has allowed Yeti's suspension platform to behave differently at different points in the suspension travel. Without delving into the kinematics of the suspension design and to put it in laymen's terms the suspension is designed to be very linear over subtle trail chatter, provide better mid travel support which ramps up later in the travel. It is also designed to maximise anti squat properties, provide a super-efficient pedalling platform and minimise pedal kick back without impacting on the suspension's performance. Obviously, suspension set up is a personal thing however overall the 'Switch Infinity' design will make you pedal better without compromising suspension performance.
The leverage curve of the suspension is designed to support the rear shock throughout the entire length of its stroke not just to provide resistance to the shock when it starts to get towards the end of its stroke. With that feature Yeti have indicated the shock can be run completely open all the time. Sure, there is plenty of adjustment with compression and rebound along with the trail, open and lock out settings. However, once we set the shock up, we ran it in the open setting the entire time.
The unique shock mount is Yeti's way to control the position of the shock in the frame, the shocks mounting 'extenders' provide a lateral load during compression because they decrease the shock's bushing overlap.
The extenders themselves are made up of two individual pieces which half hinge off either side of a pivot point on the swing link. This makes the shock easier to install, remove. The configuration means the width and the shock eyelets don't need to match up eye to eye. These extenders replace one of the eyelet bushings with a bearing creating a progressive, smooth and more reliable suspension action. This design allows a forward sitting shock position in the frame, providing a lower stand over height whilst opening plenty of room in the cockpit area. The frame also has more room for a larger shock or a coil shock if required.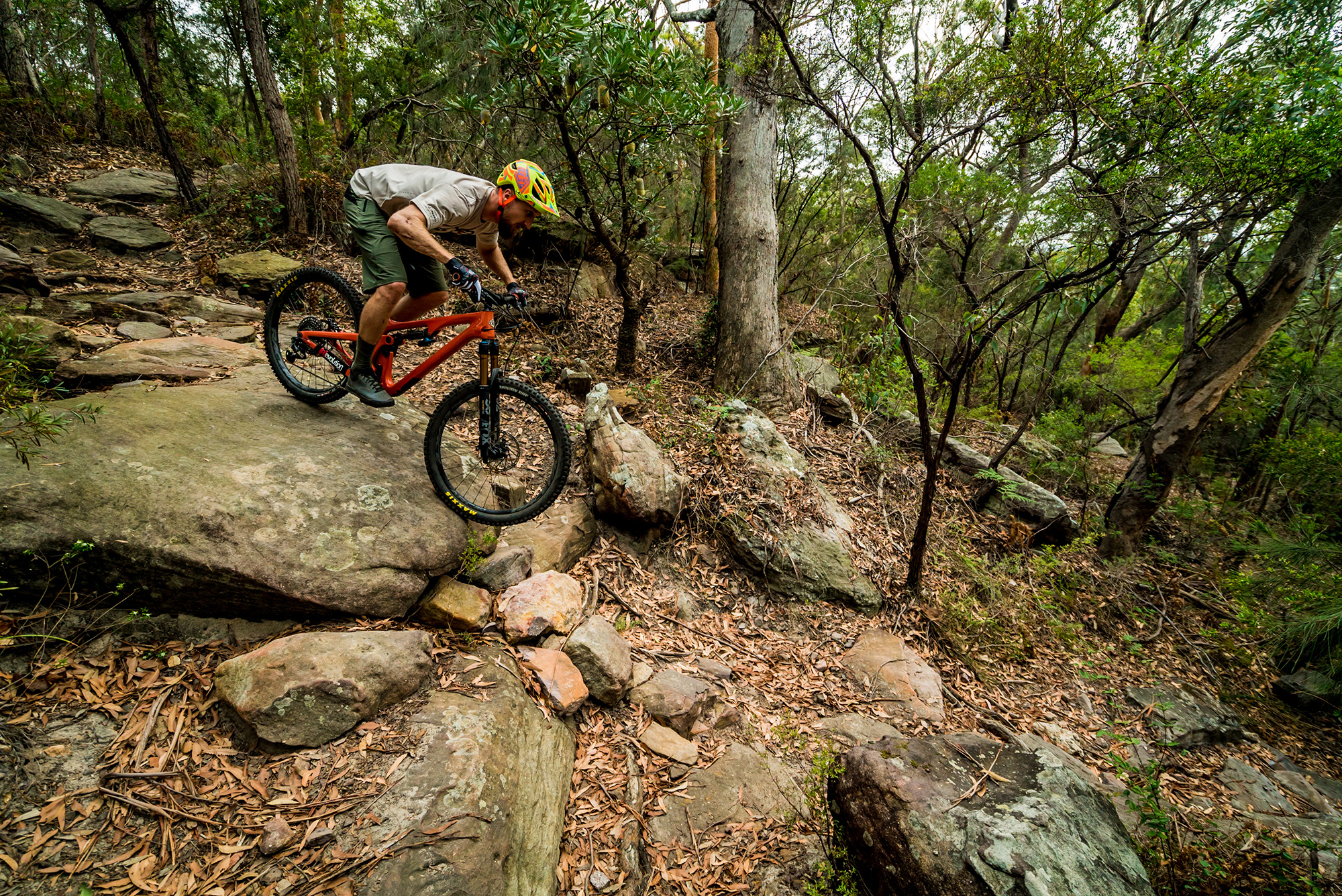 That all sounds radical but what about the fun stuff? What did you guys think when you hit the dirt? How did this sucker ride?
Alright let's get to the cool stuff! How did this sucker ride you ask? Let us start by saying we have put this sucker through the absolute ringer. We hit a variety of trails, climbs and a bunch of descents in all sorts of terrain and weather conditions. In short, we were impressed. Marketed as a 'Rip' bike this bike is built for just that RRRRRRIPPING!!! Ripping corners, jumps, jibs, booters and every other little aspect that makes MTB fun, this thing just makes all those little trail features better. For a shorter travel 27.5-inch wheel bike this rig was super capable over a variety of terrain. The 'Switch Infinity' design pretty much does exactly what the crew from Yeti said it would. Along with this bike being complimented by high end components it makes for a damn good all-round package.
This bike pedalled and climbed extremely well which was super cool. The bike cornered amazingly, was super light and nimble on a variety of different trail features however it never felt unstable. The real kicker with this bike was how nice it felt over all the light trail chatter and the suspension characteristics were super subtle over all the rough stuff which transferred to a sure-footed feel with the bike. The performance of the suspension platform transferred into a lot of traction to the rubber below not to mention the fact that for a 140mm rear end at times it felt bottomless, a characteristic more closely attributed to the longer travel enduro whips on the market.
Even at high speeds due to the modern geometry we found this rig super stable and predictable.
Final thoughts?
Sure, when we rode some heavy lines we found, the smaller wheels and shorter travel was working to its limits however we didn't really find this bike struggled. Sure, in comparison to the SB150 you notice the SB140 isn't a race bike and the SB150 tends to carry momentum a little easier over the heavier rough stuff but that's not to say the SB140 didn't cope. As a matter of fact, Yeti have hit the mark with the 'Fun' factor and that is exactly what this bike was built and marketed for. If your thing is racing sure go for the SB150 or if your thing is free ride, DH or you're a park junkie, hey go for the SB165. But trust us when we tell you, if you want to own and maintain one whip, the type of bike you take away for weekend sends followed by beers at the local establishment, then this is it. This rig will go anywhere you point it, it pedals amazingly and if you want a mountain bike with no other motive or purpose other than to put a smile on your dial, then this is it. To make it simple people, go get yourself an SB140, you won't regret it.
Yeti SB140 Specifications 
We reviewed the Australian Importers Sram XO1 Eagle model.
Frame // Full carbon front and rear triangles featuring Yeti's patented Switch Infinity Suspension technology. 65° head angle, 77° seat tube angle, 433mm chain stays.
Travel // 140mm
Wheel size // 27.5"
Sizes // S, M, L, XL
Price // $11,690.00
Browse // rowneysports.com
Fork // Fox Factory 36-160mm G2 fork
Shock // Fox Factory DPX2 rear shock
Drivetrain // SRAM XO1 12 speed drivetrain
Brakes // SRAM Code RSC brakes
Seat post // Fox Factory Transfer 150mm Dropper
Hubs // DT 350 hubs
Rims // Race Face ARC 30mm rims
Tyres // Maxxis
Bars // Race Face Next R carbon bars
Stem // Race Face Turbine R Stem.