Back in the day when freeriding was absolutely massive around the globe, Australia had one rider who was at the very forefront of the 'gnar'. We are of course talking about Grant Allen.
Then, in 2011 Grant suffered a near life ending crash. His injuries included ‌12‌ broken ‌vertebrae which lead to Grant being paralysed from the waist down. However, throughout the entire nightmare ordeal Grant managed to stay mentally as tough as ever. Even though he knew he'd never be able to walk again nothing would stop him from trying to figure out a way of riding a mountain bike.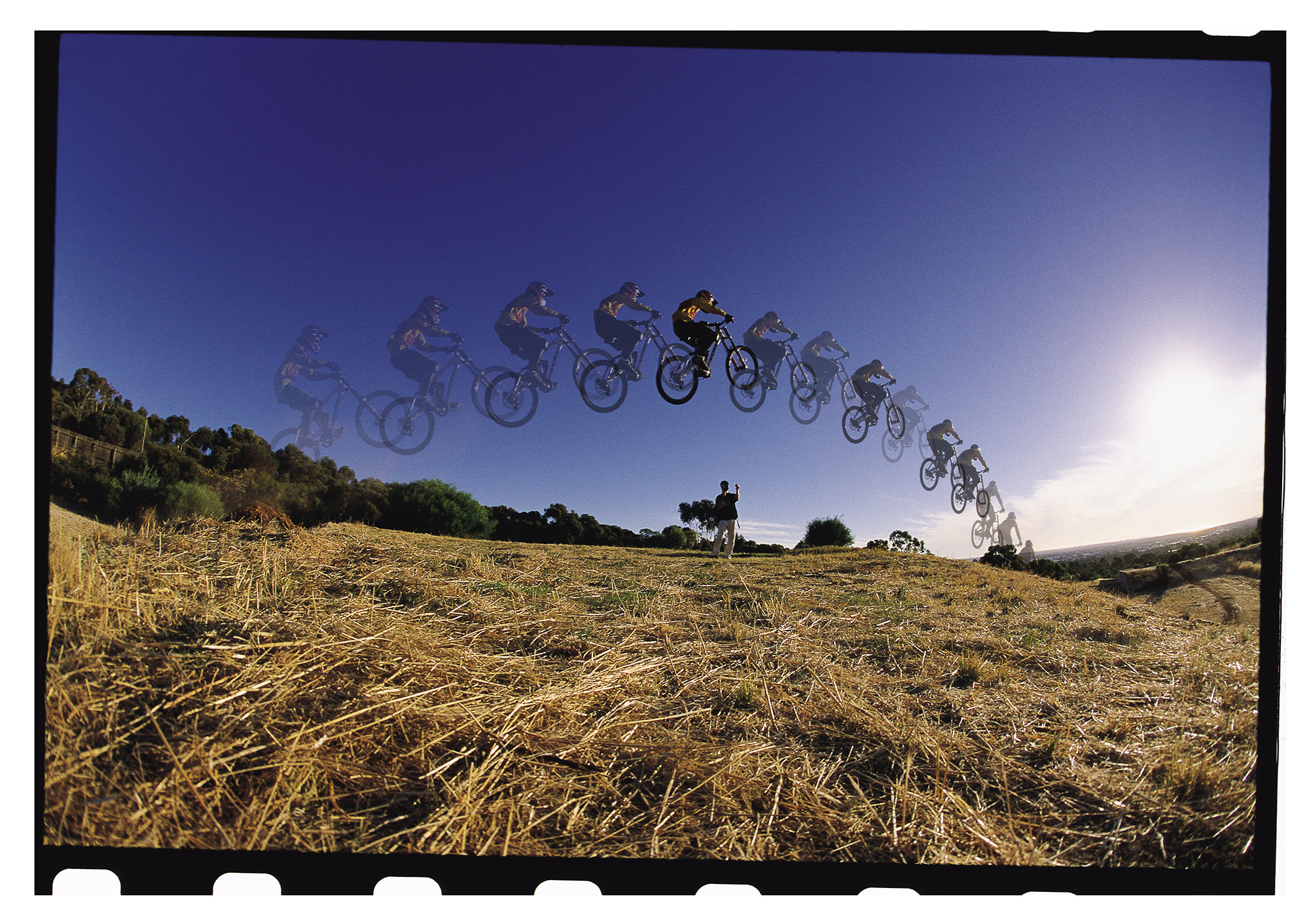 Grant Allen sending it on home soil back in '02 over the one and only Zoli from Volatile Visions. // Matt Holmes
Having spent years researching and tinkering with heavily customised parts, Grant has managed to create an awesome set-up which allows him to once again take to the trails and shred with his buddies.
We recently caught up with Grant over on his home turf to learn more about his one-of-a-kind Trek Session.    
Words // Darren Mallard   Photos // Ryan Finlay
‌[R]: ‌It's amazing to see you out there again on a mountain bike mate. ‌How‌ does it feel to be ‌back‌ ‌behind‌ a set of MTB ‌bars after all those years?‌ ‌ ‌
Grant: Now‌ ‌I‌ ‌have‌ ‌everything‌ ‌dialled‌ ‌and‌ ‌reliable‌ ‌it‌ ‌is‌ ‌so‌ ‌good‌ ‌to‌ ‌be‌ ‌back‌ ‌on‌ ‌the‌ ‌trails.‌ ‌It's super‌ ‌exciting‌ ‌to‌ ‌be‌ ‌back‌ ‌out‌ ‌with‌ ‌mates‌ ‌yelling‌ ‌and‌ ‌having‌ ‌a‌ ‌good‌ ‌time‌ ‌on‌ ‌bikes.‌ ‌ ‌
So first off can you give us an overview of your set-up. Obviously, you've got a heavily customised seat on there as well as a drive unit and a heap of other cool things going on?
Honestly, most of the bike is pretty stock but, most of the add ons are quite custom. The motor is from a company in Italy and has a custom tune for my riding. it mounts using the bottom bracket so the frame doesn't need any work to make it fit. The front end had to be raised because of the extra height in the seat.  The cranks are gone due to my feet not reaching the pedals, this is why they are not attached at the rocker link. Other than the GX eagle setup the rest of the bike is pretty stock. Oh, I did put bigger tyres for a bit of extra traction.
That carbon seat looks super cool! Has it been customised specifically for you?
Yes,  ‌seat‌ ‌is‌ ‌a‌ ‌fully‌ ‌custom‌ ‌foam‌ ‌core‌ ‌wrapped‌ ‌in‌ ‌carbon‌ ‌designed‌ ‌and‌ ‌made‌ ‌by‌ ‌me,‌ ‌for‌ ‌me.‌ ‌The‌ ‌seat‌ ‌post‌ ‌is‌ ‌actually‌ ‌a‌ ‌pivotal‌ ‌BMX‌ ‌post‌ ‌with‌ ‌a‌ ‌custom-engineered‌ ‌clamp‌ ‌on‌ ‌the‌ ‌seat‌ ‌bar‌ ‌to‌ ‌prevent‌ ‌excess‌ ‌movement.‌ ‌Others‌ ‌have‌ ‌messed‌ ‌about‌ ‌with‌ ‌seats‌ ‌on‌ ‌rails,‌ ‌however,‌ ‌they‌ ‌can‌ ‌twist‌ ‌and‌ ‌be‌ ‌a‌ ‌bit‌ ‌awkward.‌ ‌On‌ ‌my‌ ‌bike,‌ ‌I‌ ‌made‌ ‌this‌ ‌alloy‌ ‌bar‌ ‌that‌ ‌runs‌ ‌from‌ ‌the‌ ‌head‌ ‌tube‌ ‌to‌ ‌the‌ ‌seat‌ ‌pole.‌ ‌It‌ ‌has‌ ‌holes‌ ‌machined‌ ‌every‌ ‌15mm‌ ‌to‌ ‌allow‌ ‌for‌ ‌adjustment‌ ‌and‌ ‌there‌ ‌is‌ ‌actually‌ ‌a‌ ‌second‌ ‌set‌ ‌of‌ ‌headset‌ ‌bearings‌ ‌to‌ ‌allow‌ ‌for‌ ‌the‌ ‌steerer‌ ‌to‌ ‌rotate through the seat bar.‌ ‌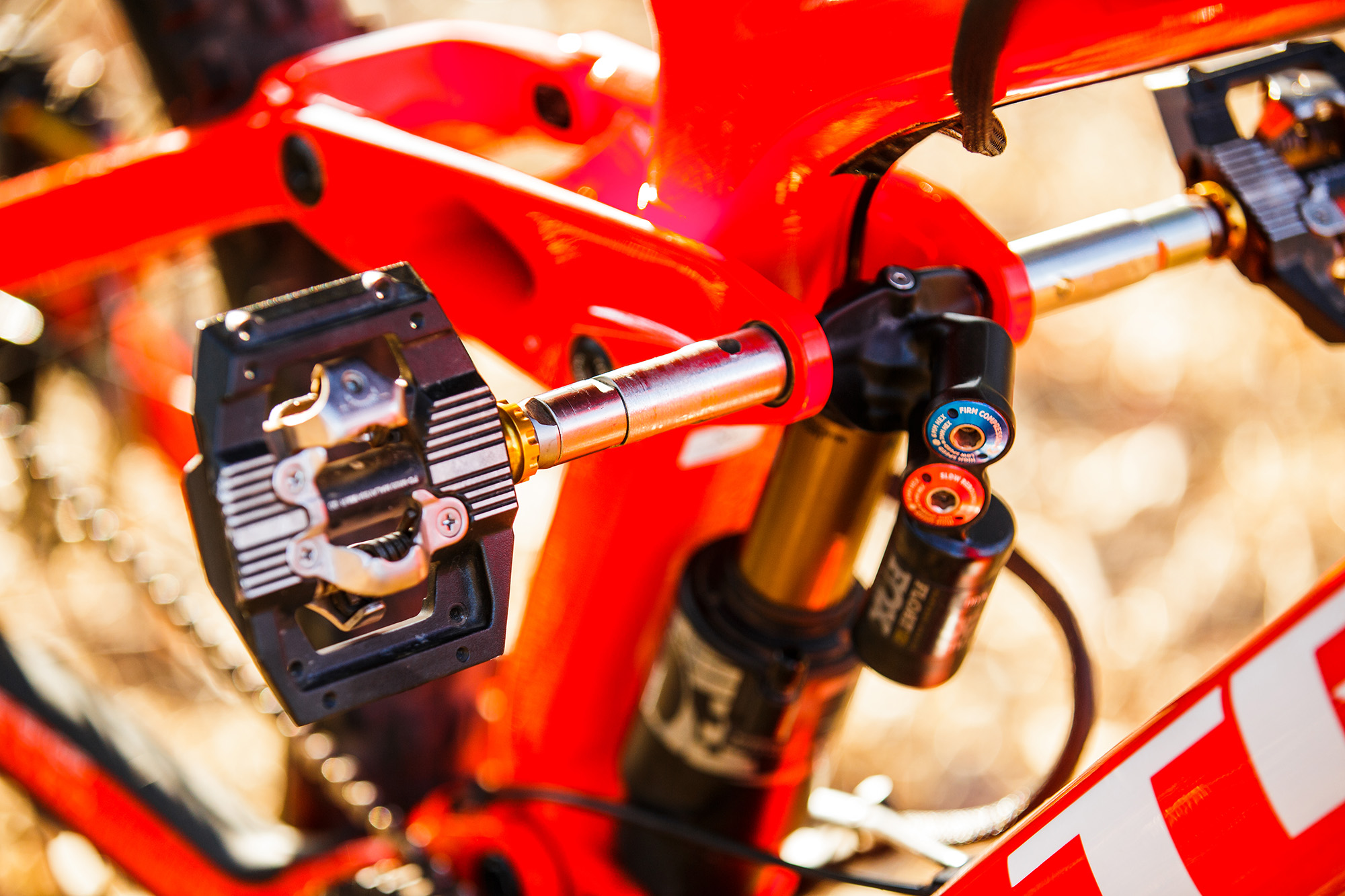 Tell us a bit about the ultra-trick pedal mounting set-up you've got going on here?
Yeah, because the seat is so high and I sit deep in it my legs don't reach the pedals in their standard position. The next best place was to put them at the top of the shock. Now there is basically a 3 piece system that replaces the mounting bolts and spaces out the pedals. The first part is like a long shock mounting bolt to secure the shock in the frame, the second part steps down the size so the pedal can thread into the system, and then that screws into the first part. The smaller part is made from regular steel instead of stainless, both to save weight and hopefully act similar to a derailleur hanger in the case of an accident.
What kind of power and battery life does the motor give you?
The motor is from a Greek company named Paradox Kinetics. It's a carbon cased motor that provides 1500w of power and it really matches the bike in quality. Super light at only 2.8kg as well.  I am not 100% sure of the battery size but, I did a 2 hour ride with the boys the other day and only went through ¼ of the battery.
What made you opt for a Trek Session for this build rather than something else?
The‌ ‌Session‌ ‌is‌ ‌one‌ ‌of‌ ‌the‌ ‌lightest‌ ‌frames‌ ‌on‌ ‌the‌ ‌market‌ ‌and‌ ‌while‌ ‌the‌ ‌Slash‌ ‌is‌ ‌a‌ ‌great‌ ‌bike,‌ ‌the‌ ‌Session‌ ‌helps‌ ‌me‌ ‌get‌ ‌out‌ ‌of‌ ‌mistakes‌ ‌a‌ ‌lot‌ ‌easier.‌ ‌This‌ ‌is‌ ‌an‌ ‌XL‌ ‌frame‌ ‌so‌ ‌that‌ ‌I‌ ‌can‌ ‌fit‌ ‌the‌ ‌battery‌ ‌between‌ ‌the‌ ‌seat‌ ‌and‌ ‌top‌ ‌tube.‌ ‌It‌ ‌actually‌ ‌climbs‌ ‌really‌ ‌well‌ ‌too!!‌ ‌Travel‌ ‌to‌ ‌save‌ ‌you‌ ‌and‌ ‌geo‌ ‌slack‌ ‌unusually.‌ ‌Helpful‌ ‌on‌ ‌the‌ ‌ups.‌ ‌No‌ ‌custom‌ ‌suspension‌ ‌either,‌ ‌all‌ ‌off‌ ‌the‌ ‌shelf‌ ‌Fox‌ ‌goodies.‌ ‌ ‌
I know that you're pretty handy with the tools (as a bike mechanic) did you manage to do all the custom work on this bike yourself?
I did the seat myself at home firstly shaping the core, wrapping it in carbon, and then using a vacuum bag moulded the carbon around the foam. 
Myself and some mates with access to machining equipment made the seat bar as well as the attachments. I machined the pedal axles myself on my lathe at home. Honestly, I was a part of every custom part I needed because at the end of the day it is very specific to what I need. 
Was it important that the bike had a specific amount of travel in order for it to work with your set up and be comfortable for you?
Not really, I went with the Session because I want a bike that could handle anything with confidence.
Have you had to adapt the bike's suspension settings as well?
The suspension is completely off the shelf. Because the actual bike weight isn't too far off the stock weight, and I am a light guy, there was no need to do too much. I do run the High Speed Compression a little slower just to keep it calm in the rough stuff.
‌
As the build progressed did you come across any challenges that you had to find solutions for?
Yeah, one‌ ‌hurdle‌ ‌has‌ ‌been‌ ‌balancing‌ ‌the‌ ‌weight‌ ‌with‌ ‌durability.‌ ‌For‌ ‌example,‌ ‌the‌ ‌custom‌ ‌pedal‌ ‌axles‌ ‌that‌ ‌go‌ ‌through‌ ‌to‌ ‌the‌ ‌shock‌ ‌were‌ ‌originally‌ ‌lightweight‌ ‌alloy.‌ ‌I‌ ‌had‌ ‌to‌ ‌put‌ ‌the‌ ‌pedals‌ ‌there‌ ‌because‌ ‌there‌ ‌was‌ ‌no‌ ‌way‌ ‌my‌ ‌legs‌ ‌would‌ ‌reach‌ ‌the‌ ‌pedals‌ ‌on‌ ‌a‌ ‌standard‌ ‌crank.‌ ‌It‌ ‌only‌ ‌took‌ ‌one‌ ‌fall‌ ‌and‌ ‌they‌ ‌bent,‌ ‌so‌ ‌I‌ ‌turned‌ ‌to‌ ‌stainless‌ ‌steel.‌ ‌I‌ ‌turned‌ ‌these‌ ‌myself‌ ‌on‌ ‌a‌ ‌lathe‌ ‌and‌ ‌had‌ ‌to‌ ‌re-learn‌ ‌everything‌ ‌I‌ ‌knew‌ ‌as‌ ‌I‌ ‌had‌ ‌never‌ ‌worked‌ ‌with‌ ‌it‌ ‌before.‌ ‌ ‌
Interestingly you've gone with a SRAM ‌Eagle drivetrain ‌on‌ ‌the‌ ‌rear of the bike rather than a ‌standard‌ ‌Saint, how come?‌ ‌ ‌
‌While‌ ‌the‌ ‌1500w‌ ‌Paradox‌ ‌Kinetics‌ ‌motor‌ ‌is‌ ‌super‌ ‌powerful,‌ ‌it‌ ‌didn't‌ ‌really‌ ‌have‌ ‌enough‌ ‌torque‌ ‌to‌ ‌get‌ ‌me‌ ‌started‌ ‌so‌ ‌we‌ ‌ended‌ ‌up‌ ‌throwing‌ ‌Eagle‌ ‌on‌ ‌to‌ ‌try‌ ‌and‌ ‌get‌ ‌me‌ ‌more‌ ‌torque.‌ ‌While‌ ‌this‌ ‌did‌ ‌help,‌ ‌we‌ ‌also‌ ‌ended‌ ‌up‌ ‌getting‌ ‌the‌ ‌guys‌ ‌from‌ ‌Paradox‌ ‌Kinetics‌ ‌to‌ ‌remotely‌ ‌connect‌ ‌to‌ ‌our‌ ‌computer‌ ‌and‌ ‌upload‌ ‌a‌ ‌custom‌ ‌tune‌ ‌straight‌ ‌from‌ ‌Italy.‌ ‌Gave‌ ‌it‌ ‌more‌ ‌grunt‌ ‌at‌ ‌the‌ ‌bottom‌ ‌end,‌ ‌while‌ ‌taking‌ ‌out‌ ‌a‌ ‌bit‌ ‌from‌ ‌the‌ ‌top‌ ‌end,‌ ‌there‌ ‌was‌ ‌no‌ ‌real‌ ‌negative‌ ‌as‌ ‌I‌ ‌will‌ ‌never‌ ‌be‌ ‌testing‌ ‌the‌ ‌motor‌ ‌to‌ ‌its‌ ‌full‌ ‌speed.‌ ‌ ‌
Have to ask, what is it like to ride? How does it work, do you hop on, clip in and throttle off? What happens when you come to a stop, etc?
It takes a couple of guys to help me get out of my wheelchair and into my seat. If I have something of a similar height and my bikes against the wall I can get in myself.  I can clip my feet in by reaching down and have had to do this while riding so it's not a tough thing. Stopping on the trail is easy as long as I am close to a tree I can lean on or someone is there to hold me up. Crashing is the hard part as people have to help me backup but, thankfully that hasn't happened much.
Is it still a work in progress or are you happy that it's perfect as is?
It's finally at a point that it is reliable but, I will always be tweaking to make it feel better.
Final question, have you been able to get this thing airborne yet or is it best if you just keep it 'rubber side down' out there on the trails these days mate?
Of Course!!! It actually feels really natural to jump over longer smoother jumps but, as I can't use my legs to "pop", shorter take offs are a lot harder.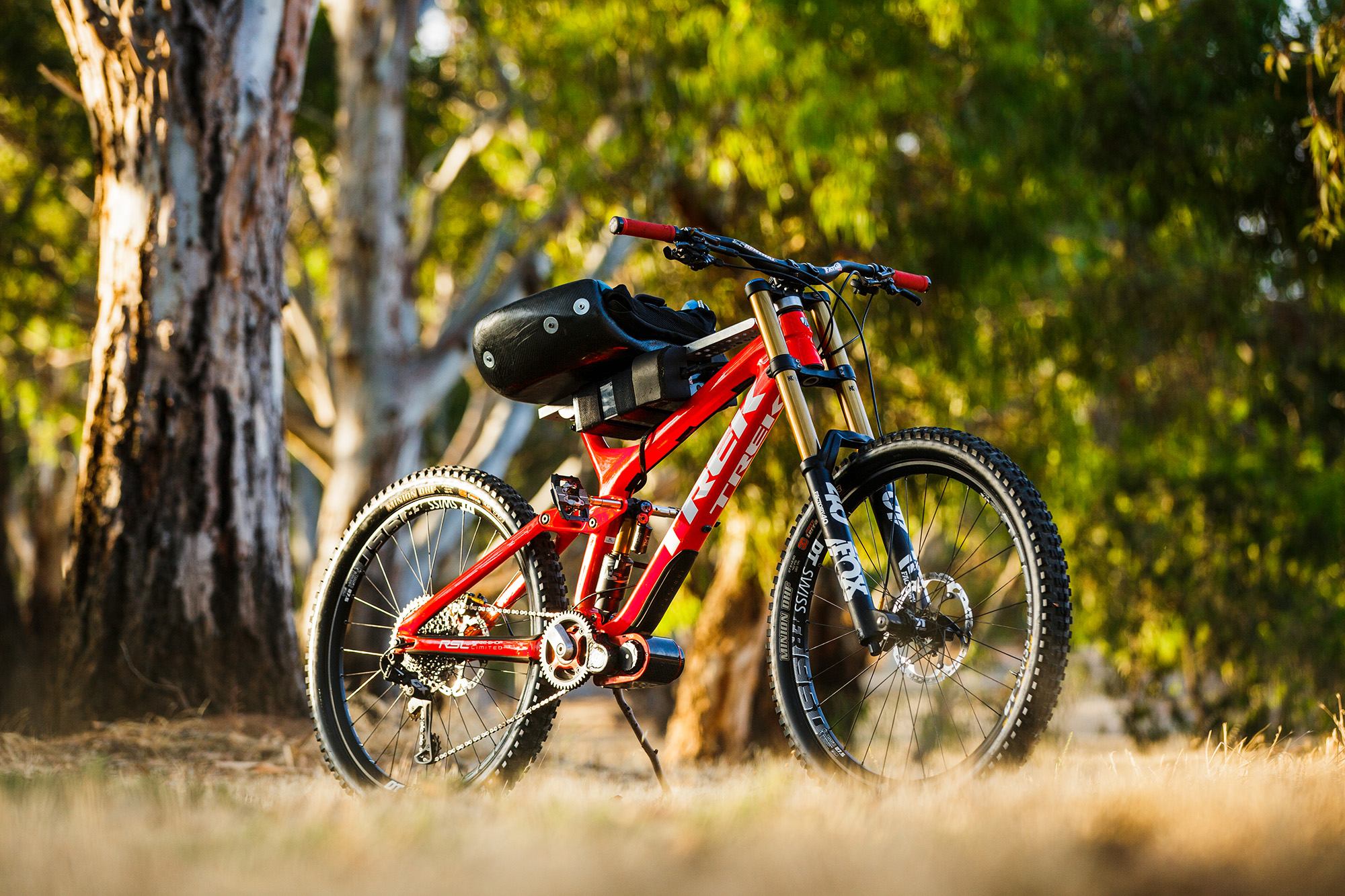 Trek Session ‌Specifications
Frameset‌ // Trek Session
Fork‌ // Fox‌ ‌Factory‌ ‌40
Front travel // 190mm
Shock // Fox‌ ‌Factory‌ ‌Float‌ ‌X2
Rear travel // 190mm
Rims‌ // DT‌ ‌FR‌ ‌560‌ ‌ ‌
Hubs // ‌DT‌ ‌350s‌ ‌
Tyres // Maxxis‌ ‌Minon‌ ‌DHF‌ ‌2.6
Drivetrain // SRAM‌ ‌GX‌ ‌Eagle‌ ‌
Crank‌s // Haha!‌
Cassette‌ // SRAM‌ ‌GX‌ ‌Eagle‌ ‌10-50‌ ‌
Chain‌ // KMC‌ ‌X10‌ ‌
Motor‌ // Paradox‌ ‌Kinetics‌ ‌Hermes‌ ‌1500w‌ ‌
Pedals‌ // Saint‌ ‌Clipless‌ ‌with‌ ‌custom‌ ‌steel‌ ‌axles‌ ‌ ‌
Seat // Custom‌ ‌Carbon‌ ‌Wrapped‌ ‌Foam‌ core.‌ ‌
Handlebar‌ // Renthal‌ ‌Fatbar‌ ‌40mm‌ ‌Rise
Stem‌ // Bontrager‌ ‌Line‌ ‌Pro
Stem Length // ‌50mm‌‌ ‌
Headset‌ // FSA‌ ‌Orbit
Brakes // Shimano‌ ‌Saint‌ ‌M820
This feature ran in our latest issue of the mag available right here:
‌
And for a lil more background on Grant, Volatile Visions has more than a little vision collected….