Packing your bike and jumping on a quick flight to Tassie for a riding weekend is super easy and surprisingly affordable, and best of all the quality of trails you'll get to discover down there will blow your mind!
You'll get to ride endless singletracks all day long surrounded by the most incredible scenery. Then, once you're done riding for the day you can unwind with that quintessential laid back Tassie lifestyle eating amazing local food whilst sampling regional beers and wines. How good is that!
Thanks to the phenomenal boom in trail investment, Tasmania doesn't only offer the best trail riding in all of Australia, it's currently right up there with the best riding you can find anywhere in the world! It's true, you used to have to fly all the way to Whistler to shred a mind-blowing gravity bike park; now you've got Maydena!  And you used to have to fly to Europe or Rotorua to discover endless miles of great single track trails, now you've got Derby and so many other fantastic trail hubs all across Tasmania which offer double or even triple the amount of quality trails that you used to have to head international to find. And guess what? Tassie is right here on our doorstep and the trails are open 365 days per year.
"Sure, when some people think about heading to Tassie they assume you'd need to commit to a full week away, however as we've discovered and fine-tuned ourselves, you can have an amazing riding holiday there and back in as little as 3 days."
Here is our guide of planning the ultimate long weekend in Tassie. We've gone ahead and created two separate itineraries: The first is for the gravity junkies who will want to fly into Hobart and head straight to the best gravity bike park in the southern hemisphere, and the second will see you fly into Launceston to experience the endless trail network of Derby.
Getting There
With direct flights to Tassie running from Melbourne, Sydney or Brisbane, and connecting flights from every other major airport, and airfares costing as little as $99 each way, there's never been a cheaper or easier time to experience one of the world's best trail riding destinations. Check out your preferred carrier website or travel agent for more flight information.
Transfers & Getting Around
Tasmania is really 'switched on' when it comes to welcoming mountain bikers and accommodating rider's needs. A heap of different car hire companies offer a range of different vehicles that already have bike racks mounted to the roof or even utes with soft tail pads. Being such a quick trip though we'd recommend taking advantage of one of the many airport-to-trail shuttle companies which operate out of both Hobart and Launceston servicing Derby and Maydena. For instance, 'Premium MTB Transfers' will collect you from the airport and whisk you straight to your accommodation in Derby, then return you back to the airport at the end of your trip all for just $150 per person.
Packing your bike
For some reason the idea of packing a bike into a box or bag makes some people nervous? Well don't be. A bike travel bag is a great bit of kit to own. They cost a couple of hundred bucks to buy (or you can go into one with some mates to split the price) they'll last forever, and they'll keep your bike safe and sound during your travels. Of course, if you don't want to shell out for a bike bag the next best (and much cheaper but less practical) way is to ask your local bike shop for a cardboard bike box. Packing your bike is actually really straight forward. You'll simply need to remove your wheels pedals, let a bit of pressure out of your tyres, unbolt your handlebars from the stem and that's about it. All up we're talking 15 to 20 minutes to pack your bike and about the same to build it at the other end. Today's bike bags are super sturdy, and specifically designed so nothing rubs or damages your bike, not to mention the fact that airlines are super careful with your bike these days. I know you hear a lot of horror stories of yesteryear, but those days are gone. All airlines understand that reputation is everything, so they do look after your expensive kit. And, because most airlines will allow 30kg for your bike you can go ahead and stash your helmet and riding gear in the bag/box as well. Easy as pie!
The MAYDENA itinerary:
Fly into Hobart
Where is Maydena located? 
You'll find the Park just over one hour drive from Hobart International Airport. Don't worry though, the drive is no mind-numbing freeway; it's a super easy cruise through picturesque rolling hills, alongside trout filled rivers and through orchards growing some of the world's most prized beer hops. Then, you arrive in Maydena, a rad little sleepy town that just so happens to be home to one of the biggest gravity MTB bike parks on the planet! 
Shuttles from the airport? 
Maydena Bike Park has partnered with a local shuttle provider called Maydena Express (www.maydenaexpress.com) for regularly operated shuttles and private shuttle options from the airport. If you are looking for a self-guided option, Drive Ride Explore provides a 4×4 Ute rental equipped with bike racks ready to tackle any Tasmanian MTB adventure (www.driverideexplore.com.au). For more information on transportation options visit: www.maydenabikepark.com/transport
What kind of riding experience can you look forward to at Maydena Bike Park? 
Maydena Bike Park is designed as a one-stop shop to give riders the ultimate Australian mountain bike park experience. All rides start and finish at the retrofitted primary school at the base of the trail network. With a full-service bike shop, bike hire and canteen, anything lost or forgotten can be picked up at the park.
Hosting over 60 gravity trails, ranging from green flow to pro-line technical, and 820m of descending per lap, riders have seemingly endless options at the park. The three primary ways to experience the park are:
Gravity
Known for its steep and gnarly terrain, downhill riders out there are best served to purchase a full-day shuttle pass, allowing them as many DH runs as their forearm strength will allow. The network is cleverly broken into sections with all of the trails from each section of the mountain collecting at trail junctions. The junctions allow riders to mix and match the type of terrain throughout each top-to-bottom lap, adding variety and endless combinations of trails.
Enduro
For a more well-rounded Enduro experience, combining shuttles and some climbing, riders can purchase a single uplift 'Enduro Pass'. After being dropped at the summit, the park has multiple link trails (Clifftop, Eastside Link, Creekside, Midline, Abbotts Rd) to traverse the hill and access the array of trails while descending. Combining the link trails with the mid mountain, 'Turn Earner' climb, riders have the freedom to choose their own adventure.
Climbing
Completely self-propelled, utilising the climbing trail network, riders can access up to the midline link trail sitting 400m above the base. With over 30 descending options from midline, fitness will be the biggest factor for anyone climbing in the park. While it may be difficult to see the multitude of tracks while climbing, this is a great way to get introduced to the park if you do not have a full day of riding available to you. Maydena has recently begun investing in expanding the e-Bike experience at the park. With an e-Bike, riders can make the most of a climbing trail pass, and will see e-Bike oriented trails popping up in the park throughout 2020.
How much does the park cost to ride and what are the hours of operation? 
The Bike Park hours of operation:
Shuttles to the top of the mountain
9:30am – 4:00pm daily
Bike Shop
8:30am – 5:00pm
Café
Monday to Sunday – 8:30am – 8:00pm
All riders:
2-Day Uplift – $155
3-Day Uplift – $215
4-Day Uplift – $280
5-Day Uplift – $325
Pass options:
Climbing Trail Pass – $20, $10 for locals
Enduro Pass – $40
Full Day Uplift – $80 adult / $75 Child/Senior
If riders are coming for multiple days they can be more cost effective with a multi-day pass option.
Extended Play
Phat Friday is Maydena's weekly downhill race series with extended shuttles from 4:00pm – 7:00pm. Selecting a new combination of trails each week, for $35 riders get 3 hours extra shuttling and the option to race their mates down the track of the week.
Accommodation and food options in and around town? 
Depending on the type of trip visitors are looking for there is a variety of accommodation options in the area. For those looking to "bike park on a budget" or are coming solo, camping is the most cost-effective option. Just 10 minutes east of Maydena is the Left of Field Caravan Park and the Mount Field Campground. Both campgrounds are family friendly with toilets and BBQ cooking facilities nearby. These sites are also both walking distance to Russell Falls which is a must-see when visiting the Maydena area.
For larger groups and those looking for accommodation directly in town Airbnb hosts a variety of houses across town ranging in the number of beds. The majority of these houses come equipped with bike storage, bike washes and in-house entertainment.
For more information on specific accommodation options visit www.maydenabikepark.com/stay/.
Food & Dining
Now that the Park has been open for 18 months and it's becoming a super popular drawcard for riders from across Oz and the rest of the world, more dining options are starting to pop up around town. The bike park canteen has food options for breakfast, lunch and dinner. Featuring breakfast sandwiches and burritos, upscale toasted sandwiches for lunch and hand rolled pizzas after 2pm you can't go wrong with the bike park eats. Walking distance from any accommodation in town, Giants' Table offers a warm pub-style sit-down lunch and dinner 7-days per week.
When it comes to groceries, you are best served to stop in New Norfolk on your way through town to stock up. The local general store has the essentials and some quick snacks but Woolies in New Norfolk is a must for your fresh items.
Forgot to pack your helmet or pads? Maydena even has its own gear store on site, right? 
Correct, you can rent both DH and Enduro full face helmets, elbow and knee pads on site when you check in. If you are looking for any new or upgraded gear, the bike shop is stocked with the latest from Fox.
There's a full workshop for mechanical repairs and services as well? 
Also correct, with an onsite mechanic and the shop stocking the majority of mainstream parts for DH and enduro bikes, the park can make sure your bike stays rolling throughout your trip.
Bike Hire
The Maydena Bike Park has partnered with Trek and as a result they have a big fleet of awesome hire bikes available. We're talking.. 
DH Bikes
Coming this summer the DH fleet will be made up of Trek Session 8s. There is no better place in the southern hemisphere to test the capabilities of a downhill bike. Whether you are looking to save your enduro bike some punishment or have never ridden one, this hire option will keep you stable and strong throughout Maydena's massive descents.
Enduro Bikes
The park has both a 27.5 and 29er option for Enduro bikes. The Trek Remedy, with the smaller wheel size is a nice all around, playful bike that will get you through any of the tracks in the park. The Slash 29er, will provide a more planted, stable bike that will help build confidence in the varying bike park terrain.
e-Bikes
New this season, the bike park has Trek Powerflys and, coming for summer, the new Trek Rail. The e-Bike hire includes a climbing pass and a charging station pass so visitors can pick up their bike and ride straight out the door. The e-Bike hire option is a great way to explore the park for the first time, allowing you to cover the most ground without burning out your legs.
Hire Pricing
DH & Enduro bikes – $125
e-Bike (incl. climbing pass) – $150
What to pack
Full face helmet, Knee pads, Extra brake pads, Rain gear, Water bottle, Spare tube / CO2 and Foam roller (you will need to stretch after this many kms of descending)….
5 'Must Ride' Trails in the park for amateur gravity riders 
Scandinavia – Ultimate green flow, this trail can be ridden smooth and consistent for beginners, but will bring the scandi flicks out of those carrying more speed.
Pandani – Berms, berms and more berms, there is no better place to practice cornering.
Beach Babe – Sandy and flowy Beach Babe surfs the contour of the upper mountain.
Marriotts – Rollers and flow all day down Marriotts.
Handi Scandi – A great intro into technical riding for those new to gravity riding.
5 'Must Ride' Trails in the park for advanced riders 
King Brown – Every pro's top pick, these are some of the most fun corners you will find anywhere.
Old Mate Cobba – In any conditions, this one delivers fast and rocky technical terrain.
Styx & Stones – Commonly used for enduro races, styx and stones is full of line choice and off camber sections.
Yeah Gnar > Gnar Yeah – The name really says it all here, this is the steepest track you will find at Maydena.
Zen Garden – Known for its rock drops and lily pad feature you will need to bring your a-game for Zen Garden.
The DERBY itinerary:

Fly into Launceston
Where is Derby located?
Derby is located just over one hours' drive east of Launceston.
Accommodation Options
Since all the trail networks have been built during the past five or so years, the once sleepy old tin mining town of Derby has literally exploded back to life! As a result, there is a hell of a lot of new infrastructure being built which includes new and old accommodation. At last count there are now 40 Airbnbs operating in Derby. And again, a lot of the accommodation services are specifically geared towards the riders, with tools, bike stands and wash bays for your bikes, old places have been revamped and there are new places being built throughout Derby specifically designed for the spike in riders visiting. We stayed in a self-contained house with eight of us for three nights and it set us back about $220 dollars each.
Food and drink options in Derby
Nowadays Derby is home to plenty of food and drink options, however their opening times and days can still be a little limited. There are a couple of pubs in town with one of the pubs offering some great food and drinks. There are a couple of cafes in town which also do some great food and coffee along with the pizza restaurant which does some great pizza and has an awesome craft beer and wine collection. Overall the people in Derby who cater food and beverage are super friendly and overall, they do a pretty damn good job at taking care of all the town's visitors.
Bike Shops in town
Even though Derby is a small town you will be pleased to find a handful of well stocked bike shops. Vertigo, Evolution and Mad MTB are the three main stores and each of them sell bikes, have a mechanics workshop and a fleet of hire bikes. They also offer shuttle services which are situated a couple of doors down from each other in the main street. In addition to the bike shops there are a few additional business in town that operate shuttle services for riders wanting to get to the top of the mountains to experience the mega tracks. They do things a little differently and have their own style, which is cool, one thing you will notice from the onset is that everyone is super friendly and really stoked to have you there. So, if you're a novice rider and still keen for a Tassie experience look no further. These guys are super helpful and will put your mind at ease.
What type of riding can you expect?
Alright, with all the boring stuff out of the way, let's get to the nitty gritty. The riding! Is it worth it? Absolutely. The riding is so damn good! All the 'town' trails start and tend to finish at or near the trail head. Derby is pretty small so despite what trail you ride or shuttle you take, all roads lead back to Derby. Derby has heaps of 'trail' style riding with heaps of climbs which lead to a variety of trails and descents. There is a huge network of purpose-built MTB trail, so if that's your thing, you can literally rock up in town and ride from your accommodation for free. There are plenty of maps around town and you can pick up a trail guide from most of the local businesses.
If gravity only is your fix then there are plenty of shuttle companies in town where you can book a ride to the trail head out of town being the 'Black Stump' for multiple downhill runs. Or, if you're after a day trip adventure there are shuttles which will run you out to ride the now famous 'Blue Tier' and 'Atlas' trails which are both a gradual descent back to Derby with a couple of mellow climbs. The town of Derby even has a massive pump track if you want to just chill, hang out with mates and have a cold beer.
Shuttles
There is a heap of shuttle services in town which will run you to the top of wherever you want. Obviously, that comes with a price, but you're not locked into a full day – you can buy one lift, multiple lifts or a day pass. Prices vary depending on where you want to ride and for how long. You can book online or you can just wait until you get to town to suss it out, it's not an issue. If you hire a ute or a minivan with a trailer you could also take it in turns to drive the shuttle road yourself. The only down side to this is that one of your mates misses out on each run. To be honest, the crews running shuttle companies have got it dialled, so we'd recommend using one of those guys to maximise the riding time during your visit. 
What kind of riders are going to love it here? 
Derby caters for all fitness and skill levels and features a near endless amount of trails suited to all riders. If you're a novice or a beginner, there's plenty for you, and if you're a really skilled rider, there's a ton of trails for you too. If you head out and ride Blue Tier and Atlas back-to-back, along with finishing up in town for a couple of local trails or shuttle in the arvo, you can punch out more than 50 to 60 km in a day no worries. If you're after a more mellow approach, a few local laps, shuttles or what-not followed by an awesome lunch and couple of beers, you're in the right place! There is a super nice vibe in town and it's the perfect place to sit back, relax and take in the scenery. 
What type of bike is ideal for Derby?
We'd recommend a trail/enduro style bike with 140 to 170 mm travel, that's going to be your best 'all round' option. Overall the trails and country you ride through is super pretty and I can guarantee completely different to anywhere you've ever been riding in the world. At times you look around and think to yourself, 'WOW, I can't believe they have created this'. There are berms, booters, jumps and flow trails all neatly carved through old heritage forest lined with ferns and frankly it is amazing!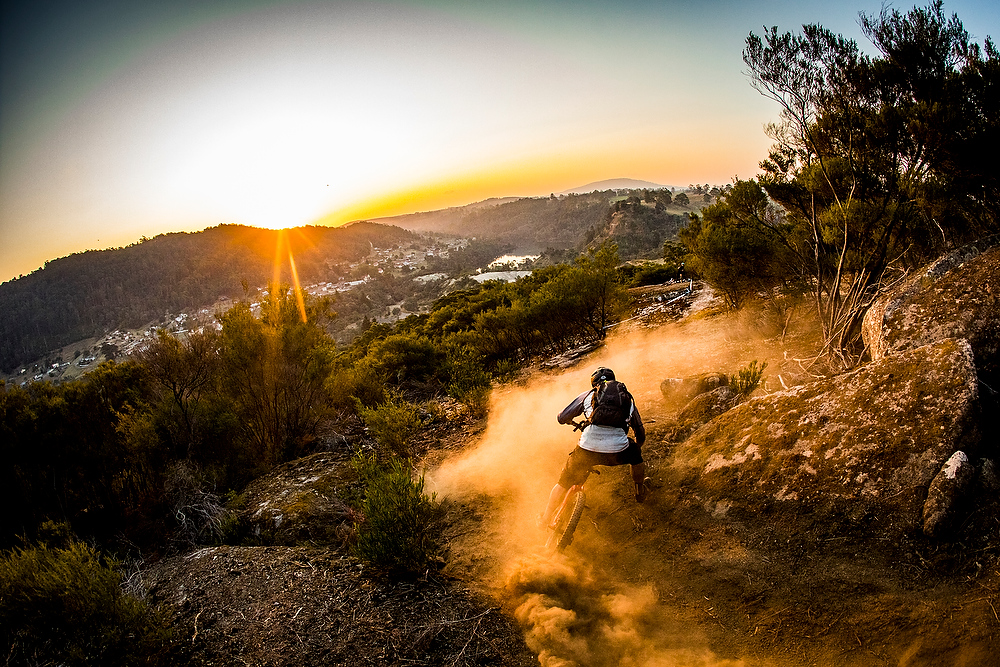 "This place has been given back its youth and, as the age-old saying goes, 'if you build it they will come.' And come they have. Derby is going gangbusters with creating new trail."
One of the most exciting mega trail additions to the region which has just been opened is the St Helens trail. This 20+ kilometre 'World Trail' creation runs from right up next to the Blue Tier all the way to St Helens on the coast and literally the trail brings you out right on the beach at the Bay of Fires. Quite simply put the new St Helens trail is amazing! Businesses are thriving, there are new houses and accommodation being built and as result people are flocking to Derby in their droves for the good times and amazing trails. You can experience a long weekend away in Tassie with minimal effort, minimal price and, to be honest, it's actually easier to get to Tassie than some of your more regular MTB haunts. So people, if Derby, or Tassie for that matter, is on your bucket list, go ahead and make it happen!