In what will surely become 'the must have upgrade' in all of MTB, today SRAM have lifted the lid on a super-wallet friendly version of their uber-performance AXS wireless electronic drivetrain system.
Say hello to GX Eagle AXS! Boasting near identical performance and 'feel' and features to the existing top-shelf AXS drivetrain models, but costing several hundred dollars less, this new GX version is set to be a total game changer!
THE ULTIMATE UPGRADE?
We sure as hell think so! If you're one of the countless riders worldwide who currently run a mechanical SRAM Eagle drivetrain on your bike, for literally $904 you can slide that inner cable out and throw it in the bin forever. There's no need to replace your cassette, chain or cranks, the new GX AXS kit simply replaces the rear mech and paddle, and at the same time it literally transforms the performance of your gear shifting. 
HOW HAVE SRAM MANAGED TO BRING AXS TECHNOLOGY TO SUCH AN AFFORDABLE PRICE POINT?
Simply put it's pretty much thanks to the trickle-down effect… The new GX Eagle AXS borrows much of its tech and design from the existing AXS Eagle XO1 and XX1 families. To get the price point down the new GX group is constructed from slightly heavier materials but the actual electronics and motor mechanism are identical to what's used in AXS Eagle XO1 and XX1. Oh and guess what? You might notice from the pics that at the rear of the GX there's a fancy looking plastic battery protector – this is unique to GX Eagle AXS. 
WHAT'S IN THE BOX?
Given that the system utilises the existing SRAM Eagle cassette, front chainring and chain, the new GX Eagle AXS family comprises of just a handful of pieces, derailleur, trigger and battery. And what it doesn't need in order to operate is a f*king gear cable – woohoo! You can buy each component within the GX Eagle AXS range separately or you can just buy the whole lot in what SRAM are calling the 'upgrade kit' which will set you back $904. Less than a grand to totally transform the performance of your bike – how good is that! 
INSTALLATION & SET-UP
So much quicker and easier to fit that a traditional mechanical drivetrain, with AXS you simply bolt it on, set 3 limit screws, press the pairing buttons the rear mech and trigger, and 'boom' you are ready to ride.
"Fitting the drivetrain is a breeze, literally all you are doing is fixing the derailleur and shifter, tuning in your b-tension, high and low limit screws and throwing your gear cable away forever. After checking my derailleur hanger alignment and watching the 8 minute installation video on the SRAM TECH YouTube we were away. Once you have wrapped your head around the concept I think it is actually easier to work on than mechanical drivetrains. Being that the indexing distance between gears is set by the motor servo, you aren't second guessing if your cable tension is incorrect or if your hanger alignment is out if your gears aren't running smoothly. The B-tension, high and low limit screws are actually identical in setup to mechanical SRAM drivetrains."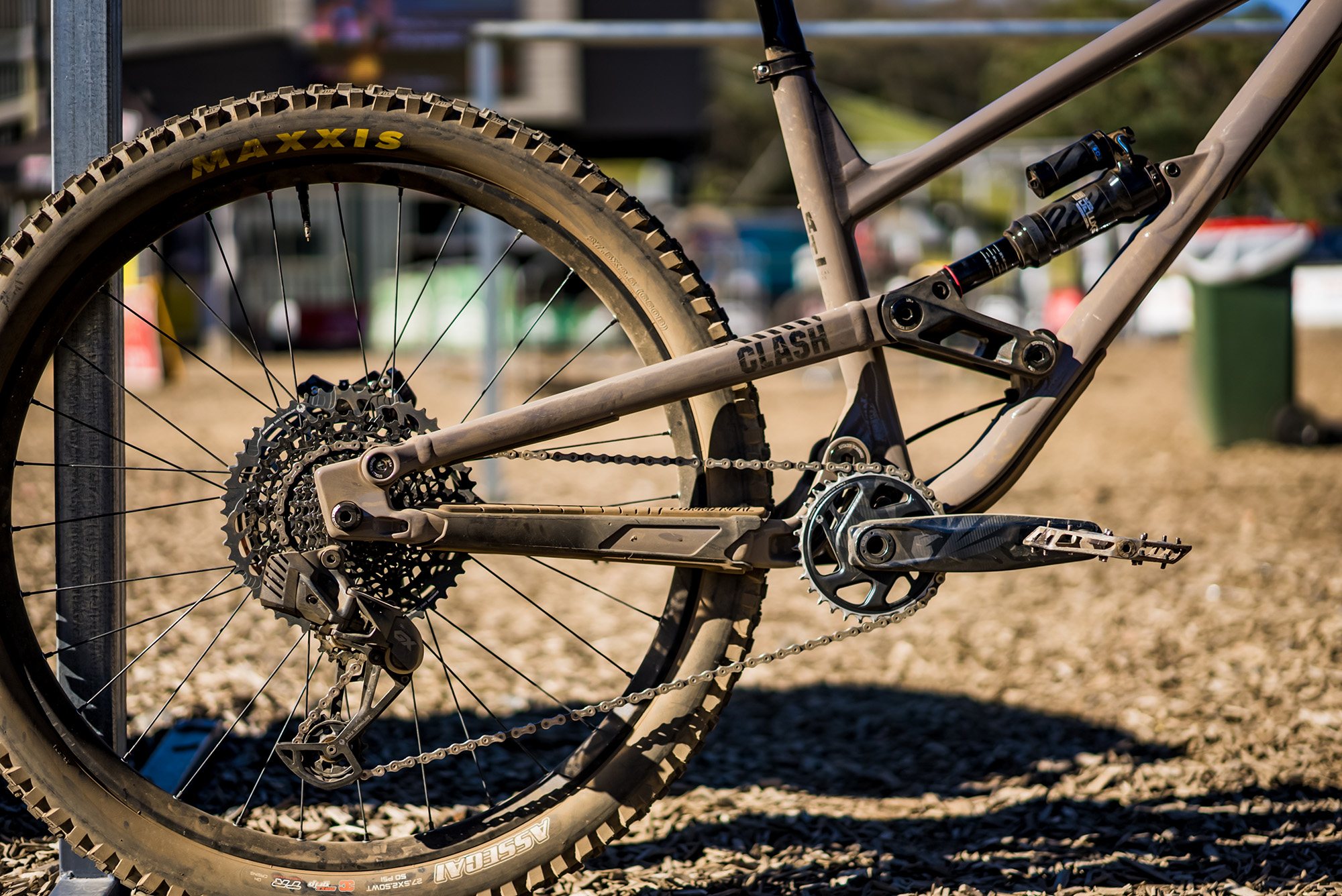 THE APP
Unlike a lot of the App's that bike brands tend to launch which offer next to no actual benefit with set-up, customisation or operation of the bike or parts, the AXS App is super beneficial and functional. Using the App you can customise the functions of the triggers touch points, as in when you push the top of the paddle you can program it to either shift up or down, etc. Super impressive and super easy to use.
LETS TALK BATTERIES
The rear derailleur is powered by a removable lightweight rectangular battery which is charged via a USB charger. Battery life is epic! So far we've racked up more than 25 hours of trail time since we bolted the GX Eagle AXS to our test bike and we're still on the original charge! Checking battery life is easy: press the button on the shifter. Green light means it's at or close to full charge. Red light means it's at or close to half charge. And flashing red means charge it up. The trigger is powered via the same style of battery found in your every day run of the mill wristwatch and so that thing will literally last years and years before needed to be replaced. Ha, sweet!
CONNECTIVITY
All AXS components connect to one another using SRAM's proprietary encrypted wireless network. The AXS mobile app is used for personalization of the component controls and to serve as a single access point for all SRAM AXS connected gear. We've been lucky enough to have been running AXS on our bikes ever since it launched a couple of seasons ago and the connectivity has never once failed.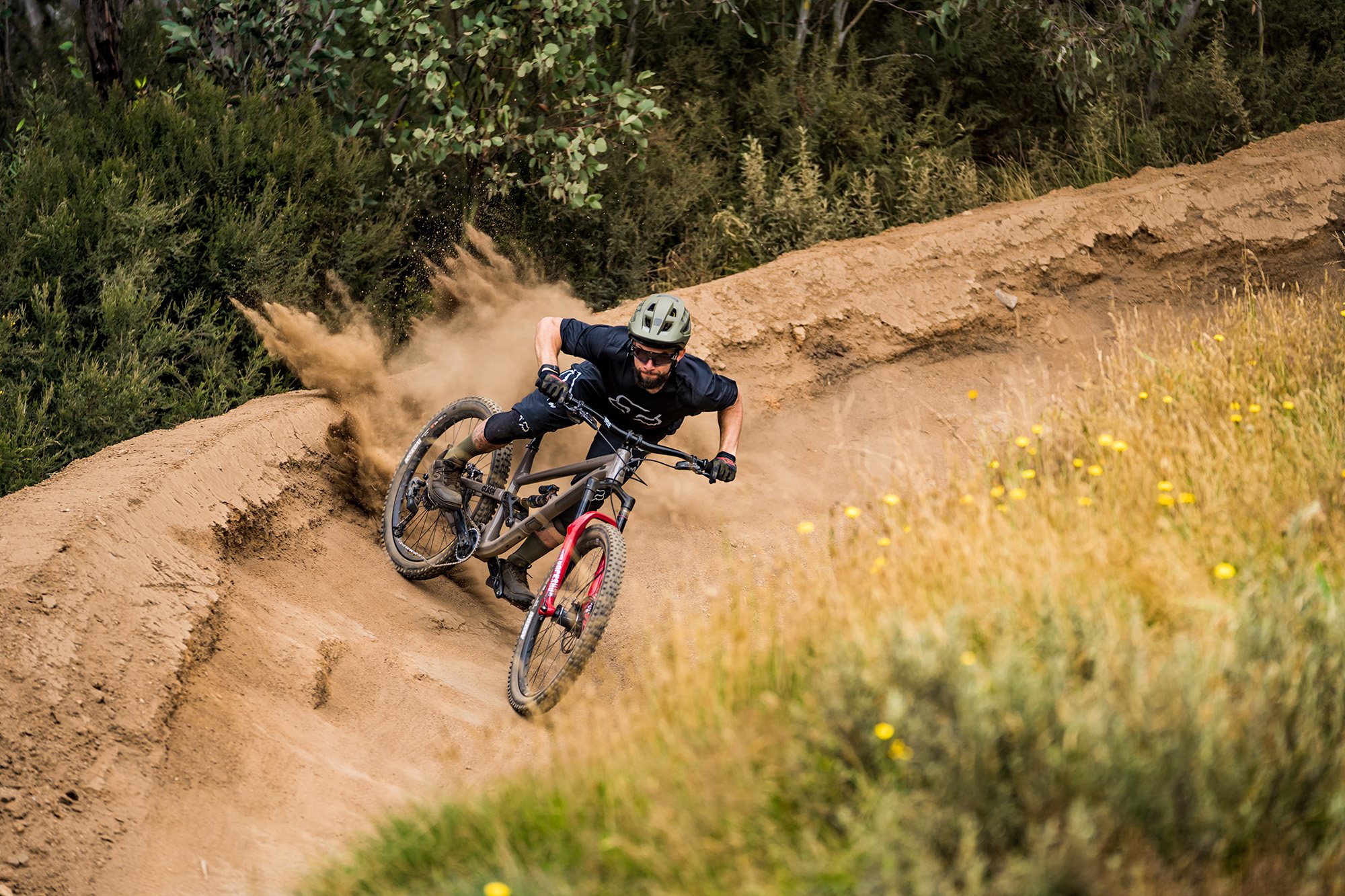 THE REVIEW! WHAT ARE THE MAIN ADVANTAGES OF HAVING AN AXS ELECTRONIC DRIVETRAIN?
Of course, this will be different for everyone, but for us it is all about the simplicity it brings to the front of the bike due to a lack of cables is incredible, along with how much quieter the bike is as well. We've very OCD from this point of view so that is one of the main advantages in our eyes. But for others it might be the inclusion of electronic tech within their bike or just the bling factor.
HOW DOES THE 'GEAR SHIFTING' OF THE AXS COMPARE TO A REGULAR MECHANICAL SET-UP?
The shifts are a lot crisper than with a regular mechanical drivetrain. Gear changes also happen a lot faster!
DID IT TAKE LONG TO GET USED TO THE AXTUATION AND ERGONOMICS OF THE AXS TRIGGER 'VS A REGULAR PADDLE TRIGGER?
Mmmm, it maybe took a ride or two to become completely acquainted with it, now that I am though I have found going back to mechanical shifters a chore. The paddle on the AXS shifter may look a little odd to some, but SRAM have done really well on this front in my opinion. It really is unbelievable how much of a difference only having to move your thumb 2mm to shift up the cassette instead 10+mm on a mechanical shifter.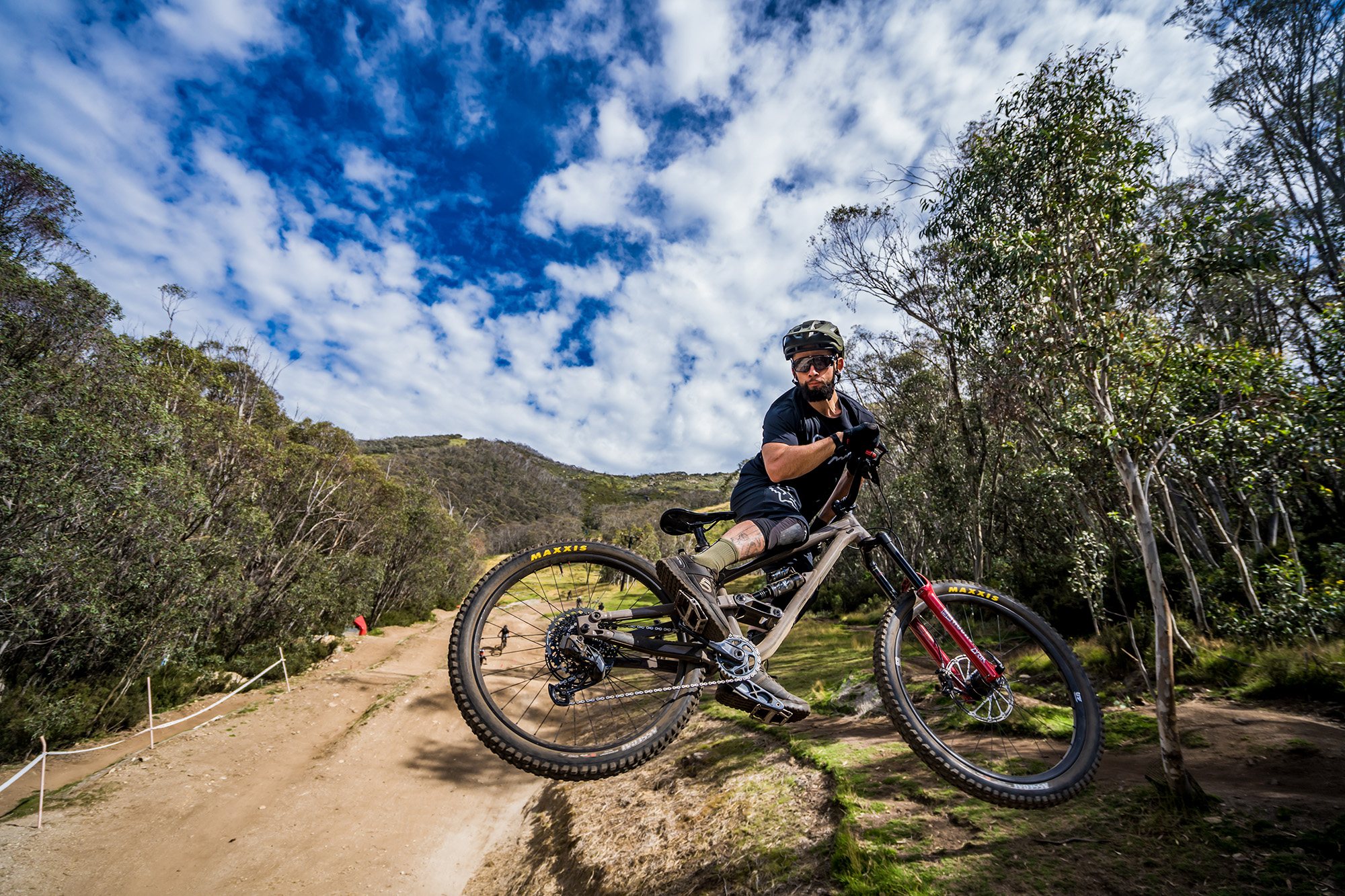 DOLLARS AND GRAMS
Price wise as we've mentioned a few times already the entire GX Eagle AXS upgrade kit will set you back $904. When comparing that to the top of the line XX1 Eagle AXS (which recently received a price reduction here in Oz) costing $1699, we're talking about $795 between the two. Or in other words, the new GX gear is nearly half the price. Weight wise the GX Eagle AXS trigger and derailleur tip the scales at 538 grams whilst the XX1 version comes in at 445grams, so the difference between the two is less than 100grams. 
WHEN IS IT GOING TO BE AVAILABLE?
You might have noticed/heard there is a MAJOR global shortage of bikes and parts going on right now, however, the awesome news is that GX Eagle AXS will be available to purchase from your local Aussie bike store today. Yep, right bloody now, so what are you waiting for?
KEY FACTS
Compatibility // all SRAM Eagle drivetrains
Speeds // 12
Weight // 70g (trigger), 468g (derailleur)
Cost // GX AXS upgrade kit (derailleur, battery, controller, charger & chain gap tool) $904