World Cup racing is intense. Traveling the globe over the course of the season to have your fate determined by a handful of 4-5 minute runs. This intensity making or breaking many a rider and machine in the process. It also breeds the chosen few who become heroes to legions of fans through their winning ways.
Arguably the most revered team on the WC circus over the last decade has been the Santa Cruz backed Syndicate team. A powerhouse of talent, results and good vibes on and off the track. We scored some time with the infamous crew at this years WC in Cairns and headed south with them on their East Coast Tour for Lusty Industries.
The now ten year old Syndicate brings with it a heritage of the fastest, most bad arse racers. All capable of dominating their chosen form of riding. It's early days included the likes of Nathan Rennie, Jamie Goldman, and Johnny Waddell, all making their mark on the world stage. With Steve Peat coming onboard for the 2006 season, the team really began to amass podiums, his legacy a legend in it's own right. Roll on 2008, the Syndicate we now know and love came into being with the almost super-hero like duo of Greg Minnaar, and Peaty's Manchester born protege Josh Bryceland joining the party. Minnaars first year onboard with the Syndicate saw him winning the UCI Mountain Bike World Cup, taking out Sam Hill and Gee Atherton in the process. 2008 was also Josh Bryceland's first year with the Syndicate, a year which saw him win the UCI Junior Downhill World Championships, a result that launched him into the elite ranks. 8 years on, these two have continued to stack up both World Cup podiums and a legion of fans. And nowhere was this more apparent than in the pits in Cairns, including more than a few female groupies one of which we encountered running up the DH track during track walk in search of 'her Rat'. Fame pays off right?

With a 'team' house close by at Trinity Beach, the pits for the Syndicate's now two man team (Peaty is only hitting a handful of WC's this year…) was minimal. Longtime SCB wrenchers Doug Hatfield and Jason Marsh were firmly entrenched in the tent with their tools of the trade plus a few lounges to chill on. However both Rat and Greg were heading back to chill in their own space when not required at the track, both feeling the effects of the draining Cairns humidity. In the lead up to the race, while relaxed, both riders were slowly but surely morphing from laid back into full race mode for practice and qualifying. Both knew full well the stakes at play. And fresh from the the first round in Lourdes, they knew full well just how fast the competition was this season.
Crashes by both in qualifying on the tricky Cairns track didn't bode well for them in the finals. As a result, a little too much playing on the safe side may have slowed them even further. Greg and Josh both finishing inside the top 20, which for some would be a good result, however not what either rider is capable of or or accustomed to. Both making mention of not really pushing though the rock garden and other sections of the track.
"It's unfortunate… I was on top of my game in Lourdes and Cairns. I felt we managed to make progress, then we ended up with a slight mechanical…. but thats racing. In the wet, the only person I noticed that handled that rock garden in control was Mick Hannah, everyone else was touch and go… kinda like my 2-up. My money would of been on Mick in the wet for sure!" Minnaar
While post race beers were downed from the finish sideline and many a congratulatory hug (or kiss on the full face as did RatBoy to eventual winner Bruni) to the top riders as they came through, Greg and Josh bailed for the serenity of their resort accommodation post race. Seemingly unperturbed by their uncharacteristic placings, but disappointment was lurking under the surface. And of the two Greg, was processing it the hardest. A definite fire building in him that needed to be back on top.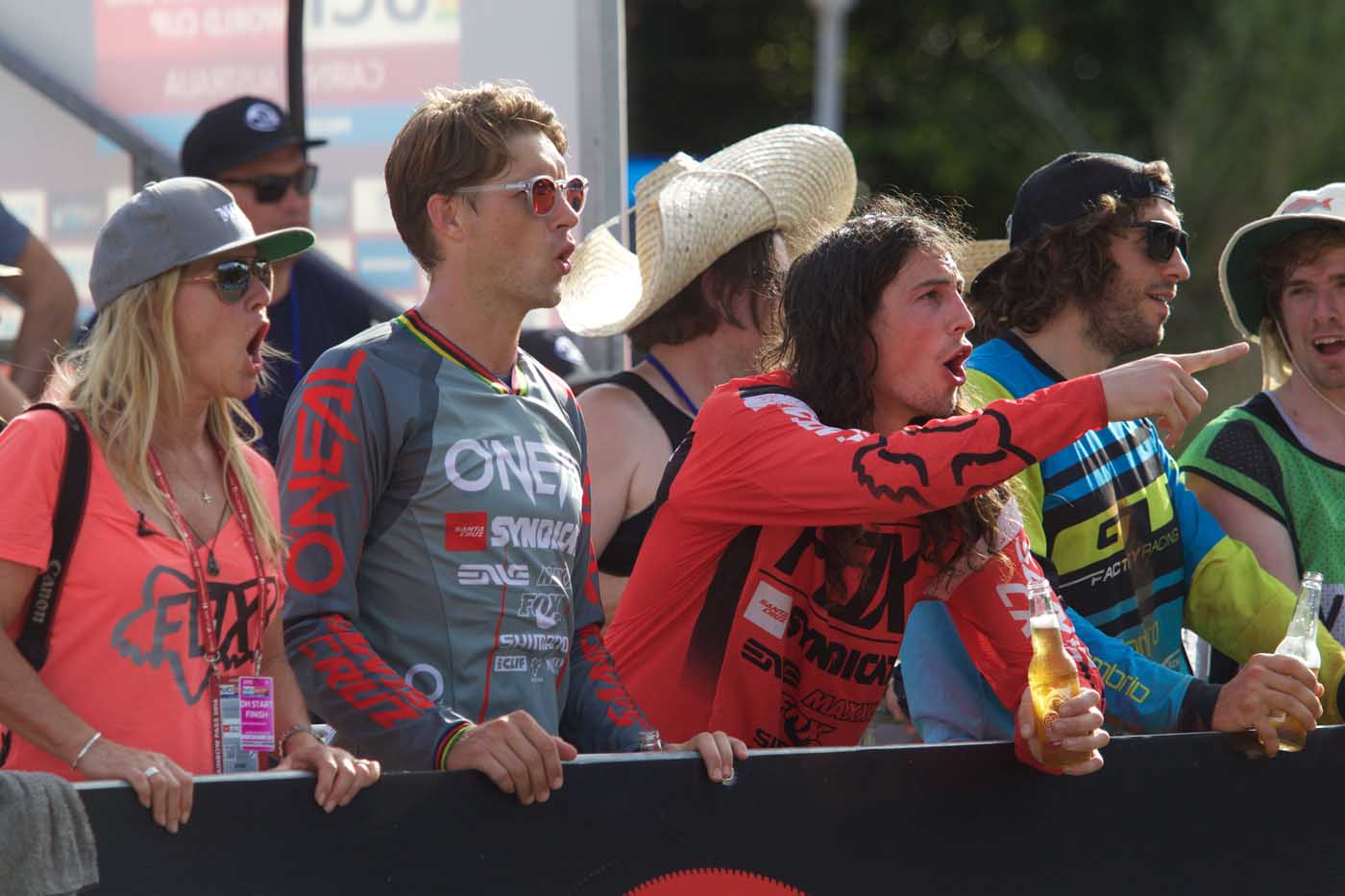 Five weeks is a long time to clear the head, focus, train and get up to speed. In five weeks they would be on the other side of the world, over 14,000 km away on the next starting line ready to crack the podium again. Both seriously used to the ups and downs of racing, both seriously ready to step it up and do whatever it takes. With the competition for the top 20 possibly as tight as it's ever been in the last decade, that workload and headspace harder than ever to nail.
"There are a couple of up and coming Aussies and Americans who are riding more consistently, making that top 10 super tight… It's good to see." Minnaar
That said, our little trip south was possibly a little off the intended training schedule. Well more like a carb and fun filled little Australian East Coast tour…..
"I just took our tour down under with Lusty as a rest and hydration week… Boy was I right! Took me a week to recover once I got home" Minnaar

The Syndicate roll in a seriously tight formation. Yet they could easily be the most relaxed team all at the same time. Maybe this is thanks to being under the lead and management of long time MTB matriarch, legend, racer and more in Kathy Sessler. Their time getting to the track, at the track and at rest is a carefully planned exercise of expected professional level dedication, almost motherly goodness, relaxed good times and the odd esoteric practice. Kathy's racing history runs deep, competing for years on road and MTB, including back in 96 at the same track we had trekked to for the 2016 event. Since retiring from racing, she's been in the team management role, a role she has defined over the last decade with the Syndicate. Taking care of two of the fastest riders the world has ever known and making sure they're fueled and prepared for winning is the job description, yet they seem more like family. Good food, sorted accommodation, space and time to relax, time to focus and more. In her endless ideas pool of post race activities included the likes of her much talked up Morning Ceremony. Consisting of a Pool, bowls of champagne and fruit and there you have the post podium hangover cure. Definitely the team manager with the mostest!

Her two racers couldn't be any different. And yet, they gel like brothers. Greg, the smooth talking statesman of DH with the most WC wins ever, 18 in total (well 19 as I write this!). And the lanky, long haired, tie-dyed Manchurian with the infectious laugh, Josh, a naturally talented rider that is keeping DH rooted in it's wild, mid 90's history, with a twist of 2016 to keep it real.
"We always have a good laugh, I think that's what is so unique about the Syndicate… 3 different personalities forming the Syndicate… I haven't seen it happen in harmony like this before" Minnaar
A glimpse of their musical taste showcases this when Greg's phone is plugged into he van with opera blasting out seconds later.
"Is this what gets you hyped to race?" Rat asks laughing.
Of course Gregs answer assured all that seeing as though he'd met the singers and dined with them, it was legit to be listening to it. Distinguished gentleman indeed.

Post Race
Coming down from a race day weekend be it as a winner or back in the field can be tough. Luckily the Cairns region provides many an option for relaxing ones soul, whether it be jumping from a cliff into one of the many swimming holes, heading to the reef, go karting or taking in of that traditional FNQ past time that may go by the name of XXXX or Bundaberg. Those activities can damage an out of towner as much as a croc or stinger can…
"Paddy and the locals showed us a great time, possibly a lil to much rum, can't really remember." Minnaar
So what better way to ease the ethanol induced pain with the only scientifically proven remedy, more of the above. Of course this was in the guise of showcasing some truly Australian culture to the Mancunian and South African visitors. Namely Cairns RSL. On ANZAC Day. For Two-Up. Is there anything more authentically Australian?
Come in Spinner
While my understanding of the rules of two-up were rudimental at best, luckily there aren't too many to explain. Upon entering the only place to be on the Cairns Esplanade at midday on this day of remembrance, the gist of this seminary Australian past time in the trenches was got by our two blow ins. While Rat nursed the larger of the two's hangovers, and hung back somewhat, his height able to take in seemingly enough of the mayhem to keep him entertained. Greg however got his head around the rules about as quickly as he's known to get his head around the most technical section of a new track and was immediately in the mix, money being waved and passed back and forth. A calming mid strength beer that we won't ever love, but have respect for, eased the deal with the previous evenings devil and within minutes the hustling in the inner sanctum of the growingly rowdy ring began. Most of the local crowd seemingly more and more agitated by that ever growing hole in their pockets.
A sly $20 and a quick wording up to the head of the proceedings, AKA the 'Ringie' made some true magic happen to immerse Greg into Two-Up even more. Picture a gnarled old dude with a fist full of cash in one hand and an empty VB in the other who grabbed Greg and herded him into the ring. Greg 'Spinner' Minnaar, was taught the in's and outs of the throw, making sure they were thrown in the time tested, proper way: 'ten feet up and spun well, if they don't I'll call foul too alright mate?' much to the bemusement of Rat.
When the Ringie was satisfied with Greg's coin form, the action re-commenced and the by now well toasted and warmed up ANZAC day revellers were focussed on one of the worlds greatest DH racers lofting two coins skyward. While Greg's 'Come in Spinner' moments were short and sweet, he made some very happy, some happy in their losses and by the body language, lost a bunch of his own.
"I'm over that 2-up thing, I would of been better off giving a couple hundred bucks to people who might need it, not some drunk fool shouting crap at the person flicking the coins. It's an expensive way to drink!" Minnaar

So while Greg may have been down dollar-wise after an hour or so in the ring, his spirits were high and a ride in the drizzle with a whole crew of keen as all hell punters was on the schedule. You gotta hand it to both Greg and Josh. Both so keen to get their bikes and go ride Smithfield, even with hangovers, the not-so-killer recent result there and in the steady Cairns rain. All in the name of rolling and talking with the awaiting crew at Smithfield. Amassing a fan base based on results is one thing. Growing your notoriety by being down to earth, straight up epic dudes is another. Both these two own all of the above. Their at-ease style with the kids and riders of all ages lock these guys in as legends that are so similar to any of us that chose to have a good time on two wheels. You do however, have to keep in mind that they are way quicker than you!
"Apparently we didn't even touch on all the good stuff., I was super impressed by the trails around the race venue as well as skill level of the local guys and especially the women, they rode the roots better then most of the guys" Minnaar
With the Cairns ride done, one last dinner with the assembled Lusty team was in order in the Far North Queensland MTB mecca. Gotta say that Johnny from Lusty knows how to pick accommodation, just don't try and drive up the drive way in the rain…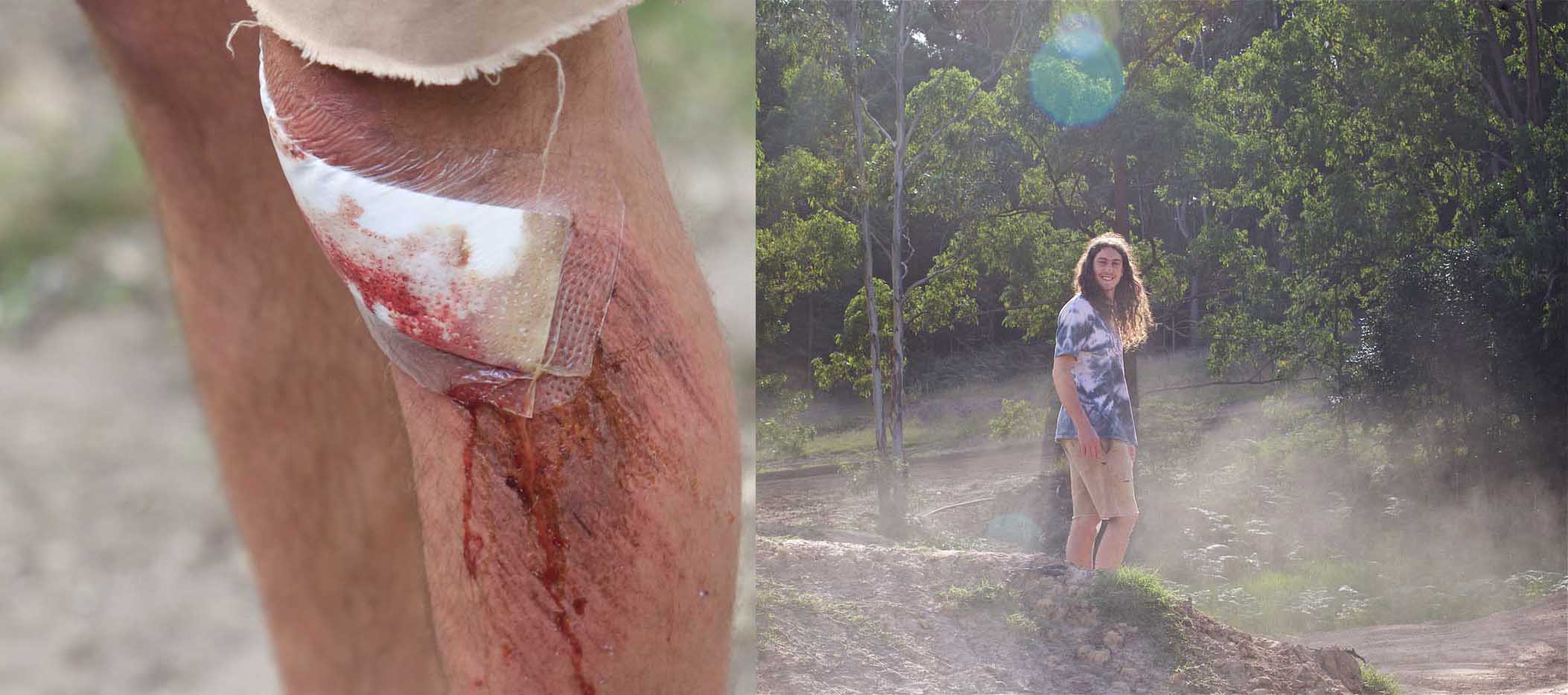 Heading South
Stop two for the crew was Brisbane, shop visits, signings and a ride. So while one of the toughest tracks on the planet couldn't even scratch RatBoy, he managed to destroy his knee in a seemingly innocent washout at Gap Creek just having his usual brand of riding fun. Stitches galore and a seemingly endless ooze of red and yellow would put him out of action two wheel wise for the rest of the trip. Not that it dented his partaking in anything and everything, his enthusiasm for a good time in anyway shape or form was nuts.
Lusty's hometown of Newcastle was always going to be a big stop. With a solid scene, some epic trails and a ton of dealers and riders in town to meet their heroes, the day was always going to be rocking. Being that Lusty and motocross go hand in hand, the chance to jump on a works KTM 350 was not going to pass Minnaar by. Heading south to a private motocross and supercross compound after lunch, we all quickly realised just how talented Greg was on two wheels.
Within a couple of laps of the moto track, Greg was wide open out of corners into the biggest doubles on the track and soon turned in to check out the supercross set up. Straight into it, stutters, doubles, triples, step up's, well lets just say that he'd definitely have a future in moto should he become bored of DH.
"Motocross was my first love, and I can't keep away for long. I raced for 11 years, I would of loved to have gone further in it, but life all changed when my parents bought a bicycle shop, thats life and I would never of changed it for anything." Minnaar
While there was no way he wanted to go, Greg's forearms were hammered with arm pump from holding onto a moto through a tough supercross track, the pin was pulled and we headed back to the iconic Glenrock trails for the afternoon ride. Again a massive crew awaited the arrival of their hero's, and while RatBoy was out for the riding, his presence and infectious laugh made everyones day. Adding to the good times was long time Santa Cruz shredder Nathan Rennie out for a roll along with young guns Remy Morton and Joel Willis to keep the visitors on their toes.
A night on the waterfront at the newly developed Honeysuckle wharf was a seriously good way to end the NSW leg of the trip. With a ton of the crew from the Glenrock ride in attendance and more, it was a good wind down from the travelling and riding. Melbourne was the last stop, the crew flying out early for a Plenty Gorge ride followed by a meet and greet at the Stolberg Beer Cafe.
Melbourne was the last stop, a stop of the trip I sadly had to eject from, from waht i hear, more good times were had, so I'll leave it up to Matty Bolger to fill in the blanks….
"We played some wacky billiards game that Greg showed us that had us all running around the table like speed freaks – the ball is not allowed to stop moving. I signed out at about 2.30 am after putting them in a cab to Cherry Bar with some random chicks that we met at Raccoon. Good times were had, boys got home at 5.30 am with sore heads and good memories." Matt Bolger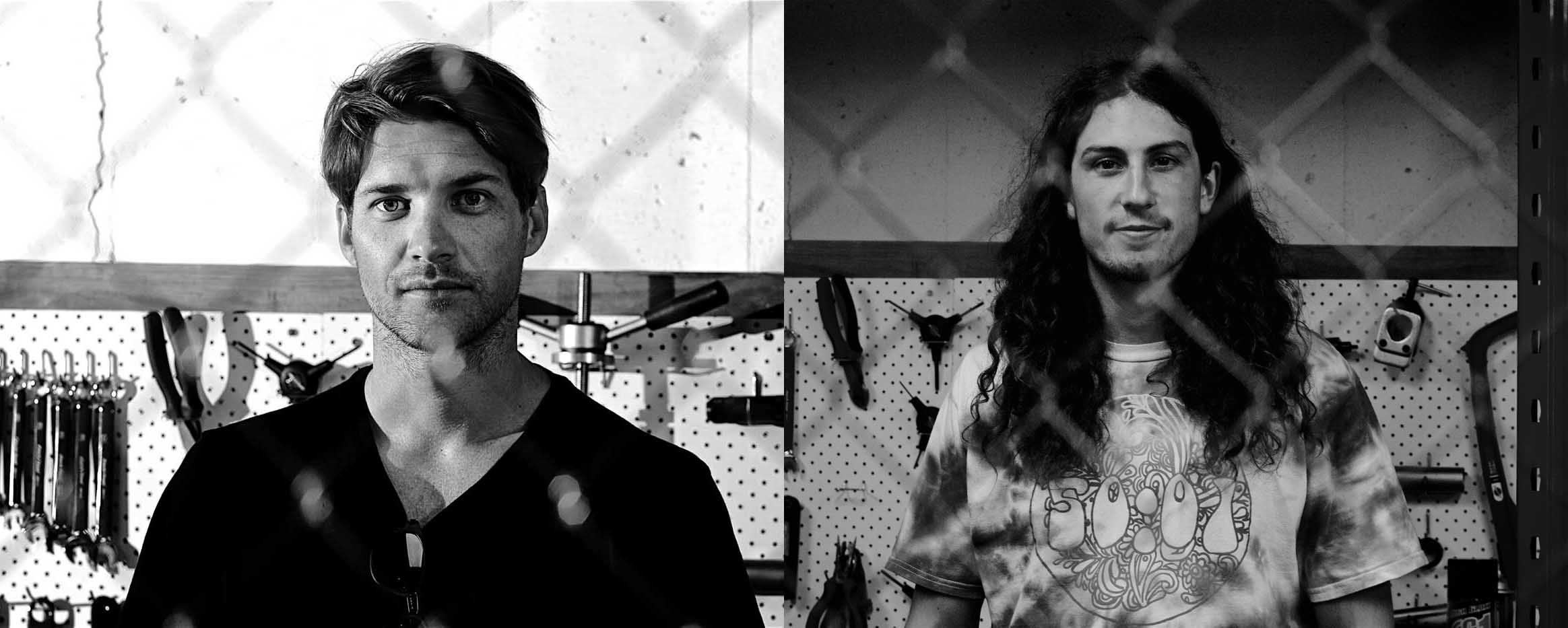 Syndicate by name, syndicate by nature. These guys roll tight, they roll fast and they roll with an air of good times. Both Greg and Josh push each other, and the riding they showcase worlds apart in style is united by their absolute blistering speed. While we wish Peaty could have joined the party in Australia, the Syndicate legend grows stronger on these shores and beyond under the direction of Minnaar and Ratboy. Here's to seeing these guys on the podium for many a future race!
Words // Matt Holmes