A regular player at the tall end of town in the downhill Elite ranks, Brent's ability to tame a bicycle at breakneck speeds has been putting him on the podium for a number of years. 
Australia lays claim to so many factory sponsored riders these days, it certainly doesn't make it easy for a privateer racer to steal some limelight and get noticed down here in the local scene. Our boy Brent however, still manages to do just that. Dedication, skill and passion, this young buck is the total package. As you're about to discover for yourself. Watch the epic edit Matt Staggs pulled together when shooting stills for the magazine pages, then read up on a rider destined to leave his mark…
Brent Smith
Age: 22
Home town: Woronora Heights (The Shire) NSW
Sponsors: Summit Cycles, Gu Australia, SRAM Australia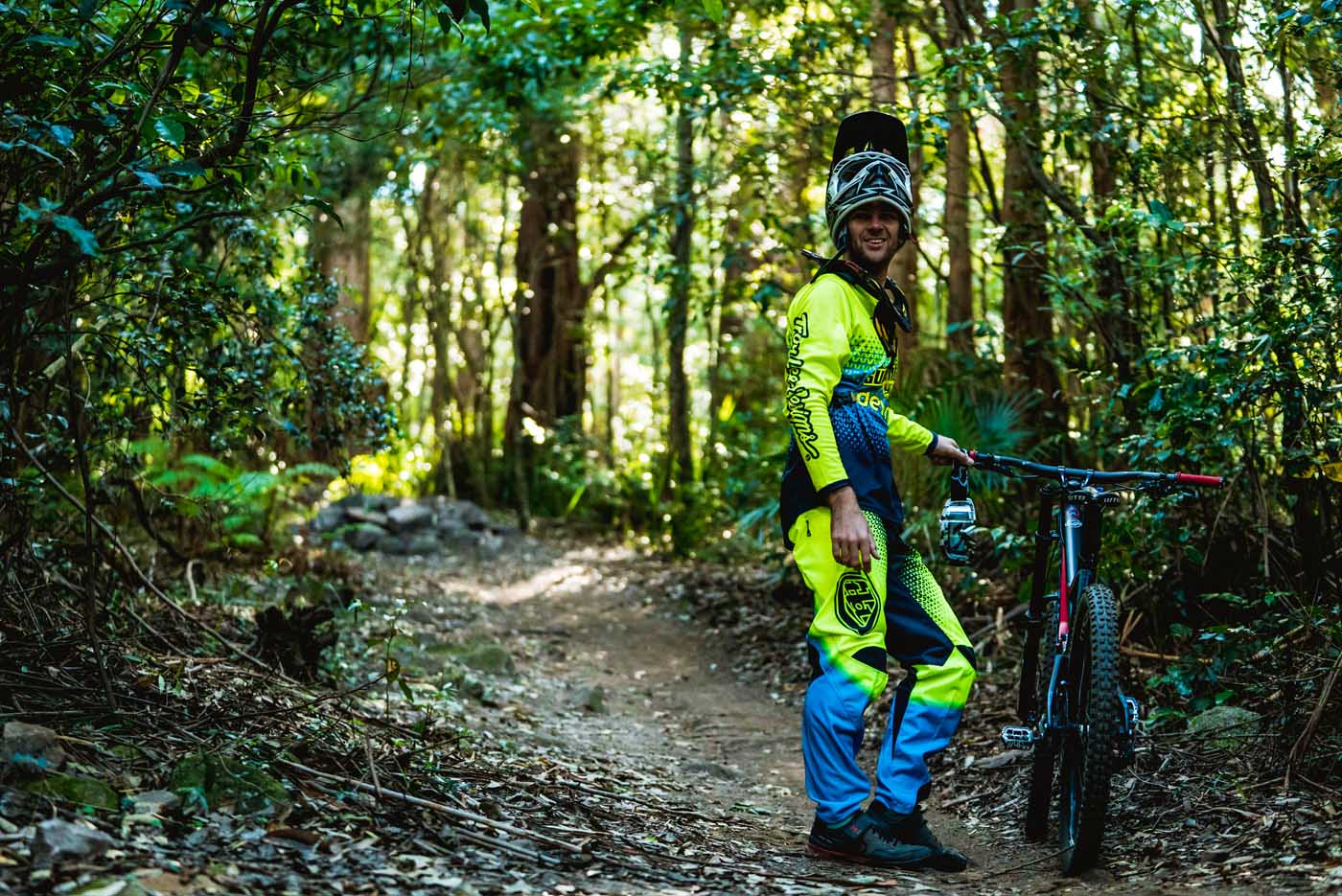 [R]: You're a native of 'The Shire' on Sydney's South Coast, what's the scene around there?
Brent:  The scene is pretty chilled. Best of both worlds really – bush all around so it's great for riding and also close to the surf – so I get to enjoy the beach life too.
Got to ask, what's the story behind your nickname 'Jock'?
Ha ha…well growing up, most of my school mates didn't ride so I was lucky to meet an older group of guys in the 'Heights'. I guess they took me under their wing a little (I was 13 and they were 16-17). We were at the local "pump track" one day building some pretty big jumps off to the side and I decided it was time to start playing with the big boys. They weren't expecting that I would be able to hit them and to be honest I wasn't so sure I could either, but just gave it a go….. Everyone was pumped and super hyped – so that's when they came up with the nick name Jock Child or JC for short. You could even say that if it wasn't for them I might not be where I am today.
When did you get into riding MTB?
From about 14. One of my mate's brothers dropped off a form one afternoon asking if I could do Thredbo Interschool's. I didn't really know anything about it, just that it involved racing a few different type of disciplines and that the school with the highest points overall took the win. I definitely surprised myself with some results and from there, I knew I should give it a good crack and see where it took me.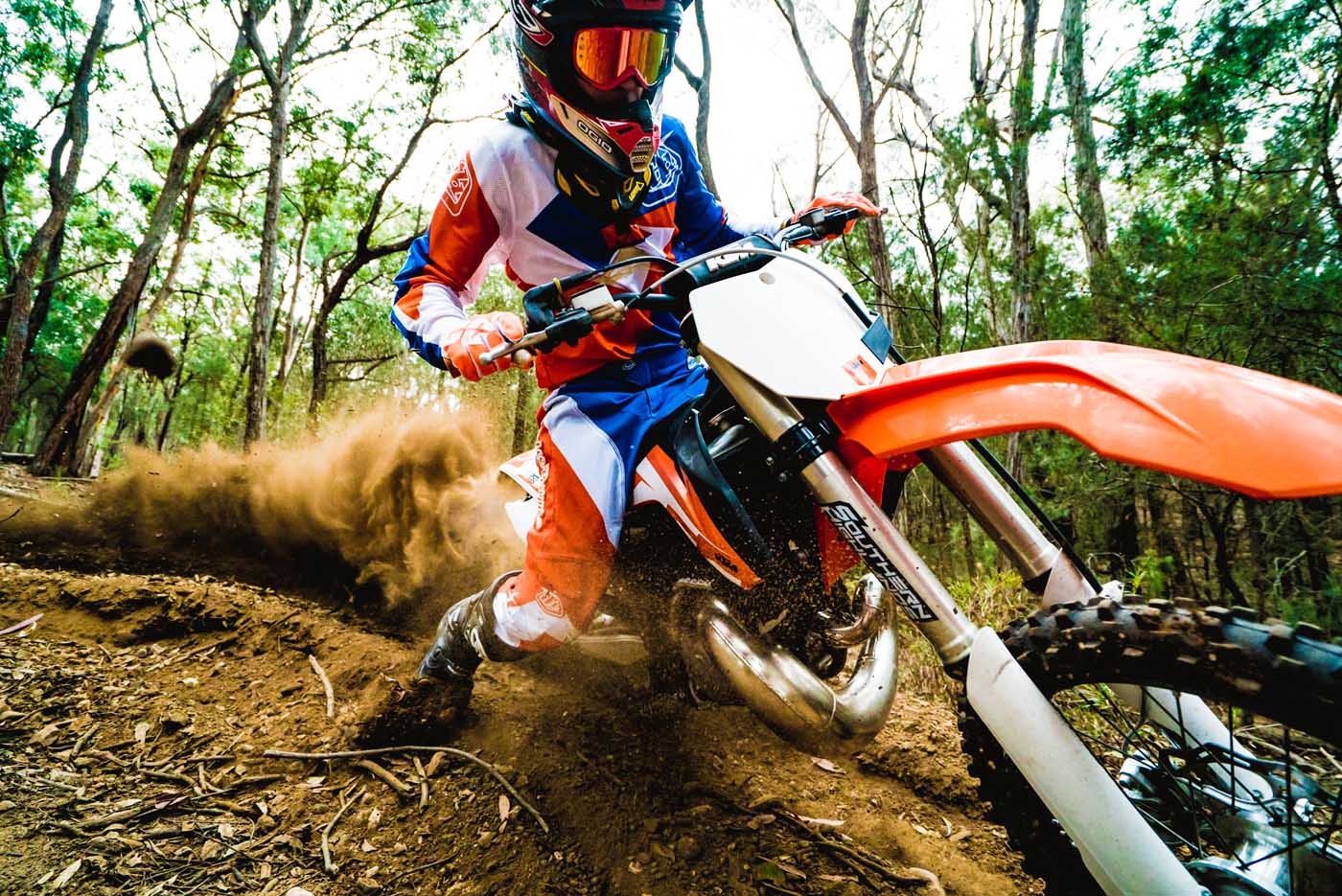 You raced moto as a kid but mum made you hang up the racing boots before you got hurt. Hold on, it looks like you're still pretty handy on a dirt bike these days, eh? 
Yeah, dad raced supercross and motorcross in his day, so ideally I wanted to follow in his footsteps. Mum on the other hand, didn't want a bar of it and thought it was too dangerous. So one day, dad bought her a Honda CRF 100 to ride around on so she could stop worrying about the two of us. These days she is pretty relaxed when I tell her I'm going moto riding – after seeing me race DH with far less protective gear on and on some pretty extreme tracks, she has mellowed out.
You're a member of the Summit Cycles / Devinci team. Tell us a bit about your current race bike?
My race bike is a large carbon Devinci Wilson – all decked out with Sram running gear. Stans wheels with Maxxis tubeless combo to keep me up right. I tend to keep the front end pretty solid so it doesn't get too caught up with the big braking bumps. The rear end has a smick rear linkage in it that makes it super plush. It works really well so I can hang more off the back and hold that speed.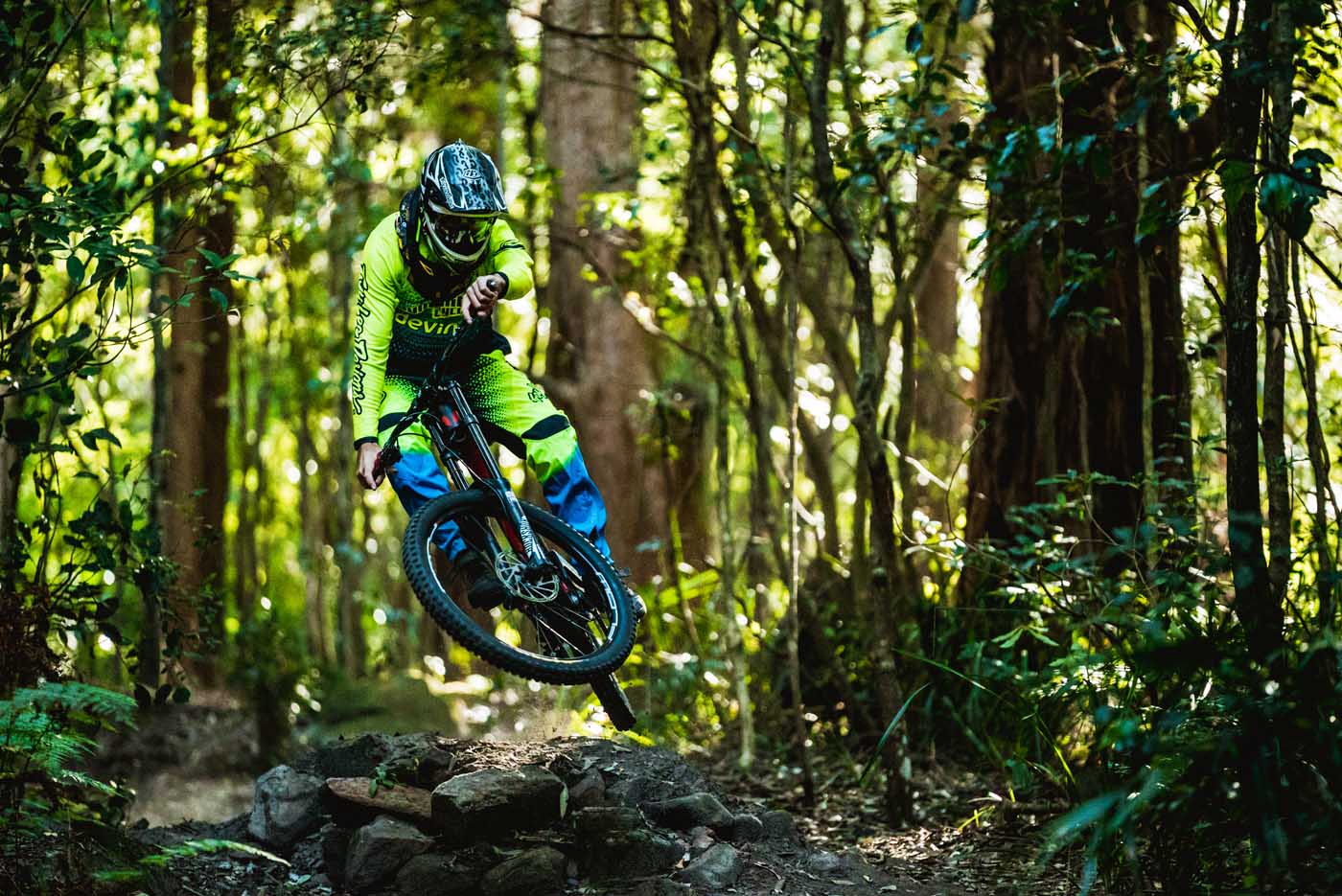 Living so close to Summit Cycles Sydney, do you spend much time at the store, hanging out with Rowney and the crew?
I try to catch up with the crew as much as I can and even call the boss man "Rowney" to have a chat. Because the store is open plan and you get to watch the guys working on the bikes (instead of being hidden out the back like most others), you can hang around for ages catching up with them while they get on with their work – good vibey atmosphere.
Speaking of which, do you ever manage to get old Rowney out for a moto ride? Evidently he reckons he's pretty quick. Apparently it needs to be a blue moon that day for anyone to actually witness him ride a dirt bike though! Ha ha
Yeah I have managed to get him to ride the moto track at our farm – he went alright for half a lap, till his arms blew up and riding behind him was pretty scary with the rear end kicking out everywhere and monster rocks flying back at you, ha ha, actually if he had more time on his hands he would be such an animal on the thing! 
"I enjoy training most of the time, normal week usually consists of two to three mornings of core fitness with my ghetto gym (mainly body resistance exercises). Afternoons are enduro or road rides in the summer, swimming three times a week in the winter."
So you spin spanners as a motor mechanic by trade, what is the sweetest car you've ever worked on?
I'd have to say a nice decked out Holden R8 Maloo Ute or one of the Nissan Z's (I worked at both the Holden & Nissan dealership).
What is car mechanic life like, would you recommend it?
If you have a girlfriend, you guys won't be holding hands much unless she's into dirty oily hands – you just can't get that stuff off! Ha ha, besides that, it's a good trade and everyone has a car right, so lots of opportunity for work.
Okay let's talk racing. As a junior, you rode for Australia at the World Championships over in South Africa. What was that whole experience like?
It was really cool to make the Junior Team. It was a great crew and we all got along which made for some good banter and definitely helped ease the nerves for a pretty huge event. Seeing the whole set up for the Worlds is eye opening. The first time racing the track in South Africa was daunting to say the least, full of huge jumps topped off with two massive 100 feet or so table tops to clear before that big sprint.     
Since then, you've travelled the international race circuit for a few years now. Which is your favourite (global) racetrack?
Hands down Mont Saint Anne, Canada! It might not be the most technical track on the circuit but it's just so fast. Really thinking about where to point your bike and when to brake is crucial so that you don't lose all of your speed.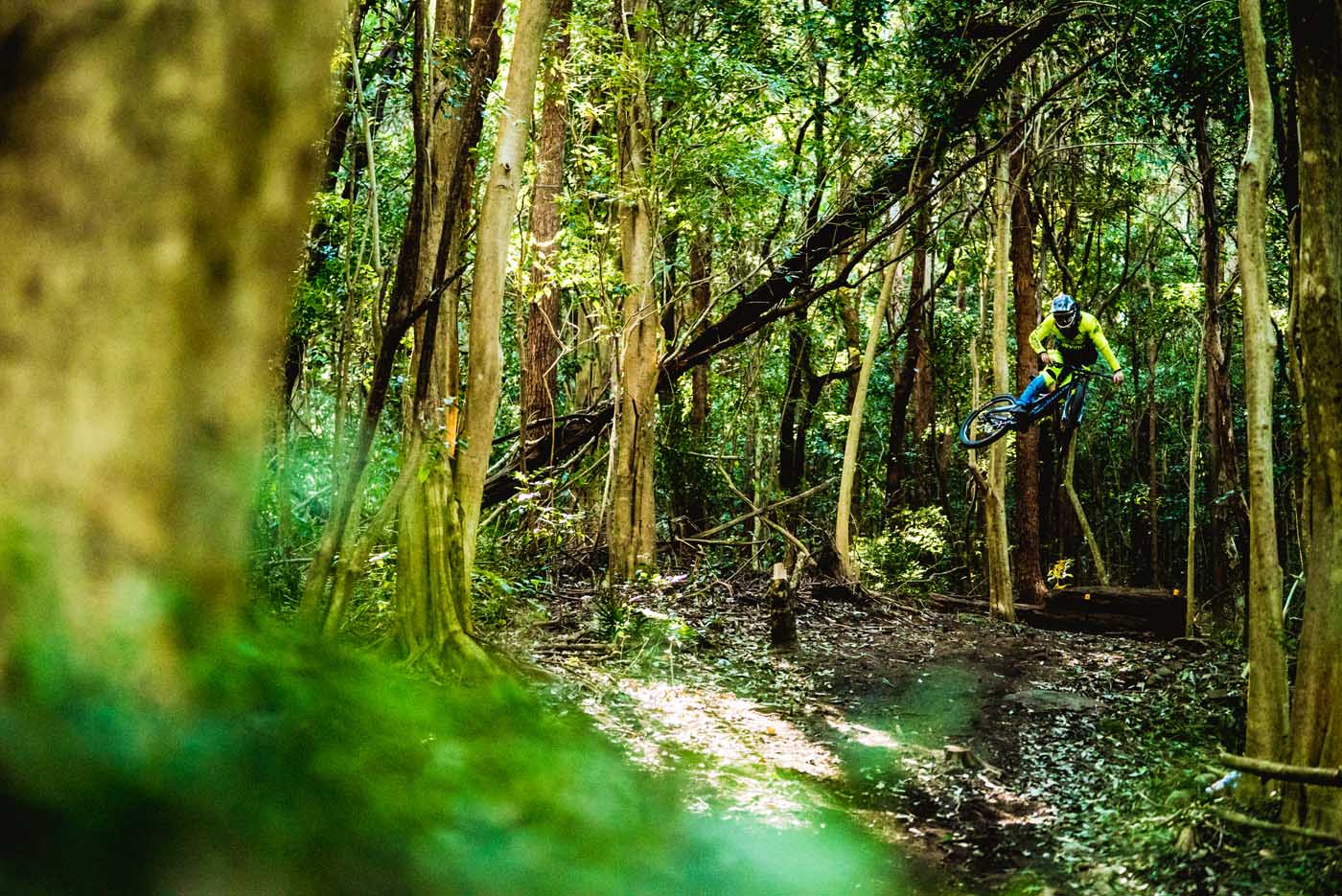 How much different is it racing overseas in North America or Europe compared to back home?
It is extremely different, it feels like you could cut the air with a knife – it's tense because everyone is so focused, there is so much strain on the riders to make the top 80. At the top of the lift all you can hear is the sound of the wind trainers, not much talking, just complete focus on the run. The organization and track set up are all similar and the crowds create a great atmosphere with lots of cheering and using all sorts of things to make as much noise as they can.
For budding riders sitting at home reading this now, maybe one day hoping to follow your path and do some overseas races, what advise could you give them to help them prepare them for it?
Biggest advice I'd have to say is don't focus just on the result you want. Try to let everything flow and not work yourself up, even if there are interruptions along the way, like bike problems etc. Do your best to stay calm and keep the same rhythm you would when racing back at home. Best riding preparation is researching the track, find what you need to work on e.g. riding roots with off camber, and think about you and your riding and not the other riders.
"At the National level, the racetrack selections are quite good for everyone and still challenging for us elite guys."
As someone that competes at the highest level in the Australia gravity scene, do you find it deflating or motivating when you get to a race and you've got to battle it out with factory riders the likes of Troy, Connor and Jack, for a spot on the podium?
Bloody oath motivating. It's so good knowing those boys are going to be racing because it pushes you to get to where they are, especially when you're working a 48-50 hour week and trying to find time to train before and after work but still be at your best at work – it takes a lot out of you. Competing for a spot on the podium against factory riders is a real driver.
What's your take on the local gravity race scene right now?
I think the scene is still in good shape for sure. It's really good to see so many fast young kids coming through the ranks of Downhill. At the National level, the racetrack selections are quite good for everyone and still challenging for us elite guys. Would be awesome to see a tiny bit more of the rider's feedback being taken on board, maybe sending out emails asking for event feedback but I applaud them for running the events because there would be no races without them.
Run us through some of the events that you're looking forward to hitting this summer?
Getting pretty keen for the 'Cannonball Festival' at Thredbo coming up in a few months, that should be another cracker event. Nationals are coming up quickly too so should be good to train up and see how I go. And possibly road tripping around the US to race a few of their National DH rounds.
A little birdy whispered in my ear that you're super committed to your training. Tell us a bit about your daily/weekly/monthly regime?
Yeah funny enough, I enjoy training most of the time, normal week usually consists of two to three mornings of core fitness with my ghetto gym (mainly body resistance exercises). Afternoons are enduro or road rides in the summer, swimming three times a week in the winter. Weekends are kind of more chilled but I'm always out on two wheels or surfing. Even an XC race here and there to shock the body. I find keeping the training varied and somewhat fun is key for me.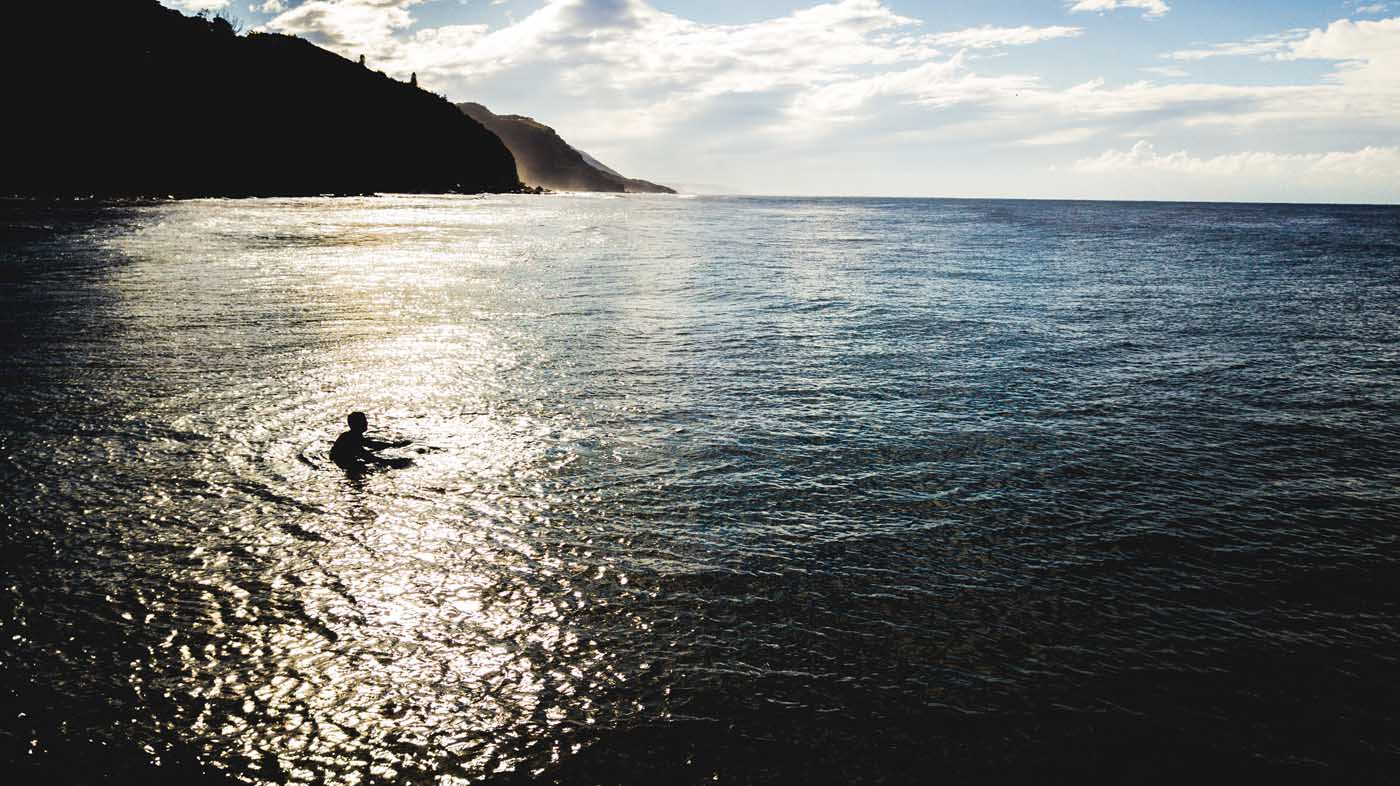 When you're not shredding downhills on your Devinci Wilson DH bike, it looks like you spend your spare time living a bloody dream! Surfing, moto riding, catching a tan out on the road bike. Are your mates mega jealous of your lifestyle or what?
You're not wrong, I don't have it too bad. I'm pretty lucky to have a wide range of mates so I can usually find someone who is pretty keen to join in – lately we have even been hitting the driving range – I'm totally rubbish at it but still good to chill out and catch up with the boys.
Mate, thanks a bunch for the chat and sharing some insight into your life. To wrap this present up have you got any final words, thanks, that type of jazz?
Cheers to whoever it was that invented the bicycle! Who would have thought I'd have seen the countries I've seen and had the experiences I've had – and all while riding a bike. And hopefully I've still got many more to come… Cheers [R]evo.
Photos // Matt Staggs
Words // JT