Australia has a new fresh prince of downhill!
Interview // JT  Images // Matt Staggs
Even though he was dominating the Aussie junior DH scene last season, Kye was denied a place on the junior national team because he was too young to even enter a Worlds race. Now, so far this season the 17 year old from Canberra has become the Australian Jr National Champ, he signed to one of the biggest Factory Teams in the World and most recently he came out and crushed the entire junior field with back-to-back wins at the first two World Cups he was allowed to enter. To say that the future is looking bright for Kye A'Hern is a major understatement.
[R]evolution recently caught up with the young man of the minute for a chat.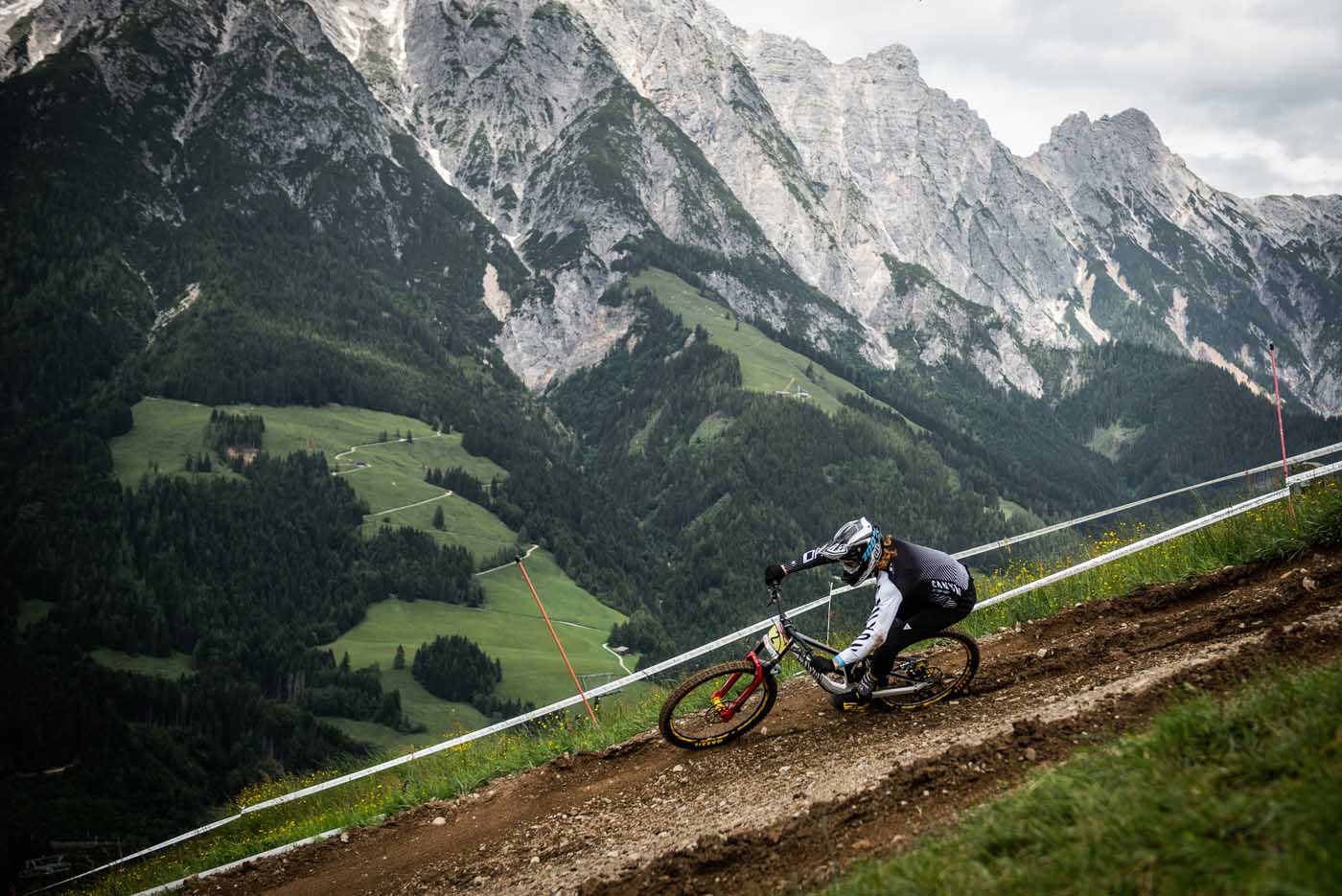 First up congratulations on your 2 massive back-to-back World Cup wins last  season! Can you try and describe how you're feeling right now with those 2 races cemented into the history books? 
It's a crazy feeling to win your first world cup and to be able to go back to back and win the next weekend is amazing, filled with so many emotions. To also win at Fort William, at one of the biggest races of the year is very special! I came into this season wanting a few podiums so I am amazed and stoked that I went the next step and won! I really feel that I needed the first World cup in Losing, Croatia to find my pace and approach/routine to these races! I'm now feeling the best I ever have on the bike and can't wait for more races!
You're form at Fort William was clearly no 'fluke'. You dominated qualifying and then crushed the field in the finals to take the win. Tell us a bit about how that race weekend unfolded for you mate? 
Fort William was an awesome weekend for me! After track walk I knew I was going to have a lot of fun. The track was actually quite similar to Thredbo, one of the tracks I ride a lot near home in Australia. The first practice day was rad, one of the best days I have had on my bike! Heaps of runs on a sick track. Qualifying is always nerve racking especially because no juniors are protected for finals. you need to be fast but also not to risk too much. A smooth run put me 1st in qualifying 0.5 seconds up, ready to turn it up for finals the next day. I had 2 good practice runs Sunday morning and was ready for finals. I was the most nervous I had ever been for a race run at the top while warming up because I knew I could do it, I just had to lay it down. The top section of my run was good until the rock section where I made a big mistake that cost me a bit of time, after that I pushed even harder all the way until the finish. I was the last man down and crossed the line in 1st 0.7 seconds ahead. An awesome weekend done and now onto Leogang, Austria for round 3.
[R]: What was the reaction from your team after that win? 
Kye: They were all stoked! It was awesome to prove to everyone that I can do it! it is also my mechanic Lukas's first world cup season so it's awesome to be able to win my first one with him! It's crazy how stoked people are for you when you win!
Then keeping the momentum going the following weekend was World Cup Rd3 in Leogang, Austria. Were you less nervous heading into that race knowing that you'd already gotten a win this season or were you more nervous because perhaps you now had more expectation on your shoulders? 
I was actually less nervous going into Leogang as I now knew that I could win and had already gotten one but I was also more nervous because of the pressure you put on yourself to win again and also that I knew I was close to getting the leaders jersey!
The confidence after winning definitely helped me push to win again. Now that I have the leaders jersey I am going to push hard to keep it!
At that race you actually qualified one place back in second. Did that change your mind set in any way not having to be the very last rider down the hill come finals?
Being the last man down is good, It's nice and quiet and It's just you up there but being second didn't change anything as I was only down by 0.044 seconds in qualifying and my run was not the best. So I knew I had the speed to be up there. It was my first time coming down the hill and into the hot seat and I was definitely nervous with how tight the racing was!
What is it like sitting up there in the start gate at a World Cup about to drop in for a finals run? Are you a ball of nerves or are you focused, excited???
It's a very different atmosphere at the top, kind of weird, There are heaps of people but really quiet and no one is talking. I am always really nervous at the bottom before I head up to the top but once I  get to the top, most of the nerves go and I'm focused on what I need to do. After my warm up when I go to the start gate, I'm excited to race but I'm also really calm. Once I drop in for my run, all of the nerves are gone and I'm focused on riding.
Being on a Factory Team on the world stage you're no doubt signing autographs and what not at races. Describe to us how that feels to be asked to sign your name for fans?
Ha yeah, it is weird to be asked because not too long ago at all I was one of those people doing the asking! To be honest though I haven't actually been asked that very often yet and so every time I do get asked for my autograph it almost catches me out a little bit. it will become more normal soon but for now I'll keep getting a little surprise every time I am asked.
Being a first year Junior rider on the team are you earning a big salary and bonuses for race wins and stuff like that yet or do you just have to put in a few years before you start earning bank?
I think your junior years are the years where you are trying to learn everything from everyone around and that is why it is so good to be on a team with some of the best riders! Juniors aren't generally on big salaries but its more about the opportunity to be able to race your bike all over the world! I'm excited to see how everything pans out in the next few years.
Last season was when you really put your name on the map for the first time and the mountain bike racing world really started to pay attention to you after your epic results at Crankworx in Whistler. You must have been pretty happy with form last year?
That was an awesome race for me, it was the first overseas race that I put down some great results. I thought I should try race most of the events and it worked out really well. In the Garbanzo DH I fished 2nd, Air DH I finished 2nd, Dual slalom I won, and the Canadian open DH I also won which all together gave me Prince of Crankworx! It was such a sick event and really did set me up to be competitive in the world cups this year.
Tell us bit about how your deal with the Canyon Factory Team came about?
It came about really suddenly actually! One morning mum got a message from Gabe and from then we were all just talking for little (removed but) before it all happened. It's crazy to be on one of the best teams on the circuit and as a first year junior it's an amazing experience!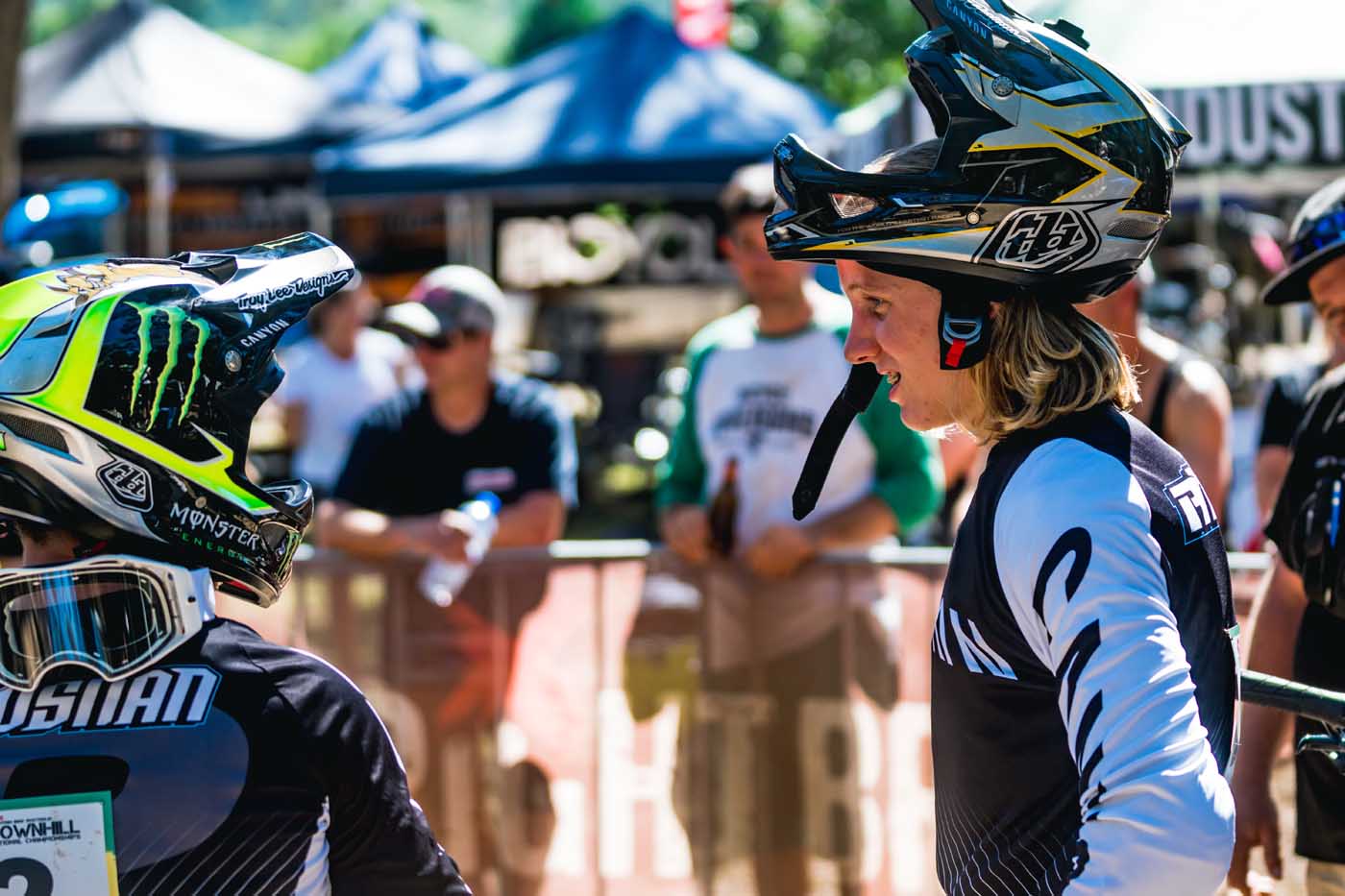 What's it like having Troy (Brosnan) as your team mate?
It's great to have Troy as a team mate! Being one of the best riders on the circuit, he has got a lot of experience and its rad to be able to learn from him. It's also pretty crazy to see everywhere he goes he is always being asked for photos and signatures.
As a team do you riders all help each other with lines and training and everything else or is every man for himself and keeping their cards close to their chest?
The whole team is great and we all help each other when we can. It's really helpful when Mark and Troy have ridden most of these tracks before and we are able to talk about the track after practice and help each other out with lines. it is also sick that at every round this year I have been in group A practice on the Friday so that I am able to do my practice runs with Mark and Troy which always helps push the speed!
Have the boys on the team given you any nic-names yet?
Haha there are a few but always the standard Junior, some others are Kye dog, square, weapon, super junior, junior squid. They are all bit weird but have stuck.
You've been racing the Canyon 'Sender' this year. Describe how the bike rides?
Kye: After riding the sender for a while I'm feeling really comfortable on the bike! it feels so smooth and stable while also being quite nimble. It still surprises me with some of the things it can handle. when I first started on Canyon I was riding a large frame but after a little time I moved onto an XL frame in the short chain stay setting and with -3mm headset cups. So I am basically riding an 'in between' of a size Large and XL frame.
What's your current set-up like in terms of suspension settings and all of your other preferences?
My suspension setting is pretty normal in terms of compression but with rebound I have mine a fair bit slower than normal. I guess this probably due in part due to having grown up riding so much motocross, it just feels more natural to have my suspension pretty soft and slow. Everything else on my bike is pretty normal, bars rolled back a fair bit, brake levers normal positions, I also have my seat really low as I hate when it gets in the way.
You've got the new BoXXer fork on your bike, how have you found it?
I have found the new BoXXer really good! it feels so plush through rough sections of tracks and also feels really supportive. with the help of the team to set it up I feel really comfortable throwing it into any situation! Rockshox have really hit the nail on the head with this one.
Have you been running a coil or an air shock in the rear?
On this bike I have always ran a coil shock in the rear. It has been feeling really plush and supportive so I'm stoked on it!
It looks like you run clips when you race. Do you ever switch it up with flats or are you all about the lock in?
I always race in clips, I will only ever run flats usually on my hardtail when I am riding on the pump track or in the yard at home! Other than that on my trail bike and everything I'm always clipped in! I have gotten used to it and like the amount of control I feel like I have.
The current generation of DH racers are riding at unbelievable speeds yet no one seems to wear much body armour any more (as opposed to 20 years ago when full body suits were the norm). Protection wise, what are you running under your kit to keep you safe?
Not many people do run much body armour now but in some countries at the world cups we have to run a certain piece of protection like in Leogang you have to wear elbow protection and in a few others you must wear back protection. I personally have always worn a fair bit of armour, along with the usual helmet and knee pads etc, I wear chest protection, back protection, and also elbow pads.
Does your current deal with Canyon extend beyond the end of this season?
Yeah it does, I have a 2 year deal with Canyon which means I am with them for my junior years. For now I am just focused on working hard and getting some good results!
You're based out of Canberra where there is certainly no shortage of rad trail spots to hit. Where do you like to ride for most of your training?
Canberra is an awesome spot to train! I do all of my gym training at Mum and Dads gym in Griffith, BMX track in Tuggeranong, XC/Enduro at Stromlo, Majura or Kowen Forest. For DH I will usually do shuttles at Stromlo but also a lot of the time I will go down to Thredbo for a weekend or even just do a day trip down there. The tracks a rad and the chairlift lets you punch runs all day.
You've got a pretty epic backyard set-up too, eh? Tell us a bit about that?
The backyard set up that we have is so sick! there is 2 jump lines, a corner line and a pump track! there is also a heap of little lines going everywhere! you can just session little things all day and you don't get bored. The backyard used to be a mini motocross track, that we built up to be sweet and then once we stopped racing Moto and started racing Mountain bikes we slowly rebuilt it to suit bikes.  After a while we only recently got some machinery in to rip it all up and start again with a plan we had come up with. Every line works so well and we are still working on building more and I don't think it will ever be fully finished.
Even though you ride for one of the biggest teams in DH and you've already won a bunch of races in your career, you're still super young and really only just getting started in this game, right? How does it feel to be sitting there in your shoes right now mate?
Its crazy what I have already accomplished in my career when I really did only just start. It feels great to have the support of the team and every one for me to achieve my goals, there is still so much to learn and I am just stoked that I have these great opportunities.
When did you get into DH and start following the World Cup racing online as a grom?
I watched my first ever DH race in 2010 at a National round at Stromlo, that was in the pouring rain and even after that all I wanted to do was get a DH bike. It was around the same time when I started to follow the world cup circuit a little bit but I was still so young. I rode DH on my XC bike while I still raced Motocross until 2012 when I started racing Mountain bikes and got my first DH bike. From then I started racing at club and state level before progression to racing national races to then a few international races like Crankworx before finally this year, being able to race the world cup circuit.
Who are some of the riders that you've always looked up to in the sport?
I have always looked up to people for their attitude towards racing and their riding style. A few of them are Troy Brosnan, Loic Bruni and Greg Minnaar. It is so rad to be able to be on the same team as Troy now and to be able to learn and gain from his experience.
Your sister Sian has obviously been quite instrumental in your riding career, both of you have grown up riding and heading to the races together, etc. Was it tough having to make the decision to run a separate program this season without you guys being on the same team?
Sian and I have always been really close and tried to help each other where we could, we have always been on the same bike and ran everything together until this year when I joined Canyon. It felt weird at first when we were running different things but we were still always close and looked out for each other!
Tell us one thing about Sian that most people wouldn't know?
Most people don't know how good Sian was on a Moto! I started racing when I was 6 and 2 years later I convinced Sian to give it a go. After a few years of racing together and gaining experience, she wasn't too much behind me! There were no womens categories at races so she had no choice but to race the boys, and she gave them a hard time! At some of the state races she was getting top 10 in the mens class! I'll never forget when she made some boys cry because she beat them! Haha
When was the last time she beat you in a race? Haha
The last time she beat me at a race would be a race at the dinner table! Haha.  She loves a good feed and you do not want to get between her and food, especially when she is hangry!
You and your sis clearly have had some pretty amazing support from your folks. Tell us a bit about the roll that they've played in your riding life over the years?
Mum and Dad have had a huge part in our success today! Without the help and dedication of them we would never be where we are today. They have spent so much money on various things like buying us bikes until we could get some sponsors. Also all the time they have put in to help us, driving us for shuttles and to places to ride, taking us to races and taking time off work for that. Everything we have today, we owe it all to them!
What are some of your ultimate goals in your racing career mate?
For ultimate goals I only really have 1 and that is to be world champion! There is so much meaning behind it and I can't wait to give it a go later this year! Other than that another big goal is to win the world cup overall! at the moment after 3 rounds I have the leaders jersey so I'm stoked to see how long I can keep it!
We heard a rumour that you're currently trying to growing your luscious blond locks right down to your belt line out the back. Is that true?
No, not really. I have actually had it cut shorter given its Summer in Europe. The boys on the team keep threatening one day I'll wake up and it will be shaved off, but I won't let it go that easy!