The Transition family has been bursting at the seams with bigger and more badass releases every few months for several years now. When it comes to thinking outside of the square when it comes to geometry these boys are leading the way, and interestingly, the biggest frame manufactures in the world have been quick to try and adopt a lot of Transition's progressive thinking. Though, the Transition boys keep managing to stay one step in front at every corner. 
Enter the new Scout.
Photos // Matt Staggs   Rider // Blake Neilsen
Last summer they sent one of their favourite bikes off to camp. After tying a few knots, singing some songs at the Jamboree, the Scout has come back how proudly showing a new carbon badge. Still boasting 140 (or 150mm) rear travel, 150 upfront, and geometry ready for anything, this bike is ready to get rowdy.
Doesn't carbon mean the bike is all race and no more fun? No, to receive the badge the bike has had to take some notes from its party going, fun-loving, and PBR sculling older cousin, the Bottlerocket. A bike that was known for its innovation and technology that would still allow it to mix with some of the best bikes today. Word has it there's a lil bit of the older model Patrol in the mix to make it all complete. 
"The new Scout is longer, slacker and stiffer, pushing it into a realm Transition have never ventured before."
How long, still, and slack is the Scout? Firstly, don't ever ask that question out of context! The Scout now boasts a 64-degree head angle for increased stability at speed. A medium frame has a 460mm reach with super short 430mm chainstay to maintain a sense of agility or "pop". Using high-quality Japanese Toray carbon fibre and unique latex coated moulds, Transition has managed to create a unique frame design with sharps angles/lines.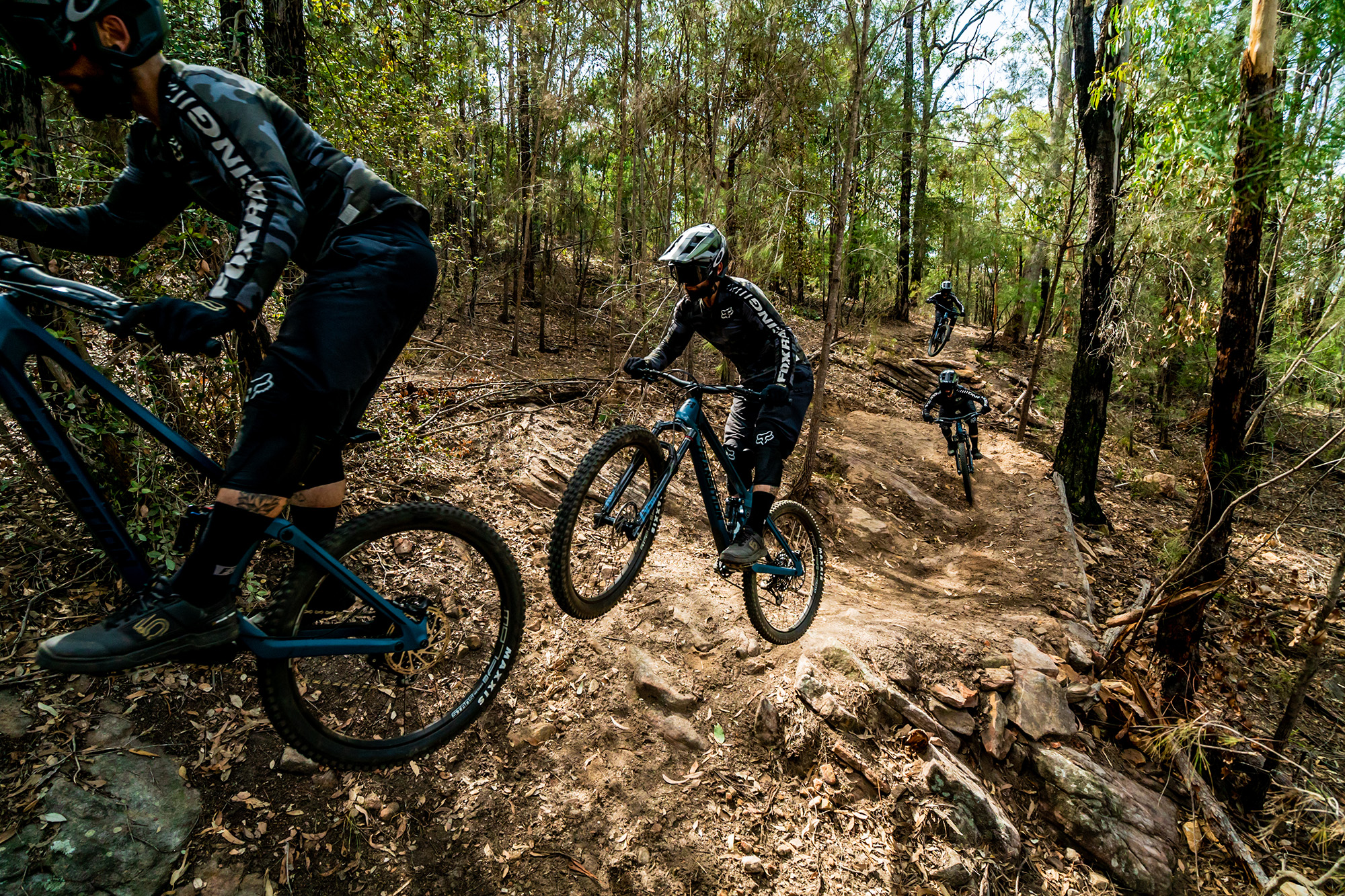 Man, that looks as sharp as anything but, what about the squishy bits? Well, thanks to the 25%  overall linear progression in the rear suspension the Scout is air or coil friendly. All shocks on frames will come with only one volume reducer installed allowing riders more available tuning when it comes to progression. The Scout comes stock with a 57.5mm stroke rear shock. However, if you install a 62.5mm stroke shock in the rear, you will get an extra 10mm of party out the back bringing it to 150mm of travel.
Surely that has to be one of the shortest seat tubes on the market? That's right, dropper posts getting longer Transition have made the seat tubes really short. By offsetting the pivot point to the seat tube, they have also allowed for maximum insertion. The Extra Small comes with a 120mm dropper while the Large and Extra Large come with huge 210mm droppers. This excites me more than deep-fried ice cream on my birthday.
"Running a slammed seat on a short travel bike takes me way back to racing 4x and dirt jumping."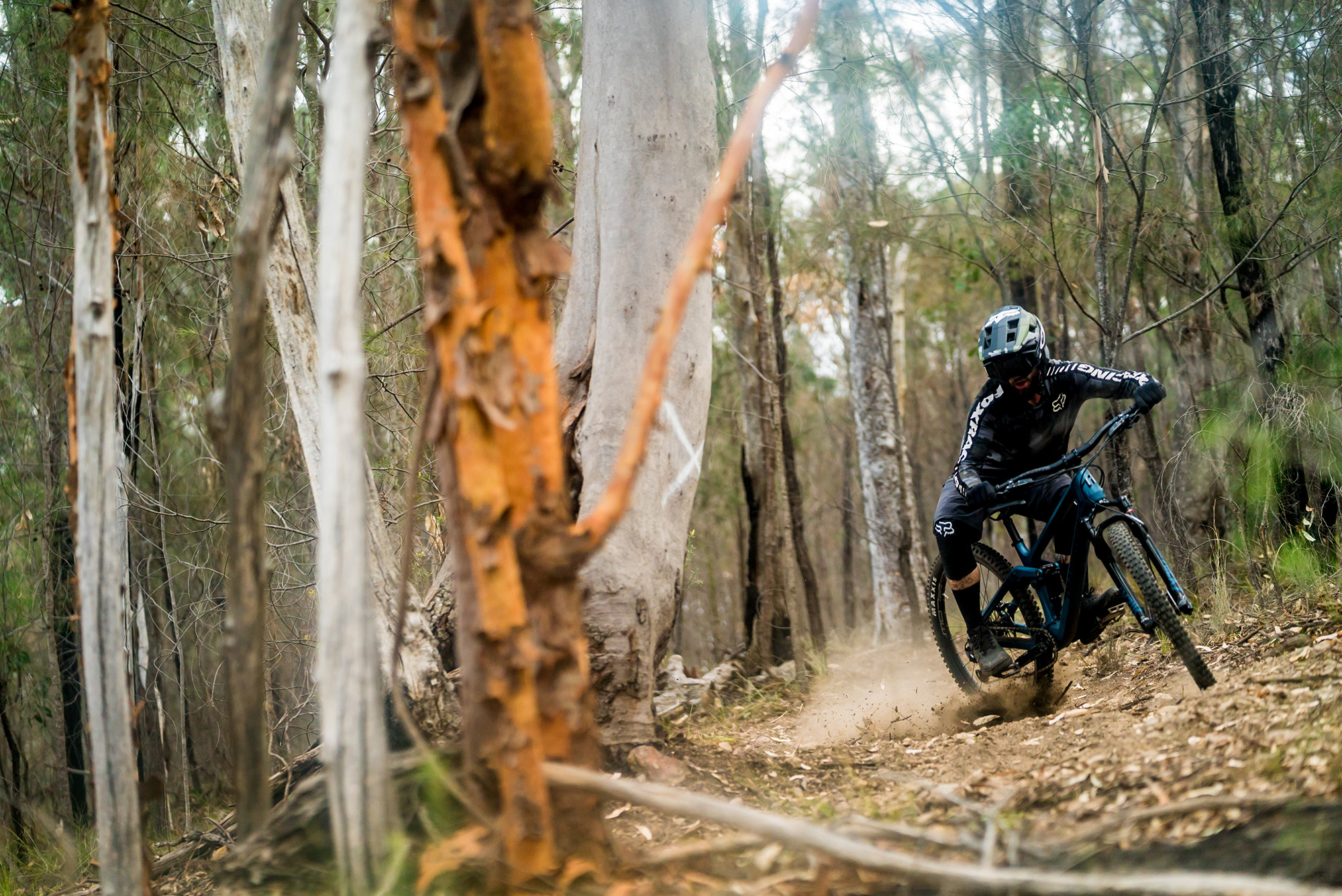 What about the little things? Well, the Scout comes with a 44/56mm so you can run an angle set if you wish. The frame is fitted with enduro bearings at all the pivots with weather shields on the main pivot so you won't destroy a set during a rainy weekend in Maydena. The BB is a standard threaded type so no need for hammers or clunky press tools here. And lastly, there are integrated frame protectors on the down tubes, seat stays, and chainstays, so you can jib without worry until your heart is content. [R]