Australian wins in Dual Slalom, Pumptrack and Speed and Style were amongst the highlights of the final 2023 Crankworx World Tour stop in Whistler.
Slopestyle
Emil Johansson pulled off an undefeated season as he won the Crankworx FMB Slopestyle World Championships courtesy of victory at Red Bull Joyride.
The Swedish star crashed during practice and saw the event delayed by three hours due to high winds and poor weather conditions in Whistler's boneyard. But no-one could deny Johansson once the event got underway as his run netted him a score of 92.4 points.
This was enough to secure Johansson a 13th Crankworx gold medal, finishing well clear of runner-up France's Paul Couderc's 87 and bronze medallist Tom Isted's of Britain who scored 83.8.
I don't even know where to begin. I busted my shoulder this morning and I wasn't really sure what level I would be able to perform. I decided to play it as safe as possible and really just wanted to make it down the hill. I made it down and I don't know, I just try to pinch myself because it hasn't really sunk in yet and I don't know if it will."
Emil Johansson
Speed & Style
In Friday's Speed & Style event, Australian Burbidge-Smith made it two wins in two nights as edged out New Zealand's Robin Goomes in the final, with third place going to American Shaelen Reno who overcame home hope Natasha Miller.
I'm just having so much fun and I love being in Whistler."
Harriet Burbridge-Smith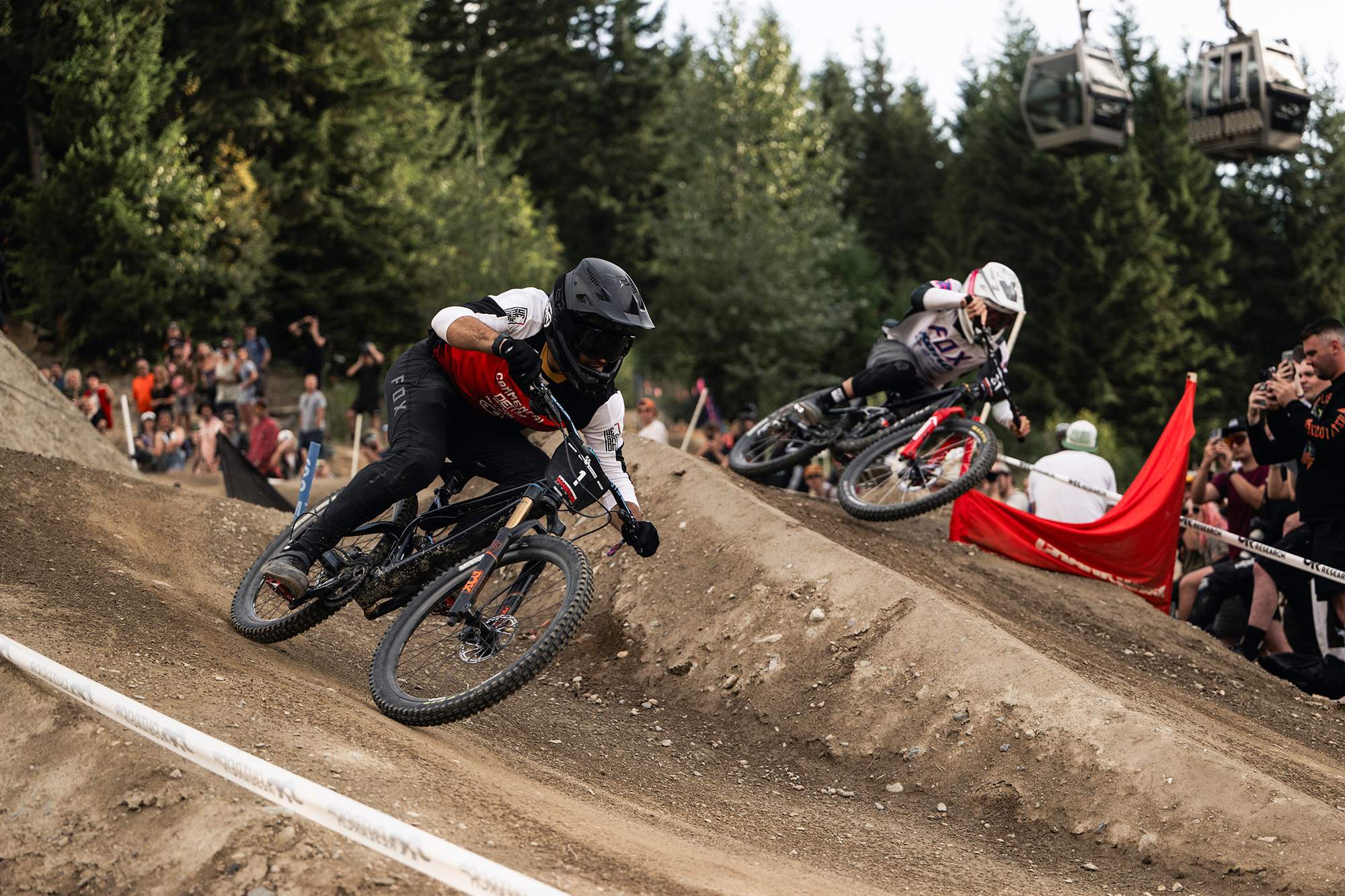 J.A.F.A.s Haz and Frew own Dual Slalom!
On the Thursday, Australian all-rounder Burbidge-Smith continued her impressive 2023 Crankworx World Tour season by winning the Dual Slalom event from Britons Louise Ferguson and Martha Gill.
In the men's event, we were so stoked to seenAustralian Jackson Frew come out on top with compatriot Ryan Gilchrist second and New Zealand's Tuhoto-Ariki Pene placing third to boost his King of Crankworx title hopes.
The Queen of Crankworx (and Pumptrack is….)
Caroline Buchanan did enough in placing second to secure brilliant back-to-back Queen of Crankworx titles in between American winner Kialani Hines and compatriot Jordy Scott.
It's just been probably mentally one of the toughest seasons, because it was so short and everything was back to back. You didn't really have time to gain momentum throughout the year, you had to kind of use all of last year's momentum to kind of flow into this year."
Caroline Buchanan
Kye A'Hern
Downhillin' the 1199
Whistler's Creekside served as the beautiful backdrop for a thrilling first event on Sunday on a course dotted with challenging jumps, tricky root sections and steep technical areas.
The new track named "1199" in honour of the late Canadian downhiller Stevie Smith who earned 1199 points during his historic 2013 World Cup title season. And in true Chainsaw style, the track delivered a wild ride. Dropping around 2.5 kilometres with a 500-metre descent, reigning UCI downhill world champion Höll was a class above in the women's event to master the course and defeat Ferguson by just under 20 seconds with Canadian Miranda Miller third two seconds off Ferguson.
It's an honour to be a part of this kind of stuff even though I didn't get to meet Stevie in person. To see the Canadians following in his footsteps and to see what he did for the Canadian kids is amazing! The track definitely shows you how gnarly Stevie Smith was as a rider."
Valentina Höll
In the men's race, Jewett edged out compatriot Mark Wallace by one second to lift the home fans with Kiwi racer Pene also just missing out on victory back in third place. Mark raced with Stevie as a team mate for a number of years and it really hit home for him.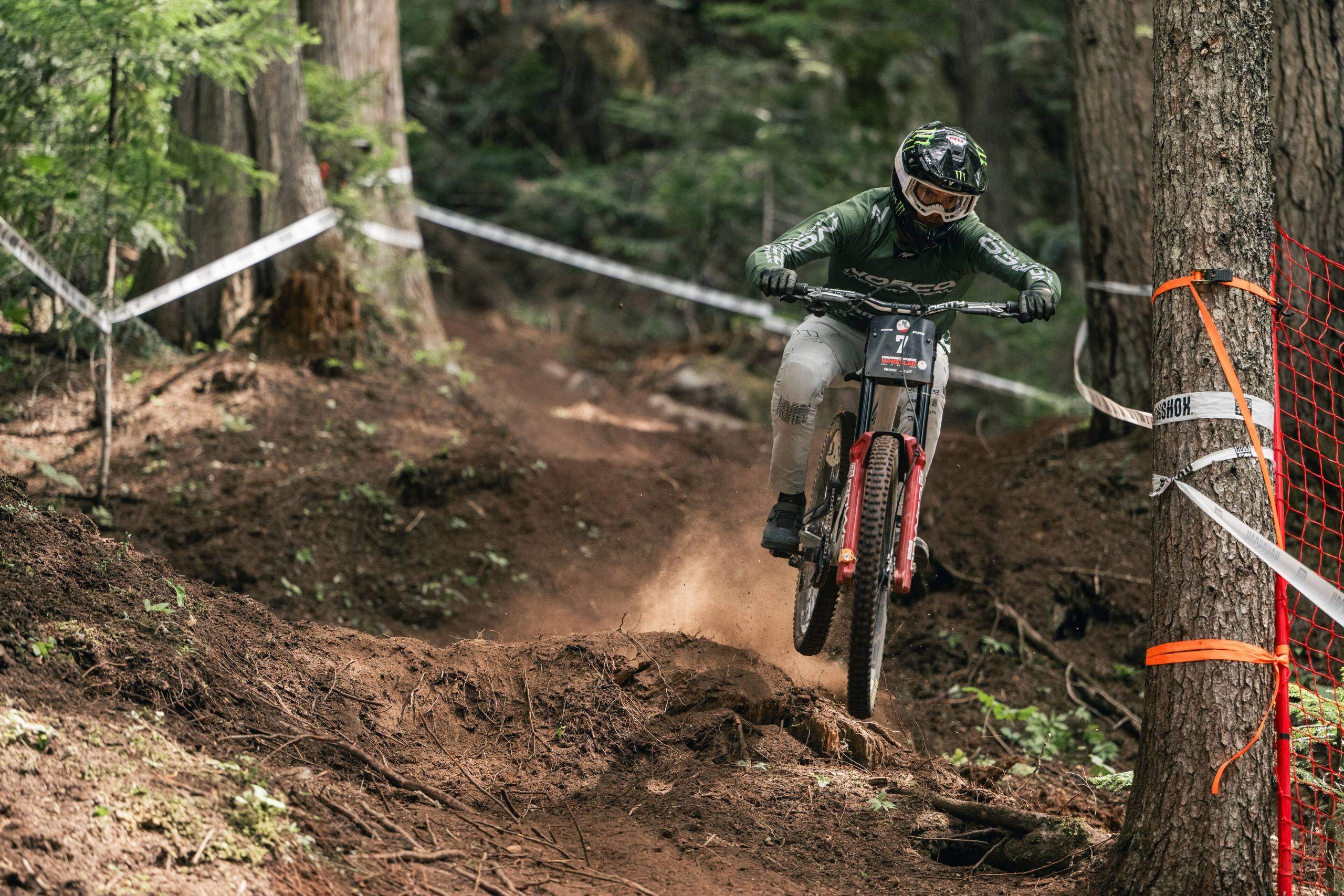 I credit me being here, even still, largely to him. When I was 16, wanting to race, he kind of showed me the way. I've tried to remember the things that he taught me, because it obviously worked out well for him. He would be so excited to go send it down this track."
Mark Wallace
Watch the full replay from the 1199 DH right here: