There was no denying when this bike arrived at the [E]vo HQ office and we pulled it out of the box immediately we were stunned by how insanely sweet this rig looked!
Of course Santa Cruz bikes have a worldwide reputation for delivering the cream of the crop when it comes to boutique MTB brands, some people may question the legitimacy of that reputation but trust us when we tell you, every time we get our hands on a new Santa Cruz we're blown away with the build quality and attention to detail they pay with their bikes. The Heckler was not different in the sense that this is one very impressive piece of engineering machinery. 
Words // Scotty Prendergast  Photos // Matt Staggs
Alright Scotty let's kick this off with a break down on what's new and what style of e-MTB this is and the style of rider it is designed for? 
Since the initial release of this popular model a couple of years back, Santa Cruz have added a few tweaks and refinements which have dramatically increased the performance of this whip. The Heckler is essentially the e-Bike version of their super popular Bronson model which ran a standalone 27.5-inch wheel option only. The refined version now offers the Heckler in several different, frame, build and wheel size options along with offering this bike in 5 sizes from small to XXL. They also offer this bike in a couple of colour options. The small retains the 27.5-inch wheels, yet the larger sizes are offered in an MX or 29'inch wheel option. 
Not only that they have increased the battery size to 720w, but it also runs the all-new Shimano EP8 which is quieter, it has more torque with a smoother power delivery. This bike also packs 150mm of travel out back and 160mm of fork travel; suffice to say just like their Bronson, this is their e-MTB version of a go anywhere and do everything type of all-mountain e-Bike.
It's lighter, nimbler and is a more playful style bike; something you can ride all day long yet still hit super aggressive lines on with plenty of confidence. Sounds like your kind of e-Bike?! Well-read on because we've got a lot more in store. 
Sounds like a real all-rounder, you mentioned some changes with the new motor and battery, can you give us a bit more detail on those elements? 
Santa Cruz have really listened to the fans and increased the battery size to 720w which makes perfect sense for an all-mountain style bike which is also interchangeable, the new Heckler is lighter and with that additional battery life you can ride further for longer. The battery is also easily removed via a 4mm Allen key under spring tension in the upper down tube, in short you don't have to unbolt the battery, merely slot on the 4mm Allen key in and turn to the side, the batter then drops out and in turn clips straight back in making it super user friendly. This system is ideal for external charging, maintenance, travel, and transport. It also comes with a really dialled charging system and neat charging port, again with the fresh charging system we found the battery also re-charged really quickly, it didn't take hours like some other e-MTB's we've tested. 
This thing is fitted with the latest version of Shimano's super popular EP9 motor which has seen some significant updates since it was first released, eh? 
The new Shimano motor is smoother, quieter, and more reliable. The motor itself still runs the same display screen as yesteryear, it also retains its Economy, Trail, and Boost power settings, along with its super easy walk assistance function for pushing up sections. All the settings within the motor can still be customised via Shimano's super user-friendly E-TUBE (Bluetooth) application and there are plenty of guides on the Santacruz website as to how to adjust everything with this motor along with the rest of your bike, oh yeah and it pumps out up to 85nm of torque.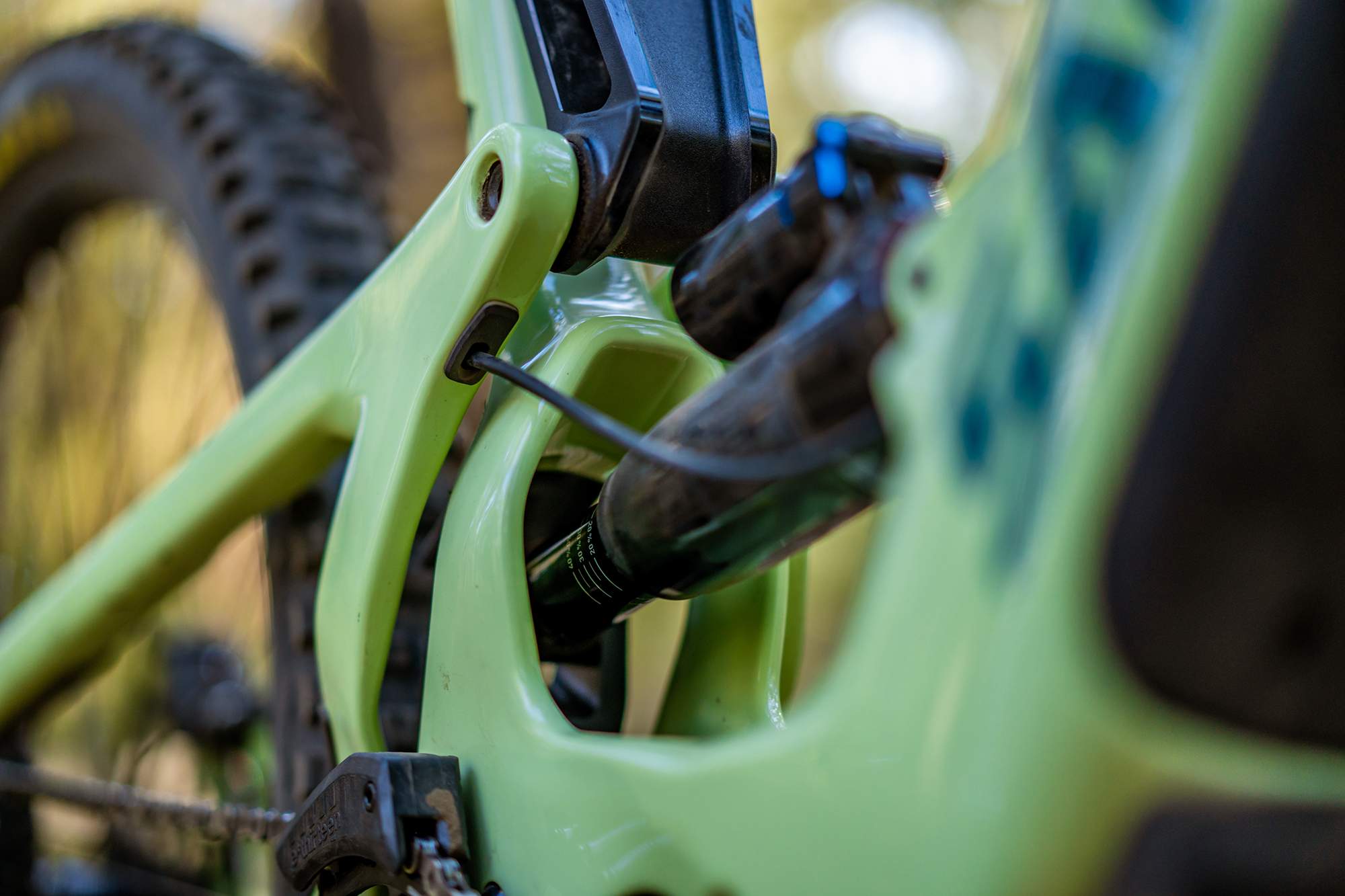 Alright, give us a bit more of an insight into the difference in the frame, suspension design etc! What's new? 
Ok, so the biggest complaint people had with the prior Heckler was that people felt it was a little harsh during the initial part of the stroke of the shock and wasn't as supple over the light trail chatter as people would have liked. The Heckler retains the tried and tested VPP linkage system yet there has been several subtle tweaks to improve the ride performance of the current model. The overall suspension kinematics have been revamped to address these issues. The new model has followed the trend of having more aggressive angles and a flip chip for a higher setting to create a nimbler handling bike and slack setting for better stability at speed. However, the revised VPP linkage design has created a bike that is a lot more subtle off the top, it ramps upper more progressively through the travel with plenty of mid to end stroke support over heavier lines. 
Keep in mind the flip chip setting will also change how progressive the leverage curve is in the rear end, so it doesn't just change the angles it will also change the feel of the bike. The frame will allow a larger shock such as a Fox X2 and it is also compatible with a coil shock as well. One thing you should also consider if considering a Heckler as your next e-MTB is they offer this bike (In the larger sizes) as a 29'r or MX wheel options. The swingarm will not allow the wheels to be interchangeable, sure you can drop a 27.5-inch wheel in your stand alone 29'r but it isn't ideal for performance as the suspension kinematics and linkage are different from bike to bike. So, in short, consider which option is going to be best for you and stick with it.  This decision will really depend upon the style of trails you ride most of the time and/or the style of rider you are, and/or the riding you tend to do on this whip most of the time. 
Consider it this way, if you want to do some larger rides and/or some e-MTB racing, the standalone 29'r is probably more the way to go. But if you like a more playful whip and its all about good times and ripping turns the MX wheel option is your best bet. 
Sounds like Santa Cruz have got this new whip dialled! Can you give us a bit more of a run down on the differences in the models and the build specs between the models? 
One thing that is pretty mind blowing about the Heckler along with the whole quiver of Santa Cruz Bikes is the attention to detail they pay to every single model. A couple of things we should touch on first is just how neat and tidy everything is. From frame protection to linkage bearings, paint job quality, and being really user friendly for maintenance. It is really evident that Santa Cruz wants their crew of people who chose to invest in one of their bikes to have the absolute best riding experience, this is also evident with their superb warranty and after sale service. 
This attitude translates completely throughout their bike design, what we mean by that statement is every single frame size has its little tweaks with angles to ensure every rider is catered for. I am 192cm tall and weigh around 88kg, I rode an XL which was a perfect fit but when you look across the lineup depending on what size you would ride those subtle tweaks ensure every rider gets the right fit but also the right ride performance and comfort with their bike. The BB height, Chain Stay length and head tube angle remain the same through the lineup for optimal performance yet they have made all the tweaks to the seat tube angle, stack height, reach etc for the perfect size.
For a company to commit to all these changes with every single size and model just goes to show they really care about every single one of their riders. 
Ok, so we tested the Heckler 29'r C model. This model comes in a ton of different build options depending on what flavour of components float your boat and obviously what budget you have in mind. For those shredders who want something a little extra spicey, they offer the Heckler in a top shelf 'CC' carbon layup frame design with no expense spared on top notch components. What's the difference between the C and CC frame? Let me start by saying, there is nothing wrong with the C model frame, as a matter of fact most of their lineup run this frame, the CC is a little lighter as it is using a higher quality carbon fibre. With that said, the frames are the same and there is nothing wrong with the strength and durability of the C option but if you want something a little extra fancy, well, Santa Cruz have your covered. To name a few specs, our test bike came stacked with was a new Fox 36 fork, Super Delux shock from RockShox, Race Face ARC 30 Wheels, Burtec Bars and Stem, SRAM Code brakes, SDG Dropper and Maxxis Rubber. Overall, it was a very neat build, and it had no complaints from the [R]evo Test Team.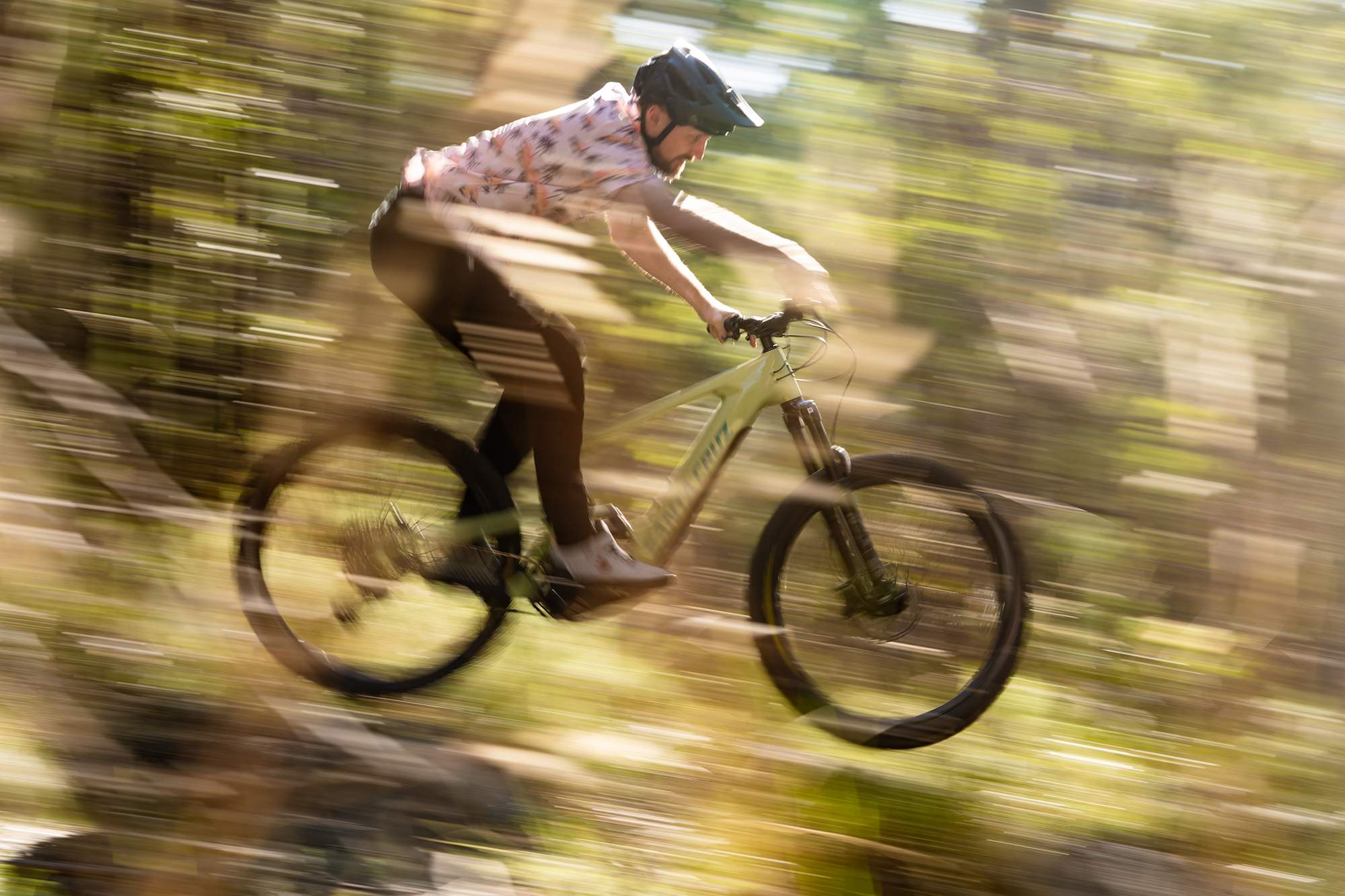 Sounds pretty damn punk rock! We've heard all the tech talk, now give us the good stuff, how did this sucker ride on some hot laps along with its handling when ridden in anger!? 
Well to put it bluntly, this bike rides exactly how you would envisage it does ride. Take it anywhere and do anything on it. Our local trails where we conduct most of our testing are a proving ground for performance and reliability. They offer everything from chunky gnar, step sections, flow, high speed, and plenty of large booters thrown in for good measure. So, when Santa Cruz first sent us this bike, we were super curious as to how the new Heckler would cope with some heavier trails in comparison to some of the longer travel e-Bikes we have tested lately. What we will say from the onset is that the new Heckler is extremely versatile over a variety of terrain. We have tested this thing not only on our local trails but in a bunch of locations to really get the scope of this bike's all-round performance.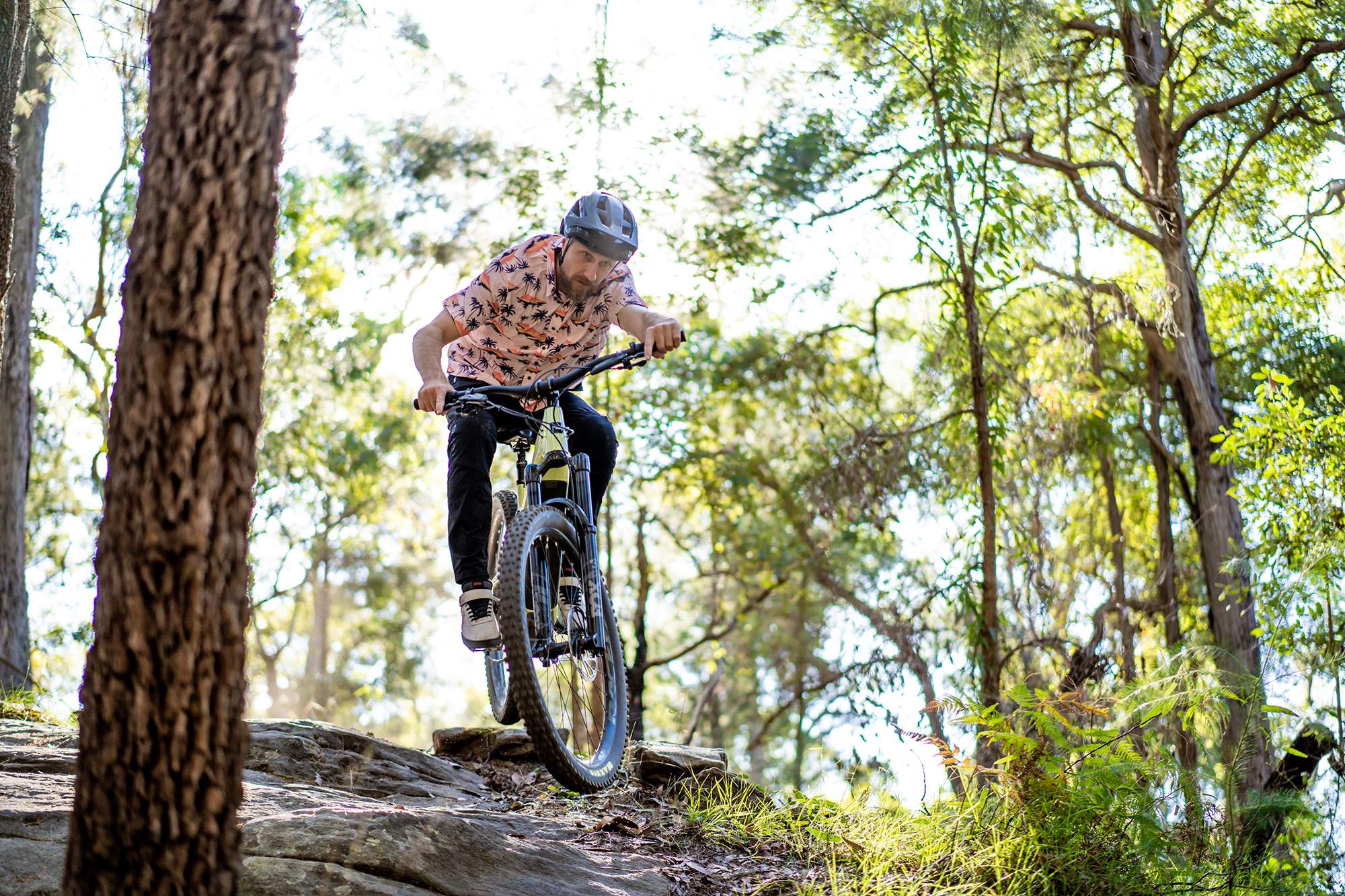 I guess the question is would we buy one? F#*king oath we would, this bike is an absolute animal!
For a full sized, full powered e-MTB, the first thing we noticed is the Hecker is light, this bike feels extremely planted and confident over the heavier terrain yet super comfortable on those longer sessions. We pumped out some huge enduro loops, XC laps, downhill runs and smacked plenty of gaps aboard this steed and every time we I swung a leg over this beast I was really blown away as to its all-round performance. This bike's updated suspension kinematics provides a riding experience a lot of other bike brands cannot claim as confidently as Santa Cruz. It's super subtle over the light trail noise which produces excellent traction to the rubber below, it's stable in the air and really hold its own on the big hits. But the biggest element to this bike we enjoyed was its overall handling and manoeuvrability through corners and tighter sections. We absolutely tore through some turns on the bike and its nimble light feel for an e-Bike inspired super fun, yet confident riding.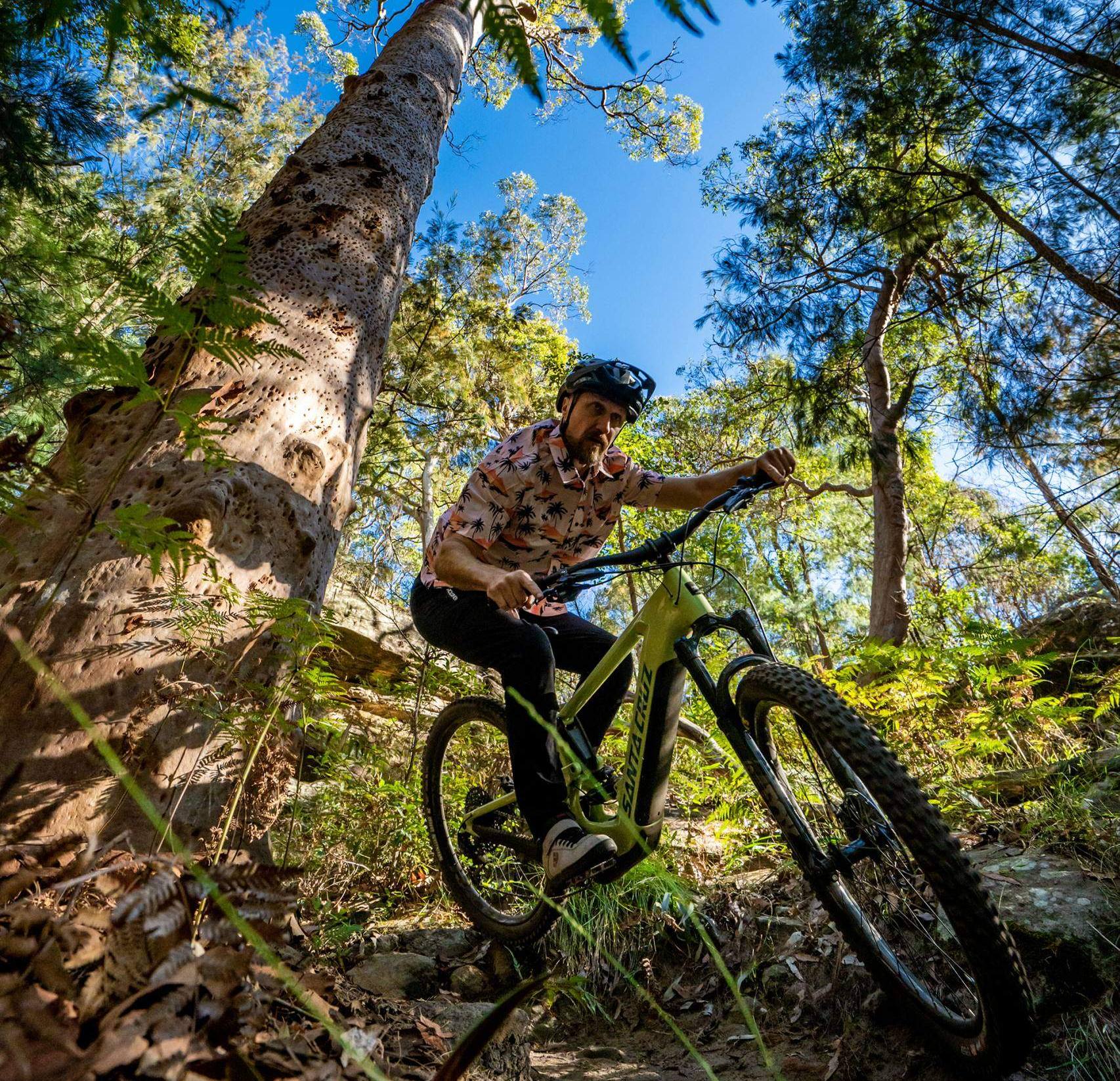 Final thoughts on the Heckler? 
In comparison to the Heckler from yesteryear Santa Cruz have nailed it because this new whip is an absolute game changer. The end-to-end detail with this bike is excellent and it's obvious Santa Cruz have really listened to their fans and provided a bike with significant improvements on this model's rideability and al-round performance. That is a testament to their attitude towards their customers, we've spoken, they've listened and absolutely delivered the goods with this masterpiece. We've said this once or twice before in reviews but from time to time we come across a bike we don't want to give back, well [R]evo fans the Heckler makes that list. So punk rockers what are you waiting for?! If you're in the market for a fantastic all-rounder style e-MTB.
From bombing hills to all day missions and everything in between, do yourselves a massive favour and go get yourselves a brand spanking new Santa Cruz Heckler. 
Spec
Frame // Full carbon front and rear end, showcasing Santa Cruz's latest VVP linkage design.
Sizes // Small – XXL
Travel // 160mm front, 150mm rear
Wheels // MX or 29" options
Motor // Shimano EP8 (latest version)
Battery// 720Wh
Weight // 21.5kg
Price // From $14,649
Browse // www.santacruzbicycles.com/en-AU