EMIL JOHANSSON NOW TIED FOR WINNINGEST SLOPESTYLE ATHLETE IN CRANKWORX HISTORY while Jayce CUNNING AND Caroline BUCHANAN TAKE BACK-TO-BACK TITLES IN PUMP TRACK AMIDST AUSSIE DOMINATED FINAL
Kicking off the double header event day, riders took on a technical and fast-rolling pump track surrounded by the lush Cairns rainforest. The deciding factor for riders advancing into the final rounds was precise timing from the moment they left the start gate to all throughout the features and corners on the newly designed track by Flux Trails. With progression in mind, the builders focused on increasing the speed for riders to really take advantage of the huge corners and fast built features. This was accomplished with a significantly taller start ramp to launch riders into a hotter start right out of the gate.
The changes seemed to do the trick, at least for the local contingency, as Aus riders took over the podium taking home 5 of the 6 top spots across the two categories. However, no one took advantage of the new starting ramp quite like defending champs Caroline Buchanan and Jayce Cunning.
The decorated athletes were able to hit the marks and precisely time each move on the track en route to successfully defending their Crankworx Cairns Pump Track titles.
In a race decided by by mere inches, Caroline Buchanan was able to rely on her extensive pump track racing experience to dial in the best lines of the day.
I love those moments where you just have to trust that your body knows what to do, it kind of goes on autopilot come the final and I love when that performer instinct comes out."

Caroline Buchanan
Slopestyle Rumble in the Jungle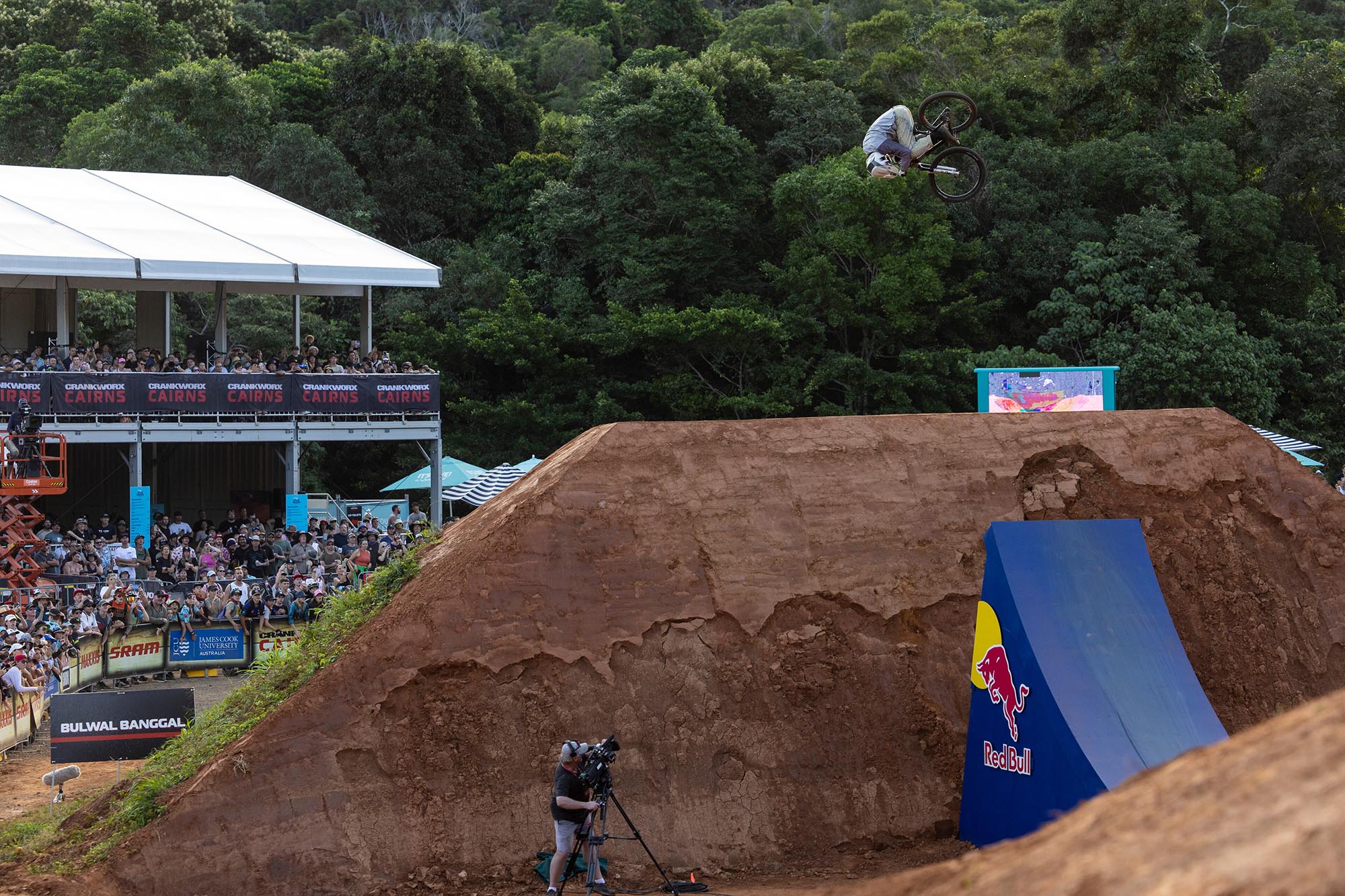 After a crash in Run 1 forced Emil Johansson out of competition in Cairns last year, the high-flying Swede returned with redemption on his mind in 2023. The 23-year-old found redemption as he put down a banging, clinching the victory and tying Brandon Semenuk's record of 11 Crankworx Slopestyle wins. Sadly, Nicoli Rogatkin took a massive hit breaking his wrist which saw him out of contention.
Also out of contention were any and all Australian slopestyle riders which, considering every other event over the week has qualifying for local crew, to see slopestyle being a closed event with no avenue to qualify, held in Australia, funded by Australian tax dollars, is simply ridiculous. Crankworx would be well advised to take a good hard look at this situation and address it if they want to see this part of the event grow here….
Looking effortless with his precision from top-to-bottom, Johansson once again proved why he is the man to beat in the sport of slopestyle. It's hard to single out any one trick from the historic run, as the Red Bull athlete showed his versatility, throwing down a multitude of stunning tricks like natural and oppo 360 downside tail-whips and a topside double-whip in the quarter pipe. Johansson soared to lofty new heights, seemingly defying the laws of physics, and once again redefining what is possible on a mountain bike.
It feels awesome! Last year I didn't really get to do what I was looking to do here, it's definitely been haunting me a bit ever since, so, to be able to put a run down, despite struggling with the weather conditions with the sun and stuff, having all these factors play in and still being able to put down a run…feels awesome!"

Emil Johansson
You can watch the replay here: