The Specialized Trail of the Year Award is a highly prestigious honour.
Each year r
iders, team managers and media who are a part of the Enduro World Series (EWS) are asked to vote for their favourite trail that was raced during that season.
Back in 2017 when the EWS first visited Tasmania, the island state left such a favourable impression on everyone that 'Detonate' won the Trail of the Year Award. Keeping in mind that no country has ever won the award twice it was an absolute joy to hear that Derby had once again been voted as the best trail in the world in 2019 with 'Kumma-Gutza' onto 'Air-Ya-Garn' taking top honours. Those two trials, combined to make one lovely long race track, were designed and built by the team at World Trail. The man given the responsibility of heading up the project was Rhys Atkinson, long-time friend of the magazine and absolute shredder on a bike in his own right!
Kumma-Gutza and Air-Ya-Garn  are located in the heart of the Blue Derby trail centre which can be accessed via a short pedal right from the centre of Derby town. It took Rhys and his team 11weeks in total to build the two trails. Kumma-Gutza is 1.8km in length and flows right into Air-Ya-Garn which is 2.6km in length, so all up riders can enjoy 4.4km of exhilarating high-speed trail.
Not that we ever really need an excuse to be inspired to make another trip down to Derby, upon hearing the news that Rhys' two trails had won the 2019 The Specialized Trail of the Year Award, we were quick to pack our bags and head down to catch up with the man of the moment and we scored a guided tour of his award winning trails. Read up and watch the edit!
Rider // Rhys Atkinson  Photos // Matt Staggs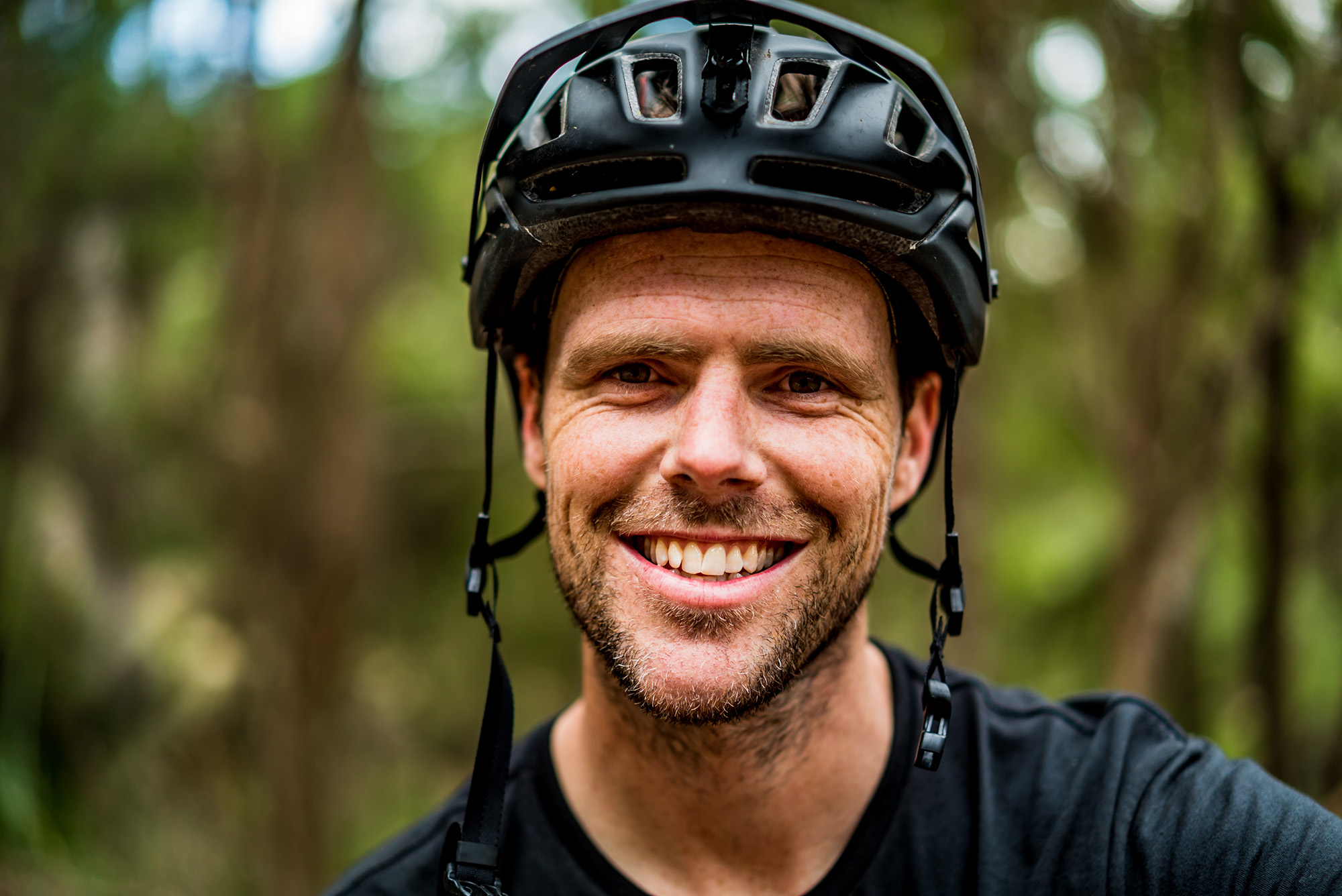 [R]: Mate, congratulations on the big win! What was the design brief for Kumma-Gutza and Air-Ya-Garn when you first started working on the project?
Rhys: I had very few constraints in terms of this build, it was all about trying to make the ultimate trial. The brief was to create a sustainable 'black diamond' trail that I would love to ride and race myself. It was all about picking interesting natural and raw features that already existed on the landscape of the hill and then weaving a trail across all of those spots without manipulating the soil too much. I can assure you, that can be pretty challenging when you consider the digger and machinery that we use to build trails. Anyone can build a 'black diamond' trail that isn't sustainable to the landscape, but the real skill lies in doing it sustainably.
[R]: When you designed these two trails was the intention to make them perfect for racing or did that all come later in the piece?
Rhys: We literally built these tracks for the EWS. We were briefed early on by Chris Ball (head of the EWS) and Ian Harwood (from Event Management Solutions Australia and who runs the Derby EWS events) that they wanted some new trails for the 2019 race which had to feature more 'gnar' than the tracks they raced back in 2017. So yes, we always intended for the tracks to be raced, but like all trails at Blue Derby, it was also important that they can be ridden by regular riders outside of race weekend.
[R]: Who came up with their names?
Rhys: All of us at World Trail have input into naming new trails however 9 times out 10 it's (Glen) Jacobs who gets the final say. Jacobs loves integrating Australian slang into trail names. For a hot minute every trail was named after an animal or plant. I think he really nailed these names though.
"For Australia to win an award of this calibre is a tremendous honour! It's so great that people from right around the globe are traveling to north-east Tassie with their bikes to discovering what we've been up to down here. And the fact that many of them then feel that we've got the best mountain bike trails in the whole world, that's really cool. Of course, whilst this award goes to our company, World Trail, really it's a team effort. We've got a lot of great people working for us; the best designers, the best planners and the best builders. We always aim to create trails that cater for as wide a rider skill range as possible and I feel both 'Kumma-Gutza' and 'Air-Ya-Garn' captures that perfectly. You know, a recreational rider can safely ride down those two trails and really enjoy themselves pumping the rollers and flowing the corners, but then at the same time, pro level riders can push their skills to the absolute limits as they launch off all the big gaps and get really creative as they tackle those rock sections. Blue Derby has become so popular with riders because the trails down there offer something for everyone to enjoy, and now, two of the newest trails we've built there have been voted as world class which is just fantastic."

– Glen Jacobs, Director of World Trail
[R]: For people reading this that haven't yet ridden either Kumma-Gutza or Air-Ya-Garn, in your own words can you describe how they are to ride?
Rhys: Sure, first up Kumma-Gutza is a raw downhill inspired enduro trail. I really focused on incorporating every piece of significant rock slab that we could find on the hill into its own feature within the trail. Most of the rock slab was up the top half. All the jumps on the trail I tried to make technically hard jumps that had tricky landings or lips that really make you think, rather than just straight forward doubles or what not.  Finally, we tried to aim the trail towards more natural 'lumpy' parts where it would require not as much excavation. This raw style of trail is in my opinion real mountain biking and I think we need to get back to that in terms of the build. Air-Ya-Garn is a progressive air flow trail that challenges every level of rider with big hits and simple 'B-lines' snaking around. It's one of those trails that you can shuttle all day with mates and hone in your jumping skills. We obviously drew inspiration from the likes of A-Line in Whistler and other jump trails through Europe, just on a smaller scale. The key with this one was getting the jumps perfect, which lead to a lot of testing. I think all up, every rider that goes and rides those two trails is going to really enjoy themselves.
As part of this Award, EWS provides a cheque for $2000. When World Trail won back in '17 they donated all of the prize money to a fantastic initiative called 'Break The Boundary' which is an Australian charity that helps people with disabilities live healthier and happier lives by using adaptive mountain biking as a way to break the physical, mental and social boundaries to the great outdoors. The money was used to create trails in Western Australia which were specifically designed to cater for the needs of adaptive mountain biking, enabling people in wheel chairs access to enjoy trails. How cool is that! We're pleased to announce that World Trail plans to again donate the entire amount of their most recent prize and they're currently deciding on where those funds will go. Stay tuned for that announcement. 
"That was a truly fantastic race stage! That trail features almost every single variety of riding imaginable, from super big rock rolls to really high speed jumps, heaps of loose off-camber sections and those really gnarly rock drops. It's a wild ride for sure! Even though the stage was very physical it was a pure joy going down. And for me as a racer the icing on the cake at that event attracted such a large and awesome crowd who were cheering so loud. Thank you Derby for another amazing event! I can't wait to go back to Tasmania again soon."

– Martin Maes, EWS Derby 2019 race winner and Factory GT Racing superstar