Without a doubt the #1 most fun I had on a bike all last year was the weekend that I decided to enter my first e-Bike race. With e-Bike racing becoming formalised (world champs, rumours of an EWS, etc) we decided to dip our toes in the water to see what it's all about – at least that was the original concept behind this article.
Story // JT
I then jumped online and signed up for the final round of the Shimano Australian Enduro Tour which was being held down at Mt Buller. I had zero idea of what to expect or how the race format was going to work, but even that unknown was quite exciting. Sure, I've been racing MTB's for (literally) the past 20 years but as I discovered racing an e-bike is a totally different, totally exhilarating, kettle of fish all together!
Okay so I'll admit, ticking the 'e-Bike' category on the entry form did feel a little odd… I mean, what even is e-Bike racing? Will we be racing the same tracks as the rest of the enduro categories racing regular MTB's that weekend? Would I be racing against 1000 people or would there only be 3 of us? Would I forget to pack my bikes battery charger before I headed off on the 10 hour journey down the Hume? So many questions were yet to be answered.
e-Bike racing is still very much in its infancy. That being the case most event organisers have a different ideas about the best way to hold these races and so the race formats are varying a lot right now. Our resident e-Bike guru Will has written a detailed article that explores the main e-Bike racing around the world right now, which you'll find on page 78 of issue 54. 
That said, the format of that EMS used Shimano Australian Enduro Tour quite straight forward and easy to understand. At the Buller race the e-Bike class raced on the same tracks as the 'regular' which meant we'd be doing 5 timed stages. The stages varied in length from one and half minutes up to around six minutes, and the majority of the stages were pretty much downhill runs. Each stage was then linked to the next via liaisons, similar to a rally car racing. 2 of the stages required riders to get from the bottom of the gondola way up to the top Buller village and so for those 2 missions shuffle vans were waiting for the riders. However, us e-Bikes didn't get to use that luxury and instead we had to pedal back up the hill each time. But hey, I had 250watts of power putting the wind into my sails, so I wasn't complaining!
Race entry cost the same as all of the other category, around $120. Plus I needed a day license (insurance) which sets you back another $30 or so bucks. For that money you get 2 days of riding; 1 day of practise and then the race day. The first day I spent 5-6 hours in the saddle and for the race we were out there for around 4 hours, so all up at these enduro events you get to do a heap of riding which makes the dollar outlay represent really good value.
Bike wise my weapon of choice was the Rocky Mountain Altitude Powerplay. Admittedly we are a bit spoilt for choice here at [E]volution with a storeroom full of test bikes. The two main reasons I opted for the Rocky was that it boasts a massive 680watt hour battery as standard (not really knowing what to expect from the race, distance, intensity, etc, the last thing in the world I would have wanted was for the bike to run our of charge halfway through the day, so the bigger the battery I could the better I figured!) and the other reason I picked the Rocky is because I knew the Buller trails were pretty gnarly and fast and in my opinion the Altitude Powerplay is the best handling e-Bike on the market for  those downhill types of trails.
When I arrived at the track for the first day of practise I headed straight for the rego tent and received my 'race plate' and a trail map. There was an 8 hour window of offical practice that day. The choice which trails you rode and how many times you rode them was up to you. Obviously, I wanted to check out each of the race stages to see what I was in for but at the same time I was mindful not to go 'too hard' as I wanted to make sure I wasn't going to be cooked before race day. Sure enough I did manage to link my way around the mountain and ride each stage. I even managed a couple of runs down a few of the trails. I felt pretty confident knowing where I was going on each stage and was starting to come up with a bit of a race strategy now that I knew what I was going to be in for the following day.
Being on the e-Bike I was expecting to feel 'fresher' than if I had to pedal around the mountain using all of my own steam all day, however by the time we finished riding at the end of that day I was really surprised how alive my legs still felt. Have I mentioned how much bloody fun it is riding an e-Bike!?
In terms of kit and what to carry, again I really had no idea as I didn't know what I was in for each day. That being the case I decided to play it safe and pack one of everything I could think of. When I head out for long rides on the home trails I'll tend not to use a pack, instead I stash my supplies on the bike or on my body utilising the handy compartments of a Specialized SWAT bib, etc. Anyways, for the race I loaded up a Camelbak pack with 3 litres of water, spare tube, CO2, a small pump, a multi tool, lightweight jacket, plenty of trail snacks/nutrition, sunscreen, some zip ties and a spare hanger, my phone and of course the all important trail map.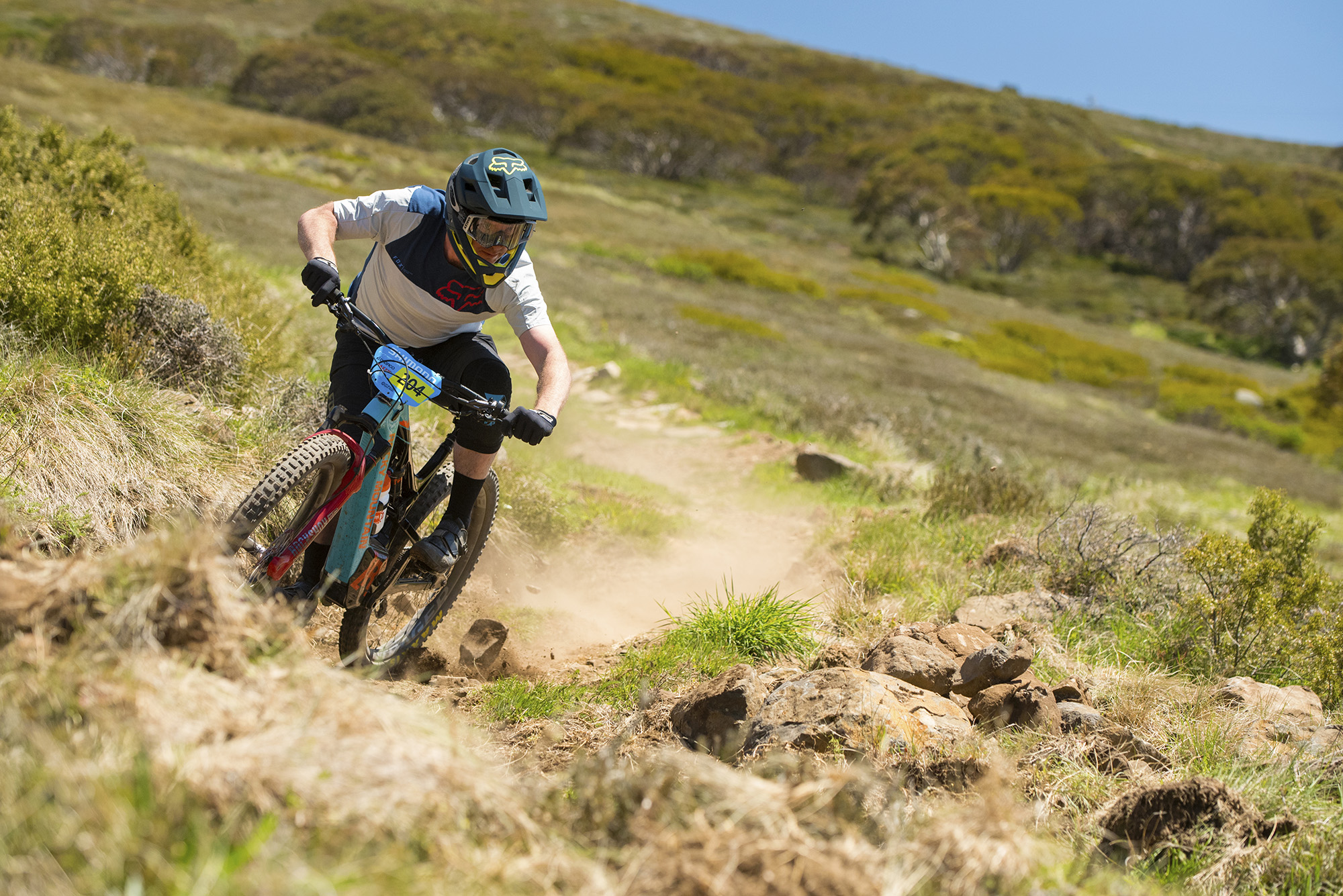 Waking up on race day we were greeted by the sound of heavy rain. It was absolutely smashing down. God damn it… Oh well, the show must go on I thought to myself as I poured an extra strong cup of coffee and began to rummage through the bottom of my kit bag searching for those waterproof pants I hadn't seen since 2007. An hour later the rain hadn't eased up but never the less I found myself sitting on my bike at the top of the first timed stage. Was I feeling ready to drop in? Of course not. I was quietly shitting myself. However mixed in with the nerves was an equal dose of excitement. 
My game plan for the first stage was, 'do not f*king crash' and so I committed to riding at 80% of my limit rather than going hell for leather at 100%.
The strategy paid off as I reached the bottom of the stage in one piece and feeling rather pleased with how the stage had gone. I didn't get 'caught' by the rider behind (which my ego had been quietly shitty itself about for the past few weeks), and in fact by the time I got to the bottom of the stage I had the rider that started before me right in my sights. Whilst there was no live timing monitor to get an idea of how I was placed I felt at that point that I probably wasn't coming dead last at least. Stages 2, 3 and 4 all flew by equally as smoothly. No crashes or major mistakes. My bike was working perfectly and my battery level had only dropped 1/3 as I was being as conservative as possible with the power modes that I selected for the liaison stages. There was only 1 stage remaining at that point, plus a full assent from the very top to the bottom of the hill, and so without fear of running out of juice I put the bike in its highest power mode and blazed on full steam ahead. The final timed stage went just as smoothly as the timed sections before it and when I crossed the line I was still had the same number of fingers and toes as I began the day with – so that was a bonus.
I had a massive grin on my face from ear to ear. It has been a bloody fun day in the saddle. I then began to make my way back to the event village for a change of cloths and to catch up with on some trail tails from the other e-Bike competitors. Everyone I spoke to was just as stoked as I was on how much fun they'd had out there. When the results were announced it turned out I managed to nab the overall win. Not a bad career winning percentage I thought to myself, 100% of the e-Bike races I'd entered I'd won – perhaps I should call it quits and retire on a high? Ha, no way, racing my e-Bike that day was way too fun. I'm now hooked and can't wait for the next race. And hopefully, I might see a couple of you guys out there too.