Rob Potter and Ryan De La Rue take their e-Bikes adventuring Tassie Style!
Words // Rob Potter  Photos // Matt Staggs
Despite the fact I've lived in Tasmania all my life, it took me twenty years before I made it to the west coast. This isn't uncommon. The majority of my friends, riding and otherwise, have either visited the popular tourist spots or have never been at all. It's an area that escapes a lot of people's attention and I don't know why.
For over a hundred years the west coast was a rugged frontier where men have chased precious metals and valuable timber through landscapes that as a trail-builder, I couldn't comprehend trying to access. Now, tourism plays an increasing role in the economy of the region and the development of absolutely unique mountain bike experiences in some of its remarkable landscapes is hoped to bring more visitors to the west coast.
The first time I visited the west coast I was working as a mechanic for an XC stage race called Wildside MTB that ran for nearly a decade on some of the old mining trails that litter the region. I attended that event every year it ran, riding as a sweep on some of the stages some years and doing my best to delegate that task most years, simply because the sort of riding that event was based around was not and is not what I was into. That said, there was one stage in particular that captured my attention and I was convinced there must be more like that which just hadn't been found, or rather rediscovered…
Because of this one trail I've spent hours staring at maps, looking for lines on Google Earth, convincing people I'd just met to hand over hundred-year-old surveys of forgotten settlements and walked, carried, dragged and crawled with my bike to try to find more like it.
For all the searching and hints of trails departing most of the roads I drove along, I actually didn't find much.
While there were a couple of exceptions and these are the trails I continue to ride, the greatest product of this process was absolute confidence that the landscapes in which I'd been searching were an incredible place to develop mountain bike trails that, while not for everyone, would be unlike anything else in Australia.
After many years of advocacy and working closely with the regional government to develop some mountain bike trails on the west coast, last year the Tasmania Parks and Wildlife Service constructed the first section of a purpose-built mountain bike trail at Oonah Hill. While the West Coast Council has secured funding for two developments, with the first of those on Mount Owen being designed at the moment and expected to be rideable by 2021, with more trails north of Zeehan shortly after. So just to be clear, the west coast of Tassie is getting set to become the next big thing for MTB!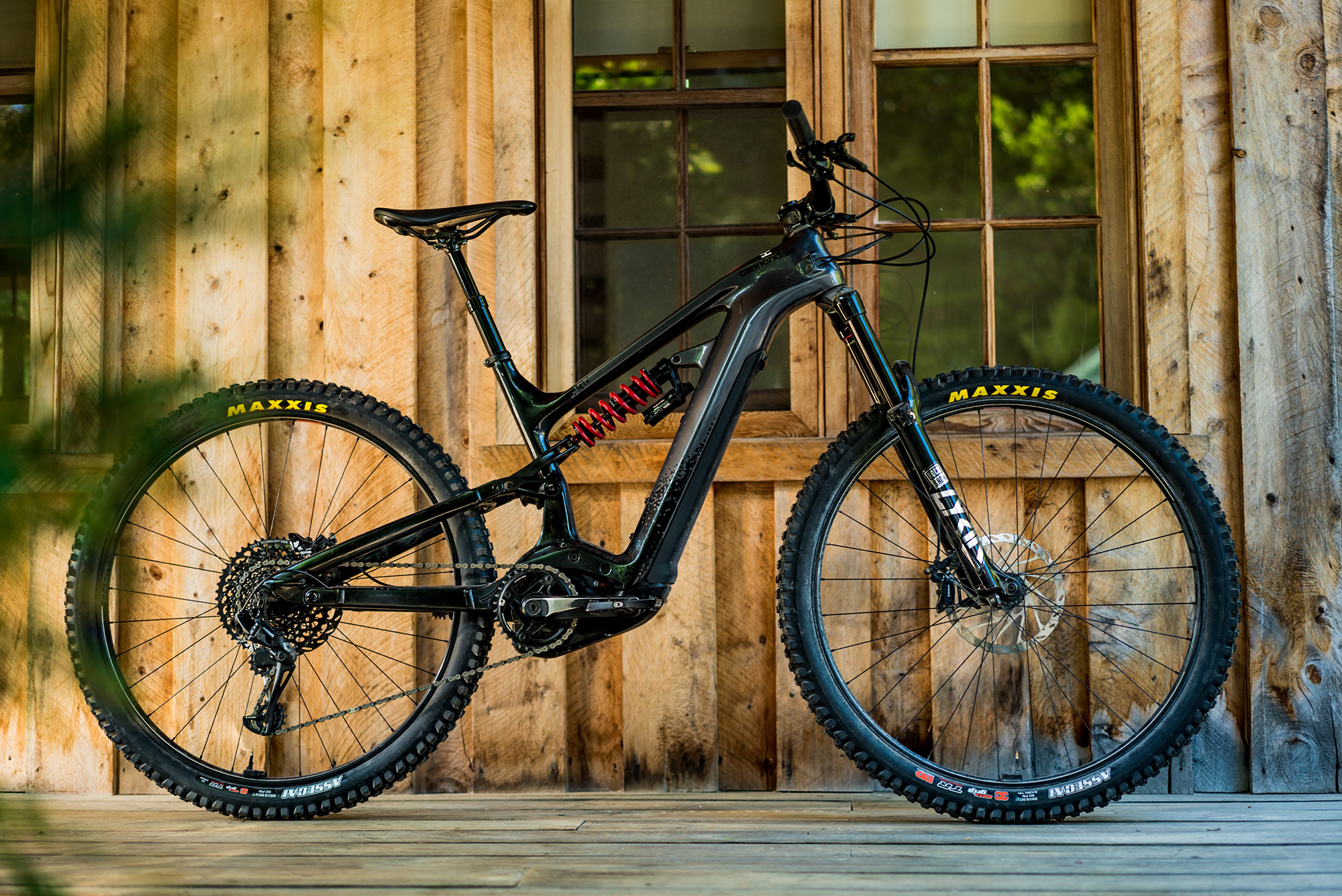 The perfect tool for the adventure that awaits
I'm a recent e-bike evangelist that, much to the disgust of some of my ardently acoustic friends, will preach to anyone that'll listen how my Cannondale Moterra Neo has turned me from a reluctant trail-rider who'd prefer to drive for three hours in each direction to do shuttle-laps, into a shelf-shuttling trail rider punching multiple laps of descents that I'd previously ignored because the up to down ratio just didn't make sense.
The riding on the west coast that exists currently can generally be described as steep, loose and covering a bunch of vertical metres. The topography of slow rolling, gravelly surfaces meant that in the past I'd more often loaded up the moto, leaving the MTB at home, to enable me to cover more ground. 
With an e-bike however, the steep pitches on loose surfaces repeated a thousand times on many of the existing trails are far less of a deterrent. This enables someone like me, with average but functional fitness and far more interest in steering than pedalling to cover ground, to climb multiple peaks in a day. And so, armed with e-bikes, our intention was this; to experience as many of the west coast trails, landscapes and activities as our bodies and batteries would allow.
Riding is just one part of the appeal of the west coast, there are a bunch of other activities you can pursue independently or with one of the increasing number of tourism operators. The high rainfall of the area and once contentious hydro dams mean there's a near infinite number of places to fly fish for trout, and the rich mineral deposits and discarded mine workings make for some interesting exploring and fossicking. There's great access to the coast for those that surf and are comfortable with generous swell. On top of that the region boasts some incredibly interesting museums in Zeehan and Queenstown housing collections of historic items as well as examples of the unbelievable range of minerals that led to the settlement of the area.
Preparing to launch.
The trails you'll encounter on the west coast, including those to be developed, are beyond the bike-park boundaries. Quite simply put, this is pure mountain biking in its rawest and often most thrilling form.
The remoteness, climate, geology and elevation you'll encounter while not requiring an elite level of ability or fitness, does require an increased level of self-sufficiency and responsibility for your own safety and good-times compared to what a lot of Australian mountain bikers will be used to.
The relative remoteness of the region from the major population centres on the north-west coast, Launceston and Hobart will require you to carry everything you'll need to keep your bike functioning for the duration of your visit. This will change over time with the development of more trail and a local riding community and businesses, but in the interim if you may need it, bring it.
The trails themselves are also remote. While starting close to towns, you're quickly on your own. Consider carrying a GPS and a PLB/EPIRB depending on where you're going. There is actually pretty good phone coverage across the region, but it's best to ride as though there isn't.
Rainfall varies across the region but the west coast is home to the wettest place in Tasmania. For instance, Mount Read receives on average a little over 3.6 metres of rain and 215 rainfall days each year. So that means you either want to pick one of the other 150 days for your ride or just be prepared to get wet. But hey, there's nothing wrong with riding in the rain! 
There's not a lot of soil on the west coast. You'll find that most of the trail surfaces are made up of gravel of various sizes. While this can be loose to ride on, once you get used to it, it's a lot of fun. It also means that riding during or straight after rain doesn't damage the trails or cover you in mud. I've ridden on Mount Owen an hour after it received twenty millimetres of rain and got out dry.
One of the real appeals of riding on the west coast is that you're doing it high up in the mountains. Of course, this comes with some obvious risks. The weather can change quickly. Be familiar with the forecast, and where you're going. It can be easy to get disoriented in low-visibility conditions if you venture off the trail deliberately or otherwise, throw in some snow and an injury and the rest of the day may not be fun.
Getting there.
Depending on where you're coming from, there are three main approaches to getting to the west coast; the Lyell Highway from Hobart and Maydena, a more complex collection of roads through Sheffield, past Cradle Mountain to the Murchison Highway or from the north as we travelled. I strongly recommend making a loop out of the drive as the experience of travelling through the rapidly changing landscape in a vehicle is worth the visit in itself.
Travelling from Launceston, we took the Bass Highway to Burnie before picking up the Ridgley Highway toward Waratah. From Waratah it's Waratah Road to Savage River and then Corinna Road to our overnight destination of Corinna.
Seeing people's reactions as they first encounter landscapes they've never seen before nor expected to find in Australia is always something I enjoy. This trip was no different. We had left Launceston late in the afternoon, took advantage of the last available food stop in Burnie and were proceeding purposefully west as I really wanted our crew to experience the drive while we could still see something. Heading out of Waratah we eventually emerged from the dense vegetation and into the last light gently illuminating the button grass landscapes around Savage River and the layered horizon defined by the Meredith Range to our south.
Beyond Savage River, the bitumen gives way to a bright white silica gravel road and we caught the first glimpses of Mount Donaldson, a bold pyramid shape bursting through the surrounding gentle hills. It was nice to see the excitement when I pointed out that shape dominating the horizon was to be the first thing we'd be riding – mountain biking in mountains!
Corinna
Corinna is one of the most other-timely places I've visited. Sat on the banks of the tannin-stained Pieman River, it is surrounded by some of the most dense, wet vegetation I've seen in every direction and is in many ways detached from the outside world.
In the late 1800's during a goldrush that lasted a decade or so, the town had a population of 2500, two pubs and is just a few kilometres from where the largest nugget of gold ever found in Tasmania was discovered in 1883. Now, a lot of the former Corinna has been reclaimed by its environment and all that remains is a wilderness village with a mix of restored historic buildings and new accommodation constructed to be sympathetic to its surrounds. There is a restaurant, there is no phone reception and you'll be drinking rainwater collected from rooftops.
Corinna is the closest place to stay to Mount Donaldson, the 437 metre peak with a trail that takes you from sea-level to the summit over its 4km length (8km return). It's worth mentioning that while we had permission to use it and mountain bikes are allowed on the trail, it's primary use is as a walking trail. Expect to see walkers, give way to them, ride in a way that doesn't damage the trail and be sure to arrive with a clean bike to avoid spreading weeds and disease.
The trail starts off on the banks of Savage River, a tributary of the Pieman River, and climbs steadily, starting off under canopy but quickly transitioning to low button grass hills that allow constant views. The summit provides 360-degree views over much of the West Coast and offered a great opportunity for us to see where we were and where we'd be riding over the next couple of days. The descent is sustained and heavily eroded in parts, to the degree that we found the outside of our feet catching in the narrow ruts, but this is part of the appeal and a refreshing contrast to the awesome number of manicured trails we enjoy around the rest of the country.
As well as the small amount of epic riding nearby, there's a bunch of other stuff to do in and around the village; kayaking, short walks, fishing or a cruise on the only Huon Pine river cruiser still operating in the world.
Zeehan
In 1900 Zeehan was known as the silver city due the number and prosperity of the silver mines surrounding it and was Tasmania's third largest town after Launceston and Hobart. Today, while there are still some mines operating in the area, the town is in decline.
Close to Zeehan is the Mount Heemskirk Regional Reserve which hosts the west coast's only purpose-built mountain bike trail. The Oonah Hill trail is only short at about five kilometres but gives riders an experience that contrasts completely with the rugged legacy trails that surround it.
However you access it, the trail is a climb and then finishes with a descent. The surface of the trail is loose and indicative of the sort of experience purpose-built trails on the west coast will have. While it makes it hard to build trails for beginner riders in this sort of geology, the upside is that the course gravel drains very freely enabling the trail to work with the regions 2.5 metres of rainfall a year.
There are two ways to ride the Oonah Hill trail; the way that we did, which I'd recommend, is simply locating the trail end using Trailforks, parking there and riding Trial Road to the start of the climb. The alternative involves riding from town, past the Golf Club to the Spray Tunnel (worth a look even if you don't ride there) and then following the Spray Tunnel Trail to Trial Road and the start of the climb.
The second stage of the trail development project the West Coast Council are pursuing involves design and construction of a heap more trail in this area with the aspiration of getting as close to the top of one of the surrounding mountains as possible. Epic.
There are a couple of good accommodation options in Zeehan. We stayed at the Heemskirk Motor Hotel which offers a range of room configurations. The hotel is in the process of further improving the way they accommodate mountain bikers, including adding a bike wash and providing mats that will allow riders to store their bikes in the rooms. Food options are limited, but meals are served daily at the Heemskirk Motor Hotel and there is an IGA and bottle-shop right next door.
Tullah and Rosebery
It was nearly twenty years ago that I first rode the Sterling Valley Trail during the WiIdside MTB event, and it was the trail that left me convinced there must've been more epic descents like it lurking or lost in the west coast wilderness. It's a combination of gravel road, double-track and what is one of my favourite single-track descents. The whole trail (not as we rode it) roughly spans the distance from Tullah, an old hydro-town, to Rosebery, a town that is still sustained by the mine whose operations border the town.
Sterling Valley Trail can be ridden as a point-to-point from the eastern trail-head, just west of Tullah on the Murchison Highway, all the way through to Rosebery, but we chose to park in Rosebery and ascend a short four kilometre stretch of the Murchison Highway east toward Tullah that would allow us to pick up the trail at its high-point and descend back to where we began. As we were on e-bikes the up was no issue (and we could've done it multiple times), but it is possible to shuttle the route that we climbed.
The trail as we rode starts off as an inconspicuous gravel vehicle track, tucked behind some Armco guardrail and used to access power-pylons. It's worth some Trailforks planning if you intend to do it this way as there are no signs showing the way. From the first intersection you encounter you'll find little black arrows indicating the direction you need to go. Once you get on the single-track it is the most perfectly aged, loamy bench, made interesting by the couple of steep, rooty, rocky chutes toward the top. In the wet these are a handful for even the most competent riders and many people will choose to walk them. In the dry and for an experienced rider, this is some of the best back-country trail you'll come across. Sterling Valley Trail is unlike any trail I've ridden in Australia and is far more reminiscent of the sea-to-sky in BC.
Just out of Rosebery is the Montezuma Falls Track which from the west of Rosebery is well signed from Murchison Highway. While not a mountain bike trail as such being flat, wide and featureless, bikes are permitted and make the five-kilometre trip to the falls and epic suspension bridge a little easier and definitely worthwhile.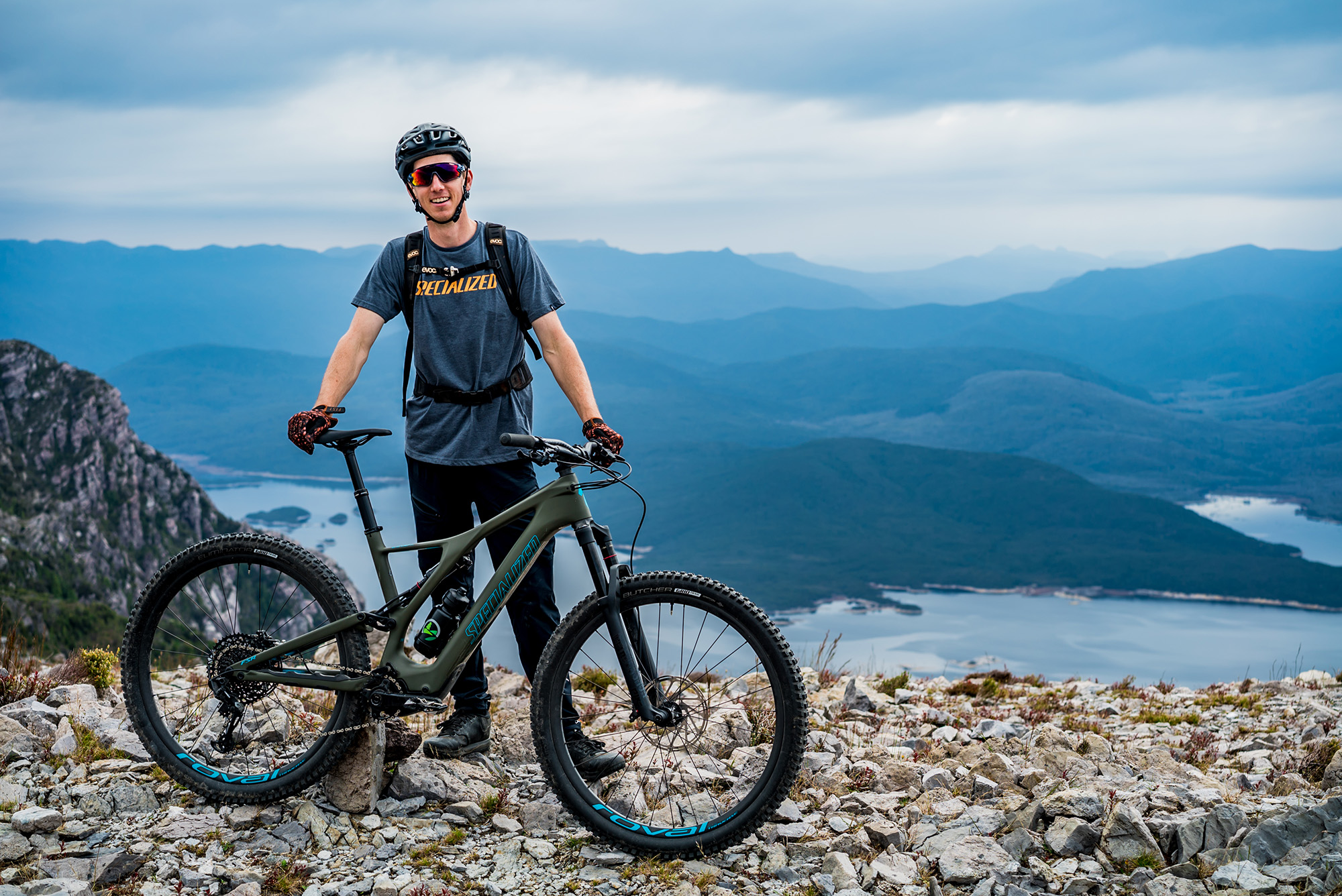 Queenstown
The barren slopes of Mount Owen, which towers over Queenstown, are an incredible reminder of the capacity of human industrial activity to change the natural environment and a landscape that's become a west coast icon. It's also the location of the first stage of the ambitious development of mountain bike trails that are intended to compliment and differ from the existing ride-destinations in Tasmania.
Dirt Art are currently working on the design of about 30 kilometres of trail that will span a massive elevation range and descend into the town. The intention is to provide riders with a combination of more natural epic ridge-line descents and, as much as the geology will allow, flow trail more familiar to Australian riders.
This kind of experience would previously have required a trip to North America or Europe to ride.
While the final designs and network are yet to be determined, it is expected that licensed shuttle operators will have access to an existing access road that will get riders to 850 metres above sea level with the possibility of accessing another couple of hundred metres under their own power. With Queenstown sitting at 150 metres above sea level, that will allow for some epic descents.
With e-assistance, it's possible to ride the access road (I'd love to hear of someone who can do it without it..!), stop for the views from Owen Spur toward North Owen Peak and south into the Tasmanian Wilderness World Heritage Area with the horizon punctuated by the unusual shape of Frenchmans Cap. On a clear day, this experience is worth the climb in itself. We hiked to the start of a short section of trail that descends to Horsetail Falls, about half-way down the mountain. I developed this section of trail for an immersive-cinema experience and loosely based it around an existing walking track. It's steep, exposed and difficult to get to but something I ride any time I'm nearby.
Tracks Café is a great spot for breakfasts and lunches seven days a week with evening meals served on weekdays. There's a big range of accommodation available in Queenstown from Airbnb's to typical motor-inn and pub-style accommodation. The Comfort-Inn Gold Rush Hotel is an excellent mid-range option within riding distance of the centre of town and the Empire Hotel offers inexpensive, clean and accessible rooms as well as being a great place for a feed and refreshments post-ride.
That was epic!
Whenever I take people to somewhere that's special to me, I get a bit self-conscious. The degree to which this is true is based on the effort required to get there. Maybe I just like weird things and after a three-hour drive followed by an hour-long climb and carry, they'll be looking at me confused, wondering why I brought them out here?
I've been lucky enough to share my experience of the west coast with photographers, film makers, advertising agencies, and even the marketing departments of car brands. I've coerced them to most of the places we rode. Every time I do it, even with people that don't ride bikes, the uncertainty evaporates when I see their reaction to what I've seen many times before. This time was no different.
Riding is as much a visual experience as it is about the dynamic of any trail. There's trail everywhere these days, the thing that sets otherwise similar trails apart is where they're set and there is no more epic and unique setting than the mountains of the west coast of Tasmania. [R]
For information about existing trails, the progress of trail developments and general information required to plan a trip, head to westcoasttas.com