This past summer [R]evolution rolled with one of Australia's fastest downhillers throughout an entire National Series race weekend. [R]evo photobro Matt Staggs spent 24 hours shadowing Dean, documenting his every move, from Saturday's qualifying session right the way through to Sunday afternoon's finals. Our aim is to give you an insight like never before. A 'true' behind the scenes glance at a professional MTB racer going to work each day.
In the pressure cooker environment of professional DH racing, only those riders with a perfect game plan are able to pull it all together for that 'flawless' run on Sunday afternoon. It's rider versus clock. One run only. And the podium awaits. But about a million variables need to fall perfectly in order to climb those few steps to victory on Sunday afternoon. That preparation for a finals run doesn't begin when the rider wakes up that morning. It begins days, weeks, months, even years before that number place is even fixed to their bike that weekend. Pro riders live and breathe racing. They dedicate their lives to the craft of racing and being the best.
We recently had the opportunity to tag along with one of Australia's fastest downhill talents, Dean Lucas, and follow his journey throughout the weekend at the Mount Beauty National Championship Round this summer. We captured his every move for the 24 hours from the moment he crossed the finish line on Saturday's Qualifying run, right the way through to him climbing the podium on Sunday afternoon.
Join us for a for a 'fly on the wall' account of what it takes to be one of Australia's best. Okay, so lets get going to hand the mic over to Dean to talk you through each shot.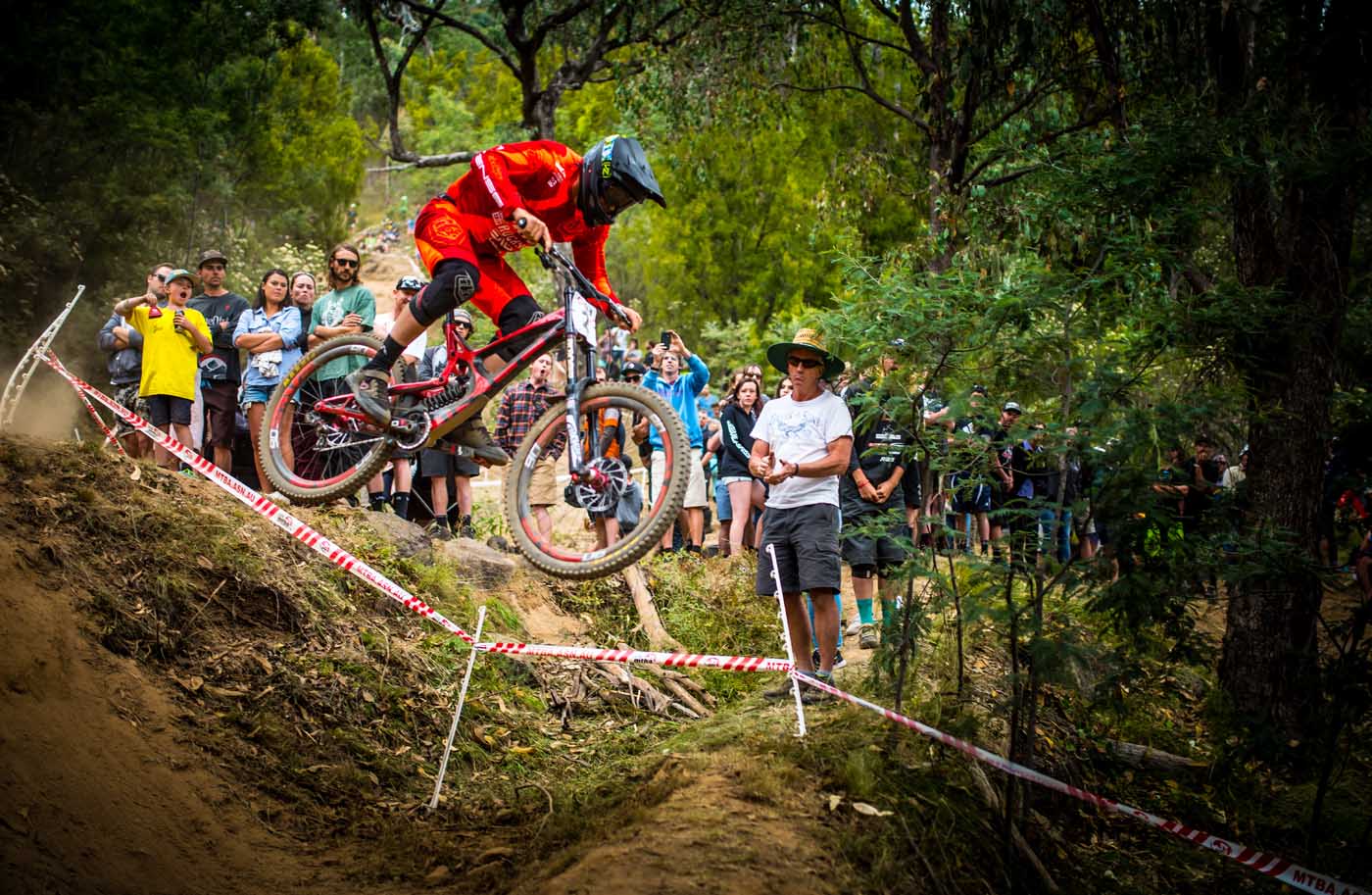 "To be honest, I wasn't too sure what to expect from my qualifying run. This was the first National round that I'd raced all summer. I knew I was riding strong and I had felt good on the bike all weekend. I had returned from a month long Team Camp over in California which had really lifted my fitness and confidence. My team mates and I had all been training hard every day over there and all of us had really been pushing each other. So when I got to the start gate for my qualifying run that afternoon, my intentions were to just put together a solid, clean run and see where it would place me. I ended up fastest and was the number one qualifier! I was stoked with that and straight away I shifted my focus to then getting the job done in finals tomorrow."

Dean Lucas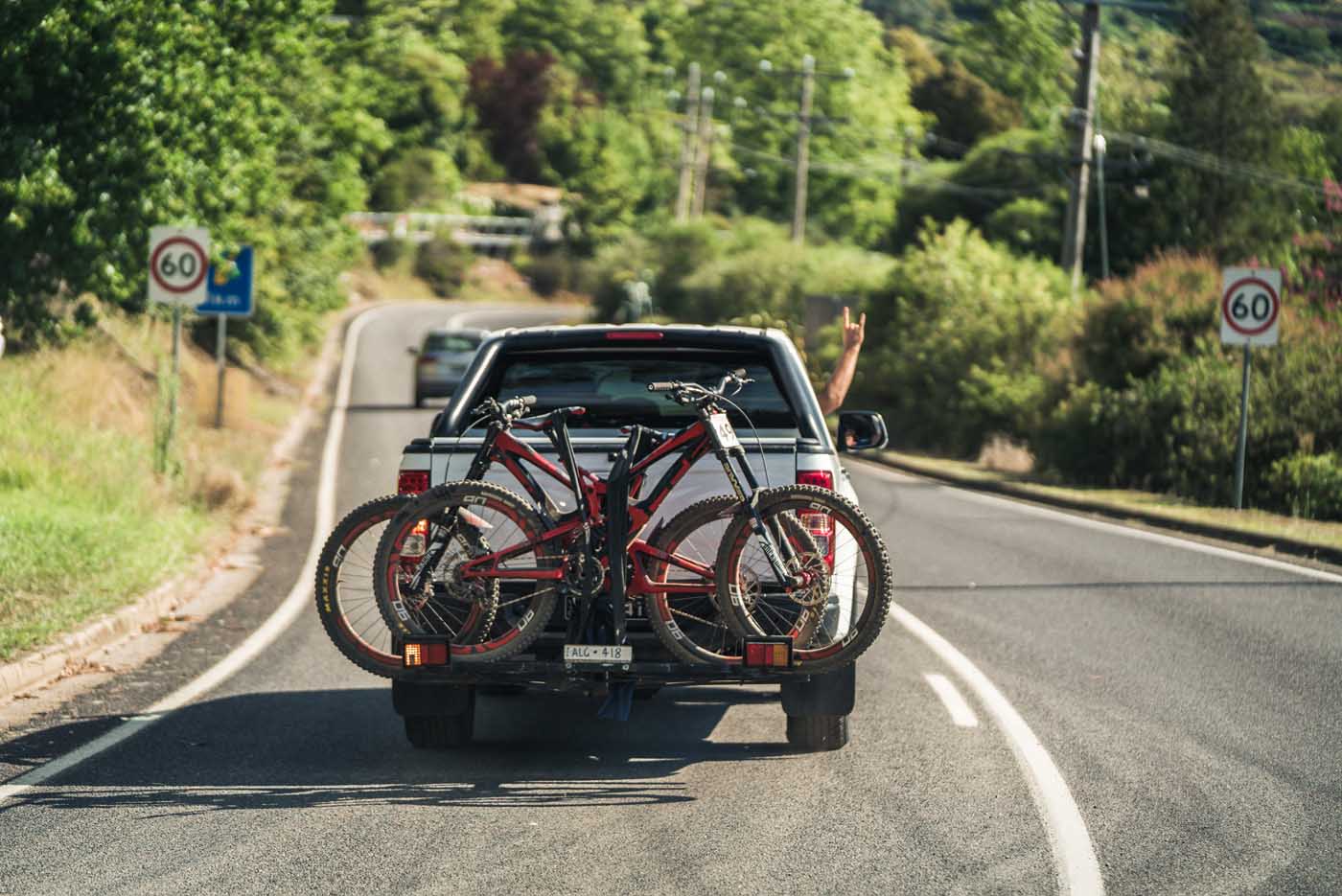 Qualifying
I was stoked to qualify fastest. And so with practice done for the day the boys and I loaded our gear and left the race site. Right now it's time to relax, fuel my body and get everything lined up for tomorrow afternoon's final run.
Time to cool down! We headed to one of my favourite swimming spots just down the road from Mt Beauty and Jake decided to show us how it's done with a 'backie' straight off the bridge. I don't quite have the same flipping skills as Jake!
It's the best feeling getting straight out of all your sweaty gear and jumping straight into the cool ovens river.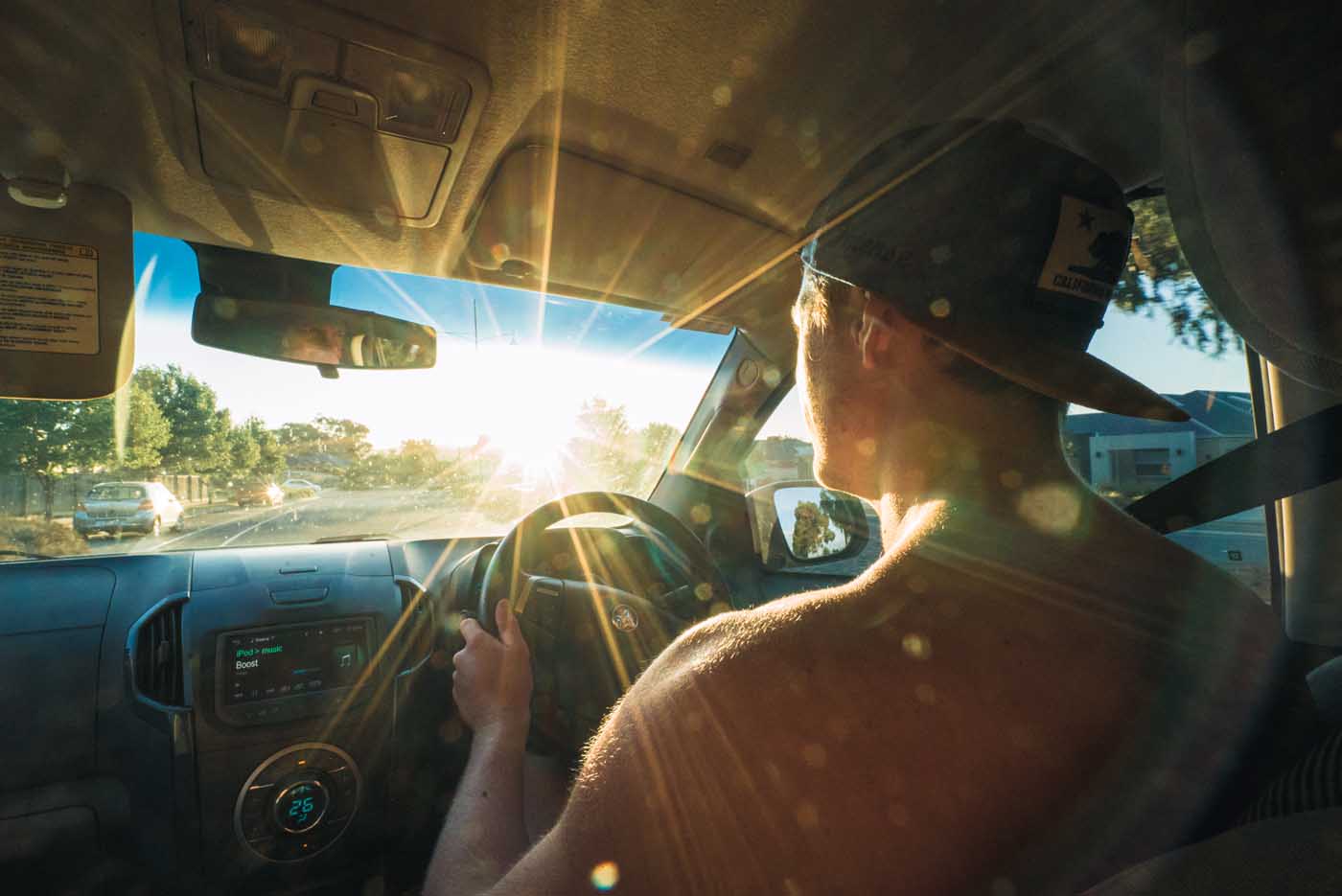 I live about an hour away from Beauty and although I usually like to stay nice and close to the race venue, there's nothing better than sleeping in your own bed at night and so it's well worth the drive. And the boys always stay at my pad when we race Beauty, so it's always good times those weekends.
Beef or chicken? Chicken or beef? Possibly one of the hardest decisions we had to make all weekend. We went with chicken.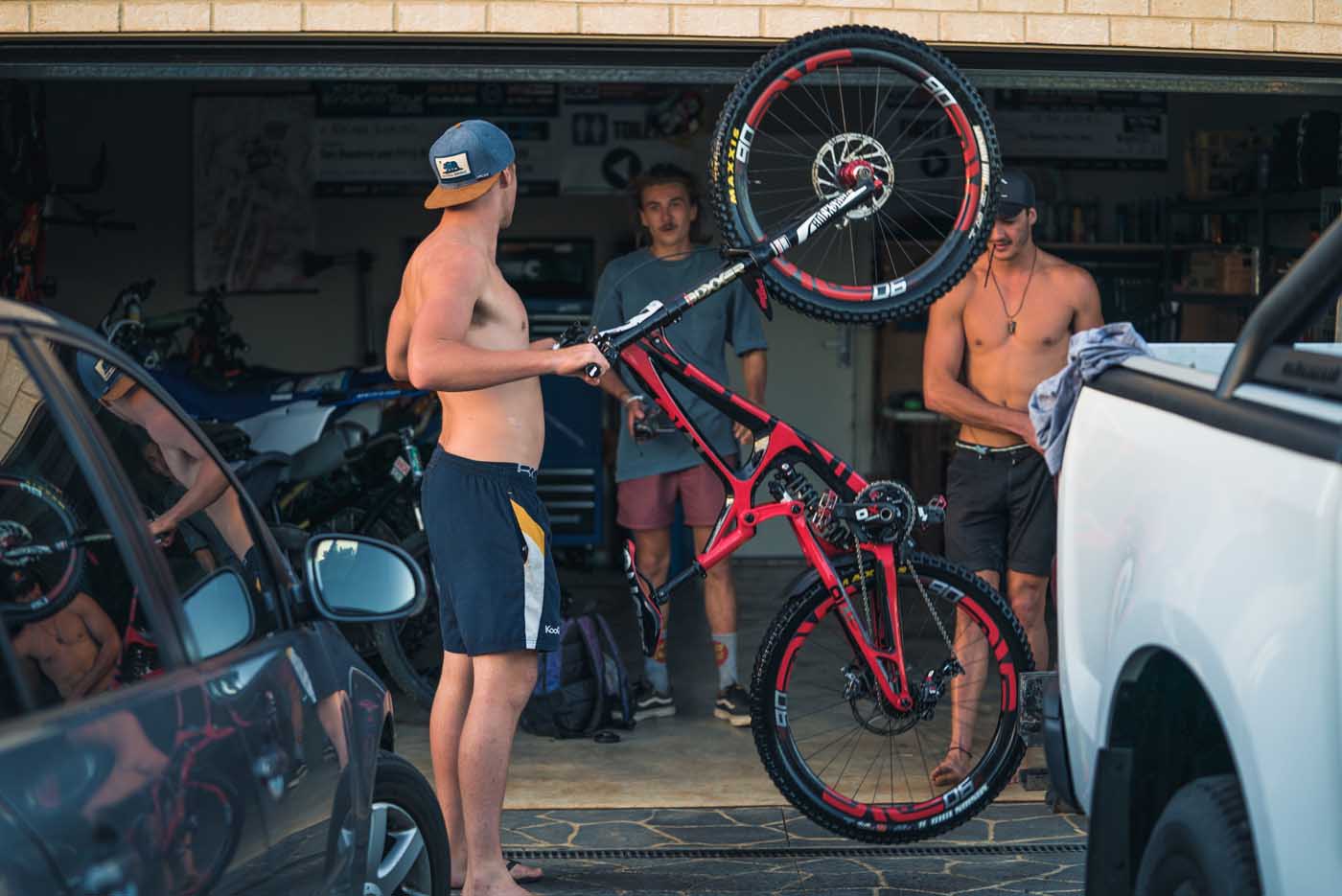 Just trying to convince the fellas of how I was going to beat them all the next day. It's always hard to tell if they are buying into my bullshit though?
A clean bike is a fast bike! Washing my beautiful girl before giving it a once over and making sure everything is dialled for tomorrow. The night before a race (when I don't have a mechanic) I like to slowly go over the bike doing a full bolt check.
The last job I do before a race day is to fit a fresh set of tyres.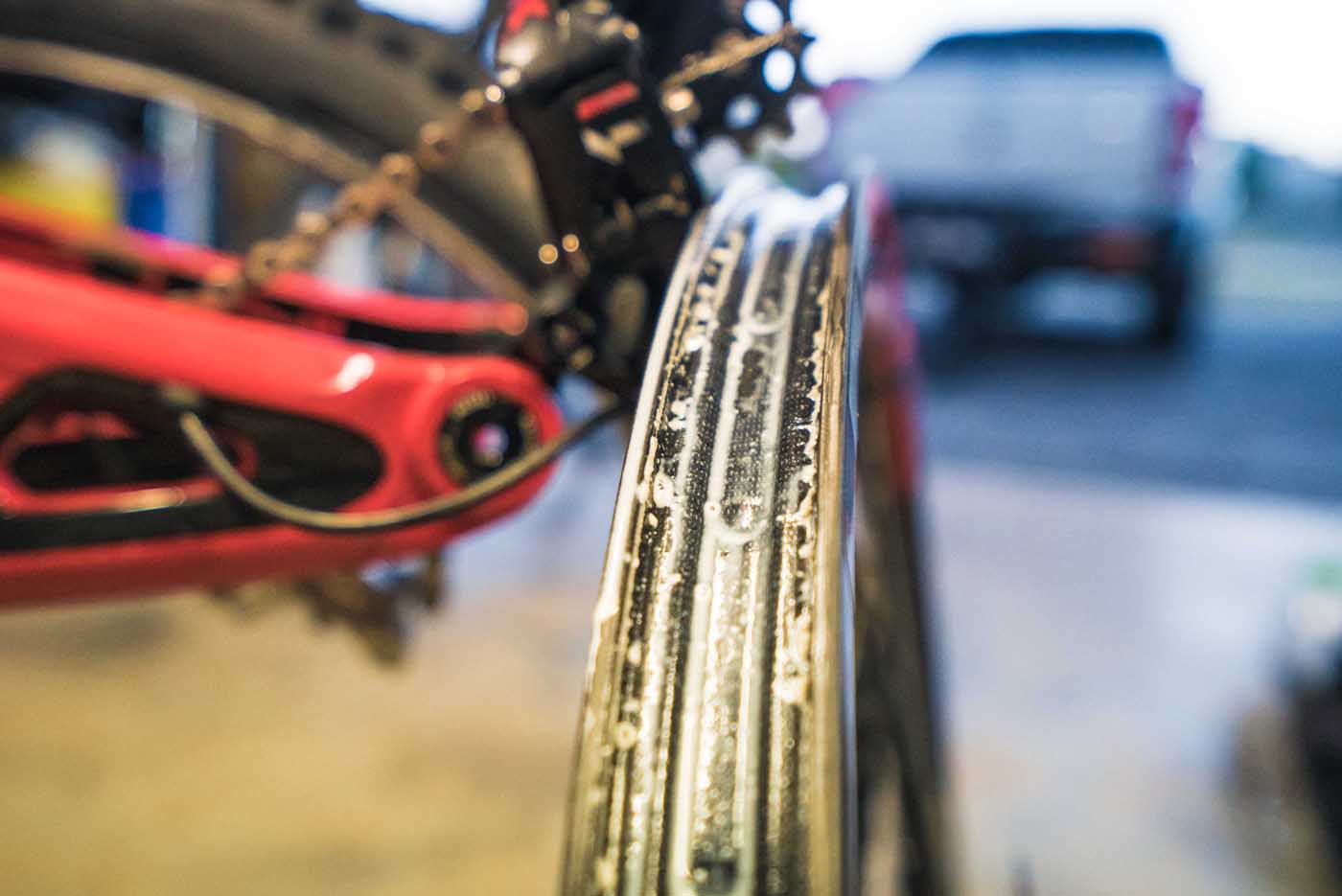 Maxxis are the best tyres out there and I'm stoked that I get to run them. Always gotta have that fresh rubber on race day!
Jack told me that I had to include a photo of his Rexy in here somewhere. It's a pretty fine whip. Even still, I wouldn't let him park it in my driveway that night!
One of the downsides about finally moving out of home is that I don't get home cooked meals from mum any more. Luckily she taught me a few things in the kitchen over the years though.
I actually find taking the time out to cook a meal the night before a race, works as a bit of a stress reliever and allows me to relax. The boys bloody love my world famous chicken fettuccine too!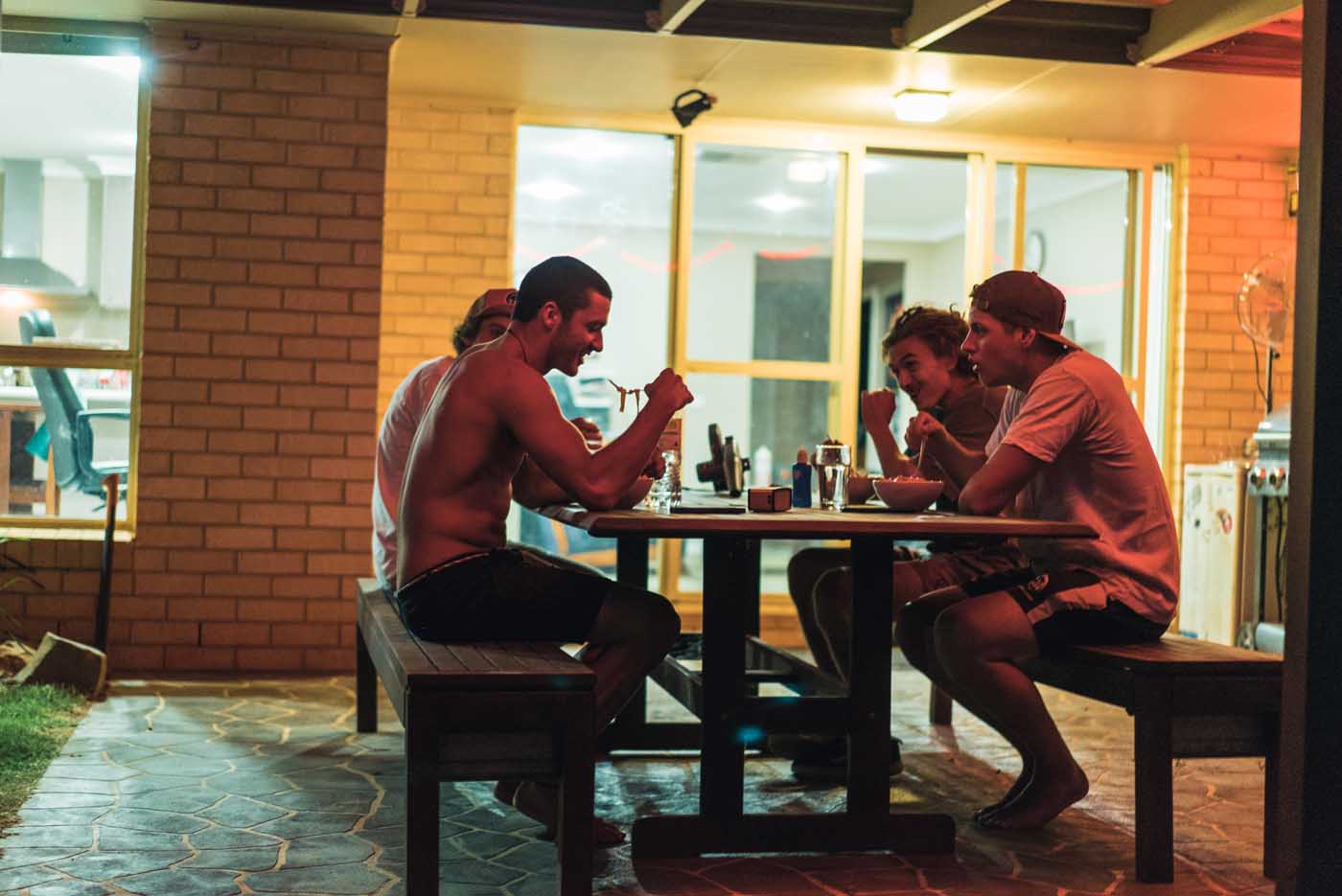 By the time we got the bikes in order, cooked and actually sat down to eat, it was a little late, but when you've got good company it's all worth it.
I've got a few little mementoes around the house reminding me of the past few seasons. This was actually the first poster I ever had made.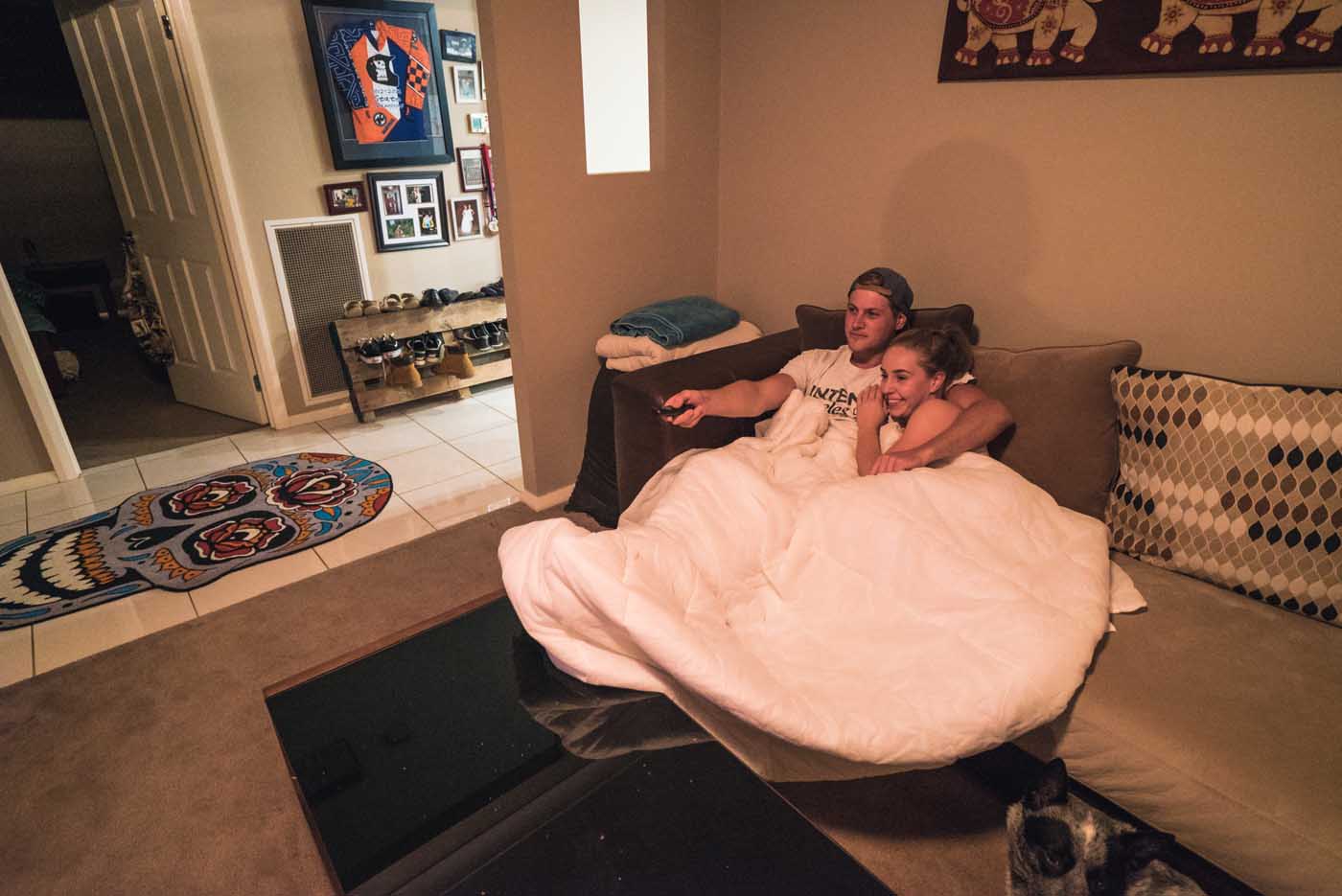 Whilst the lads were on dish cleaning duty, it was time for me to kick back and cuddle up with Sal and Rob. Sal gets worried about me when I'm racing and just wants me to get back each day in one piece…
Race day
Managed to sleep pretty well that night and so I was feeling fresh and ready to roll.
I tend to struggle to eat that much on a race morning because I always get those race day nerves. So I'll normally just go for a smoothie, which I load up with fruit, yogurt and a little bit of protein.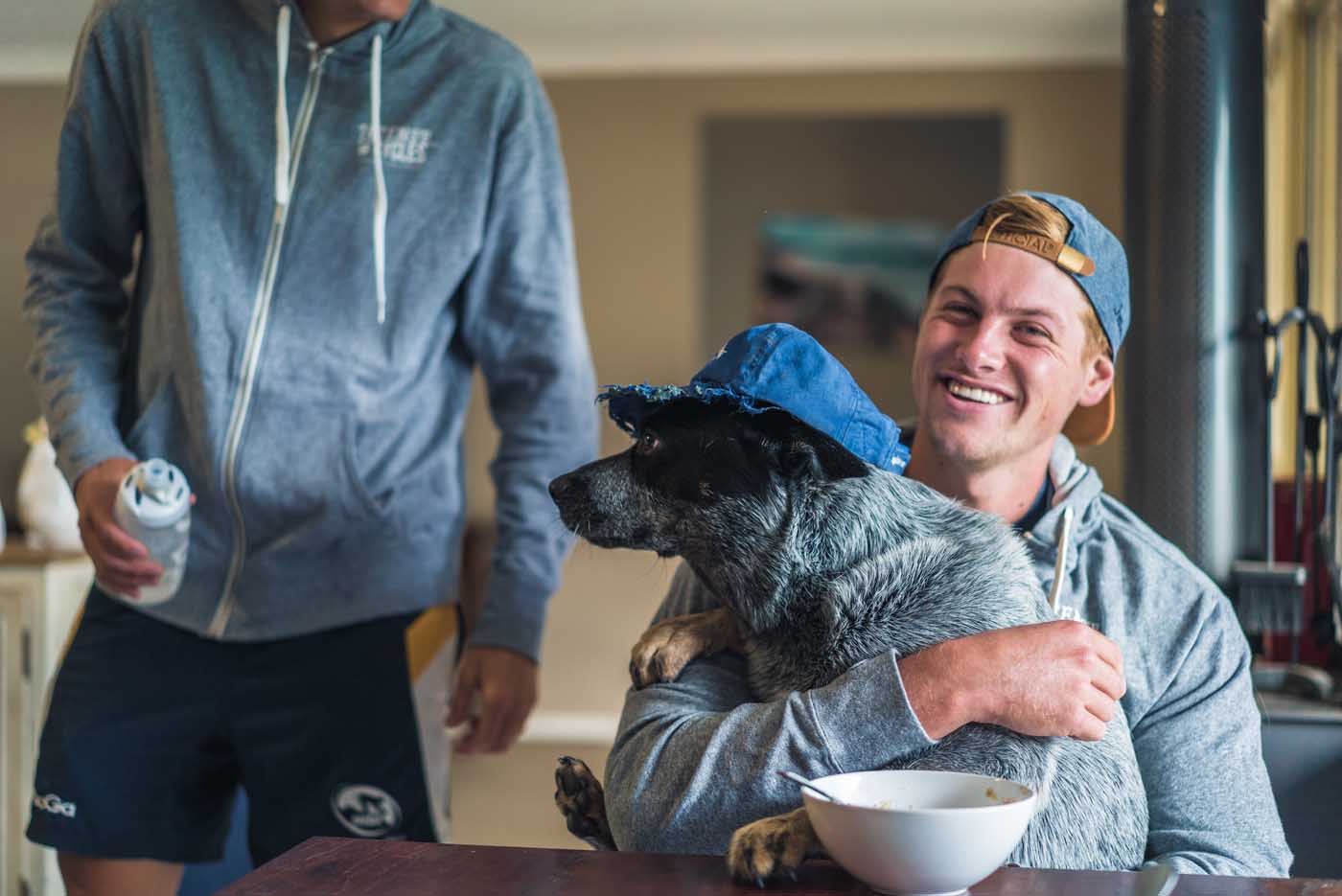 This is Rob the dog! My housemates rescued him a year ago and he's been loved by everyone ever since.
Getting the rigs loaded up and packing in all of our gear can be a bit of a game of Tetris sometimes. We were soon on the road though and my teammate Moi Moi (Jack Moir) is always in control of the AUX cord whenever we drive anywhere. Gotta be blasting out those beats to get you in the race mood!
Gearing up before first practice. It usually takes me about half way through my first run before I fully wake up each day. Maybe I need to start drinking coffee?
Having a teammate as fast as MoiMoi is great as we ride together all the time and it really helps with line picking and a bunch of other stuff. On race day I like to do two practice runs. The first run I'll go pretty easy and have a good look around and then I'll open it right up on the second run. If there's time for a 3rd run I won't say no to that either.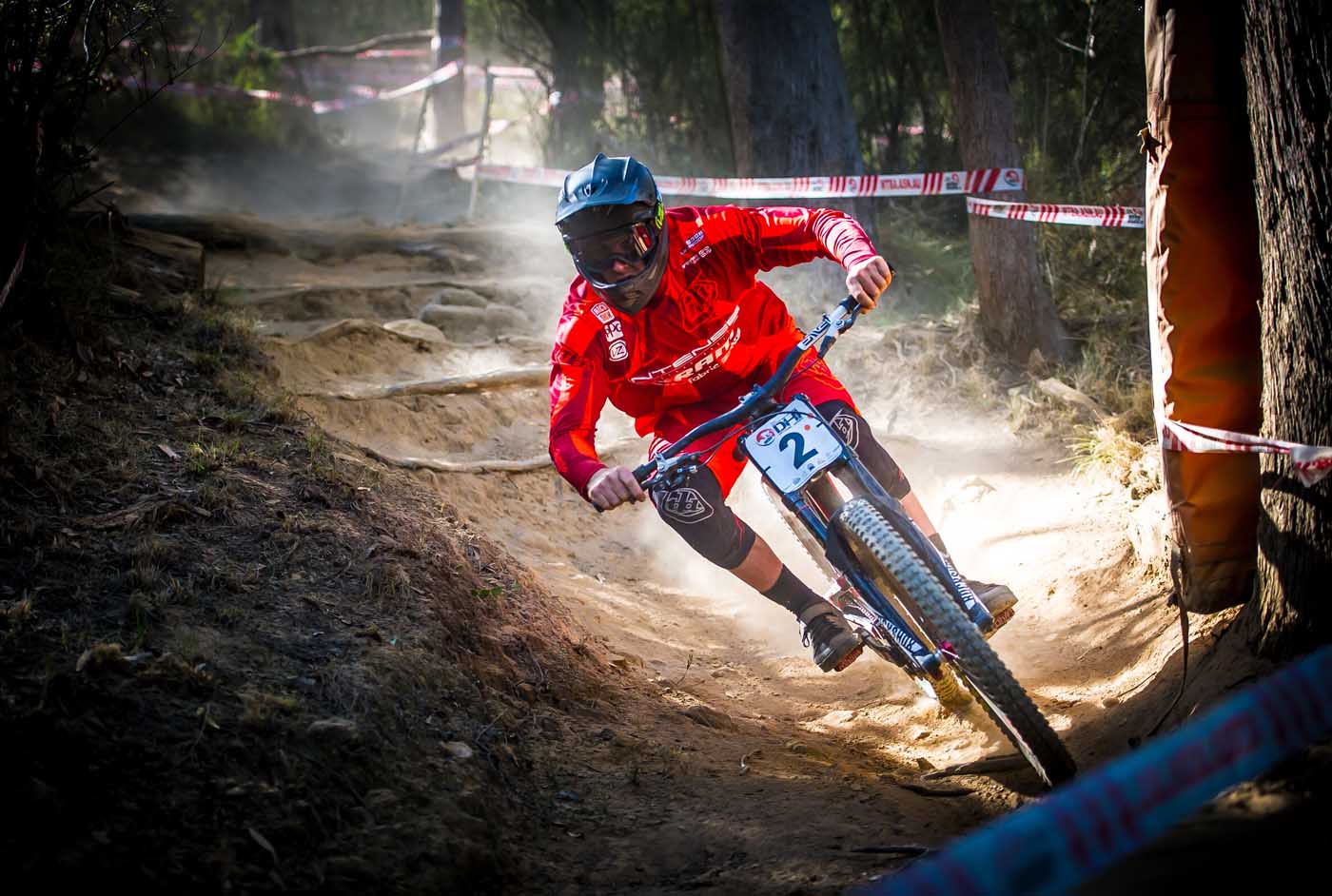 Two practise runs on race morning is enough. Everything was feeling good out on track so it's now time to chill and fuel up and prepare for this afternoons final.
Last bit of prep trying to kill time between practice and finals. And I've got an extra-long wait ahead of me today because qualifying first means I'll be the last rider down the hill.
Nothing beats having mum come to a race as she always brings plenty of good food for all the boys!
Before a race run, I'll go over my bike and all my gear one last time to triple-check everything is dialled before I head up for Finals. For this race I actually decided to fit a fresh set of CrackBros cleats to my 5.10 shoes.
Just gotta get those magical tyre pressures and the bikes good to go! Think 31PSI was the lucky number. Normally I try and stay around the same pressures from track to track but might go up or down 3psi.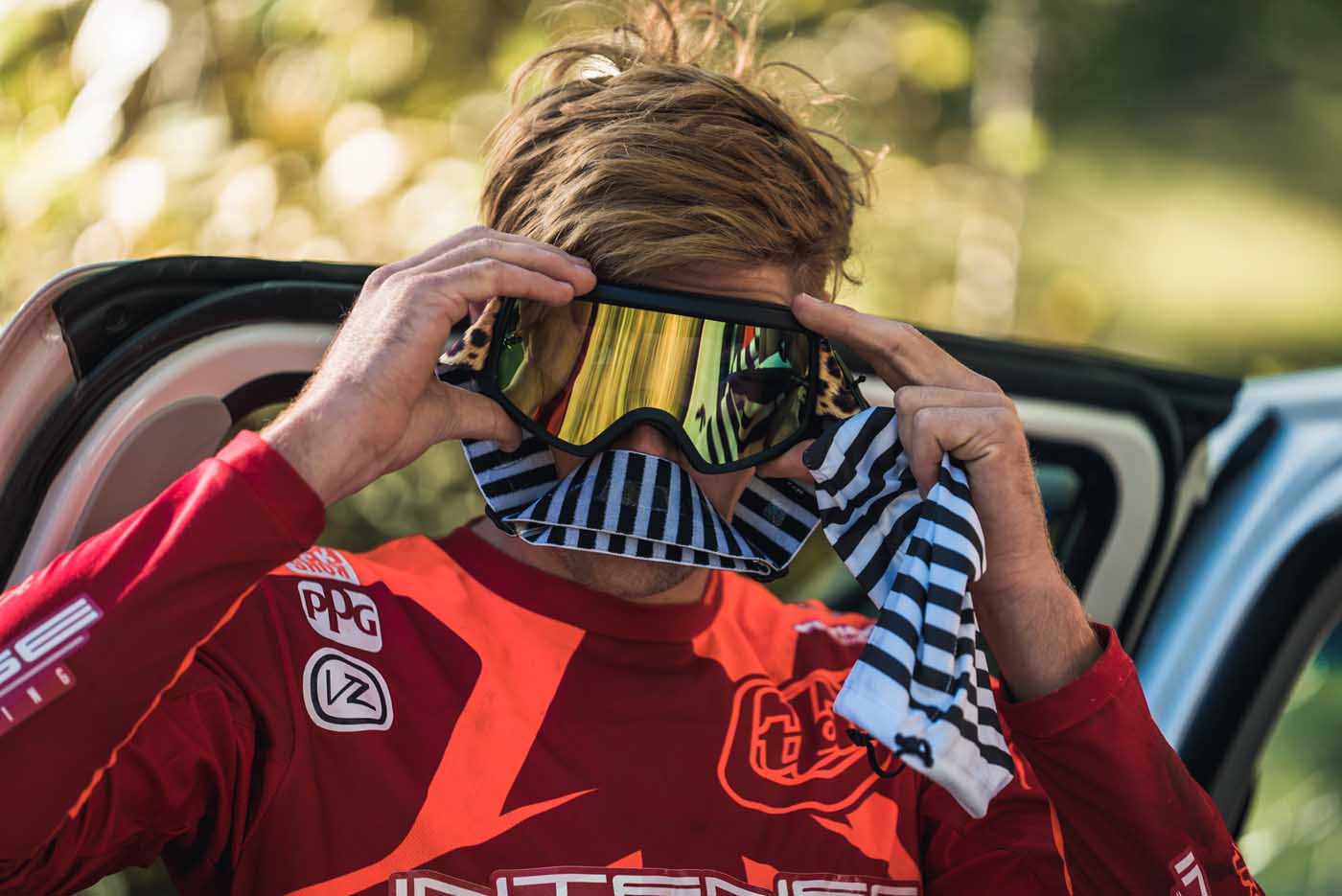 The sun was blaring so I opted for a fresh set of Von Zippers with a mirror lens. It's right around this time in the afternoon, about an hour before my start time that the nerves begin to really kick in…
Riding to the top of the hill with MoiMoi by my side. I always find it helps with my racing if I don't take it too seriously and can keep it fun and joke around the whole time. The ride up normally consists of a lot of shit talking between us lads.
The team at Mt Beauty run a great race and it's nice to see those same faces with everyone that helps out since I started racing here a decade ago. Right now I'm heading off to the start gate to begin my pre-race warm up routine.
Go time! Just waiting for those beeps to send me on my way. I try and joke around at the top with all the guys because it keeps me relaxed and keeps the nerves at bay but then once I get in that gate and I hear those starting beeps, I switch into full game mode.
There's no better feeling than coming across that line after a tapped run. I ended up in 3rd place. I had a few mistakes down the bottom that cost me a little bit of time but overall I was pretty happy with my run.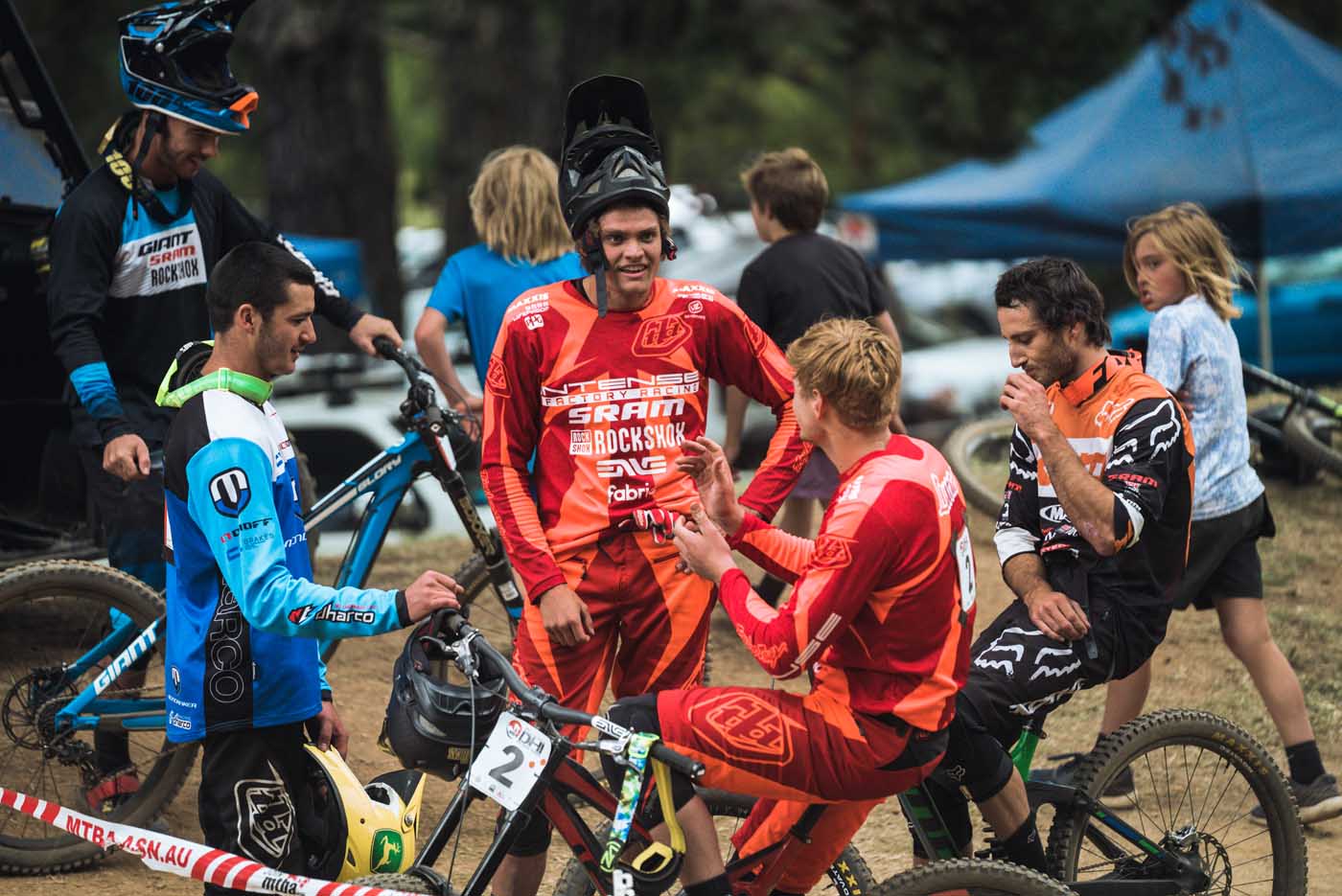 Trying to explain to the fellas how wild I got in a few sections, always good talking shit with the guys straight after a tapped run trying to work out where you lost time and where you nailed sections.
Probably my biggest supporters right here, been barking at me coming down the hill since I first started racing, him and mum always seem to be the loudest on the hill. Love ya Ajax!
Off with the work boots and on with the flip flops. Just need a beer now!
Stoked to get to step up on top of the podium with the rest of the quick kids. It wasn't that long ago that I found it impossible to finish anywhere near the fast guys like Connor Fearon and Jack. But I put in the hard work over the years and now it's a reality for me to stand on the podium. Feels great.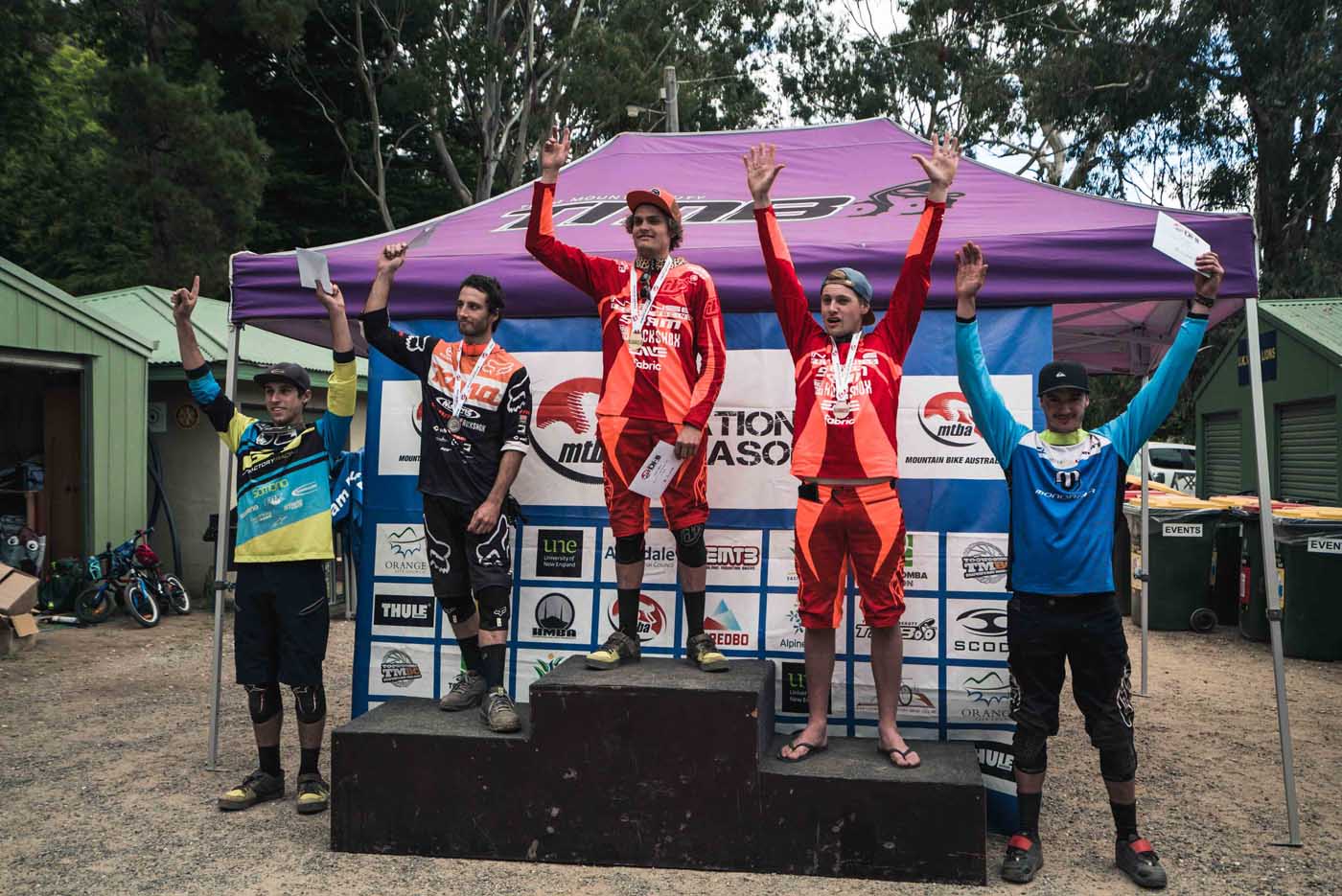 Bronze medal at a National, it'll be straight to the poolroom for this bit of hardware.
Well there you have it. Cheers everyone for following my journey throughout a race weekend – I hope you found it interesting and maybe you even learnt a few things that have helped me get to this point. Remember, the most important thing about racing is to always have fun riding your bike. Take it seriously, but never too seriously. Catch you at the races next time!

Dean Lucas
Speical thanks also goes out to Kane Naaraat for supplying additional 'on track' photos.