Darren is the GM at Australia's largest bike brand, which of course means we're talking about Giant. He is without a doubt one of the most influential and powerful men in the industry. It would be fair to say that no-one in this country knows the business of selling bikes, supporting the domestic bicycle industry and helping to grow the local riding scenes, anywhere near as much as this guy.
And given his enormous and continued contribution to all things bikes (and thus healthy lifestyles) throughout Oz, earlier this week it was announced that Darren was awarded an Order Of Australia medal in the Queen's Birthday Honours. How awesome is that! 
So today we thought we'd delve into the recent archives to republish an article we first put together three years ago. It's a rare public interview where Darren candidly chatted to us about his life, his constant motivation and drive with his role at Giant, and his underlying lifelong passion for riding bikes. 
[R]evolution: Which hand shall we start with, the left or the right? On one hand you are undoubtedly one of the most powerful and influential people in the Australian bicycle industry. However at the same time on the other hand,  certainly to those who know you well, or even just those who have caught a glimpse of your social media accounts, it's clear that you are very much just a guy who loves nothing more than to get out and ride his bike! So before we start firing off questions about your monumental role as GM of Giant Bikes Australia/NZ, let me start with a very simple question; what does riding a bike mean to you?
Darren: Quite simply, riding a bike for me has always been about adventure. I grew up in the 80's riding a BMX as a kid and caught the bug. In my teens, I got my first mountain bike and used to love getting filthy riding around Mt Dandenong. Nowadays, because I live in town, I don't get the chance to ride my MTB as much as I'd like, so I tend to spend most of my riding time on the road bike. I love heading out with my mates on Saturday morning. It's an early start, but I'm done by 10am and I've had a great ride, a coffee and breakfast. It's a good start to the weekend. Lately I've also been riding my Giant TCX a lot – my wife Soph and I get out for a cruise after work whenever we can. We ride a mixture of road, city laneways and gravel which usually ends in a beer and a bite to eat. 
It's fortunate that Giant HQ is in Mulgrave – a quick drive to Lysterfield. Martin, our Sales and Marketing manager, and I love to grab the Trances and head out to do a loop. It's a great opportunity to burn off a bit of steam and remind us what our jobs are really about – getting people out to ride bikes.
"Talking about brand direction really makes sense when you're using the product."
You've been at Giant for well over 20 years. How did you get started with the brand? 
I got my start in the bike industry working at Bicycle Superstore under Bill Abbott, who is a brilliant fella. I still have a lot to do with him – BSS are a great Giant Dealer and Bill is now their CEO.
At BSS I met Graeme West and Frank Nachtical (Giant GM and Sales manager respectively) – Giant was a big seller back then, and when a role opened up at HQ I jumped at the chance to get on board.
Graeme and Frank are just great guys – I learnt a lot about business from them. Graeme had an accounting background and Frank was in sales so it was great to get a really good hands-on start at the beginning of Giant Australia.  I was the fourth employee on board and now I'm the longest serving! It's been great to see GA grow and change and to have a role in it.
 Throughout the past 2 decades, you've worn many different hats as you've risen up through the ranks to the very top to become the managing director of Giant Australia. How has your journey of working in so many different corners of the business shaped who you are today?   
My very first role at GA was internal sales – manning the phones and answering queries about product. We had a small range back then – now we've got over 120 models. I moved on to working as a Sales Rep within Victoria, SA and Tasmania. I was promoted to Sales and Marketing Manager before taking over the reins as GM in 2012. I suppose having a diverse range of roles has allowed me to give our employees independence – having been in many of their shoes means that I am able to offer support and guidance, but I know that they are able to work independently and get the job done. Our team members have all been selected based on both their strengths and personality and people are often surprised to know we have a relatively small team of 14 at HQ. It's a great crew.
Obviously you're in a very high-pressure job and your workload must be immense, yet somehow you've always maintained your passion for riding. What's your secret?
With any business there are always challenges – but I love it. I've always been a bit of a workaholic and with the added time zones from New Zealand through to Western Australia it can make for a long day. I suppose it doesn't matter what industry you're in – if you love riding, you love riding. I originally trained as a signwriter out of school and I rode mountain bikes like mad back then. It's no different now – getting out on a pushy is a good stress reliever, gets you back into nature and fresh air and for me is a great way to catch up with my mates and family. It's fun – and it never feels like work. I love chatting to riders out on the trail, they can give you some really honest feedback. The best thing is that now I have access to the bikes I dreamt about owning as a kid!
 If I was in your position and I was the big boss man down there, I would swan around the office wearing a sharp 3-piece suit and make my staff peel grapes for me to eat. That couldn't be any further removed from how you operate though, eh? You dress like every day is Saturday, you treat all your staff as equals and your office door is always open. Tell us about your philosophy of being the boss and how you chose to run the company? 
I've never been a suit guy! They're for weddings and funerals. Otherwise it's a tee and jeans for me. I have a weakness for sneakers though – I'm having serious storage issues at my new pad. I have a couple of management philosophies – the first and most important one is to bring it back to basics. I don't like to over-complicate.
"The key thing is to make sure that every move we make at Giant is in the interest of riders and the brand long term. Riders are at the heart of the business. We keep it simple and keep it about the people who love to ride our product."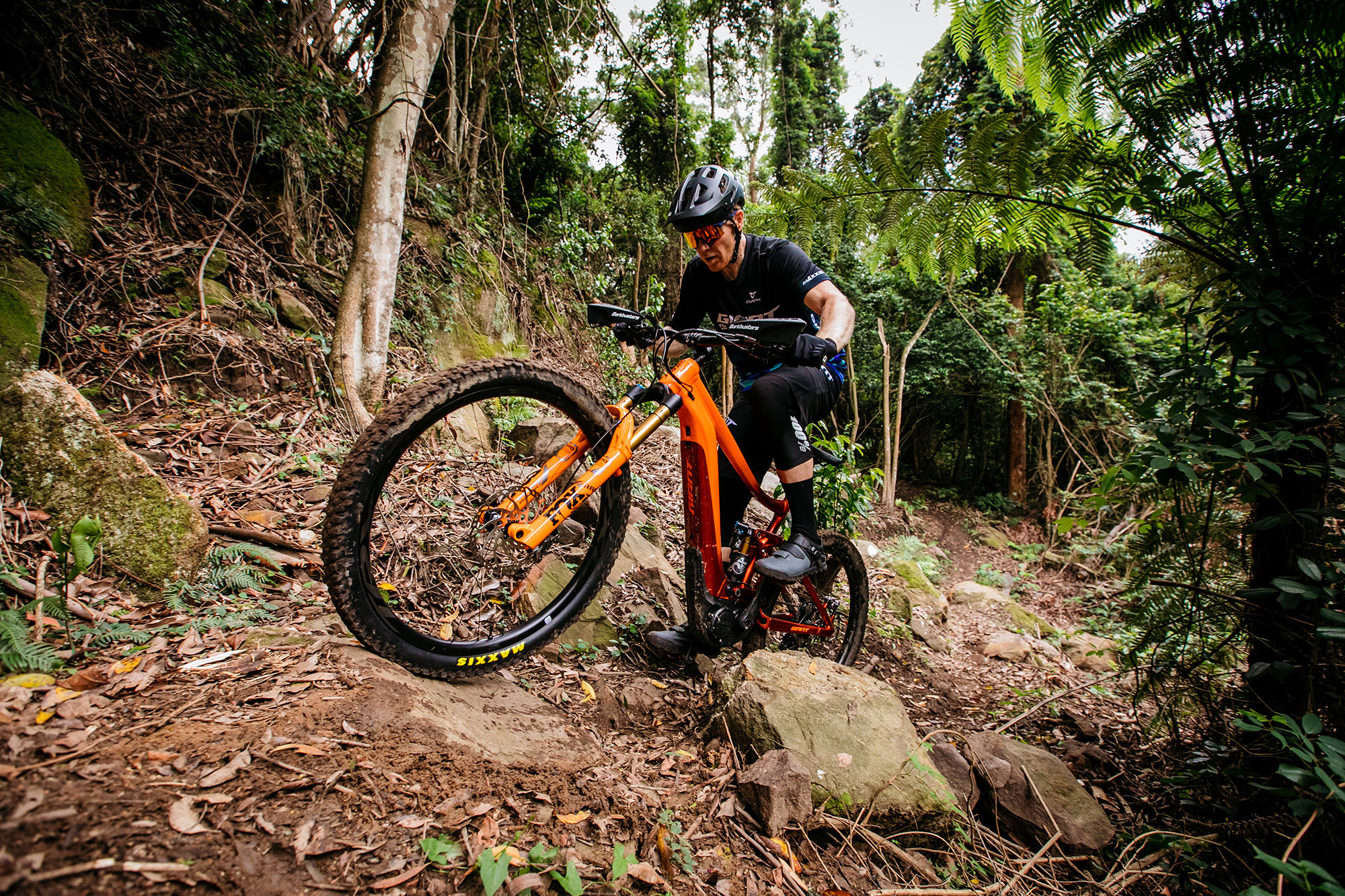 Globally, Giant sales exceed well over one billion dollars each year and Giant Australia's figures contribute significantly to that total. Being such a big operation, it would be easy to assume that there are hundreds of people working down there in the office with you, but in actual fact you guys are a relatively small team. Is that fair to say?
That is true, we do have quite a low head count here at the office, but really high levels of talent. Everyone at Giant Australia knows their role, and I think we're really good at identifying each person's strengths. We've got a rich history of promoting from within (our National Sales & Marketing Manager, Martin Clucas is a perfect example of that. He started in our inside sales and has been patient and worked his way up. I'm really proud of his commitment and work ethic) and our staff know that there is always room to move. Being able to see a pathway and a future in your career is a really important aspect in every person's workplace development. Of course we regretfully see people move on from time to time and it's always hard to say goodbye to the people who've become friends, but I think Giant Australia is in its strongest possible position right now in terms of personnel.
For sure the Giant brand is big in places like Europe and North America, but it's funny when you speak to people from those regions about the Australian scene, they never quite are able to understand just how popular Giant is down here and how much bigger than every other brand you guys are in our local market. What is it that sets you guys apart and makes you the brand so dominant down here in Aus and NZ do you think? 
It goes back to the way Graeme West introduced Giant into the Australian market. In the early 90s he implemented a 'performance down' model – we were involved way back then with the sponsorship of the AIS road and mountain bike program. It was perfect timing and really put Giant at the forefront of Australian cycling culture. We've got a strong history of supporting local athletes and up-and-comers and I think we've earnt the respect of the market in a lot of ways. We have a distinct advantage of owning our own factories, which always places us at the forefront of new design and technology. It's great to be able to constantly introduce new innovation.
"I'm really close to the global team and I get a real buzz out of being able to offer feedback in terms of new models and the technology, or even colourways and graphics for new models. It's really pleasing to be able to have long-standing genuine relationships with people all around the world within the Giant family."
I'm sure bikes have taken you on some amazing adventures over the years… But is there one particular experience that stands above them all? You know, the type of memory and when you're laying in bed at night and your mind wanders over to 'your happy place', that one time that you re-live over and over again? 
I was lucky enough to host some of our Dealers at a Global conference in Whistler in 2013. There were three days of Presentations and meetings, then we stayed on for a week of riding. Our mates at Giant Canada hooked us up with brand new Glory DH bikes and lift tickets and off we went. It was easily the best fun I've ever had on the bike and highly recommend it as that bucket list cycling holiday. That reminds me, I need to hint strongly to management that we need to do another trip. It's been too long!  
 Clearly you're a man with a huge amount of foresight when it comes to the bicycle industry and understanding the needs of consumers. What is your vision for the local scene over the next 5 or even 10 years time?  
Well let's be honest, right now it is a fantastic time to be a rider in Australia. Especially a mountain biker. There are so many new trails popping up. Governments in all States are really getting behind trail centres and investing heavily in trail access programs, which I think is fantastic. Hopefully in 5-10 years' time, this is going to be an area that continues to expand. I recently headed down to Tasmania to ride at Derby and the trails were amazing! 
Looking ahead I can also see that the women's market will continue to grow rapidly and the product offering there will get wider. I really like the direction that Enduro is heading. It's all about maximising your enjoyment in the time that you have for each ride, riding more trails and having more fun. So I think that Enduro definitely has a strong future ahead.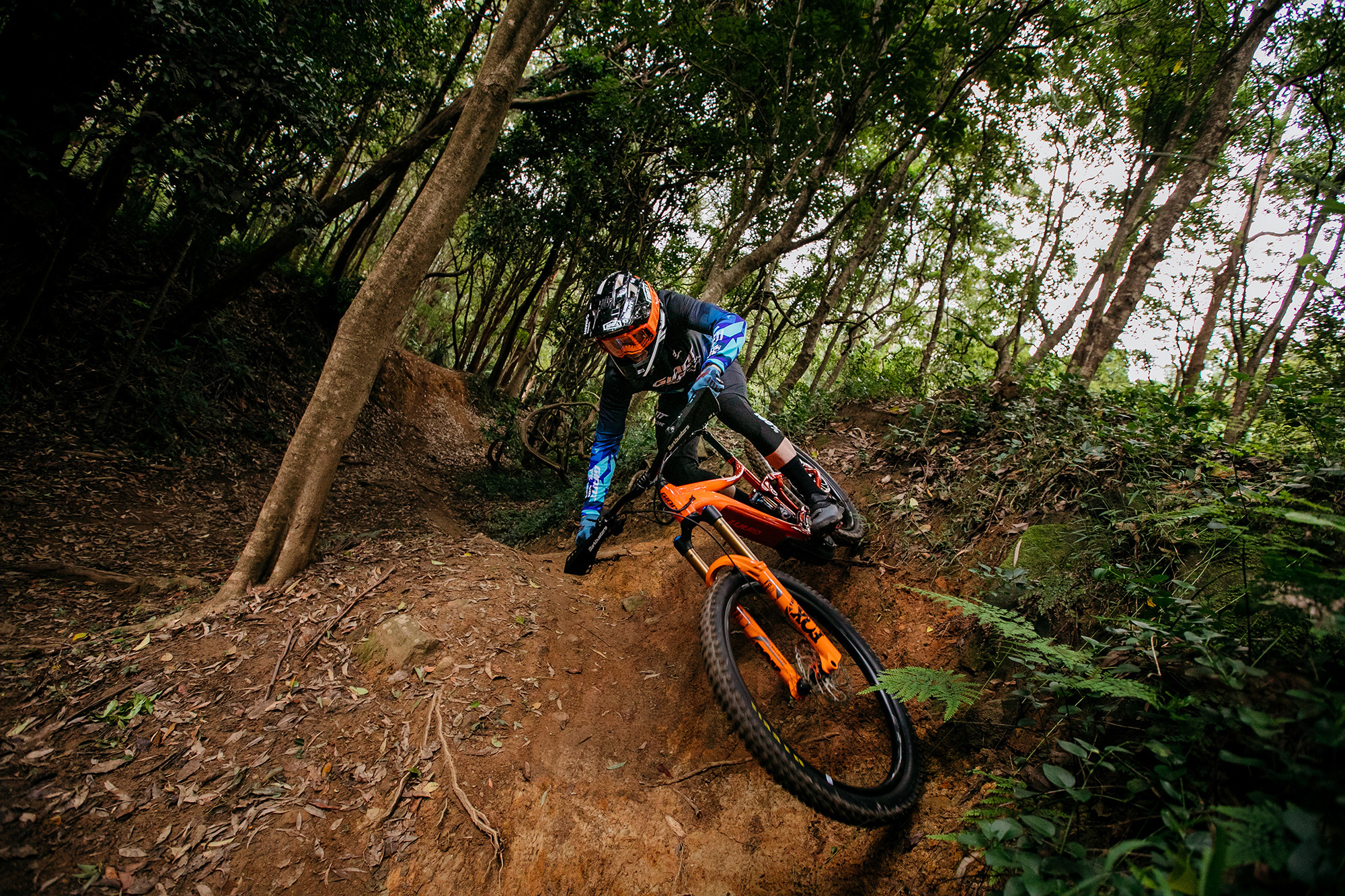 Besides selling more bikes than any one else, if there is one other thing Giant is known for doing more than any other brand, it is supporting local riders. You guys support a huge roster of Australian talent across all disciplines. What does it mean to you, personally, that your brand is so involved in athlete sponsorship and support?
It means everything! Supporting grass roots, local and National talent is so important, but also events and publications as well for the overall health of our industry. In regards to riders, it's been great to share the journey with so many great people and see them achieve their goals.
In your position, you're obviously privy to all sorts of crazy nice bikes. Of all the mountain bikes that you've ridden and owned over the years, which stands out as being your absolute favourite?
It's really difficult to pick just one bike out – I've had a few over the years! One that comes to mind was my Anthem X Advanced 29er from a few years back. It was custom painted by Steve Munyard from Sun Graphics – he always does an immaculate job. It was fully kitted out with XTR (Matt Bazzano from Shimano always looks after me – love that guy) and had some wheels Ryan Lennox had built. It was the perfect bike – and it's actually still upstairs in the office. That reminds me! My second favourite is probably a Lust I built up for my partner Soph – it was fully murdered out, matte black everything down to the smallest detail. XX1 componentry – a real thing of beauty. Unfortunately it was stolen out of our garage – a little bit of me died when I took that call. People always looked twice at that bike!
I've noticed you don't mind customising the paint work of your bikes. I've seen some amazing colour creations in your stable over the years. Tell us a little about that? 
I do love being a bit different! I've had a great long term relationship with Steve Munyard from Sun Graphics for many years – partially because of his partner Jane Ollerenshaw who is heavily involved with Liv, our women's cycling program. Steve is an absolute wizard – a real artist. He produces all of my little custom projects and is the best painter in Australia. I work pretty closely with Eric Klemm from the global team. He's responsible for a lot of the design you see in the Giant range. I love rocking sample colours that eventually might feature in our range – it's good to get some sneaky feedback from people when I'm riding something different. Colour can be really polarizing – so it's good to hear what people think.
Would it be fair to say that after all these years and all your success, like all of us you still find tinkering with bikes exciting?  
To be completely honest I am the WORST mechanic – I have a folding tool and a floor pump in my shed and that's about all the guys let me get away with. If I need a bike built or to have something fixed I call on the services of Aaron (our bicycle product manager) at head office, Leon at Giant Ormond, Mitch at Hampton or one of Jano's boys at Giant South Yarra. They're all brilliant. I'm very fussy and the eye roll is never missed when I rock in with one of my ridiculously small changes to be made.  I drive them nuts. They do a good job to put up with me! [R]