Not only is Jackson one of the fastest downhill racers on the planet, the young Santa Cruz Syndicate team member has also proven himself this season to be arguably the most stylish and talented bike handler to ever step foot into the world cup circuit.
Standing at roughly 5'10" tall coupled with a rather slim build, it is nothing short of mind blowing to witness the young Canadian throw his race bike around so effortlessly and the way in which he somehow manages to hang onto the bike' when he hits gnarly sections fully pinned is nothing short of ridiculous!
Rounding out his first full year of racing in the elite category, the 19 year old finished the 2023 season with 2 wins (no other rider won twice this year) and a stint wearing the coveted leaders jersey. Unfortunately though a string of illnesses, injuries and mechanical issues have plagued his races throughout 2023. With all of that bad luck in mind, it's rather scary to fathom this kids full potential in the sport moving forward if and when he's able to shake those gremlins off of his back. Mark our word, Jackson is definitely going to be the man to watch in the world of DH racing over the coming years.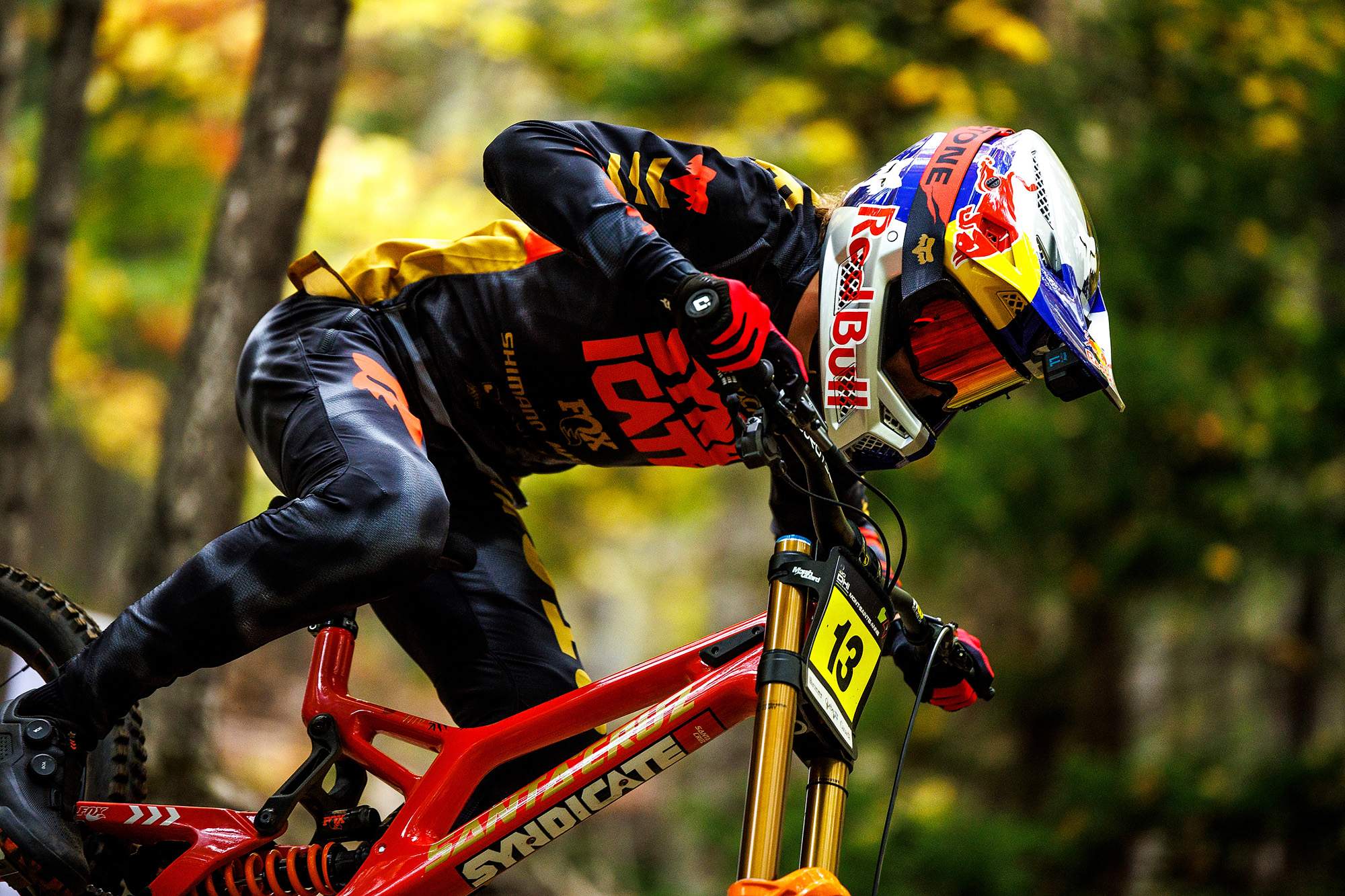 His weapon of choice?
Throughout the 2023 season Jackson and the rest of his team have been racing a 'prototype' framed dubbed the Santa Cruz V-10.8, and today we're excited to finally be able to announce that SantaCruz have officially launched that very same frame as a full production model – meaning that punters like you and I could grab ourselves a slice of the action with a mind-bendingly sweet new DH bike. 
Now, as the ' point 8' part of the bikes name suggests this is in fact the 8th model to wear the proud v10 name.  Featuring a stunning looking entirely carbon fiber frame which showcases a Virtual Pivot Point (VPP) shock linkage designed to eliminate unwanted compression and maximise the bikes plushness. 
Jackson opts for a size medium frame and whilst his team have been a little tight lipped around disclosing the majority of his preferred sizing points and measurements for his exact set-up we can tell you that Jackson runs the adjustable headset cups in the middle setting which gives him a reach of 452mm and the bikes headangle is 62.7 degrees. 
Santa Cruz Syndicate run Fox Factory suspension and Jackson's race bike is fitted with a set of Fox 40 Factory GRIP2 forks and  Fox DHX2 Factory shock. His suspension is stripped down, rebuilt and custom tuned specifically for each World Cup track.
The rear end of the bike features adjustable chainstays and it can accommodate either a 29" or 27.5" rear wheel. Whilst we're told he has experimented with a full 29" set-up at each of the World Cup races this year Jackson opted for a mullet 29"/27.5" mixed wheel combo.  
Tyre wise Jackson 'go to' set-up in dry weather conditions is a Maxxis 29 x 2.5 Assegai DH (which just so happens to be his team mate Greg Minnaar's signature tyre) up front and a 27.5 x 2.4 Minion DHR 2 DH in the rear.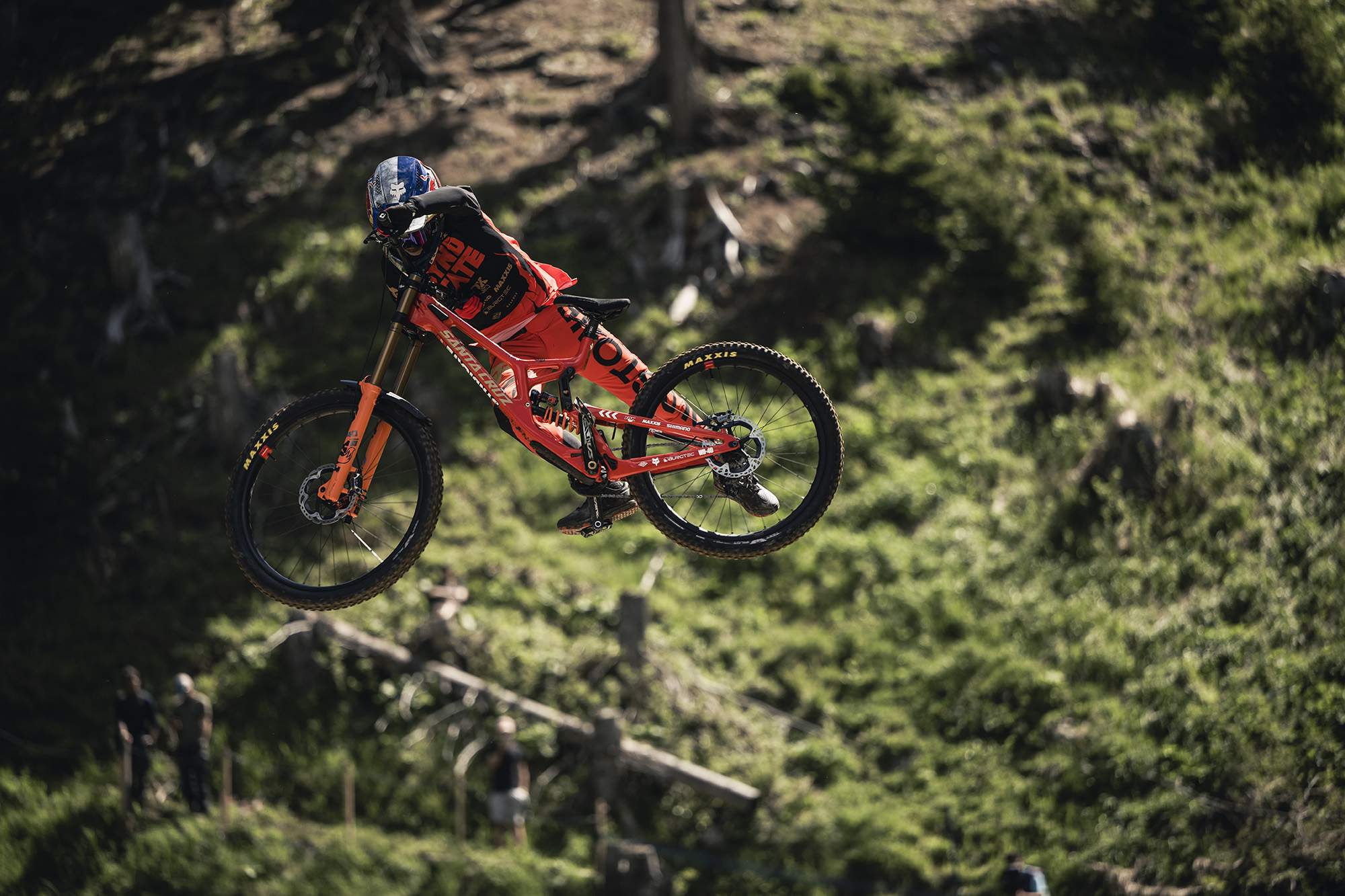 Specifications
Frame // Santa Cruz V10.8 
Wheel Size Mullet / mixed wheel size
Fork // Fox 40 Factory
Settings // 71psi w/ 4 volume spacers 
Shock // Fox DHX2 Factory
Settings // 475lbs Spring 
Wheelset // Santa Cruz Reserve Carbon Wheelset on Chris King hubs 
Rear Tyre // Maxxis Minion DHR II 27.5×2.4 
Go-to PSI // 25psi 
Front Tyre // Maxxis Assegai 29er 
Go-to PSI //  23psi 
Brake Calipers // Shimano Saint M820 
Levers // Shimano XTR M9100 
Rotors // Shimano Icetech Freeza Rotors 203mm 
Handlebar: Burgtec Ride Wide Alloy DH Bar – 30 Rise – 35mm Clamp
Bar width // 785mm Width 
Headset // Chris King 
Stem // 45mm Burgtec Direct Mount Mk3
Grips // ODI Elite Pro Lock-On
Saddle // Burgtec The Cloud Mk2 
Seatpost // Burgtec Xpress Carbon
Shifters // Shimano XTR M980 10spd
Rear Mech // Shimano Saint M820 
Cranks // Shimano Saint M820 
Crank length // 165mm 
Chain // Shimano Saint M820 
Chain Guide // MRP SXg CS Chain Device 
Cassette // Shimano Ultegra 10spd 
Pedals // Crankbrothers Mallet DH
As we mentioned above, the identical frame that the SantaCruz Syndicate has been racing throughout 2023 has just become an official production model which will be offered to customers world wide in either a frame only or choice of complete models.
You can get more than a few insights into the development of the V10.8 here….
To browse SantaCruz's latest range head to: www.santacruzbicycles.com/en-AU