MTB's providores of good times!
Kona is a bike brand unlike any other. It is a brand driven by culture. Selling bikes is not their number one priority, that actually comes second on the list. The companies number one driving force, above everything else, is riding bikes and having the time of their lives each and every day with buddies out on the trails. This simple, yet highly contagious, mentality has bred a unique culture of good times spanning 30 years. And it is a DNA that gets fused into every Kona bike that rolls off their factory floor. 
Kona have never been a brand that follows trends. Every day they get up in the morning and ask themselves a simple question, 'how can we make the coolest bikes in order to have the most fun possible?' They strive to create unique bikes based upon unique design concepts. They make the bikes that they want to ride themselves. One of the company's core mantras is; Making bikes that are fast is important, but making bikes that are fun is more important'er!
This year Kona celebrates their 30th birthday and [R]evolution was invited over to Squamish, Canada, to experience Kona's annual mega gathering of Kona alumni, distributors, dealers and random tag-alongs (like ourselves!) This year's event held a particularly joyous theme as the company celebrated a significant milestone in the brand's history, three decades of good times, and with that they unveiled their 2019 product range which is loaded with some of the most impressive bikes that we've seen from any brand to date.
We spent several days learning about the new bike's directly from the horse's mouth (Kona's product teams and heads of engineering were on hand) and most importantly we got to spend a bunch of time out on the trail discovering each bike's potential on Squamish's massive trail network.
So let's now take a closer look at some of the highlights from the 2019 line-up which will be landing on Kona dealer floors across Australia this summer!
'Big' Honzo
As Kona celebrate 30 years since they sold their first bike, a hardtail called Honzo, we felt that it's only right if we begin this article by checking out their latest hardtail, the 'Big Honzo'. You could argue that the Honzo changed the game for modern hardtails when it came out and it's cool to see that Kona have kept it in their range ever since. They've been constantly refining and tweaking over the years. The latest version, as featured here, looks insane. The Big Honzo CR was designed around a 27.5+ wheel but is able to seamlessly run a 29" wheel, allowing you to set up the bike to your liking. You can run up to a 27.5" x 3.0" or 2.6" x 29" tyre, and it's been designed around 130mm of front suspension. This bike is offered in 3 frame materials; carbon, aluminium or steel.
Kona have designed this bike to be as manoeuvrable and playful as possible and so the bike's standover height is actually the same for all frame sizes. Whilst it doesn't need a ton of front travel Kona have given the bike a nice, relaxed head angle of 67.5 degrees, meaning the bike pretty much feels more stable and comfortable the faster you go. It's also got nice short chainstays, at 430mm, which only adds to the playfulness of its ride. You can also fit 2 bottle cages inside all frame sizes. You're also getting ISCG mounts and 'Boost' rear spacing. This is the bike for people who demand a flexible setup for rallying their local trails one day and loading up for a multi-day bike packing trip the next.
To be honest I hadn't felt the urge to take a hardtail out to the trails for as long as I can remember, but this bike changed that. Kona had a test bike on hand and I popped my pedals on, switched the brakes across (I run 'em moto with the rear on the left hand side) and I ended up having an absolute blast ripping through dusty switchbacks all afternoon aboard this carbon beauty. Yeah, sure it felt a lot more rigid than I'm used to, but I never felt as though I was going to be 'bucked' off the back of the thing. I had forgotten how cool and how much fun shredding on a hardtail can be.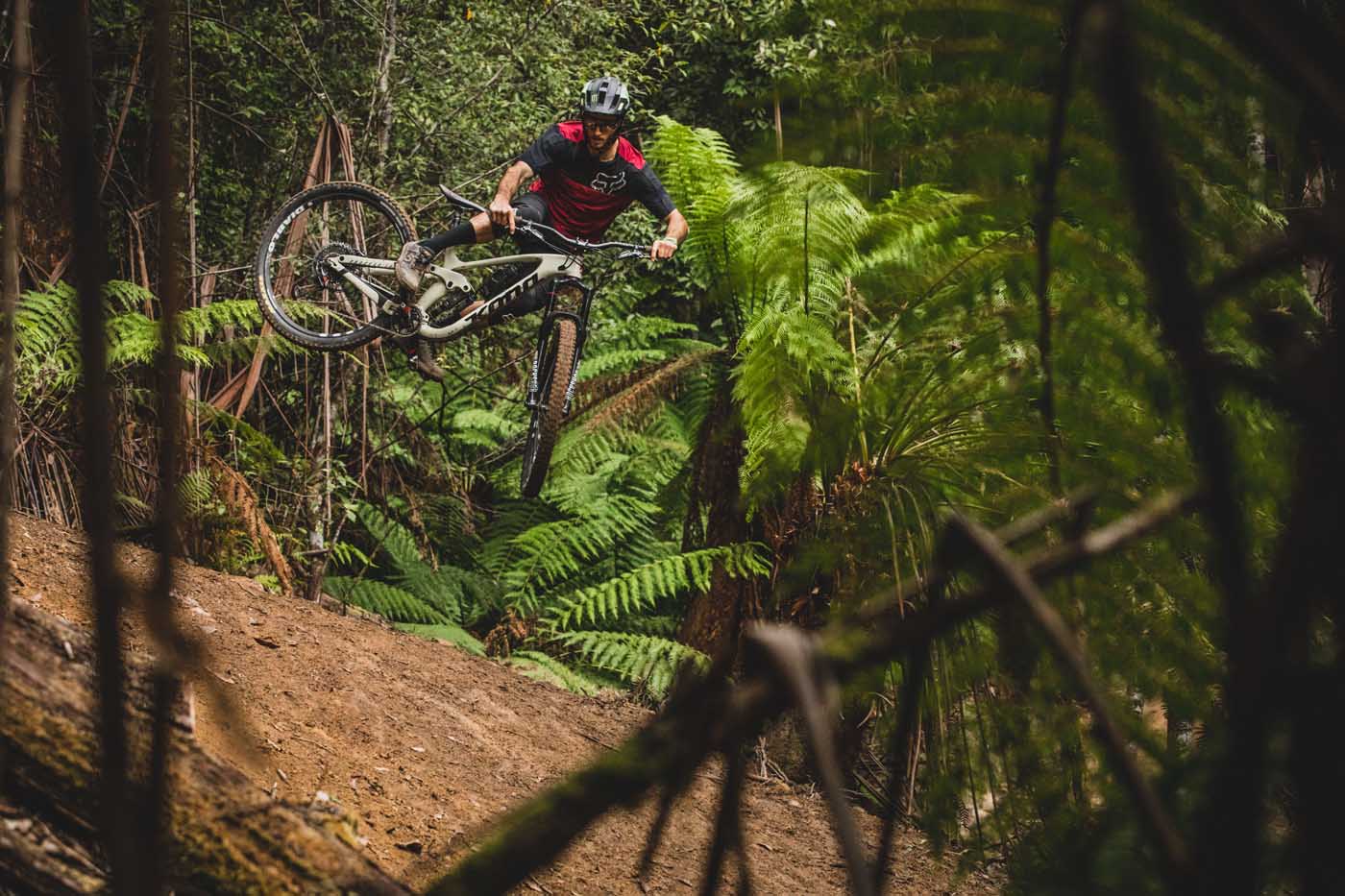 Process 153 29'er
Ahhhh yessss, Kona have gone and created the bike that riders had been begging for all year, a big wheel version of their ultra-capable, ultra-popular, 153 Process flagship trail bike. Fresh for 2019 Kona are introducing four new models into the lineup, two carbon and two alloy framed Process 29ers, which will sit nicely alongside the existing 27.5″ 153 range.
Geometry wise the 153 29'er is right on the money with a 66-degreee head tube angle, 425mm chainstays, and a reach of 475mm for a size large. The frame will accommodate up to a 2.4" tyre, although depending on how much clearance you're comfortable with a 2.5" tyre will likely fit as well. There is no doubt in my mind that this bike will be one of the most sought after trail bikes out there this summer. There's a bunch of different spec levels and price points in the line-up so head on down to your local Kona to check 'em out. 
Operator Carbon
Okay, like seriously, Kona should include a complimentary sponge with the sale of each of these bikes to help mop up all of the drool they create… There's so much radness going on with the frame details and spec of the new Carbon Operator you could spend a full hour staring at it and still not be able to take it all in. Kona pretty much developed their new top of the line DH race bike specifically for our lad Connor Fearon.
Kona have dubbed it the most versatile and adjustable modern-day DH bike on the planet. The entire frame has been constructed out of carbon, except the chainstays which are alloy for greater durability, oh yeah and somehow those 'stays are an insanely short 425mm! The frame has been cleverly designed to work with both wheel sizes (29'er and 27.5") meaning riders won't have to buy a whole new frame just to switch wheel size. A new trunion mounted rear shock delivers 195mm of travel whilst in the 29'er setting, and 205mm when in the 27.5" configuration.
So much of the bike's geometry can be custom tuned by the rider. As stock she rolls off the factory floor with a 62 degree headangle, but as a complete bike it comes fitted with adjustable headset cups (never seen that offered before on a stock production bike).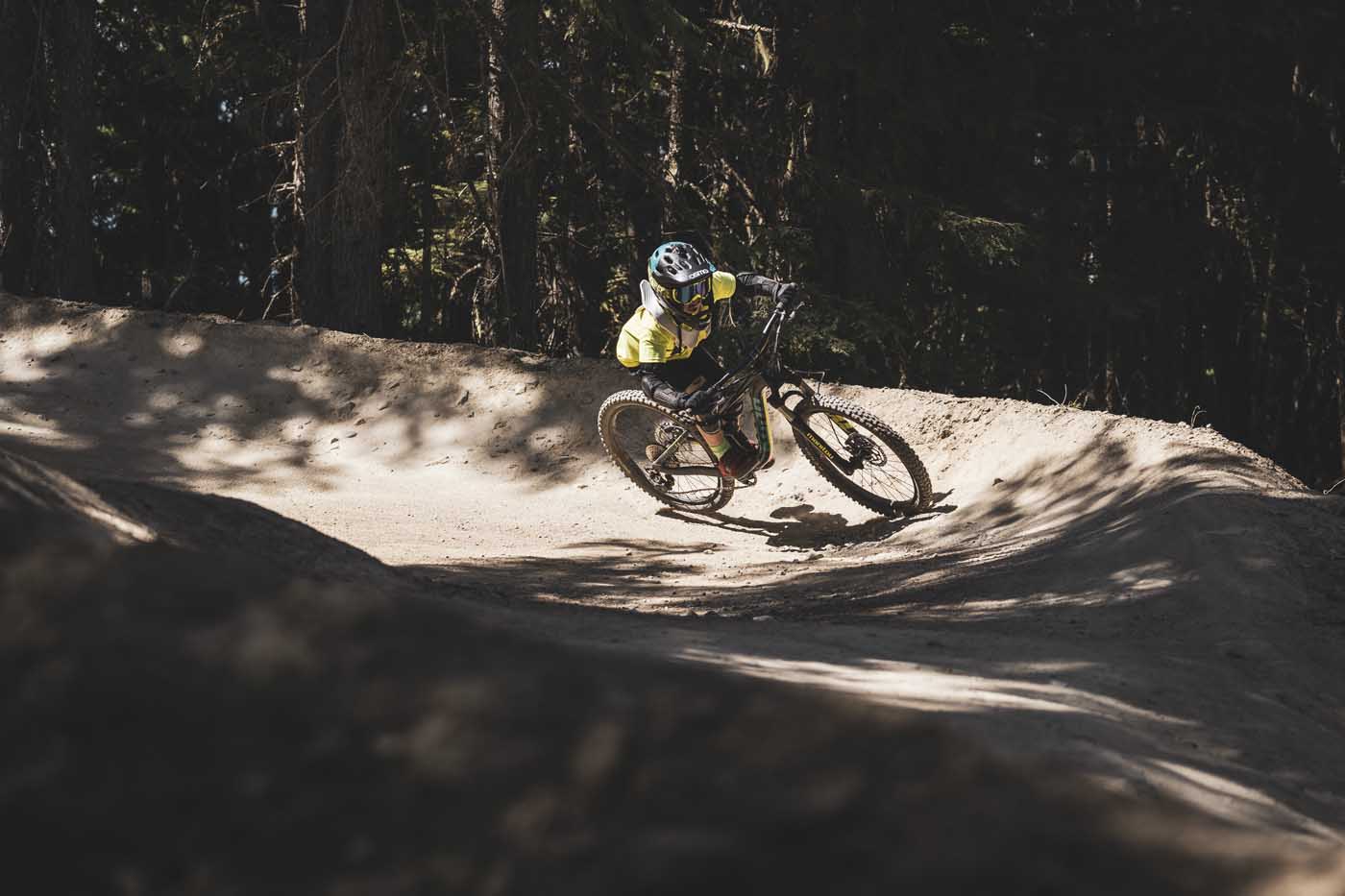 Process 24"
Why should you and I get to have all the fun? The mini shredders out there will no doubt lose their minds when they see the new bite sized Process 24 in the flesh. Not too far off from the adult aluminum Process bikes in terms of design, the Process 24 is a real deal kid's bike that is built for adult level riding. Made from Kona's 6061 DH aluminum butted tubing, the frame utilizes Kona's Beamer suspension platform and offers thru axles front and rear.
Running 100m of travel front and rear, the bike has been tuned for lighter riders so the Manitour Machete Comp Air and RockShox Deluxe R Solo air shocks actually move under small/lighter riders body weight. All of the parts you'll find on the build are worthy of true trail use and the bike features a 1×10 FSA/Shimano drivetrain, Shimano discs with 180mm rotors, and a Kona OB cockpit. Another sweet touch is that the frame is dropper post compatible allowing for future upgrades as Jr grows!