Under what could only be described as epic weather in incredible surroundings, the weekends WC DH round in Leogang was everything it was hyped to be.
With scorchingly fast times thrown down on the bike park course through qualifying, come finals, it was all on with Tahnée Seagrave won her maiden UCI Mountain Bike World Cup race in Leogang on Sunday as American Aaron Gwin opened his 2017 downhill account in style.
In the men's race, two fast Frenchmen were missing. Remi Thereon was recovering in a Salzburg hospital after having a massive crash during qualifying, whilst Loïc Bruni had sustained a nasty haematoma on his thigh and sat out the final.
The action was thick and fast with one of the stars of the previous round, Jack Moir, landing in the hot seat despite a crash towards the top of the track, somehow his epic speed before and after his off scoring 9th on a track where only a second separated the top riders. Britain's Bernard Kerr was the next occupant and would be rewarded for his stellar run with fifth place when all was said and done.
Frenchman Loris Vergier promptly smashed the day's fastest time and it stood the test of his team-mate and current points leader, Greg Minnaar, which left only one man at the top.
Twin was not only on the hunt for his 17th career win, but also a remarkable hat-trick in Leogang, the first of which he won without a chain. His run looked unusually ragged but scintillatingly fast and Vergier was left to look on as he crossed the line 1.435 seconds quicker than him in a repeat of 2016.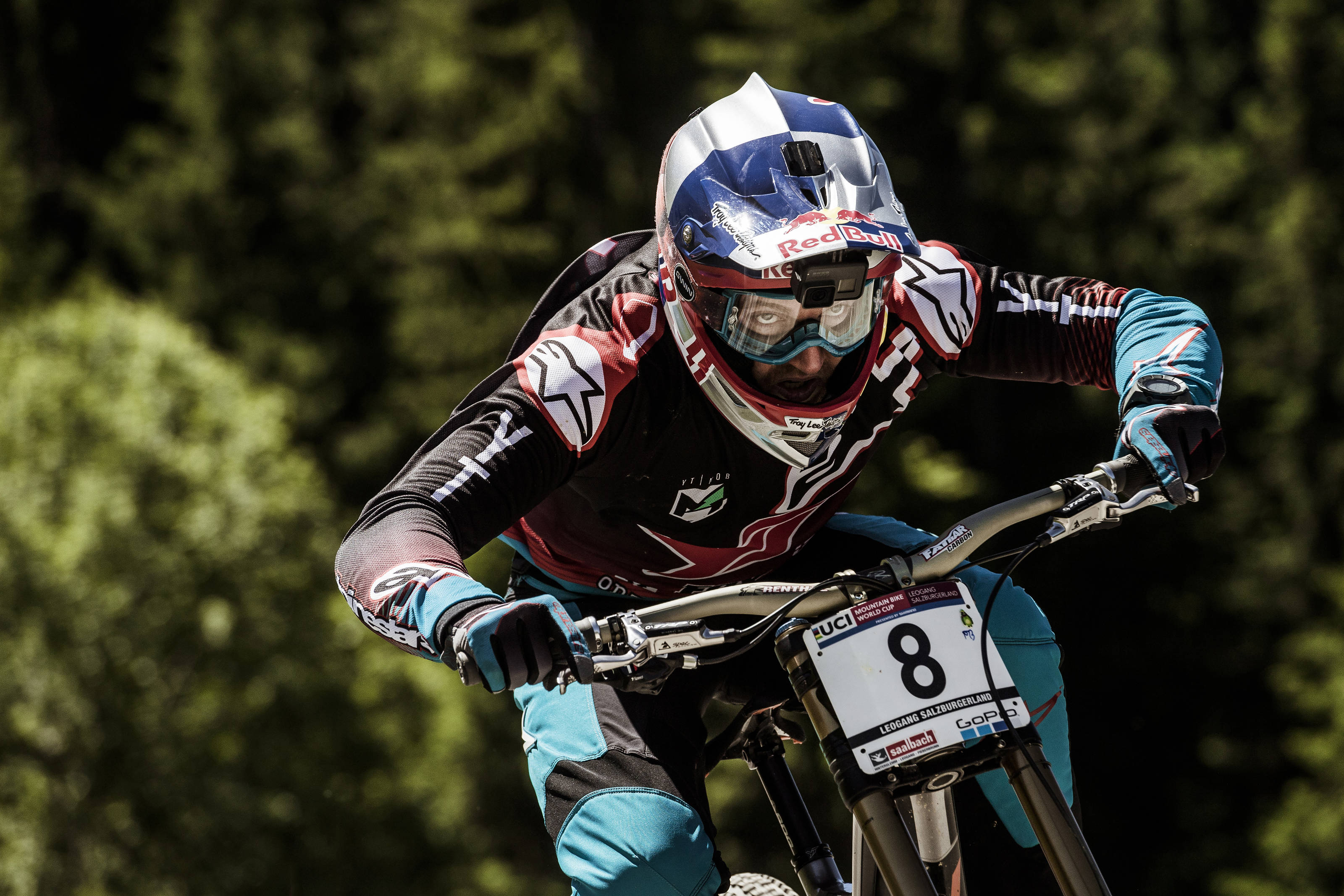 "It's been about a year since my last win. So much fun. I made some mistakes on the top. Stoked to get down without a crash. I was a little bummed after last weekend, but these guys are riding awesome. I wanted to cross the line and be happy with my run. It wasn't perfect, but it was good enough."

Aaron Gwin
Crucially, the win puts the 29-year-old back into contention in the overall standings after the disappointment of a rain-soaked round one in Lourdes.
Watch Aarons winning run:
Leogang UCI DH World Cup Men's Final results
1. Aaron Gwin 3:06.958
2. Loris Vergier 3:08.393
3. Greg Minnaar 3:09.642
4. Troy Brosnan 3:10.243
5. Bernard Kerr 3:11.311
Women's Final
In the women's race, much of the pre-race focus was on series leader, Tracey Hannah. The Australian had won her first race in five years at the previous round in Fort William, Scotland and had again topped the Austrian times in Saturday's qualifying session. Seagrave, though, was out to make good on both a disappointing home race and the absence of the 2016 World Cup champion, Rachel Atherton, who was missing due to a dislocated shoulder sustained in the Highlands.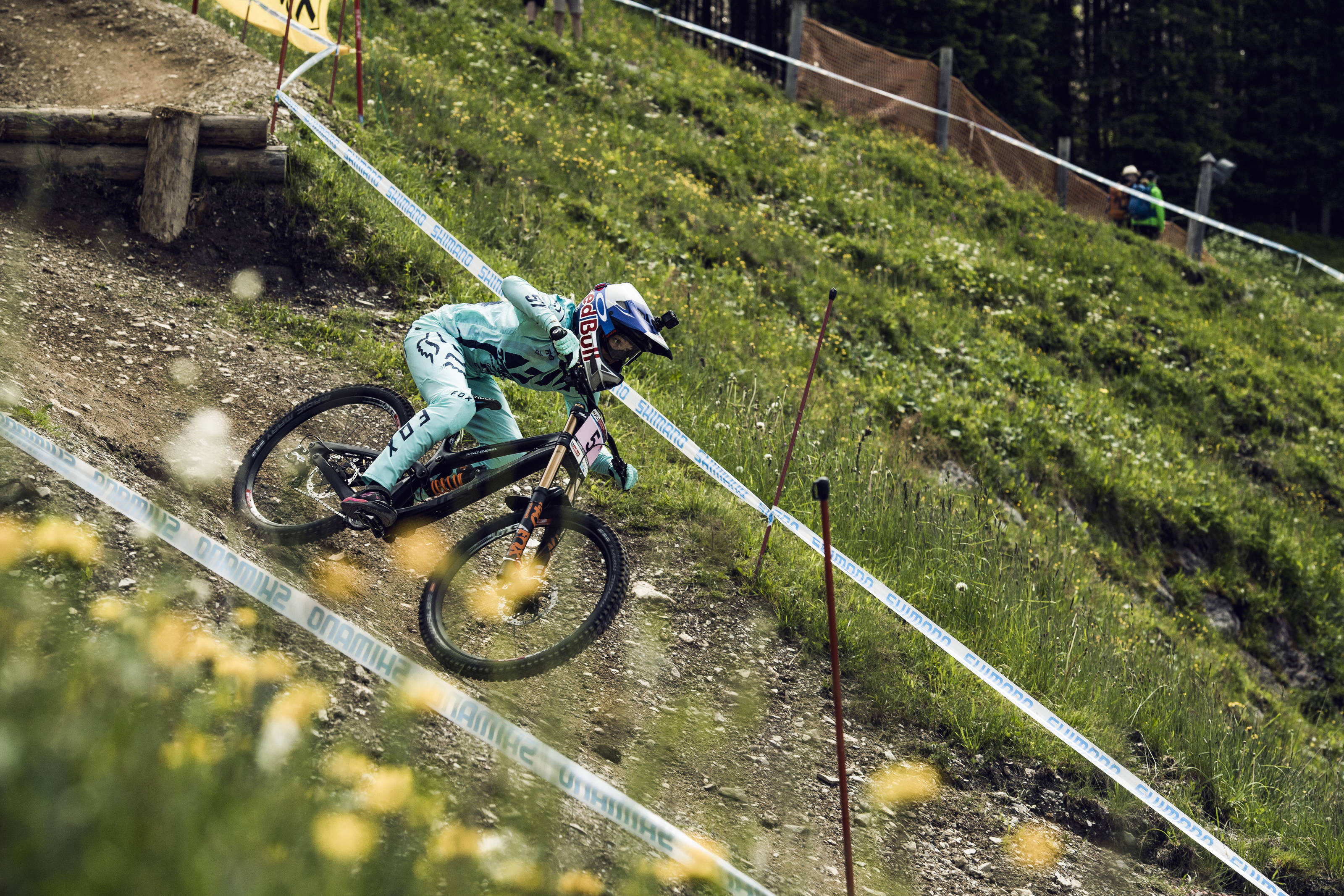 "I have been waiting so long to get a win. I knew I could make up time. Tracey is so fast and has been a roll so I new I had to give it my all. I had a couple of mistakes and I was pedalling really hard, it was so close. To finally get it is just a relief more than anything. I will keep fighting."

Tahnée Seagrave
Twenty-one-year-old Seagrave took on the tricky track from the outset and crossed the line in a great time of 3minutes 36.082seconds to displace the incumbent hot seat occupier, Frenchwoman Myriam Nicole. Her run had perfectly melded risk with outright pace, all she could do now was wait on Hannah. As the splits clicked by it was clear that it was going to be close and the crowd at the finish held their breath. The Aussie crossed the line just 0.693 seconds back from Seagrave, who was immediately embraced by her family and team that had helped her learn her trade in Morzine, France.
"Obviously I was going for the win after winning in qualifying. The track changed a bit and you just have to see how you go. I am pretty happy with second in the end. Near the bottom, there is one wet corner where I laid on the back wheel and I thought I was down. Complete opposite to Fort William. Good to get another race out the way."

Tracey Hannah
Watch Tahnée Seagrave's winning run below
Leogang UCI DH World Cup Women's Final results
1. Tahnee Seagrave 3:36.082
2. Tracey Hannah 3:36.775
3. Myriam Nicole 3:38.582
4. Manon Carpenter 3:39.027
5. Emilie Siegenthaler 3:44.136
The series continues July 1-2 in Vallnord, Andorra.
Thanks to Red Bull for the galleries!