When asked if we wanted to do a long-term review on the 2017 Santa Cruz Hightower CC, we jumped at the opportunity. I don't really need to elaborate any further, I could just scream "Santa Cruz Hightower!" and that should be enough.
This is no doubt due to Santa Cruz having a reputation of delivering the cream of the crop when it comes to bikes. The Hightower is a beast! So for the sake of skids and wheelies, we'll tell you what we think!
When it comes to the Hightower, it really is a jack of all trades; compatible with 29" wheels or 27.5" (plus) wheels, Santa Cruz has delivered a trail style bike which you're able to tweak to your own style of riding. Consider it this way; if you only want to buy and maintain one bike but you like a combination of trail riding/racing, enduro/XC or just want an awesome do it all whip, then this bad boy is for you. Although we didn't test this bike with the 27.5" (plus) wheels, we still got an awesome insight into how this bike performs under a variety of trails conditions.
The Hightower CC boasts a full carbon frame and swing arm with 135mm of rear wheel travel, 140mm of fork travel and more aggressive geometry than the Tall Boy LT. It also comes with a more robust swing arm design comparable to the Nomad.  So why 29" inch or 27.5" plus? Well that depends really a lot on who you are as a rider and where you ride. If you tend to ride or race trails where straight line speed and open rough rock gardens are a part of every ride, then the 29" is the go to move. If you're subject to tight undulating single track where tight traction and quick acceleration is a factor, well 27.5" plus may be the answer!
Whatever your flavour, the geometry of the Hightower remains the key. With the inclusion of a trick high/low link setting contained within the upper shock link. The flap adjusts with the use of a 5mm Allen key and just flips around to adjust your bottom bracket height. With a 67 degree head angle, a longer tope tube length and shorter chain stays with 135mm of VPP linkage reinforced by 148mm rear axle spacing, this 29" swing arm was designed with all you pinners in mind. This design creates a very open cock pit area without sacrificing handling.  We rode an extra large Hightower and it didn't at all feel or ride like a big bike.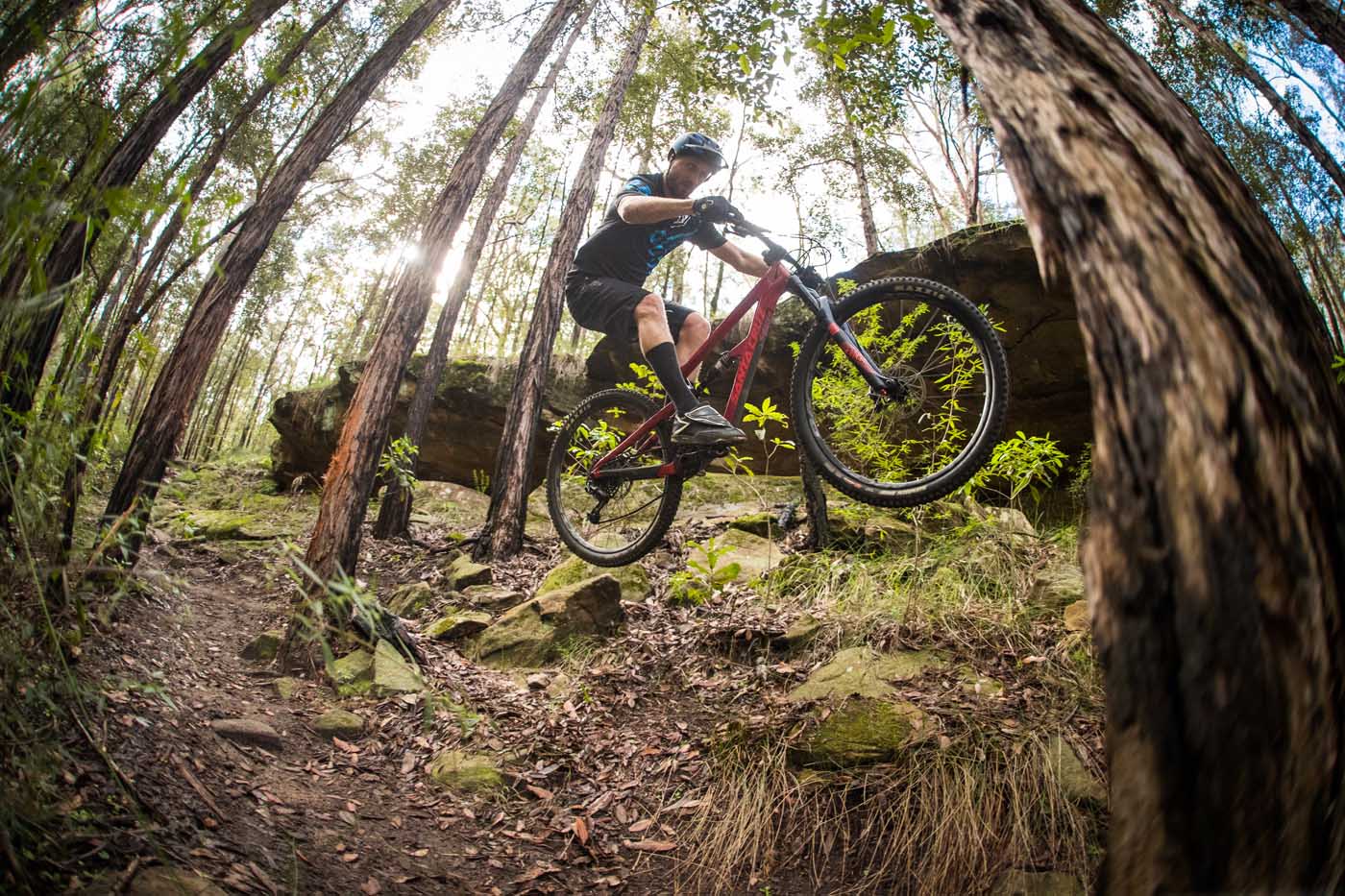 The Hightower comes stock with; 148mm boost rear and a set of 140mm boost Rockshox Pikes, Monarch RT Debonair and an 150mm internal Rockshox dropper post with internal routing for your other cables/hoses. Santa Cruz offers this model in two full carbon models, being the CC level and the C level. Santa Cruz state that both models are as strong and stiff as each other with the CC frame being about 230 grams lighter due to them using a more expensive style of carbon fibre with their CC frame sets.
So why buy a boutique brand like Santa Cruz? Well one reason is that they're awesome and if riding is your thing why not get a nice rig. However whilst this version of the Hightower may seem expensive for some people the advantage of Santa Cruz offering the 'CC' or 'C' with the 'C' being the cheaper version, benefits those who may be on a budget but still want to invest in a really nice rig. Plus both frames still look identical.
Santa Cruz has tweaked its Virtual Pivot Point suspension since they introduced the current Nomad which has enviably been introduced to its other models. It's basically a similar design which is easier to maintain and adjust and is also compactable with a variety of chain rings found on the current 1 x drive trains, (In this case 1 x 12 Eagle).
Depending on how you set up the Hightower, suspension settings, tyre pressures and the like will come down to personal preference. We ran this bike with about 18mm of sage in the rear sock and we found the Hightower pedalled unreal and handled really well, especially over rough fast terrain. In comparison to the Santa Cruz Bronson we found that on the fast open sections and corners, the Hightower came into its own, it never really got hung up on square edges and maintaining momentum was a breeze, especially on those wide open corners. Also with a larger tyre contact patch with the trail surface, this sucker stuck like glue. Comparable with the Bronson which cornered a little better on tighter sections and was a little quicker on acceleration.
Overall, the Hightower's handling really was unreal, it was a well-balanced bike and as soon as we jumped on this thing we felt at home. There were a couple of personal considerations where we found the rear shock worked a bit hard but this may have come down to us sending some really hard trail. Personally we would have also liked to try this bike with a 150mm travel fork but again this was a personal thing and not at all a blight on the performance of this bike. Although there are a couple of things identified that we would consider adjusting that just came down to personal preference and riding style. That ability to easily adjust the setup highlights the beauty of this rig which is 'versatility.'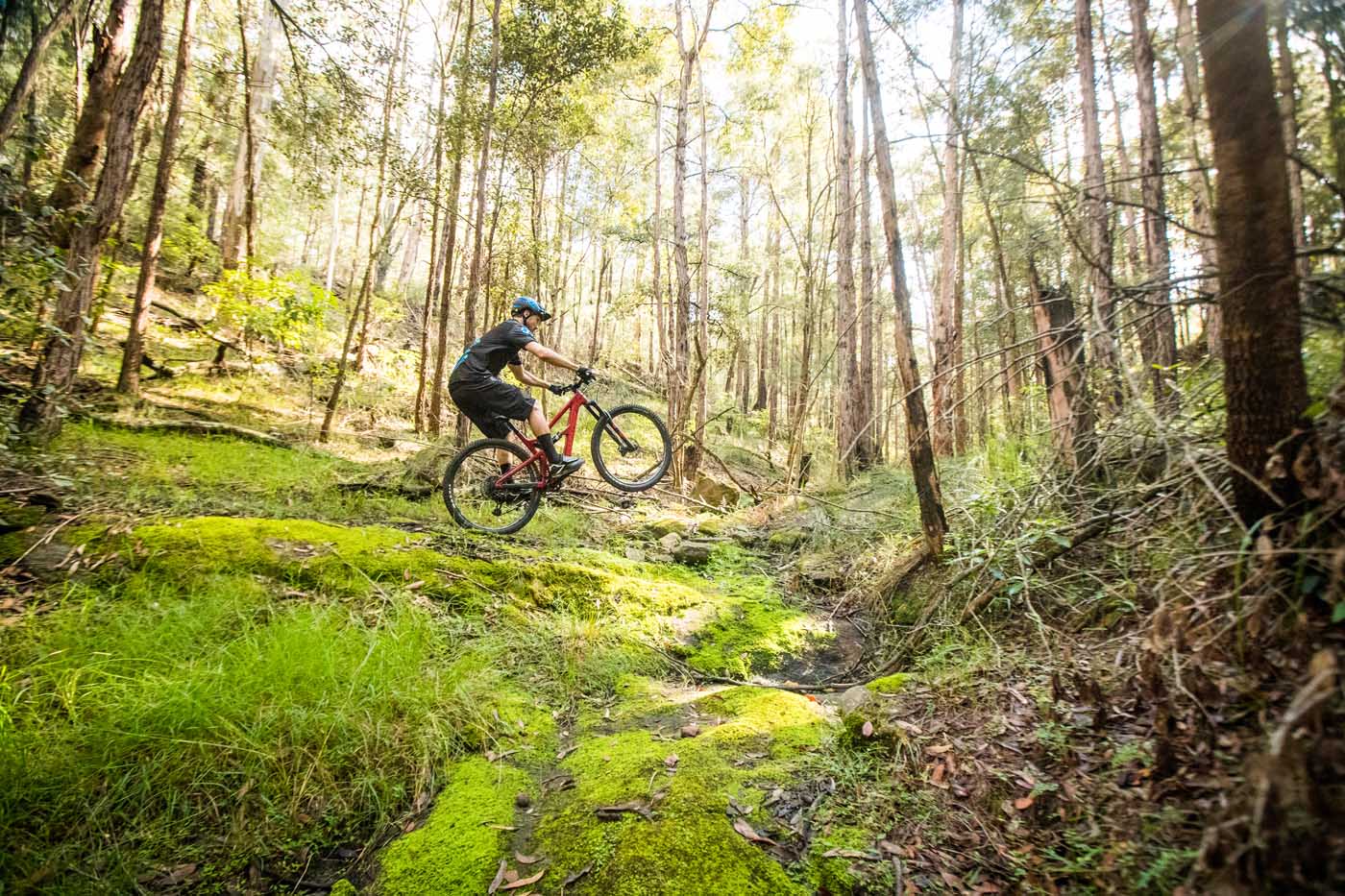 "When it comes to the Hightower, it really is a jack of all trades; compatible with 29" wheels or 27.5" (plus) wheels, Santa Cruz has delivered a trail style bike which you're able to tweak to your own style of riding."
All in all this pushy looks amazing. As far as ride and build quality this bike goes, it's a 10 out of 10 banger! When Santa Cruz were giving away beauty tips to its entourage, the group of people building the Hightower listened. Don't however let those luscious looks deceive you; this is one capable pushy which handled an absolute beating. We rode this bike on some epic XC sessions, Gravity Enduro sessions and bombed some solid DH runs. And I'll tell you the Hightower went back for more and more. So if you're thinking about investing in an up market whip, it's difficult to go past Santa Cruz as a brand, let alone the Hightower. To sum it all up, life is short so GET ONE!
Santa Cruz Hightower CC
Frame features // Full carbon fibre frame and swing arm, 135mm (5.3″) VPP rear suspension, 148mm Rear Axle Spacing, 27.5" Plus wheels compatible, 29″ wheels as stock (as pictured here), Carbon C and Carbon CC frame options, Double sealed pivots, Internal cable routing,
Spec // Rock Shox Pike (140mm travel) fork, Rock Shox Monarch RT Debonair rear, SRAM XX1 Eagle drivetrain, SRAM Guide Ultimate Brakes, Rock Shox Reverb dropper post, Carbon Santa Cruz bars, Race Face Stem.
Available sizes // M, L, XL
Price // $10449.00
Browse // www.lustyindustries.com
Rider wearing
Helmet // Troy Lee Designs A1 'Mips' helmet.
Jersey // Troy Lee Designs Skyline Jersey
Shorts // Troy Lee Designs Skyline shorts
Browse full 2017 TLD range at: www.lustyindustries.com
Review // Scott Prendergast
Photos // Tim Bardsley-Smith