Most companies have gone down the stiff or compliant rim or wheel system route at some point or another, often gaining a reputation for their wheels attributes. We do however rarely see different spoke counts, or rarer still different profiles or layups.
Crank Brothers have taken the design process a step further after identifying that both front and rear wheels have entirely different duties during testing. The answer is what Crank Brothers refer to as their Tuned wheel system that's optimized for the specific performance requirements and loads of mountain biking. The front offers more vertical compliance, improving handling and maximizing grip and control in turns while the rear supports higher loads and stability and tracking at speed.
Review // Ryan Walsch  Photos // Nick Waygood
These wheels actually have a pretty cool connection to Australia (via their head engineer) don't they? 
Yes, Australian ingenuity is at the forefront of the Synthesis' design. Our very own Mello Bouwmeester from Bouwmeester Composites was snapped up by industry giant Selle Royal for his brilliant design and carbon expertise where he worked along side the founder of ENVE Composites, Jason Schiers to build on BC's concept.  
What's the difference between the standard Synthesis wheels and e-Bike specific version?  
There are quite a few differences between the two, firstly the most obvious one is strength. The e-Bike wheels as a pair when compared to that of the same size Synthesis are between 189g and 237g which can be attributed to the additional layers of carbon, slightly wider rear rim, thicker gauge spokes and steel freehub bodies to cope with all the additional loads. Riders have options in both 27.5 inch, 29 inch, 27.5+ inch or a Mullet' 29 inch front paired with a 27.5+ inch rear just like ya dad's moto..
Interestingly the front and rear rims are different from one and other and each has been specifically designed and built as such. What's the difference in personality between the pair? 
After identifying the vastly different duties of both front and rear wheels Crank Brothers have created two completely different wheels rather than just lacing a generic rim to front and rear hubs. The front wheel is laced up with 28 spokes, Sapim E-Light spokes and a 3.5mm hookless bead verses the rear wheel with its 32 hole, featuring Sapim Strong spokes and a 4mm hookless bead which appears visibly thicker that its counterpart. The front is designed to dampen trail chatter and the rigors of aggressive riding with its increased vertical compliance which in turn increases control and grip. The rear wheel needs to be stiffer, handle power transfer and importantly higher loads and impacts when pushing hard.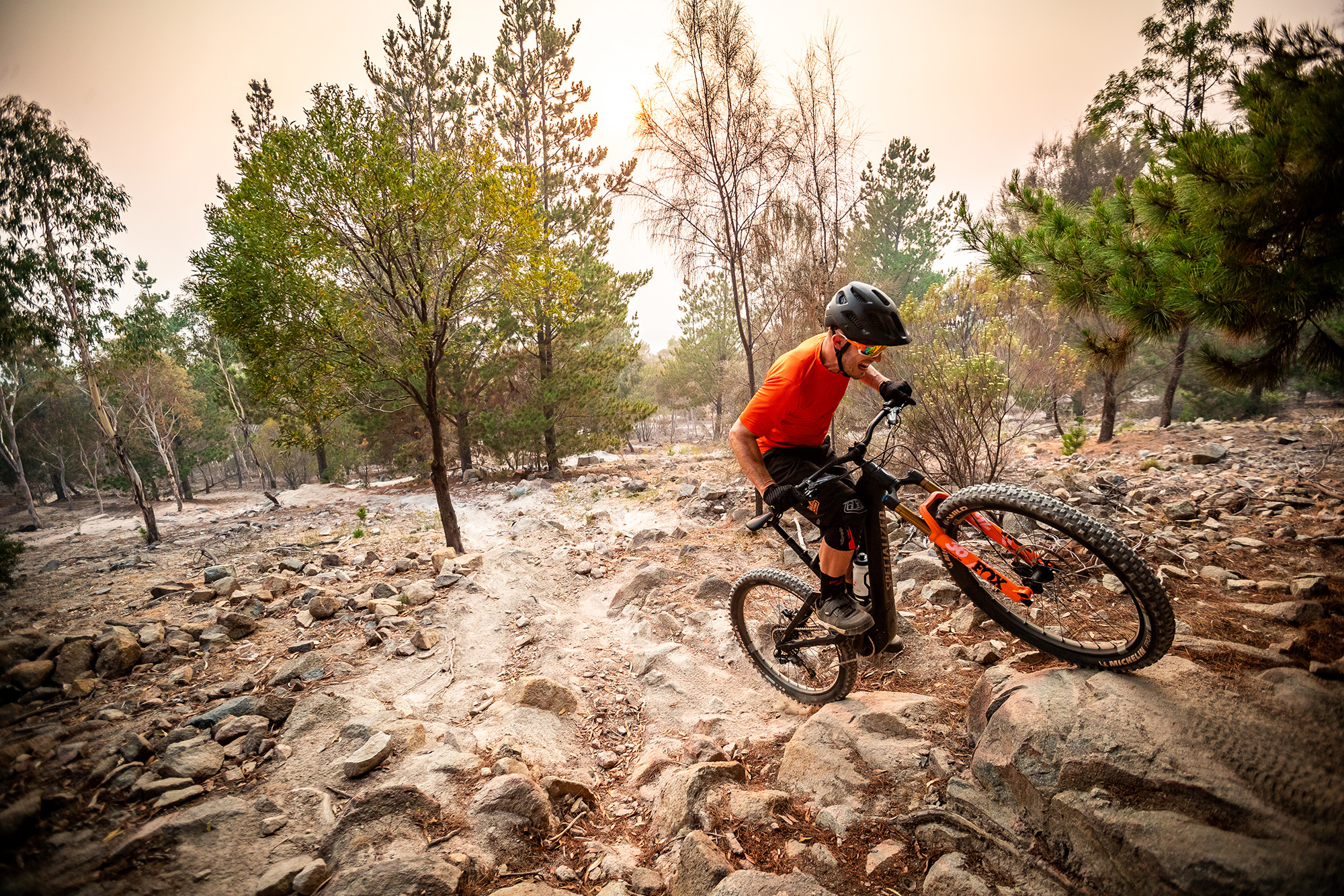 "Crank Brothers offers rim only options for the folk among us that want anodized everything, odd hub spacings or something extra special" 
Are their different hub options and what not available? 
At the moment, all Synthesis wheels are Boost 15mm x 110 and Boost 12mm x 148mm standards. With rims available, any bike and rider has access to Synthesis benefits.
Rightyo the actual riding part; tell us 3 things you noticed about how the wheels felt when you rode them for the very first time?
The first and probably most noticeable thing was the reduced weight over a hefty alloy E-Bike wheelset, our tyre of choice was the Michelin E-Wild's which are approx. 1400g for the 27.5 x 2.8 plus tyre and made for a burly yet responsive combo. With the majority of the weight reduction happening at the rim, accelerating and decelerating feel less arduous on the trail and best of all direction changes.
Secondly the reduction in flex, without feeling harsh and chattering around on the trail. The heavy bike tracked beautifully through rough, choppy turns or blatantly squaring of corners like a goose the bike exited with speed and composure unlike the alloy wheels that were specced on the three test e-Bikes (Pivot Shuttle, Trek Powerfly LT and Specialized Kenevo Expert)
Lastly, how much stronger the Synthesis wheels are than alloy e-Bike wheels. Being on these wheels for close to a year, alternating back and forth between stock alloy and Synthesis wheels has been eye opening. Three dead tyres, packets of tyre plugs, and literally litres of Orange Seal and they have not been trued. In contrast, the alloys are riddled with dents and dings due to the higher loads and stresses dealt out by the extra heft of an e-Bike.
Sometimes a rider has to adapt their riding style slightly to suit and get the most out of a particular component on their bike. Do these wheels fall into that category? 
Riding the Synthesis E-MTB wheels the way I normally ride was fun and lively, I like to pop and jump off things and I do notice that the verticle compliance of the rim makes the bike feel "lively" or even slightly on the "springy" side which I toned down with an additional click of rebound damping. Did I change the way I ride, maybe I put less effort into taking smooth lines and focussed on taking creative and direct lines instead without worrying so much.
Okay, okay, so is it 'actually noticeable' whilst you're riding that the front and rear wheel behave differently from one another? 
To be honest, with the 2.8 inch tyres which I ran most of the time, not as much as when I was running the 2.4 or 2.5 inch tyres. It is worth explaining that while I was running a relatively high pressure on the mid fat 2.8 tyres they do provide that extra cushion and buoyancy making distinguishing these characteristics harder and as such I played around with different width tyres and even a 29 inch Synthesis wheel up front paired with a 2.4 inch Michelin Wild Enduro in the same tread pattern and compound. What I took away from all the different width/diameter/pressure tests is that there was a clear reduction in trail chatter from alloy to Carbon Synthesis E-MTB, the amount that was noticeable depended on the width and pressure of the tyre.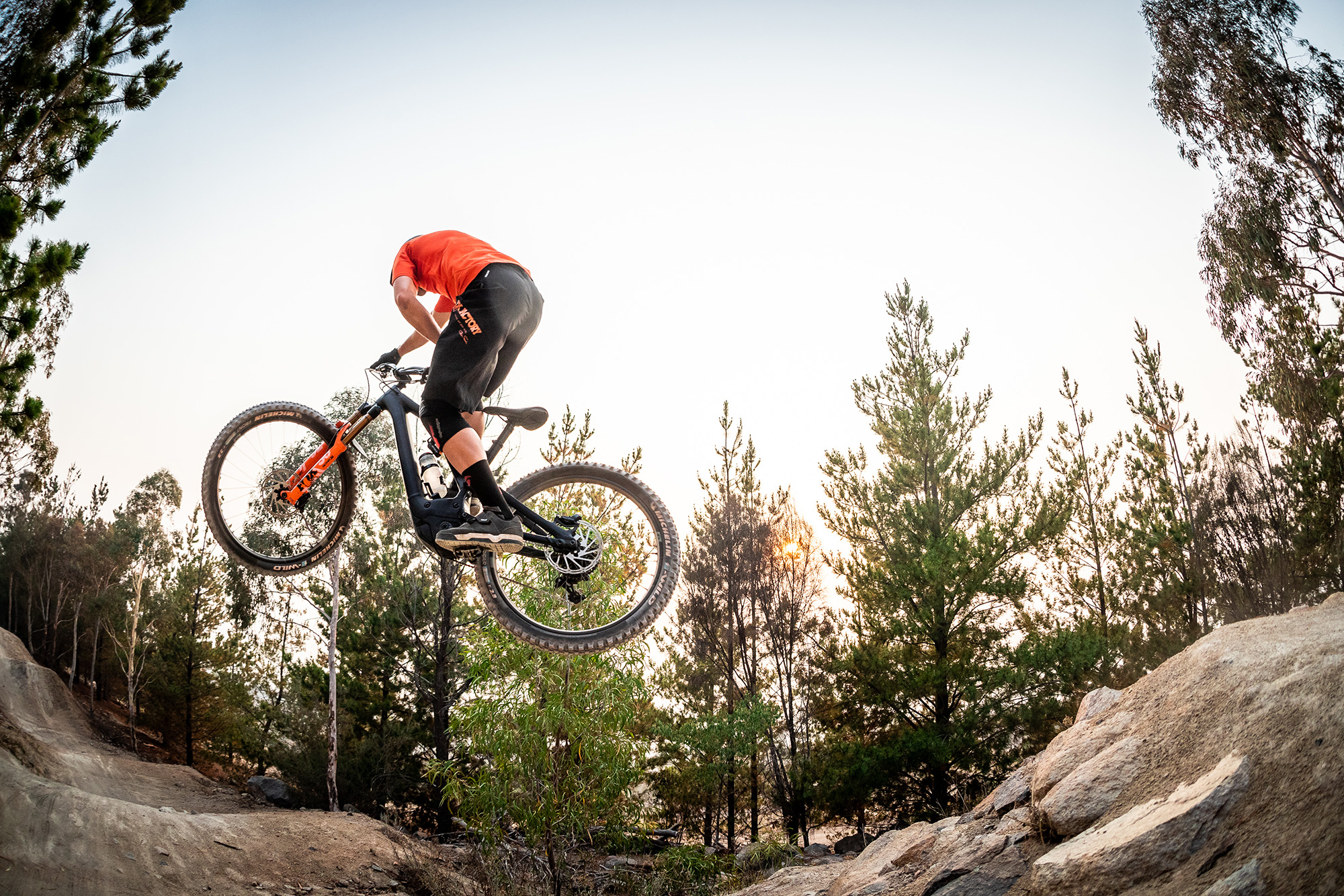 Compared to other carbon wheels you've ridden during the past year how does the performance of the Synthesis E's stack up? 
I am impressed by Crank Brothers focus on the riders experience on the trail and their after sale support via the lifetime rim warranty. No other brand offers specifically designed front and rear wheel systems, which likely doubles their spares required is no simple feat. While I haven't ridden any other e-Bike specific carbon wheels, these have excelled and run faultlessly throughout the test which was surprising given the shear weight and capabilities of the last e-Bike we tested them on the Kenevo.
For sure $2699.95 is a spine-tingling amount of money to drop on a pair of wheels, however do you think these particular hoops justify the price tag?
Given the damaged alloy rims, wheel rebuilds and time off the bike with a broken wheel, that alone could justify lashing out and purchasing a tough set of wheels such as these which I'd imagine will survive many years. Reliability aside there are of course a host of  performance benefits that the Synthesis also wheels offer. For these factors I can certainly see why someone would be tempted to make the investment. [R]