It's not hard to see just how big a legacy Sam Hill has created. Even moreso by taking his third consecutive EWS Championship in what can only be described as an epic series that saw the tightest racing it's short history has ever seen.
Round eight, Traillove EWS Zermatt, lined up the perfect showdown high on Zermatt's mountain sides beneath the shadow of the mighty Matterhorn. Florian Nicolai took to the start line the series leader by the slimmest of margins, a mere 60 points. Chasing him down would be that most intimidating of opponents, reigning champion Sam Hill – and the result would not be decided until the very final stage of the day. Talk about epic racing!
Martin Maes (GT Factory Racing) put on a blistering display to seal the race win, with Sam Hill in second and former champion Richie Rude in third – but the story of the race was the intense battle between Hill and Nicolai for the series overall. In the shadow of the Matterhorn and the towering Swiss Alps in the town of Zermatt, Hill got to work early Saturday morning with a singular goal in mind, winning the series overall. Sitting in second overall coming into the race, Hill had his work cut out for him, but as he put it after Whistler..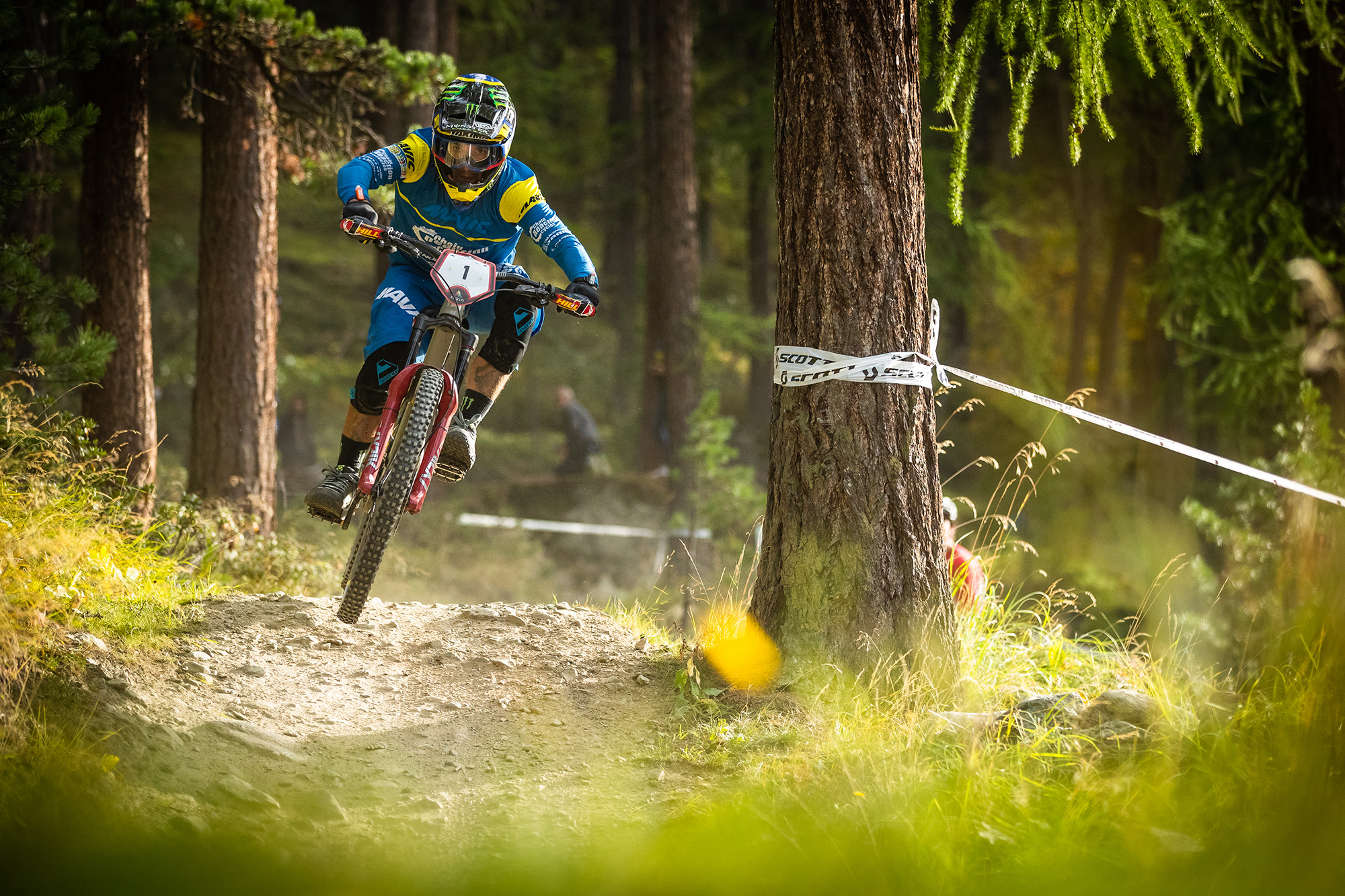 I KNEW GOING INTO THE QUEEN STAGE I WAS SECOND OVERALL, AND FLO WAS IN SIXTH. AS MUCH I WANTED TO WIN THE QUEEN STAGE, I DIDN'T WANT TO GAMBLE ON FLO PASSING A COUPLE OF GUYS, OR SOMEONE PASSING ME IF I MADE MISTAKE. I WENT FOR IT ON THE QUEEN. I DEFINITELY DIDN'T BRAKE INTO SOME OF THE ROCKS GARDENS, KEPT IT PINNED. IT WAS THE STAGE I WAS LOOKING FORWARD TO ALL WEEKEND.

Sam Hill
Hill now becomes the only man in EWS history to take home three series titles. With both Downhill and Enduro titles, Sam now has 8 World Championship titles to his name and isn't showing any signs of slowing down.  EWS racers will now head to the Italian Riviera, in Finale Ligure to compete for the inaugural "Trophy of Nations".  The top three riders from each nation will compete as a team to battle for national honour and a coveted UCI Rainbow world championship jersey. Hill will be joined by Connor Fearon, who is coming off of a fantastic World Cup DH season which should see some foot out riding that these two are renowned for.
It wasn't just Sam three-peating. In the women's race Isabeau Courdurier (Intense Mavic Collective) finished her season in style by not only winning the race, but completing a perfect season that saw her win her first Series Championship. Andreane Lanthier Nadeau (Rocky Mountain/Race Face Enduro Team) came second in the race, with young German rider Raphaela Richter rounding out the podium. 
Noga Korem (GT Factory Racing) had a disappointing day in Zermatt, with a mechanical seeing her relegated to 25th in the race – but coming second in the overall series rankings will surely make up for it. Andreane Lanthier saw out her season with not only a race podium, but her best series finish to date with a third place.
In the Master competition, Cedric Ravanel (Commencal Vallnord Enduro Racing Team) not only won the race, but wrapped his first Series Championship in the process. Former Champion Karim Amour's (Miranda Racing Team) second place in Zermatt was reflected in his new ranking, and although Florian Golay was third on the day, it is Argentina's Javier Santiago who came third in the series overall. Louise Paulin's second place in Zermatt was enough to secure her as the 2019 Series Champion, whilst Alba Wunderlin's win was rewarded with second in the rankings. And rounding out the Zermatt podium was Daniela Michel, with Mary Mcconneloug finishing third in the overall. 
Antoine Vidal (Commencal Vallnord Enduro Racing Team) won both the race and the U21 Series Championship, cementing an incredible year for him. On the day it was Kasper Woolley and Brady Stone who rounded out the podium in second and third respectively, but it in the overall series Stone secured second and Tiago Ladeira (Miranda Racing Team) placed third. Lucy Schick's impressive debut season saw her pick up the U21 Series Champion title, with Leah Maunsell in second and Fenella Harris in third. But none of them could touch Harriet Harnden in Zermatt, who won convincingly, with Polly Henderson in second and Schick in third. 
Rocky Mountain/Race Face Enduro were named Team of the Day, but it was Canyon Factory Racing who were named 2019 Team Champions for the second year in a row. 
RACE RESULTS
Pro Women:
1st. Isabeau Courdurier: 43:56.57
2nd. Andreane Lanthier Nadeau: 44:27.92
3rd. Raphaela Richter: 45:26.99
4th. Ines Thoma: 45:33.88
5th. Anita Gehrig: 46:27.88
Pro Men:
1st. Martin Maes: 37:37.02
2nd. Sam Hill: 37:49.65
3rd. Richie Rude: 38:14.70
4th. Kevin Miquel: 38:15.35
5th. Florian Nicolai: 38:31.21
Full results are available here.
Check WynTV for Wyn Masters take on the weekends racing!