Pivot Cycles are upping the ante big time with the release of the new Switchblade, an all-mountain slayer which can utilise either 29" or 27.5"+ wheels. The Switchblade sits nicely between the Trail 429 and big hitting Firebird in the Pivot range.
For 2020 Pivot have completely reworked the Switchblade and we were lucky enough to spend 3 days riding the new bike on some awesome trails in Bright and Falls Creek.
The Switchblade has had a complete redesign for the new model with improvements in geometry, suspension, functionality and aesthetics, with the frame having a slicker and less swoopy design. The progressive long and low geometry of the original Switchblade has been pushed even further with a longer reach, slacker head angle and steeper seat angle. The seat tube has been shortened and straightened to allow for longer travel dropper posts and an adjustable flip chip adds adjustability, enabling the Switchblade to be easily optimized for 29", 27.5+ or 27.5"/29" reverse mullet setups without compromise. The frame works with tyres up to 29 x 2.6" or 27.5 x 2.8" wide and all builds come with 44mm offset FOX 36 forks with 160mm of travel. Full-length internal cable routing, with Pivot's easy to service and silent Cable Port System along with built in Low Durometer Ultra-Quiet chainstay protection finish off the frame nicely.
All of this versatility has been built into an even lighter Hollow Core Carbon frame, using Pivot's proprietary moulding technology they have been able to get the frame weight down to 5.7 lb / 2.57 KG for the small size (w/o shock). Plus there's plenty of room for a large water bottle in all frame sizes right down to extra small.
The new vertical shock layout works seamlessly with the dw-link suspension and allows for a stiffer, lighter and more compact frame design, along with better FOX Live integration, a more progressive shock rate and better options for coil over shocks. The patented position sensitive anti-squat design eliminates pedal bob during hard pedalling and the ultra-adjustable Fox DPX2 rear shock has an all new base valve design and selector plate which provides more support where needed, while increasing oil flow and plushness on high speed impacts. A more aggressive rising rate makes the 142mm of rear travel suppler off the top of the stroke, offers more support in the middle and gives it huck-to-flat bottoming control at the end. Pivot also worked closely with Fox to develop an all new piston and valving tune on the DPX2 that delivers new levels of sensitivity and traction.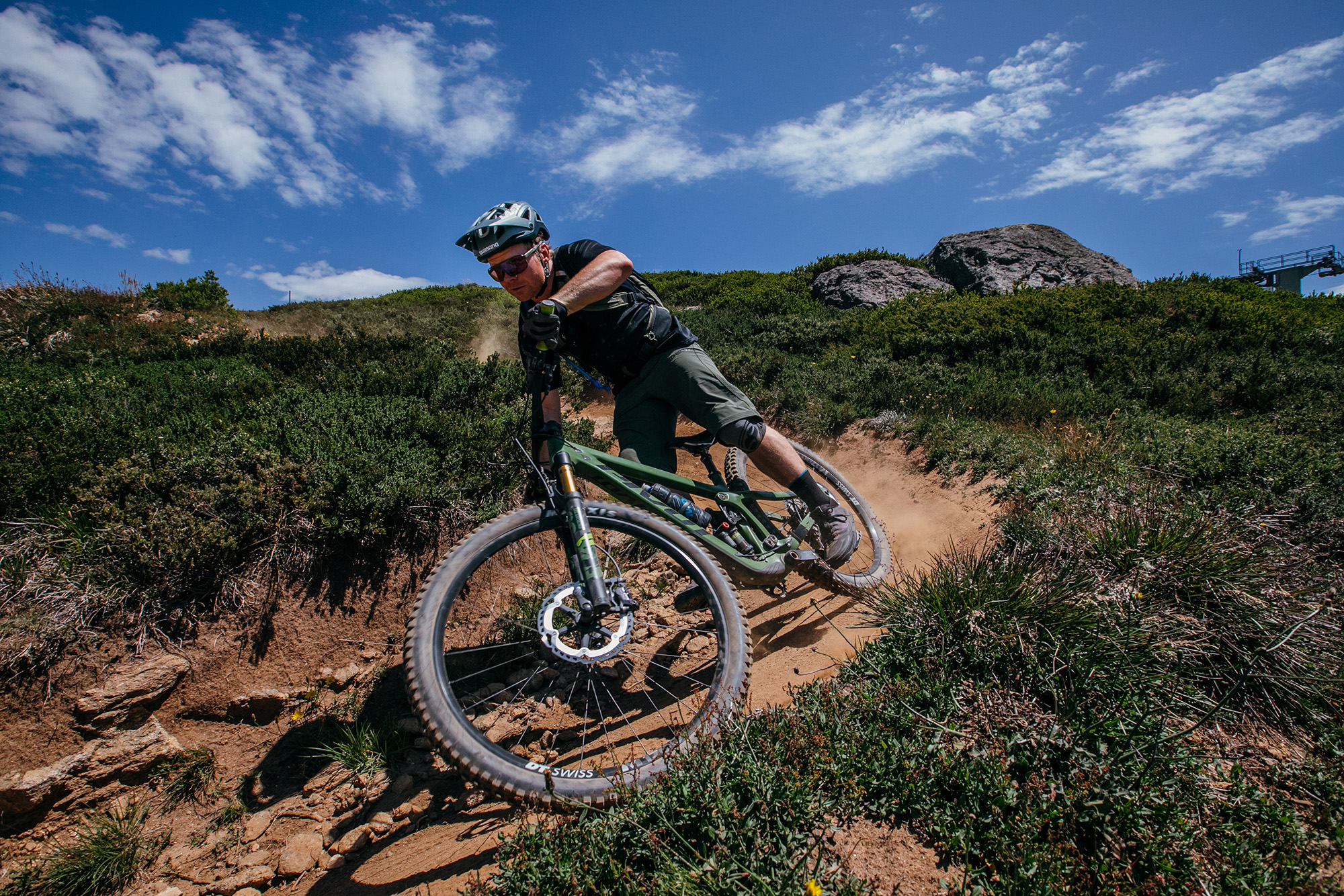 The new Switchblade is available in either Horizon Blue or Treeline Green, as a frame kit or complete bike and in frames sizes from XS to XL, to suit riders between 152cm and 200+cm (5' and 6'7"+). Aussie prices range from a competitive $8,999 for the XT build, to an eye watering $19,999 for the XX1 kit with carbon wheels and integrated FOX Live Valve.
Something else to look out for if you are a Switchblade fan is Switchblade Nation.
Keep an eye on the Pivot Facebook page or #switchbladenation for info on this exclusive community of Switchblade owners with meet up's at big events such as Crankworx Rotorua and Sea Otter, as well as exclusive membership kits and local events and rides.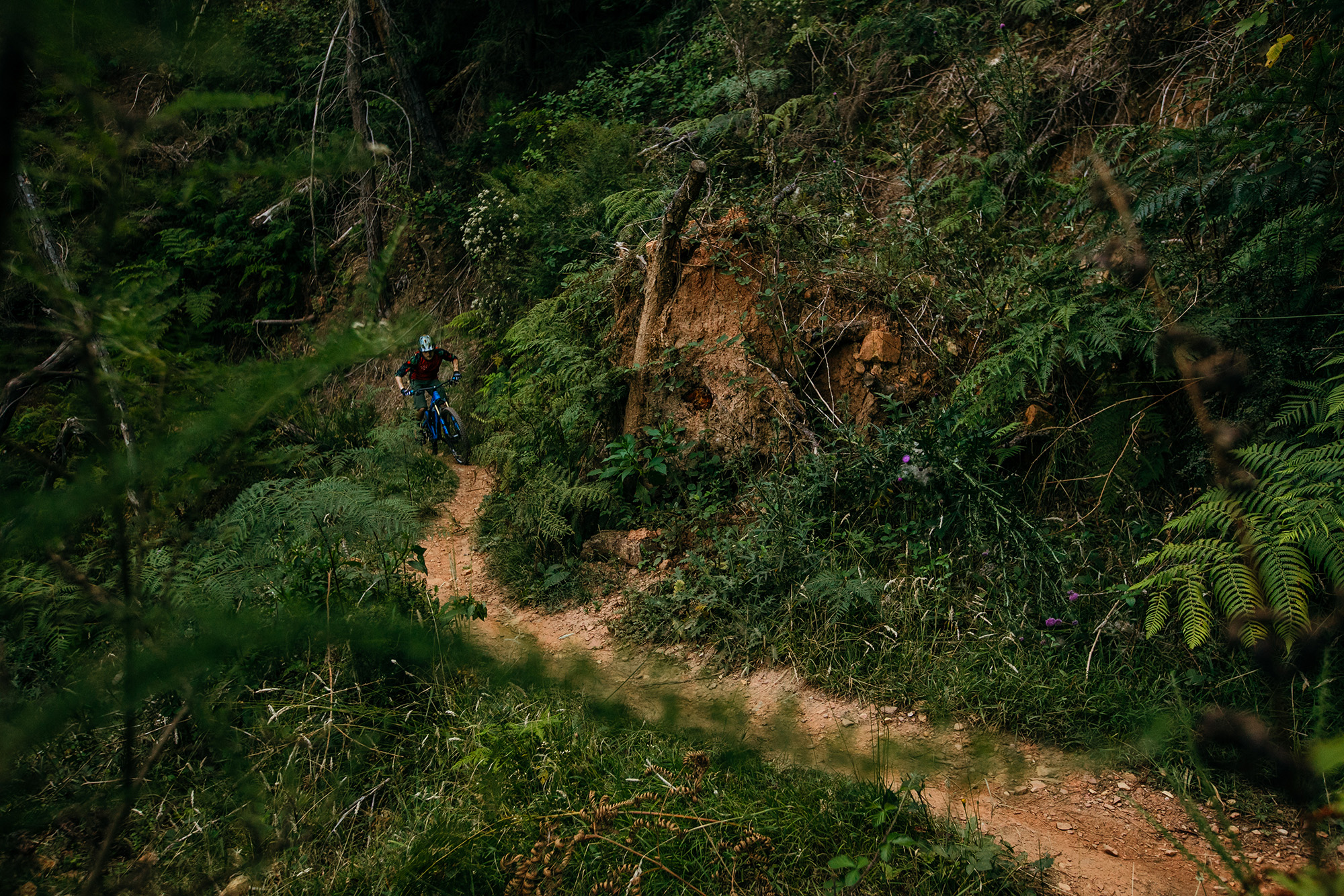 So, how did this thing ride out on the trail?
We were lucky enough to have 3 days on some of Australia's best trails in Bright and Falls Creek to check out the new Switchblade. Our first outing on the bike was a quick blast along the river and a late avo climbing lap at the Mystic MTB park in Bright. I'm pretty sure anyone buying a slack, long travel 29er doesn't have a whole lot of XC riding in mind but this bike has been designed to do it all, so we had to see how well it would go up hill. There are some surprisingly good climbs at Mystic and we linked a couple of climbs together to see how this thing felt on the way up. The Up DJ trail is a tight twisting set of switch backs and we found the Switchblade took it all in its stride. Even with the longer slacker geo we had no problems negotiating the tight climbing corners and the steeper seat angle on the new frame gave us a better riding position for climbing. We didn't get any unruly skipping of the front wheel, even on the steepest sections. Whilst I'm sure it's not the most efficient climber out there, for the type of bike this is, it performed flawlessly and made the climb more enjoyable than it should have been on a bike like this…
OK so our one lap of climbing was done and the following day we were set for a whole day of shuttle runs with Blue Dirt, now that's what this bike is made for. Our first lap took us to the top of Mystic and after checking out the paragliders we set off down Elevation. I've ridden this trail on a few different bikes and while it's not as full on at Mystic DH or World cup DH, it's a rough and rocky trail with some tight, steep corners to negotiate. I have to say of all the bikes I've ridden down this trail the Switchblade was the most enjoyable, it kinda felt like I was riding a DH bike as it ate up the rocks and gnarly roots with ease.
The new suspension set up and longer, slacker geo worked great and gave a very smooth ride over some not so smooth terrain.
We spent the rest of the day lapping the amazing Hero and new Shred Kelly trails, both are fast and mostly smooth machine-built trails with endless berms and jumps. The Switchblade was diffidently at home on these trails, the 29" wheels ate up the brake bumps and the bike was predictable and stable in the air, so much so that I hit up some of the bigger jumps on these trails that I hadn't hit before. After a stack of laps, and with the temperature nudging 40 degrees we retired for a beer and pizza at the Bright Brewery, keen for more the next day.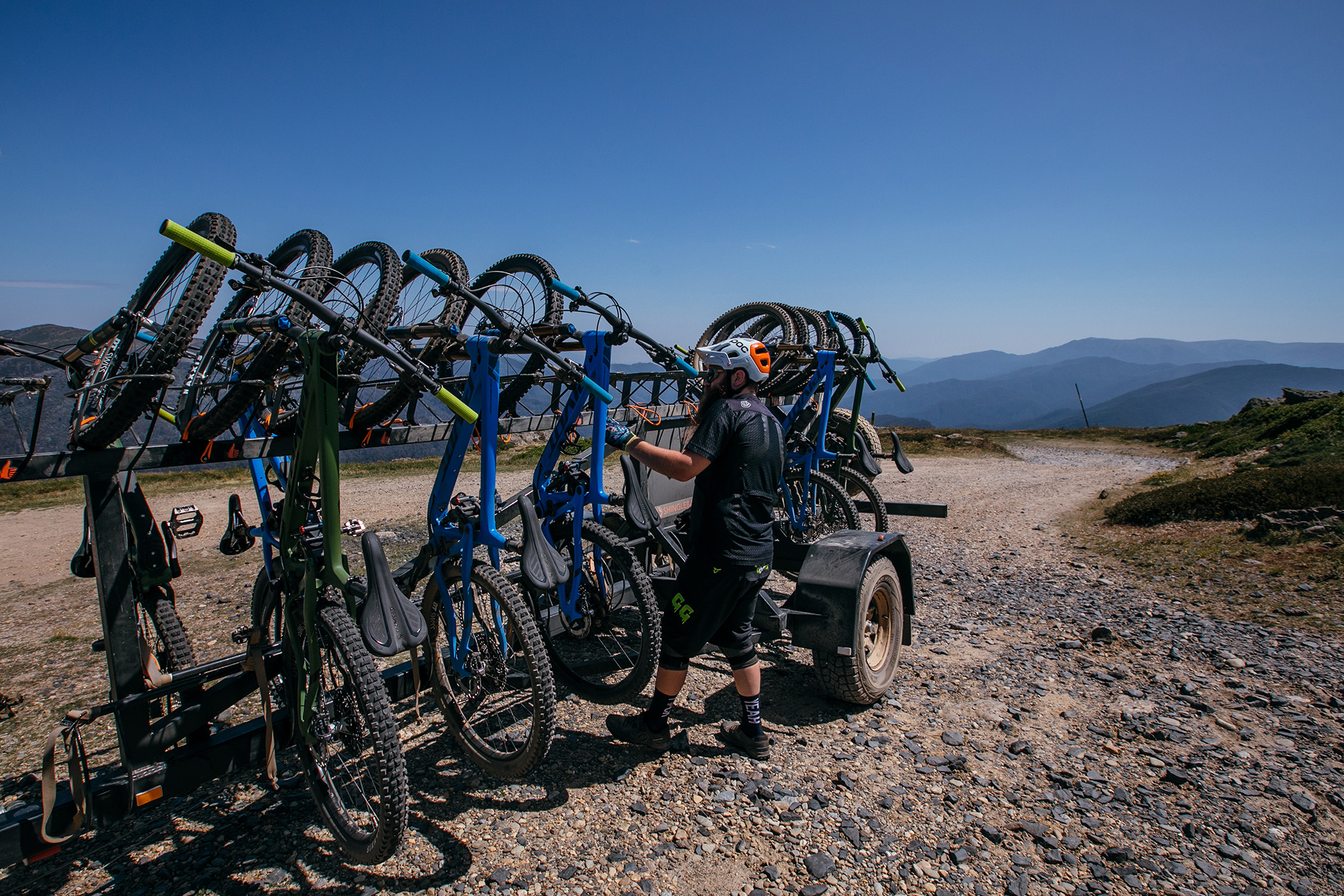 For our third day on the Switchblade we headed up to Falls Creek to check out some of their new trails and hopefully knock few degrees off yesterday's temps. Once again, we had shuttles organised and spent the day cutting laps of the Falls Creek MTB park hitting all the trails including the new Flowtown trail. The Switchblade was again the perfect bike for everything at Falls, it ate up the rougher trails like Big Fella and Wishing Well and was just as good on the smoother flow trails like Flowtown.
Overall, it's hard to find anything to fault with the Switchblade. If you're looking for a bike that will do everything, bar race XC or the toughest DH tracks, then this may just be the prefect bike for you.