If you are a RockShox fan then no doubt one of the things you'll love most about the brand is their rock solid commitment to always trying to provide their customers with the best ride quality possible.
Earlier this year RockShox unveiled their new season trial fork line-up, (Pike, Lyrik, Revelation and Yari models) and whilst the new range didn't feature any chassis or external updates hidden within the forks was a MAJOR performance upgrade in the form of a redesigned air spring, called DebonAir 2.0. Effectively the new air spring allows the fork to sit higher in its travel whilst you're riding which provides more front-end grip and it also enables you to use the full range of travel when the trail begins to turn wild.
Words // Scott Prendergast
Perhaps the best part about the new DebonAir 2.0 is that RockShox just so happened to design it so that it would be 'retro-fit-able' to any model Pike, Lyrik, Revelation and Yari fork dating right back to 2016 year models, AND the DebonAir 2.0 upgrade kit is ultra affordable with a starting price of just $49.95. Upgrading to the latest generation DebonAir spring will make a huge difference to how well your bike handles and we'd highly recommend you make the upgrade ASAP to ensure that your bike is primed ready to shreddy all those trails this Spring and Summer.
In this article we're going to show you the process step-by-step of how you can install the new DebonAir 2.0 air spring yourself at home. We've used a set of 2020 model Lyriks and a complete DebonAir 2.0 aftermarket spring kit which cost $69.95 here in Australia (the base model kit only includes the anno red parts which you then retro fit to the existing DebonAir spring from fork – we opted for the complete air sleeve kit because there's less messing around and it also means the entire unit is lovely and new AND it only costs $20 more than the individual parts kit, so, eh!)   
Step 1
Once you've purchased the correct DebonAir 2.0 aftermarket kit to match your model and fork travel, something that any RockShox dealer will be able to assist you with, you're then going to need some basic tools to carry out the install;
Selection of allen keys,

Flat blade screwdriver,

Circlip pliers,

Rubber mallet,

Rags for cleaning,

OW30 weight fork oil,

Syringe,

Suspension specific grease

Shock pump,

Oh and if you have a torque wrench that'll come in handy for when you install the lower legs back on as they have a fairly specific tension setting at 7.3nm. Finally before you get started we'd recommend walking over to the fridge and selecting your favourite brews. Alright, let's get started!
Step 2
Because you're going to be dropping the lower legs off the fork in order to access their insides it's always best to begin by removing the fork from your bike all together. Some people may disagree and do this with the fork still on the bike, however I find it a lot easier to do this job when you completely remove the fork from the bike, not only that it gives you a good opportunity to check, clean and re grease your headset bearings and cups. Undo your stem pinch bolts, remove your head set staff angle washer bolt, remove your hose clamp and your front brake calliper then slide your forks out. Before you start, always give your forks a good clean once removed.
Step 3 
Undo your air spring top cap and deflate all the air from the fork by depressing the Schrader valve underneath the cap until completely deflated, you can remove the entire top cap and regrease your volume spacers also, some may argue it is better practice, however, you need a specific tool to remove the entire cap. No stress this task can be done by just removing all the air from the fork.
Step 4
Flip the fork upside down and remove the rebound adjuster cap with a 2.5mm Allen key. Quick tip, when you start removing parts put them in a spot where you can keep them in order and out of the way, so you do not lose them. Once you have removed this cap you will see 2 bolts, one on each bottom side of the fork leg, use a 5mm Allen key to loosen these bolts. Once loose make sure they remain within the thread in the fork leg a few turns for the next step as you do not want to damage the thread.
Give the top of these bolts a gentle tap with your rubber mallet (DON'T USE A METAL HAMMER). Once you unseat the lower fork shaft from the bottom of the fork legs, the forks will literally then slide apart. When you pull the forks apart do it over a rag or container so the internal fork oil can drain.
Step 5
This is the part where you can give your fork a basic service whilst replacing the air spring. Give your upper and lower legs, internal leg bushes, seals and dust wipers a clean with a dry clean rag. Check for any damage to the internals, scratches, damage to the seals, bushings and the like. If they are all good and your forks are clean you can move onto step 6.
Step 6
Use your circlip pliers to remove the circlip from the bottom of your old debonair spring fork leg. Make sure you take your time with this step as the circlip is under a fair bit of tension/will be sitting in there quite tight and so you want to make sure the pliers have a good hold before you apply force. You will notice this circlip sits within a recess in the fork leg; it also has a smooth edge and a sharp edge. Make sure the sharp edge faces towards the bottom of the fork when the circlip is re-installed. Use one of your bolts you removed from the bottom of the fork leg earlier and thread it back into this fork shaft. It will help you grip the fork shaft when you pull the DebonAir spring from the upper fork leg. Grab a clean rag, wrap it around the lower fork shaft and give it a firm pull until the air spring is removed from the upper fork leg. Once completed, remove the bolt from the bottom, check the internals of the upper fork legs for any wear, scratches or marks, if it looks good go to step 7.
Step 7
Grab your new DebonAir spring and apply a liberal amount of suspension specific grease to the new air spring and shaft along with the internal of your fork leg. If you look at the spring it is self-explanatory as to the contact points you will need to lubricate. Once completed gently press your new DebonAir spring into your upper fork leg and re-install the Circlip you removed previously.
Step 8
Grease up your seals and lower fork legs and gently slide your upper fork legs back into your lower fork legs. Once done, make sure your seals are all seated where they should be. If you have a look at the 'silver bolt you removed from your lower fork legs it will have printed on it, 5CC or 10CC, this is the amount of fork oil you will need to put in the bottom of your fork legs to lubricate them.
Do not exceed the amount prescribed as it may damage your fork. In our case we used 10CC of 2.5 weight fork oil; simply fill a syringe with 10CC of fork oil and before you bolt your forks back together use the syringe to fill the fork leg with the oil through the bolt holes in the bottom of the fork.
Step 9
Bolt your fork legs back together, grab your shock pump and pump up the fork to the air pressure setting that suits your weight/riding style. Once done, replace your air spring top cap, give your forks a good clean along with the headset bearings and cups in your bike frame. Then reinstall the fork to the bike, pop in your front wheel, adjust your brakes, tighten your headset, adjust your stem and BAM you're set to shred and feel the performance upgrade that the new DebonAir 2.0 spring delivers to your ride.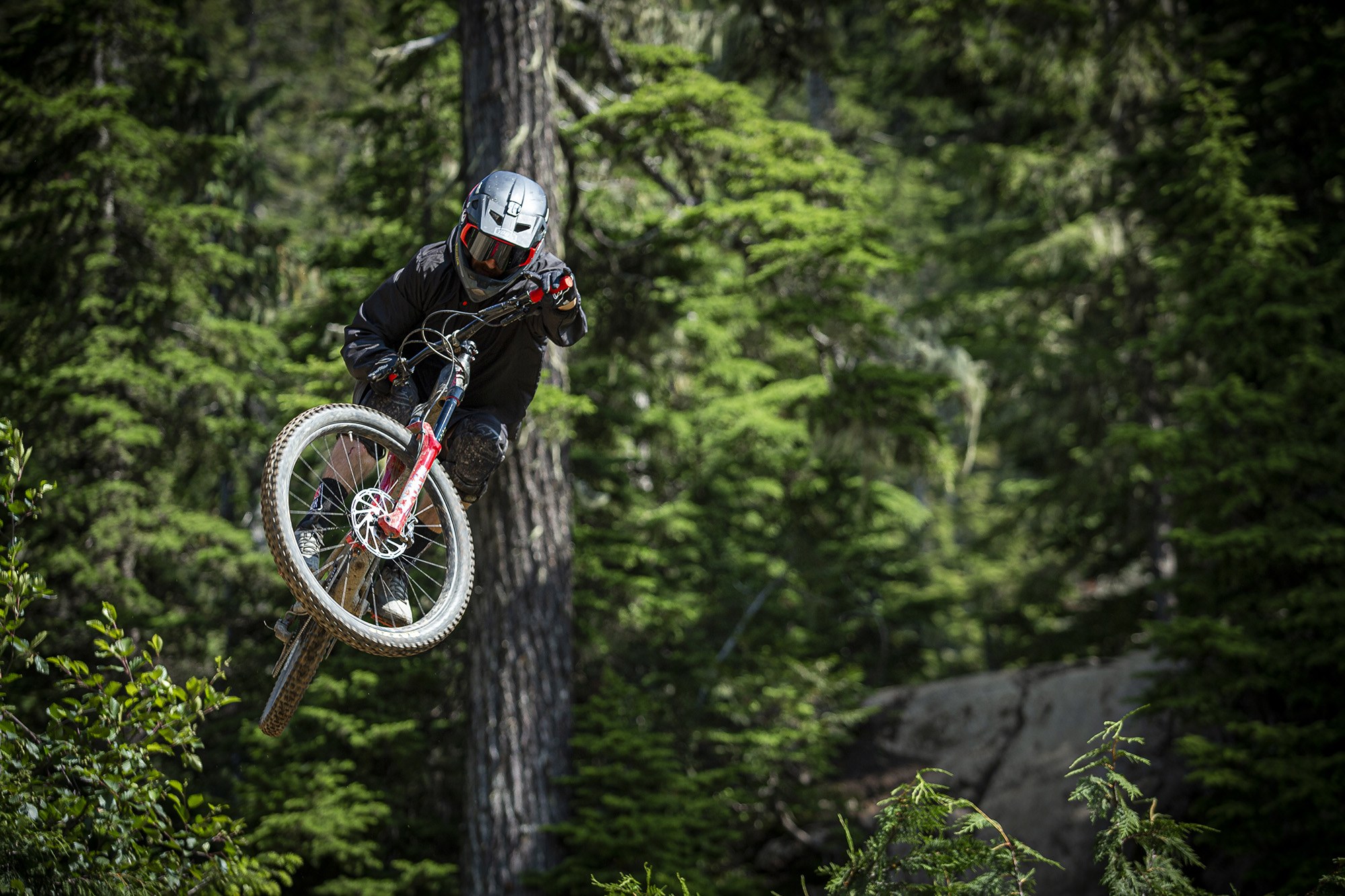 If you're a little unsure about any of the 'steps' that we have explained in this article or if you need a little more confidence to convince you that opening up your forks at home alone is in fact a surprisingly manageable job (don't worry, you've got this buddy!) we would recommend you jump onto YouTube and search RockShox as the SRAM tech's have made some really sweet, high quality, tech films that will step you through a bunch of different maintenance and servicing tutorials – including how to service and fit a Debon Air air spring to your fork. A couple of mechanics I have noticed have a couple of slightly varied ways of how they like to do things but what we've shown you works for us. The best tip we could give you is when you do it, take your time there is no rush. [R]