When it comes to shoes that you wear whilst riding, which attributes are most important when trying to find yourself the perfect pair? Comfort, fancy features, weight, stiffness, coverage, protection, the retention system, or maybe even just their price tag?
If you're anything like us then in reality it's probably going to be a combination of several of those factors which are most important when determining which shoes feel and perform the best? In this group test we're getting down and dirty with 8 of the most promising SPD 'trail' shoes that are currently on the market. Oh and before we go on, yes, there are notable brands that are absent which are Five Ten and Shimano which of course we would have liked to include however timing and logistical issues wouldn't allow. The later because, a little birdy tells me, they're about to revamp their shoes range in a big way, so there wasn't much point featuring a shoe that isn't going to be around much longer. We couldn't get a set of the Five Ten's that we would have liked due to this pesky Covid thing which keeps presenting a real nuisance to global supply chains…
Okay, let's get down to business, or as my toddler constantly runs around yelling at the moment thanks to that song on the radio
let's get down to biscuits!
Fizik GRAVITA TENSOR
Key Details
Tech // Vibram XS EVO rubber sole, Ripstop fabric + TPU reinforcements upper, laces + instep velcro closure.
Weight // 410 grams
Colourways // Stealth black only for Aus.
Sizing // 40-47 Euro
Price // $279.95
Unboxing first impressions:
The Fizik's are easily the most unusual looking shoe of this bunch, but we actually really dig their appearance in the flesh because straight away you can tell that there has been an enormous amount of thought and detail gone into designing these shoes. From the raised padded inner-ankle protection, to their off-set lacing ladder, and from the tall and generously sized injection-moulded TPU armoured toe-box protection through to the use of innovative rip-stop outer fabrics, there can be no-denying that there is a lot of tech going on with this particular pair of riding shoes.
And yeah, they do have a somewhat 'Euro' look about them as well, which is hardly surprising when you consider Fizik are Italian.
Slipping into them for the first time:
When you go to slip the shoe onto your foot you immediately notice a few things; the shoe has a rather slim silhouette void of any unnecessary bulk and you'll also notice that the shoe's opening features a sock like design rather than a traditional floating tongue. The 'fit' of the shoe is snug, but not at all tight, they feel like a second skin. The 'sock' like part of the upper that wraps around your ankle is made of a stretchy padded material, akin to wetsuit material, which lends itself to securely following the form of your foot. For the Tensor, Fizik developed an ergonomic lace-up pattern that cradles the foot and spreads tension evenly throughout the pedal stroke, while the addition of a Powerstrap over the instep secures the shoe. I would say these shoes are very true to size. I usually take a 45 Euro and this 45 Euro feels perfect in length and width. Your foot definitely feels very 'locked in' whilst wearing them, but that shouldn't be confused with feeling tight or uncomfortable, not at all, in fact they provide a very reassuring feel as there's no flopping about in them.
Cleat set-up:
There wasn't much to report on here, fitting the cleats was quick and easy without any dramas. If anything the cleat installation does provide the opportunity to admire the generous pattern of the shoe's Vibram rubber sole.
Overall performance report:
Let's just cut to the chase here, from the moment you slide your foot into these shoes, clip into your pedal and start to ride, you are instantly aware that they're bloody impressive on all fronts! Fit, comfort, functionality, stability on the pedal, sole stiffness, power transfer, armouring and protection, and traction and grip when you have to walk on the trail, the Fizik Gravita Tensor score highly in all of those areas. Given the obviously premium quality of the materials that the shoes are constructed out of I'm confident that they're going to be really durable and long lasting. They're scoring a double thumbs up from us!
Specialized 2FO DH Clip
Key Details
Tech // XPEL™ hydrophobic foam/mesh construction, Stiff Lollipop™ nylon composite plate hidden within the sole, SlipNot™ FG rubber sole (super grippy!) Cushioned EVA foam midsole for comfort.
Weight // 400grams
Colourways // Just this black/red version for Aus.
Sizing // 36-47
Price // $250
Unboxing first impressions:
Compared to previous generations of the ever popular Specialized 2FO DH Clip, the new version that Speshy released a couple of months ago appears to have adopted a 'less is more' approach to its design. Whereby in the past we've seen 2FO DH Clip models featuring bulky rubber accents on the outer sole, raised armouring sections across the upper toes (where your pinkie connects to your foot), and an all-round hefty 'downhill specific' styling, all of that stuff is absent with the latest version. In fact if we're totally honest, there are no obvious visual design clues at all that allude to fact that this is a purebred DH racing shoe. Coupled with the absence of any large or overt branding, the appearance of this shoe would have to be classed as rather low key, which is a welcome trait in the opinion of most riders these days we reckon.
The next thing you'll notice is how nice and light they feel. Which again is something that you wouldn't usually associate with a DH racing product.
That said, a light shoe is always going to be a thousand times better than a much heavier counterpart. When inspecting the shoe in your hands you'll immediately notice the unique materials that have been utilised their construction. Even with the shoe's minimalist design appearance there is no hiding the fact that there has been a lot of technical development gone into them. Feeling around inside of the shoe you'll discover that foam mesh like material has been utilised throughout rather than traditional padding that you find of most riding shoes. As we've seen (and loved) from 2FO shoes in the past, using foam mesh throughout the shoes upper construction rather than traditional padding offers a substantial benefit when the shoes get wet as the foam doesn't absorb water meaning that a wet shoe still weight about the same as a dry shoe. Cool, eh! Another cool thing (literally) about the foam mesh construction is that it lends itself to offering plenty of ventilation and airflow, which is always a plus when the temps rise on hot rides. Other than that you'll notice Specialized have rolled over most of the other well-loved featured from previous models, including the grippy 'Slip Not' sole, and the neat and effective elastic lacers loop located halfway down the tongues outer. The final two key features with these shoes that I dig are the raised asymmetric inner cuff that provides a little extra padding near the inside ankle and a super tough toe box design which performed flawlessly against rock strikes and the like whilst riding.
Slipping into them for the first time:
Ahhh yes there we go, as we'd have hoped these new 2FO's feature Specialized's proprietary 'Body Geometry' inner sole technology. Specialized claim that Body Geometry soles help to achieve all sorts of impressive things, like increasing power transfer, reducing the likelihood of 'pins and needles' whilst riding, and optimizing the angle of foot, knee and hip alignment whilst pedalling, which is said to reduce injury risks. Whilst all of that might be the case, the main thing I notice and like about the Body Geo inner soles is that they feature a raised ridge running down the middle of each footbed, essentially giving you nice arch support. When I removed the inner sole and inspected it I noticed that it now features a cool honeycomb construction, but to be honest you can't actually feel that underfoot, it just feels smooth and comfortable like a regular inner sole. I would say these shoes are nice and true to size. The 'fit' of the shoe around your foot feels a little more on the casual side rather than snug like a slipper. Their simple and traditional lacing system does a good job and holding the shoe in place on your foot and I didn't find the laces 'coming loose' mid ride which is always a plus. The sole of the 2FO DH Clip is relatively stiff for a DH oriented shoe and I found that when riding they seem to transfer power well and offer good support and comfort.
Cleat set-up:
The 2FO Clip features a generous cleat mounting slot that provides plenty of room for a more rearward cleat position. That said, if you're anything like me, after I first install cleats on a pair of new shoes I like to just 'set and forget' them. Unless I've done something wacky like set a cleat up on a major angle, or a cleat manages to work its way loose over time, there's probably no chance I'll be reaching for a 4mm allen key to fiddle with the cleats on a rainy day!
Overall performance report:
The previous gen 2FO DH won hands down in last year's SPD shoe group test and in my opinion Specialized have managed to go and raise the bar just that little bit higher in all areas with the design and refinement of this latest version. Their performance strikes a great balance between weight, stiffness, and protection for a lot of relatively gravity-oriented riding.
Unparallel UP LINK
Details:
Tech // Breathable synthetic TPU leather, dual compound rubber outsole, internal cleat fasteners, perforated tongue, lace closure with Velcro strap and EVA midsole
Weight // 442grams
Colourway // As seen here.
Sizing // 7US-14US
Price // $269.95
Unboxing first impressions:
Unparallel are the new kids on the block in the MTB shoe world. Long story short, when Adidas moved in and bought Five Ten a handful of their staff walked and started their own brand and here we have 'em. This is the first set if Unparallel's that we've played with here at [R] and they've proven themselves to be a pretty impressive starting point. When I grabbed these shoes out of the box the first thing I noticed was actually their soles. "hold on a minute, these look a little familiar?" A few years ago Teva entered the MTB shoe market for a couple of seasons and they created a shoe called the 'Pivot' which was my absolute hands down favourite SPD at the time.
One the features that set those shoes apart was their rather unique design of their soles, and so when Teva decided to jump out of the bike market all of a sudden, the crew that were starting up Unparallel purchased the sole moulds off of Teva and that way in an instant the new brand were already halfway to creating their 'new' shoe range.
Perhaps a little ironically the upper of the Unparallel showcases some design cues that are rather similar to some Five Ten models that we've seen in the past. The entire front half of the shoe features an impressive one-piece synthetic TPU leather panel with a full wrapping toe box armouring section. Overall the hand feel and finish quality of the Up Links gets a nod of approval from us.
Slipping into them for the first time:
The 'fit' of these shoes feel nice and comfortable, especially around the heal where there's plenty of padding. The combination of a traditional laces, a foam padded tongue and a generously sized Velcro fastening strap provides ample 'lock down' ensuring that shoe remains secure and in place throughout your ride. The Up Link's do feel a little more on the roomy side in terms of that sense of snugness on your foot than a lot of the other shoes in this feature seem to offer. I would say they're sizing is a touch on the generous side so it might be worth considering opting for half a size smaller than usual.
Overall performance report:
I love an ambitious product performance claim from a brand as much as the next person, and when I read that Unparallel had somehow built "virtually damping suspension" into the Up Link's rubber sole, I'll admit to rolling my eyes. However, one trail test is worth a thousand expert opinions I guess and when I did get out for that first ride with the Unparallel's on my feet I would actually have to agree that the 'feedback' and 'feel' from the shoes sole when you're navigating chattery sections of trail is remarkable smooth. When you're wearing these shoes your feet are being housed in a plush environment for sure. I also quite like the balanced stiffness of the shoe's plank within the sole. They're comfortable to walk around in with just enough flex, yet they're still stiff enough to offer great power transfer back to the rear wheel when you're cranking on the pedals. Given that we're talking about a new brand here and these are their debut MTB clipless shoes, I would say that Unparallel have proven themselves as a worthy addition to any riders shopping list when you're on the hunt for a fresh set of kicks. Keen to see what the future holds for these guys too.
Crankbrothers Mallet Boa
Details
Tech // Boa dial plus Velcro fastening strap, extra-long ramped cleat box, soft 'MC1' rubber sole, reinforced toe box, padded tongue.
Weight // 395grams
Colourways // Black
Sizing // 7US – 14US
Price // $330.00
Unboxing first impressions:
When Crankborthers announced earlier this year that they were launching a shoe range I was curious as the next person. In my experience and opinion Crankborthers components have always been reserved for the top shelf, showcasing really unique design and extremely impressive finishes. But making cool shit out of metal is worlds apart from dealing with soft materials and fabrics, so I wondered how the brand would fair in turning their attention to footwear? Turns out I need not have worried. When I first lifted these Mallet's out of their box it was immediately apparent that they were 'the real deal'. If first impressions are to be judged then these scored a 10.
They feel so well put together. Seamless and soft, rubbery and smooth. And of course the stealth black styling with those little gold accents is straight up epic.
Crankbrothers came out of the gates charging, hitting the market with 3 different SPD models. The Mallet Boa's as featured here are the brands top tier model and one thing to note straight off the bat, they're not cheap, in fact they're the most expensive pair of kicks featured in this article by quite a long way… Okay, okay, Crankborthers' debut into footwear now had my full attention and I couldn't wait to find out if they performed on foot as well as they looked and felt in the hands.
Slipping into them for the first time:
Whilst their fit feels true to the size listed on the packet, the actual 'fit feel' of the shoe whilst on your foot feels nice and supporting. Snug but not with any excessive pressure in any one area. One of the best assets of the Mallet Boa is the superb comfort combined with 360º foot stability. The Boa is quick and effortless to tighten, yet eliminates hot spots across the foot, while the Velcro strap, deep heel cup with rubberised grippers further ensure the shoe is completely stable. Whilst they're not the lightest shoe on test they're not heavy either. The Mallet's strike a good balance in that regard.
Overall performance report:
I should probably clear something up here; Sure, a brand with a strong history of making clipless pedals deciding to create a shoe to go with 'said' pedals must seem like a match made in heaven, and maybe it would be. However I wouldn't know because to be totally honest I've never been a fan of Crankbrothers pedals (don't get me wrong, they're beautifully made pedals, I just don't like the floaty feel whilst your clipped in and their lack of adjustment). So I never actually tried matching these shoes with a set of Crankbrothers pedals, instead I opted for a set of my favourite HT's and the pairing performed really well. The interface created by the cleat position, the shoe's sole and the pedal's platform felt predictable and always easy to clip in and out. The shoe itself feels tremendously supportive whilst you're riding and very comfortable. The Mallet's are perhaps a touch on the bulky side however that just gives them a bit more of a 'DH / Enduro' look, which I dig. Whilst in this article we're not actually handing out awards or stating that any of these shoes are the best in class, if we were then the Crankborthers Mallet Boa's would be standing somewhere on that podium for sure.
Giant LINE
Details
Tech // Seamless hydrophobic material upper, Fully integrated nylon/glass fibre MES ExoBeam midsole plate, QuickFit upper with updated one buckle and two hook-and-loop straps for on-the-fly adjustments, Aggressive full-coverage rubber tread, Rubber toe box armouring, Removable single-density ErgoComfort Insoles, and a sweet new stealthy grey and black colourway (as seen here!)
Weight // 415grams
Colourways // Grey 'n Black
Sizing // 40EU – 48EU
Price // $199.95
Unboxing first impressions:
I think these are my 3rd or maybe even 4th pair of these shoes!? Okay so let me start this review by stating that I really am a 'shoe guy' and I enjoy an extensive collection of riding shoes out in my garage from a ton of different brands, and for a long time these humble 'kicks from Giant have remained at the very top of my 'go to list' when I am heading off to the trails. They are quite literally packed with features and tech. Let me give you the run down; They've got something Giant call 'Exo Wrap' which is a unique foot enclosure system with optimised support and 360 degree fit for all foot shapes. 'Quick Fit Upper' a 1-piece material upper construction which provides excellent enhanced comfort and ventilation. A ratchet buckle system with two hook-and-loop straps for simple on-the-fly adjustments. 'Exo Beam', Giant's unique designed midsole plate combines and engineered flex zones for enhanced power transfer, better stability and traction on rough terrain. 'Exo Flex' works in conjunction with 'Exo Beam' allowing the natural flex of the human foot whilst maintaining optimal and consistent power transfer to the pedals/cranks/rear wheel. The shoe's toe box protection and wide, full-coverage rubber tread design lead to excellent traction and stability while also protecting the rider's foot from trail elements. Alright, so the 'Trail' is a quintessential example of a cutting edge modern day enduro shoe, all be it with a slightly more 'XC' silhouette rather than a lot of the 'skate' style kicks we've got featured in this spread.
These Line shoes boast a blend of cross country power and performance, blurred with the protection benefits and comfort of a gravity specific footwear.
Slipping into them for the first time:
It has to be said that the Line's ratchet buckle and pair of generously sized Velcro straps make this shoe exceptionally quick and easy to 'put on'. The ratchet then offers micro adjustment for a fine tune fit, even whilst you're pedalling. Giant have utilized a great, no fuss, system with these shoes.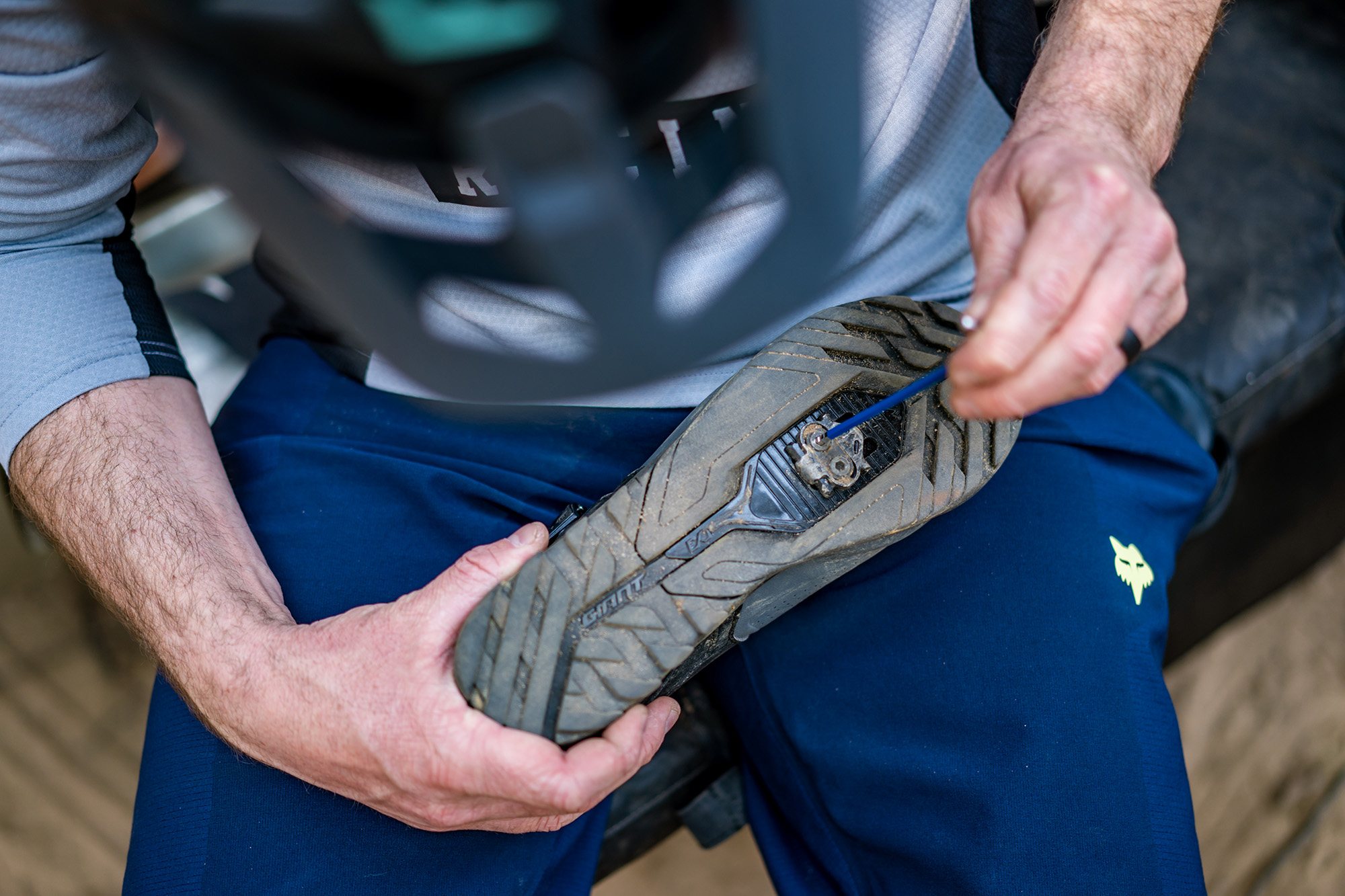 Cleat set-up:
The 'Line' shoe features a generously sized cleat channel which makes installing and aligning a fresh set of cleats a breeze. There's not a lot more to report on here other than it was a case of 'set and forget' after the cleats were first install through to the end of the review (around 8 weeks in duration throughout winter).
Overall performance report:
As you've probably gathered by now, I am a big fan of the feel and performance of the Giant Line shoes. They've been really well designed and so their function is right up there with the best. Their construction is spot on, which has led to the shoe having great durability (no significant signs of wear and tear) and we've been riding most days for a couple of months now. We also like the fact that they don't have a massive logo or branding, which will no doubt make them appealing to a lot more riders (that might not ride a Giant) which we think is a good thing as these shoes are awesome. They're the total package. If you try a set on, we reckon there's a 99.9% chance you'll love them straight away.
ION RASCAL AMP
Details
Tech // Kevlar up with bonded toe cup armouring, 'Sup Traction Rubber' Sole CL with reinforced shank, Rubberized heel cap, lace and velcro closure system, raised inner ankle protection.
Weight // 440grams
Colourways // White (as seen here) or Black
Sizing // 42EU – 47EU
Price // $269.95
Unboxing first impressions:
In the hands the shape and design of these shoes feels really ergonomic and well put together. There's clearly a lot of tech going on with the various materials that make up the shoes upper sections, particularly the pronounced reinforced toe cap and rubberized heel cap. The shoe's EVA midsole, feels nice and soft in the hands and I can imagine it'll add plenty of extra padding and comfort under foot. Turn the shoe upside down and you'll notice a rubber sole that features a very pronounced lugs which lead me to think that the Rascal AMP's are going to provide plenty of traction for 'hiker biking'. Personally I really dig the white, black and tan colourway as it's super unusual, however if it's not quite your cup of tea you'll be pleased to know that Ion also offer this shoe in a full stealth black version as well.
Slipping into them for the first time:
Of course feet come in all shapes and sizes, however when I put these shoes on for the first time they instantly felt perfect. Akin to sliding into Cinderella's slipper! Ion have absolutely nailed the fit of Rascal AMP's and I would say that they are the most comfortable pair of shoes in this entire article. As I had predicted, that EVA midsole does a great job of cushioning and helping to absorb impacts, they feel lovely and plush when walking and when riding. Effectively whenever you're supporting your body weight through your feet these shoes make you feel lighter than you actually are. The closure system works really well too, once that Velcro strap is adjusted the first time you put each shoe on, they aren't moving anywhere all ride long. The raised inner ankle protection is a nice touch as well.
Overall performance report:
If you favour the look of a 'skate' style SPD shoe then the iON's are hard to go past in terms of pure performance, features and all day comfort. Whilst I've only been wearing these shoes for the past month or so, they have been on quite a few long rides as well as two rather memorable 'mud fest' out things, and they've showing next to no real signs of wear or tear. That being the case, with their durability being 'right up there on the charts' I would imagine a pair of Rascal AMP's will last most riders at least a couple of seasons.
Bontrager RALLY
Details
Tech // Synthetic leather upper, reinforced and abrasion-resistant toe and heel caps, EVA midsole,  laces w' a large Velcro fastening strap.
Weight // 440grams
Colourways // Black, Navy, Olive green.
Sizing // 36EU – 48EU
Price // $249.95
Unboxing first impressions:
For whatever reason these were the one set of shoes that I was most looking forward to checking out when we were putting this article together and I am pleased to say when I first pulled them out of the box the Rally's did not disappoint! Bontrager is the P&A department of Trek Bikes and their gear has a strong reputation of quality. Right away these shoe's felt lovely in the hands. The synthetic leather material that Bontrager have used for the shoes upper features a special coating which feels nice and rubbery and apparently does a great job of keeping water and mud out. In terms of their shape, the Rally's exude all of the right proportions.
They're not too chunky but still clearly aimed at the gravity crowd.
Right away you can tell that these shoes have been well constructed utilising premium materials throughout. They've got a nice overall weight to them and their sole is a mix of heavy texture on the toe and heel with a smooth, waffle-like surface in the pedal contact area.
Slipping into them for the first time:
The Rally's fit true to size and boast loads of padded comfort. Similar to the ION's the Rally's feature an awesome shock-absorbing EVA midsole, making the shoe feel really plush and controlled. Bontrager have opted for a traditional lacing system which is then 'locked in place' via a large hook-and-loop Velcro strap which makes the shoe feel lovely and firm and secure whilst you're blasting along the trials. Stiffness wise the shoe's shank feels especially compliant and does not restrict walking at all.
Overall performance report:
As with all of the shoe models that we picked for this group review the Rally's are focused towards gravity riding rather than belting out climbing laps of an XC course. That being the case, the Rally's aren't the stiffest SPD shoe we've ever pedalled in, however they still provide a nice and efficient, as well as a predictable 'connected' feeling to your pedals. And thanks to their generous sole size, even if you do get unclipped in a section there still plenty of 'meat' to hold you up on to the platform of the pedals until you're able to clip back in. All in all the Rally's have proven themselves to be great 'all round' performers. Loads of comfort, nice and user friendly, cool looking styling and pretty good value for money.
Afton Vectal 2.0
Details
Tech // 'Intact' gum rubber sole, Internal toe reinforcement PU wraps above entire toe box, oversized 'clip box' on the underside of the soles, large 'Pull to tighten' fastening strap, mid height ankle protection, thick Ortholit insole and tons and tons of padding around the inner heel area.
Weight // 510 grams.
Colourways // Black red, black white, black gum.
Sizing // 7-13US
Price // $179.95
Unboxing first impressions:
Straight up these shoes look super cool! With their gum sole and glossy black upper, and an all-round chunky 'gravity skate' appearance, they look super casual and for all of those reasons we know that they'll definitely appeal to a lot of riders out there. To be fair the Afton's don't seem like the most modern shoe we've ever seen. But we kind of dig that they're not going for a space age look or feel. In fact, if you told us that these shoes were released 10 years ago and just stayed in Afton's range unchanged for a decade we wouldn't have been surprised. However that clearly isn't the case as the brand has only been around since 2017 and these new Vectal 2.0's only debuted a few months back.
Whilst they're not a 'mid top' these shoes do feature taller coverage than most shoes on test, which will be sure to provide a little increased protection.
Slipping into them for the first time:
Featuring by far the most inner padding of any shoe in this review, the Vectal's are a tight squeeze to get on. When picking your size I would recommend you opt for a full size larger than you usually would, and even then these puppies are going to feel pretty snug until they 'bed in' after a few rides. That said, once you do find the right size the Vectals are comfortable AF! Whilst these shoes sure as hell aren't the lightest shoes on test the stiffness of their chunky gum rubber sole will give every other shoe a run for their money. The shoe's lacing system and bulky fastening strap hold the shoe nicely in place, they certainly don't feel like they'll be going anywhere after you put them on and do them up. Power transfer to the rear felt good, however given that the shoes have such a stiff sole I did sometimes find them a little less predictable to navigate in and out of the pedals due to the fact there's isn't a lot of 'give back' feel as the shoes stiffness mutes all of those subtle sensations that you get with a lot of other clipless shoes. The materials used throughout the shoe are anti-microbial but do hold moisture so they don't dry out as quick as some other shoes on the market.
Overall performance report:
If you're a fan of 'ol school' punk rock skate style SPD shoes like Vans used to make back in the day, then you're going to love this latest model from Afton. Rest assured the Vectal 2.0 do offer loads of modern day shoe tech though. And one thing we'll point out is that these shoes definitely represent great value for money! Retailing for $179.95, that's nearly half the price of the most expensive shoe in this review (The Crankbrothers) and around $100 cheaper than the average price – and that's impressive! [R]