WHEN I FIRST OPENED THE EMAIL CONTAINING THE PHOTOS OF THIS BIKE, I SWEAR I NEARLY SPAT THE MOUTH FULL OF COFFEE I WAS SLURPING AT THE TIME ALL OVER MY COMPUTER! SERIOUSLY, WTF, IS THIS NOT THE MOST INSANE PAINT JOB YOU'VE EVER SEEN?
This fine machine belongs to a good friend of [R]evolution Mag, Nate Riffle (ex. World Cup DH shredder, ex. Product manager at some of the industry's biggest brands, now full time beer maker and life connoisseur). For a while he had been dreaming of the 'ultimate' custom paint job and finally one day the moons aligned when he teamed up with one of North America's most skilled painters, and together they brought this masterpiece to life. We caught up with Nate (between making beers) to learn more.
[R]: Where do we even begin with talking about this creation… I guess, where did your inspiration for the bike's concept originate?
Nate: The inspiration for this project, it honestly came from skimming the  'the gram' during a work meeting, looking busy and all… I spotted a helmet that AirTrix was painting for Ken Roczen, and I lost my mind over it! It was an awesome patina open face moto helmet. So, I screen grabbed it, walked over to Swiz (who I barely knew at this point) "hey can you do this? I want this…sweet, so you should figure out how to do this." Then after that I spent a bunch of time creeping the internet for photos of cool patina'd old show trucks and beetles that we could us for reference. Swiz clearly took it and ran with it.
Who painted it and brought this thing to life?
The painter, he's kind of a mythical person called Brian Szykowny (aka Swiz). He is one of those people that you meet that immediately humbles you because he has more talent in his pinky than most wish they could have. Graphic designer, industrial designer, painter but all around good human. I had seen some of the stuff Swiz was capable of doing and I remember walking up to him not long after I worked there (two years or so ago) and said "hey, do you think you could do patina? If you think you can, maybe we can talk about something" Ha…not really, but kind of. After that I just dug into "the gram" to find the sickest old trucks and bugs that we've patina-d and just bombarded his inbox, Instagram and text messages with ideas. He took it, ran with it and absolutely crushed it. To check out more of his killer work head over to his Instagram handle: @swiznooski
Being such an ambitious concept in the first place, were you even sure if the finished effect would be possible? 
Nate:  To be totally honest I didn't know it was going to turn out this good! I had no doubt it was going to be awesome. But this exceeded expectations.
Tell us a bit about the paint that has been used to create this work of art… we heard that the 'rust' looking parts even smell like rust? Bullshit!? 
No, that's real shit. It IS rust. Swiz is a mad scientist. He has a paint that has iron dust suspended in it, so he lays that down, sprays it with some secret chemical, waits a few hours and nada, you have real rusty stuff. He did his whole road bike in it. It's wild.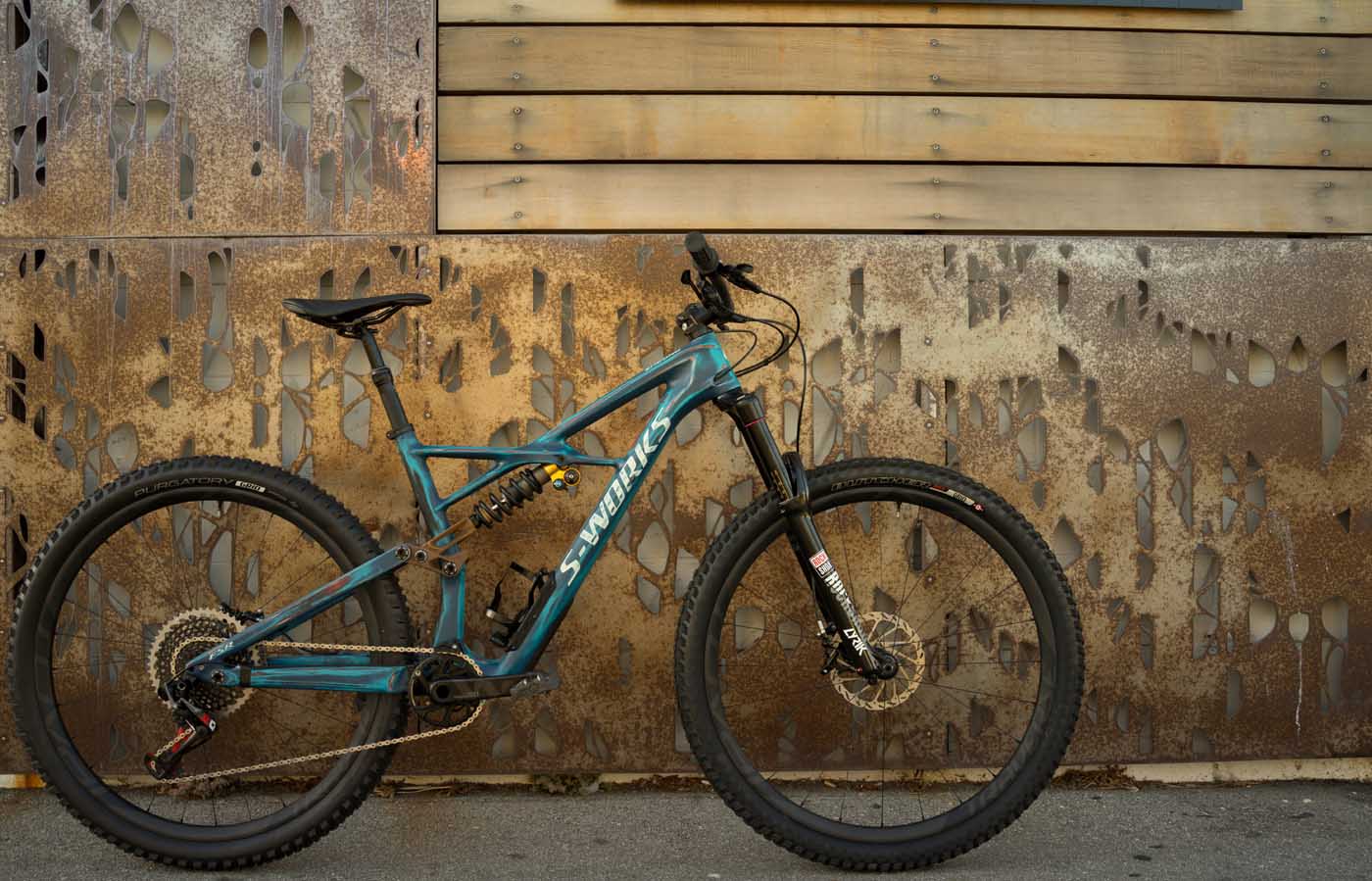 "Swiz is a mad scientist. He has a paint that has iron dust suspended in it, so he lays that down, sprays it with some secret chemical, waits a few hours and nada, you have real rusty stuff."
What's your single favourite part of the paint job? 
Hard to pick a favourite part, honestly. The whole thing is insane, the pictures don't do it justice with all of the layering and details. It's nuts. The links are pretty sick though.
Tell us a bit about the decals and the effect that you've managed to achieve? 
There is no decals on this thing. Swiz painted everything. There are seven layers of paint to make this thing a reality. He had a serious vision on how to do it and make it look exactly how I wanted.
Timeframe wise, how long are we talking here from start to finish for this project? 
That's top secret information. He did the work quicker than you'd think. But it had been sanded and waiting for its special date with Swiz for nine months. He's a busy guy and I had a broken wrist too, so it was almost better that he did it when he was ready to knock that shit outta' the park!
The actual bike/frame is pretty custom too, eh? You took an 'off the shelf' Specialized Enduro 29 frame and then… go? (Tell us a bit about the 'geo figures, travel, etc.) 
Yeah, so the frame is stock, outside of paint…I know, 'Captain Obvious, reporting for duty'. But then I got together with Brad Benedict who has been a suspension guy and now product manager at Specialized for a long time. He had something like this a while back and I thought it was the sickest thing ever. A stiff, longish, low, slack 29 bike. Back to business, he custom made me a rear shock that has 145mm of travel and a shorter E2E, then the fork is shorter than normal at 150mm. So the bike is low, has a 66′ HA and the good looks of the Enduro. It's sweet. Real sweet.
I guess the final question has to be, how does she ride? 
Well, she rides as good as she looks. Better. It's my favourite Specialized bike. No question. It's the bike they should've made. It's snappy into and out of corners, stable and smashes with the big wheels. It's pretty fuggin awesome. Honestly.