What does the RockShox brand represent in the world of mountain bike racing?
American great, Greg Herbold, won the 1st ever Downhill World Championships back in 1990 with a set of RockShox RS-1 forks (the first suspension fork they ever made) on the front of his bike and the company has been dominating the race scene ever since. 
In 1998 the company produced the first production BoXXer, a triple-clamp design fork specifically for downhill racing. The second that fork hit the dealers floors it was an overnight success and the fork continued on the tradition ever since. 20 years down the trail, today the latest generation BoXXer is being offered to customers all across the world. For this reason, BoXXer is in fact the longest continually running production suspension model from any brand in the history of MTB. The mighty BoXXer also holds the crown as the most winningest fork ever made, with countless World Cup and World Championship victories under its belt.
To commemorate RockShox and the BoXXer's milestone this issue we wanted to do something extra special. So, we'll be taking you behind the scenes for an exclusive look at the fork's timeline of progression through the years. We also sat down for an in-depth chat with Mr Rock Shox BoXXer himself, Jon Cancellier, the guy that has had more to do with developing the fork and helping it win countless championships than anybody else. And for a rider's unique perspective we catch up with Troy Brosnan who has raced with BoXXers at every single race throughout his entire career.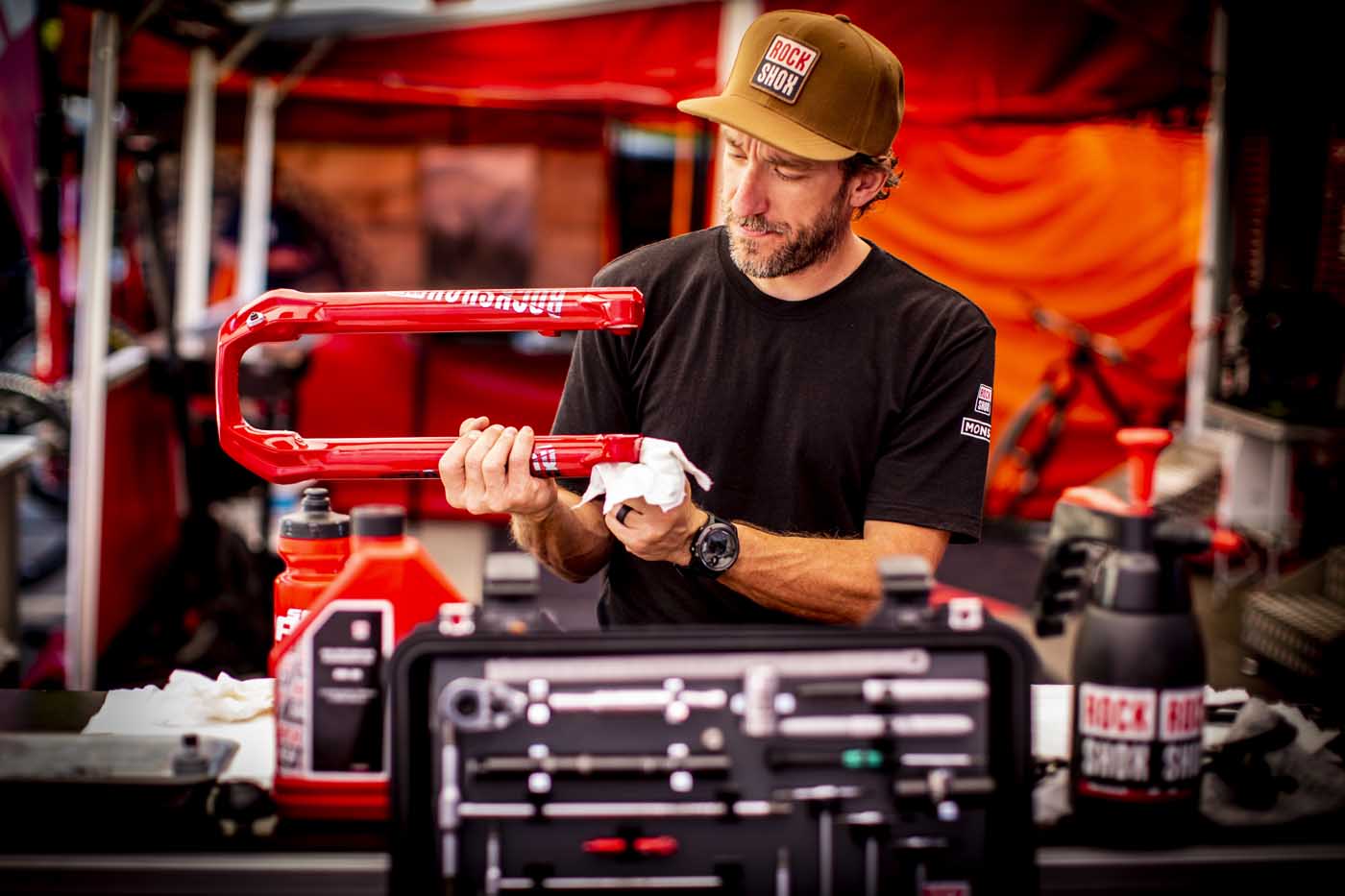 An audience with 'Mr BoXXer' Jon Cancellier
First of all, thank you for taking the time to talk with us today Jon. Let's start with a little about your own backstory. For a number of years you lived on the race circuit as the man that headed up RockShox exclusive BlackBox program. For readers that might not be familiar with BlackBox could you start by filling us in with some insight into what that program was all about?
BlackBox was built to provide products for the best of the best. The goal of the program was always to give our racers any edge possible, whether that be custom product only available to BlackBox athletes or just having access to that next level of tuning. If you were a part of the program, we would go above and beyond to help you win.
For over 20 years the BoXXer fork has been setting the benchmark in DH racing. As a brand, what does the BoXXer fork represent for you guys?
BoXXer is a key product for us for sure. Your DH fork is your Formula 1 product if you want to think of it that way and it's always fun to work on a new one and throw all of the technology from the brand behind it.
And so is it fair to say that the BoXXer fork was born as a direct result of the BlackBox program and your riders needs?
Absolutely. We are always learning from and listening to our athletes. We want to make the best product possible and our BlackBox athletes are always a part of that process. With DH, you absolutely talk to the fastest guys and girls in the world and see what we can do to help them go faster.
Back in the heyday of DH racing towards the end of the 90's and through the 00's RockShox sponsored a heap of race teams and individual pro riders, but only a very, very small handful of riders were extended the opportunity to be a part of the BlackBox program, right?
Oh yeah. There's no easy way to get on the BlackBox Program, you have to be selected to be a part of it. It's an elite group of riders for sure.
Am I right in thinking that back then, back 'in the day' BlackBox items were so exclusive that even those riders that were lucky enough to race them weren't allowed to take them home between races? BlackBox forks and shocks were essentially held under lock and key?
In the early days, yes. As the years went on, we let riders keep the product but only for the race season. We try to get all the BlackBox stuff back at the end of the year, so we can tear it back down and really see how it all survived a race season.
As an outside observer it kind of seemed back then that you guys came to a point where the production suspension units you guys were producing were so good, around the time that RockShox introduced the 'World Cup' range, that even your top guys weren't running prototype parts anymore and everyone was on off the shelf units. What changed?
Well, RockShox changed. We had learned so much from making this BlackBox product over the years that we started producing super high-level product for the consumer. We always tune specifically for our athletes when we need to, but our stock product is at a level right now that you can take it out of the box and go race a World Cup.
Back around that time, the early 2000's, most frame manufacturers and suspension brands were focusing quite heavily on increasing the amount of travel that forks and rear ends could deliver. Several brands pushed the envelope well beyond 200mm of travel, almost like they were racing each other to the bottom, however you guys got to 8" and it has stayed the same ever since. Tell us a bit about how you experimented with travel and how you came to settle with 200mm?
200mm has always felt like the sweet spot. It allows us a great balance of strength, weight and stiffness. Plus, when the fastest guys in the world tell you 200mm is enough, you listen.
We touched on earlier the fact that for every production fork to hit the market dozens and dozens of prototypes were built and tested. Arguably the most interesting of those BoXXer prototypes would have to be the upside down version that you guys experimented with. Tell us a bit about that fork?
Ah yes, the upside-down DH fork…Rocky was the project name. It was a study to see what we could do but we never got it where we wanted ride quality wise. It was too early for us, but I think if we looked at it again now we would go ahead and dial in the ride based on what we have learned from RS-1. At the end of the day though, we and our athletes like the ride of the conventional fork and that's been our direction ever since for DH.
So, let's talk about some of the most significant technology advancements throughout the BoXXer's history as far as the production forks have gone. The first time an airspring was introduced to the production BoXXer was back in 2008 which shredded a heap of weight from the fork and made the front end of the bike dramatically lighter. How big was that for you guys?
That's a big one. Being able to tune your spring with just a shock pump vs different rates of coil spring is huge! 
Even nowadays there's a lot of riders out there that are diehard fans wanting coil spring suspension on their bikes. In recent years you've kept that crew happy with offering a spring option in the line up alongside the air options, however this years BoXXer has gone exclusively airsprung. Tell us a bit about that?
My plan was never to not offer a coil fork, but rather to design an air spring that had a coil-like feel but still offered the tunability of air. The team delivered and now I feel we truly have the best attributes of both springs and the coil option didn't seem necessary. 
We've been talking a lot about BoXXer having been around for over 20 years, but perhaps a lesser known, or recognised, milestone of BoXXer is that for the past 10 years the fork has featured 35mm stanchions. That was a big shift for you guys back in 2008, and the fact that the size remains unchanged surely goes to show that you guys got it right. You're thoughts?
Yeah, we talked long and hard about what size upper tube the new BoXXer should have, but at the end of the day it all comes down to ride quality. We can make a DH fork with 35mm upper tunes that has some forgiveness built in, right? It allows the fork to kind of find its own way down the trail and track the line better. Bigger and stiffer isn't always better in these cases.
You guys first introduced the original version of your Charger Damper into the BoXXer range back in 2015. The 'new' BoXXer features the latest version Charger 2 damper which you then upped the ante even further by teaming it with your 'DebonAir' tech, and the results are a fork that literally has zero feeling of friction at any point in its travel. Smooth as butter! How does it all work?
Well it's the combination of the two that makes the magic. With DebonAir we have a DH tune spring with our largest negative air volume. This gives it that coil-like ride. We also have a very low friction air spring that keeps the fork supple all the time. With the new Charger 2 RC2, we give the rider more control, allowing both LSC and HSC adjustments. Our athletes were asking for that level of control over their forks, so it made sense to bring it to BoXXer as well as the new Lyrik.
I remember traveling to Queenstown back in 2014 for the 'then' new BoXXer launch when you first introduce the 27.5" wheel size version. 26" was still the 'go to' wheel size for DH back then and I remember a bunch of us journo's we tripping out the first time we rode the big wheeled test bikes you guys had. Obviously now there's an even bigger wheel size in the offering, we'll touch more on that shortly, I guess my question here though is was it a challenge back then getting people to  open up to the idea of larger wheels for DH? Like, did it take a couple of production seasons for the public to embrace it?
Ha, I was actually shocked by how quickly 27.5 took over. It was basically overnight. I remember World Champs in S Africa and everyone was scrambling to get 27.5 DH bikes ready and it just happened so fast. Production bikes follow race bikes, so as soon as the 27.5 wave was coming the 27.5 bikes came out fast.
I guess when we look back on the generation of BoXXer that you've just launched one of the milestone moments of the fork will no doubt be remembered as the time BoXXer went to 29'er. Yes, we're seeing a handful of World Cup riders opting for 29 wheels at the moment, but for you guys to offer that size as production you must really believe that 29 for DH is for everyone, eh?
No, I still believe there is a place for both wheel sizes. Almost 3 years ago now, we knew 29" DH was going to be a thing, so we needed to be ready but 27.5 isn't going anywhere. Just look at the race results: 27.5 and 29 battle it out every weekend!
So, long story short, the new BoXXer is available in either 27.5" or 29". Okay, dare I ask the question that I'm sure a lot of people reading this, at least those from the 'old school', do you guys as a brand feel that we need to accept that 26" is now dead?
For us at an OE level, it is. Brands just aren't building 26" bikes any more. We need to develop product for the bikes that are being sold. That being said, we still offer the previous generation 26" BoXXer World Cups for sale so if someone has a 26" bike they still have options.
Okay let's change track, another of the big 'trends' right now in suspension forks is the wheel offset amount and angle. With that said, perhaps not surprisingly both sizes of the new fork, 27.5" and 29'er, feature very different offset numbers, can you explain the science behind that?
We always have different offsets for different wheel sizes. It's all about optimizing the trail number. Again, these numbers were a direct result of working with our OE partners and our athletes to dial in the correct amount of offset.
One thing I've really noticed about this new BoXXer is that there is a really definitive, noticeable, change to the feeling of the fork when you turn the adjustment nobs and play around with the settings. Obviously, that is the point of having adjustment knobs, and I don't want this to sound stupid for that reason, however in the past with other forks when you turn those dials its often pretty bloody hard to actually notice a difference. Would you agree with that?
We made the conscious effort to reduce the number of clicks and allow riders to find the right setting faster. No sense in having 30 clicks of adjustment if no one can feel the difference or even know when to make the change. 
I think we definitely need to shine the spotlight on the crowns that the new fork comes with. Wowzers, when you see them in the flesh they captivate your attention with their detail and all that machining. So sick. Tell us a bit about those bad boys?
We went into this fork project and the first thing I said was, I want crowns that look like aftermarket moto crowns! Something different, something edgy. They are my favourite part of the new BoXXer for sure!
What are some of the other key highlights that you and your team have built into the new fork, in terms of the feeling that the rider is going to experience out on the trail?
I think most riders will notice how supple the fork is while still providing good support. It tracks the ground so well but holds you up in big holes and steeps. It also has a very comfortable, controlled ride. You don't have to man handle it to get it to hold the line. It just gets in there and gets the job done!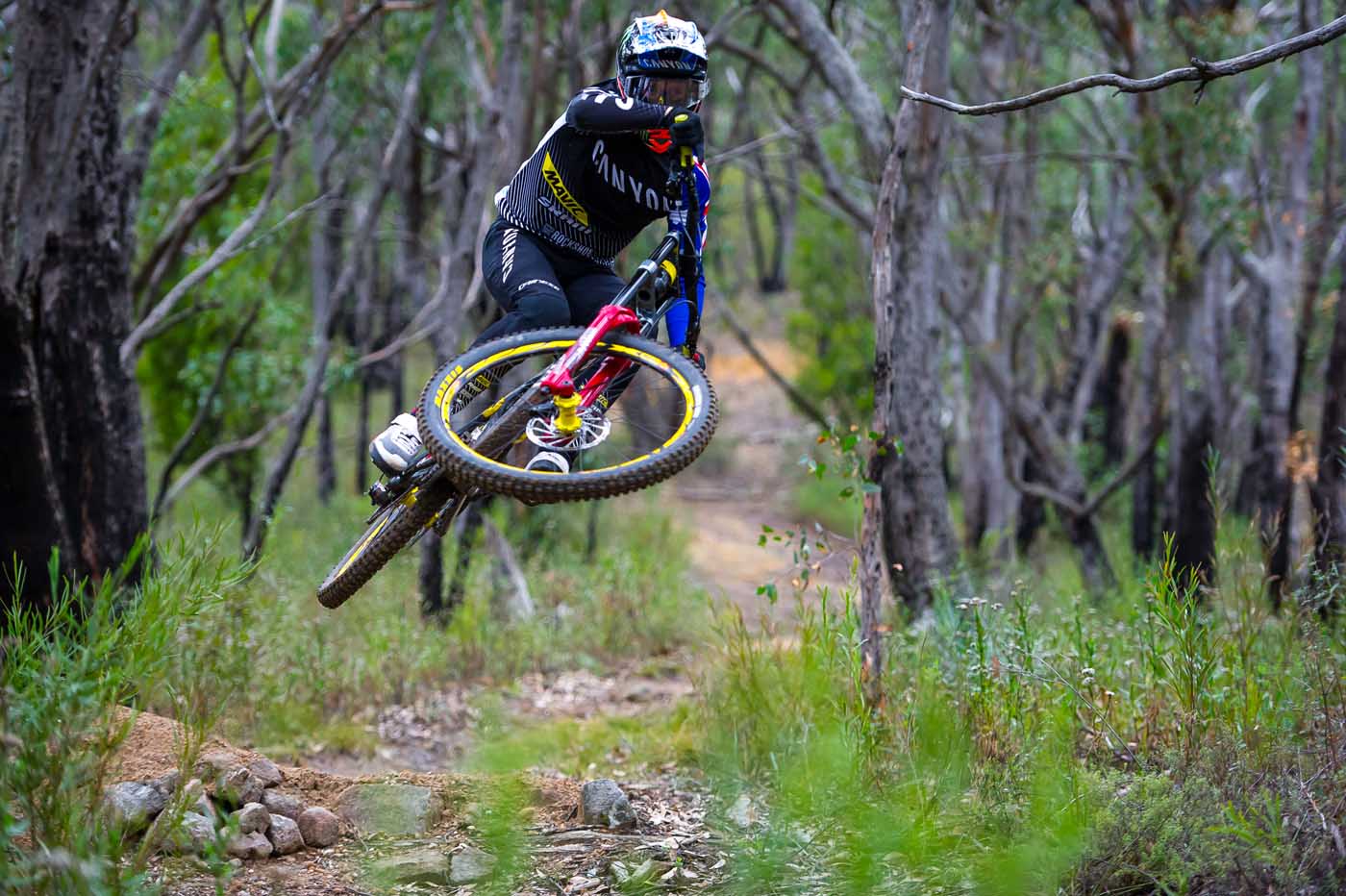 Troy Brosnan discusses his career on BoXXer
We've spent some time scouring through the history books and would we be right in stating that you have exclusively raced RockShox BoXXers since the very beginning of your career?  
Yes that is right, since the start of my World Cup racing career I have only been on Rockshox Boxxers and tend to keep it that way for the rest of my career as well!
Close your eyes and think for a second about that feeling when you're at full speed pinning down a racetrack, now, can you try and describe how the latest generation BoXXer forks on the front of your bike are performing?
Ha, well if I did close my eyes to think for a second I'd probably have a massive crash as my mind stays pretty blank at full speed! I can honestly say that the new fork works super well with all the testing I have done on it and also how its performed this year on the world cup circuit. They are way more supple on the starting stroke and have all the support I need on the fast stuff.

Even though you're a very 'down to earth' kind of guy, surely you must still feel as excited as a kid in a lolly shop now days when you get to a World Cup, or a test session, and the RockShox mechanics are there in their massive semi-trailer and you're one of their number 1 riders that they're there to take care of… as a rider what is it like having all of those resources at your disposal? 
It's pretty amazing having the support at the races and having them work with my mechanic, Aaron and I. We can go to SRAM and ask for some changes and they do them right away.

Okay so let's talk about the fork you've been racing so far this season – is it a stock fork or prototype?
 I did start out with a complete stock fork and rode it for a few world cups then got a couple of little 'special' things to try from SRAM that have been pretty amazing… You could call it some Blackbox goodness I suppose!

Obviously, you've ridden and raced several generations of BoXXer throughout your career, but focusing specifically on the latest production model when did you guys first start testing that fork away from the cameras? 
We received the new fork a couple of months before the release date and was testing it in France and at home. It wasn't the final production model but I would like to think I contributed some feedback to the one you can buy today.

Do you remember your first impressions, compared to the fork that you'd been using up till that point, that day after you'd done runs?
First impressions were really good with how smooth the fork felt, I knew there needed to be some more support straight away but Rockshox knew that also and we worked together to find the best solution.

Did the fork change / tweak much since that point or did the RockShox gang get it right pretty much straight out of the gate in your opinion? 
To be honest we did have to tweak the Damper and get it feeling better, for an average joe rider it would have felt mint but for myself it needs a bit more of that world cup feeling.
Talk us through how you like to set your fork up for World Cup racing?
For Worlds Cups I like to set it up pretty firm for my weight and size and I run the rebound slow as well, I learnt a lot of stuff from Sam Hill and his mechanic Jacy so I can thank those guys. Air Tokens are always around 3-4, rebound and compression varies too much from track to track.

At a big race, typically, would you and your mechanic Aaron constantly try different fork settings throughout the weekend or do you aim to just 'set and forget' with that stuff?
Aaron and myself have a really good base setting at the start of every year and then we progress from that at every race during the season. So come to worlds I know I have the downright best settings I could have that current year and its just left up to me to send it for the win.

Since the new fork was recently released there has been quite a bit of talk (mostly by heroes on PinkBike comment boards and the like) about RockShox decision to only offer the new BoXXer with air cartridges, sans Coil Springs. However, as you would probably know, one of the key goals the RockShox crew set out to achieve with the new generation BoXXer was to create a fork that had the feeling of a coil fork, largely achievable by eliminating any stiction. As a rider where do you sit on the whole 'coil' versus 'air' spring, thing?
I have tried both coil and air-springs options, and for me the air-spring works better and has an overall much faster and more confident felling. Being softer off the top and also tune-able to have more support. The air is a lot lighter and for me has a sweet spot about half way in the travel that just provides so much traction its crazy!
The grand scheme of things, for a racer how important is the performance of your front suspension compared to the rear suspension, etc? 
The front suspension is where most of the traction is found in MTB so it is very important to get it set up right and have the best feeling for your riding style. That can then lead you to setting up your rear shock and tyre pressure perfectly afterwards. Having a balanced bike is very key as it helps keep traction and yourself level most of the time.

Troy's mechanic Aaron Pelttari reveals Troy Brosnan's secret BoXXer settings!
Troy's been running the 27.5" fork all season, eh? 
We did do some early prototype testing with the 29" version but we've only raced the 27.5".
Is there any custom trickery going on with TB forks or are they stock as a rock?
They have a tuned damper, apart from that a stock air spring and the rest of the fork is stock.
How much air pressure does TB run?
Typically 140-150 psi with 3-4 air tokens
How many clicks of rebound?
5 clicks of rebound, sometimes slightly slower.
How many clicks of high-speed compression?
2-3 high speed
How many clicks of low-speed compression?
10 low speed
Typically how many different sets of BoXXer's will TB ride throughout a year with racing and testing, etc?
During the season anywhere between 3-4 different sets, however we'll swap out the internals quite frequently with specifically tuned dampers depending on tracks etc.
The Timeline of BoXXer
20 years of prototypes, Black Box exclusives and production models.
Current – 2018
Over the following 4 years the fork received minor tweaks each year. The next 'major' BoXXer production overhaul debuted this year with the introduction of the fork (available in 29" size for the first time) which we've focused a large portion of this article around.