After an almost decade long break Maribor returns to the MTB World Cup calendar for the opening downhill race of the season. And it couldn't come any sooner!
The track, up in the Pohorje mountains, is about 2.6km long, fast and filled with a host of natural features, think rocks, trees, roots and then a truckload more of aforementioned rocks, trees and roots! It's everything a DH track should be and one that will set the scene for the 2019 season no doubt.
Timed practice has reinstated Maribor as a rider favourite and a track that in the dry is incredible and in the wet may prove to be a nightmare.
Story // Matt Homes  Photos // Red Bull Content Pool & Kane Naaraat
Here's our take on who to watch…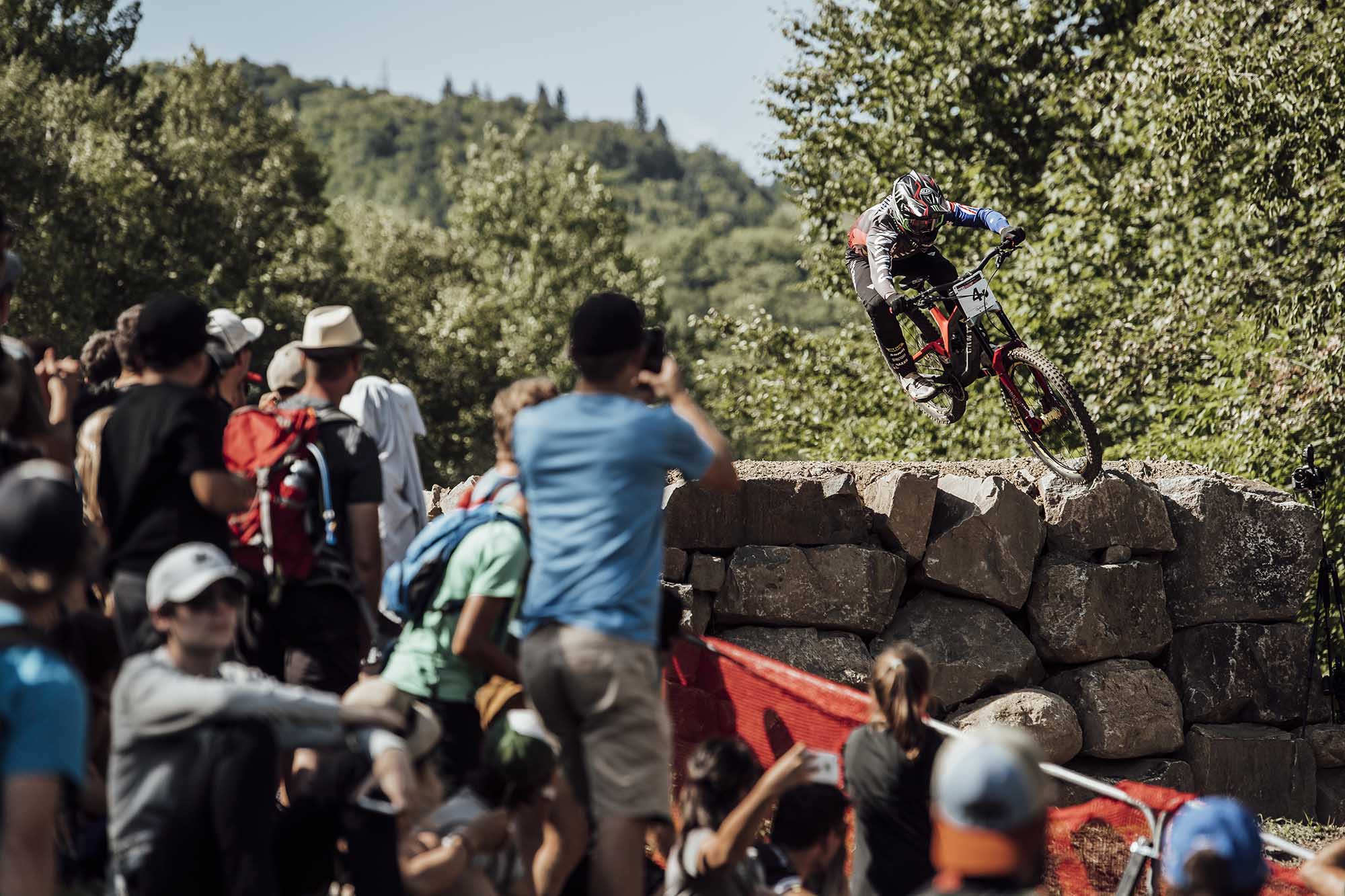 With both Connor Fearon and Troy Brosnan both protected thanks to their top 10 finishes last year, we can be sure these two will be up in the rankings with the pressure off somewhat in qualifying.
Don't for a second think they'll be slow thou! Connor's new Kona was looking epicly fast and ridiculously quiet and we know his fitness is on point after placing at EWS in Derby. And who could say Mr Consistency Troy ain't ready for a win, not only a race win, but a series.
Jack Moir is a definite threat at any fast and technical track. Add into the mix that he's now training with arguably the fastest DH racer of all time in Aaron Gwin. Both will be sending the rock garden and roots with a whole new level of speed on their M29 Intenses…
Talking speed, Mick Hannah clocked one hell of a top speed on the new Polygon DH rig through the speed trap at the IXS race last week on the same hill, slightly different track, but he has knowledge from first racing Maribor so many years back! I think his first time there netted him 6th place? How about you google that one!
Dean Lucas can't be left out of this bunch. New team. New bike and riding hard if the recent National result is anything to go by. We're betting a solid finish from the Don!
As far as the internationals go, Greg Minnaar cannot ever be discounted, nor can the French Connection of Amaury Pierron, Loic Bruni and Loris Vergier. All shockingly fast when they want. And while we're in that part of Europe, who can forget Martin Maes La Bresse win straight off the back of an EWS race? We think he'll be a contender especially if he goes Frankenbike on his GT Fury 29/275.. .
Don't count out the Kiwis, with both Brook MacDonald and Sam Blenkinsop both in form and on fire as of late. What about Gee Atherton on his namesake Ti printed wonder bike? Seems to smooth out the rocks if his track preview is anything to go by!
On the female front, we're hoping Tracey Hannah's off season has put her into a place that will see her nab a win or more this season. Being that it started off with a win last week on the same hill we're cheering for Tracey to own Maribor on Sunday!
Tahnee Seagrave and Rachel Atherton are already looking fast if social media is anything to go by, and you could say we're hanging to see the Atherton Bikes in action. Kinda think it'll be a serious piece of race weaponry. With Myriam Nicole out for a few races we're sure to see a bunch of fast femme's step up.
Regardless of gender, talent runs deep at  World Cup level and there's many more riders that have the ability to upset the big names, especially if the predicted rain hits. That's when the super gnar rocks and roots will become something beyond technical.
Whatever the weather, we'll be glued to the late night broadcast from Maribor, Slovenia on Sunday, April 28 at 8:30pm if you're on the Eastern seaboard of Aus on Red Bull TV.
There's a bunch of extra content they've been producing that'll get you in the mood no doubt!
UCI World Cup 2019 Schedule
April 27–28: (DH) Maribor, Slovenia

May 18– 19: (XCO/XCC) Albstadt, Germany

May 25–26: (XCO/XCC) Nové Mesto, Czech Republic

June 1–2: (DH) Fort William, Scotland

June 8–9: (DH) Leogang, Austria

July 6–7: (DH/XCO/XCC) Vallnord, Andorra

July 13–14: (XCO/XCC/DH) Les Gets, France

August 3–4: (XCO/XCC/DH) Val di Sole, Italy

August 10–11: (XCO/XCC/DH) Lenzerheide, Switzerland

August 31 – September 1: UCI MTB World Championships – Mont-Sainte-Anne, Canada

September 7–8: (XCO/XCC/DH) Snowshoe, United States