Far from going un-noticed, as its namesake would intend (Duck hunting reference, get it?) the new Decoy from YT has certainly grabbed our attention since its recent release.
From the brand with riders such Cam Zink, Jodie Lunn and Rob Warner on the books, you can rest assured that YT make bikes that like to get wild and their first ever production e-Bike promises to up the 'wild' ante higher than ever before.
When designing the Decoy YT set out to create a bike that will break down the walls of doubt and criticism surrounding the E-Bike market. A bike with great suspension and handling and loves to blast technical trails, up and down, and also loves to send those big jumps. Well, if those character traits won't break down walls then we don't know what will.
Looking at the bike you immediately notice how sleek and aggressive its frame lines look. You'd even be forgiven for not noticing that it's even an e-Bike at a glance. The bike gets its power from a mighty Shimano Steps E8000 motor. And to fuel this bad boy YT partnered with SMP (major battery manufacturer) to create a really unique, custom 540W battery. What makes it so unique? The battery's cells are the same cells used by Tesla, and you won't find them in any other e-Bike battery. The battery itself is discreetly hidden inside the down tube. We think the bike's thick stays and boxy top tube make the huge downtube disappear into normality. Using creative flowing lines around the bottom bracket area that big E8000 motor appears to blend right into the visual mix. Covered in a matte finish, the new Decoy's frame is nothing less than the simple, yet striking, beauty we have come to expect from YT.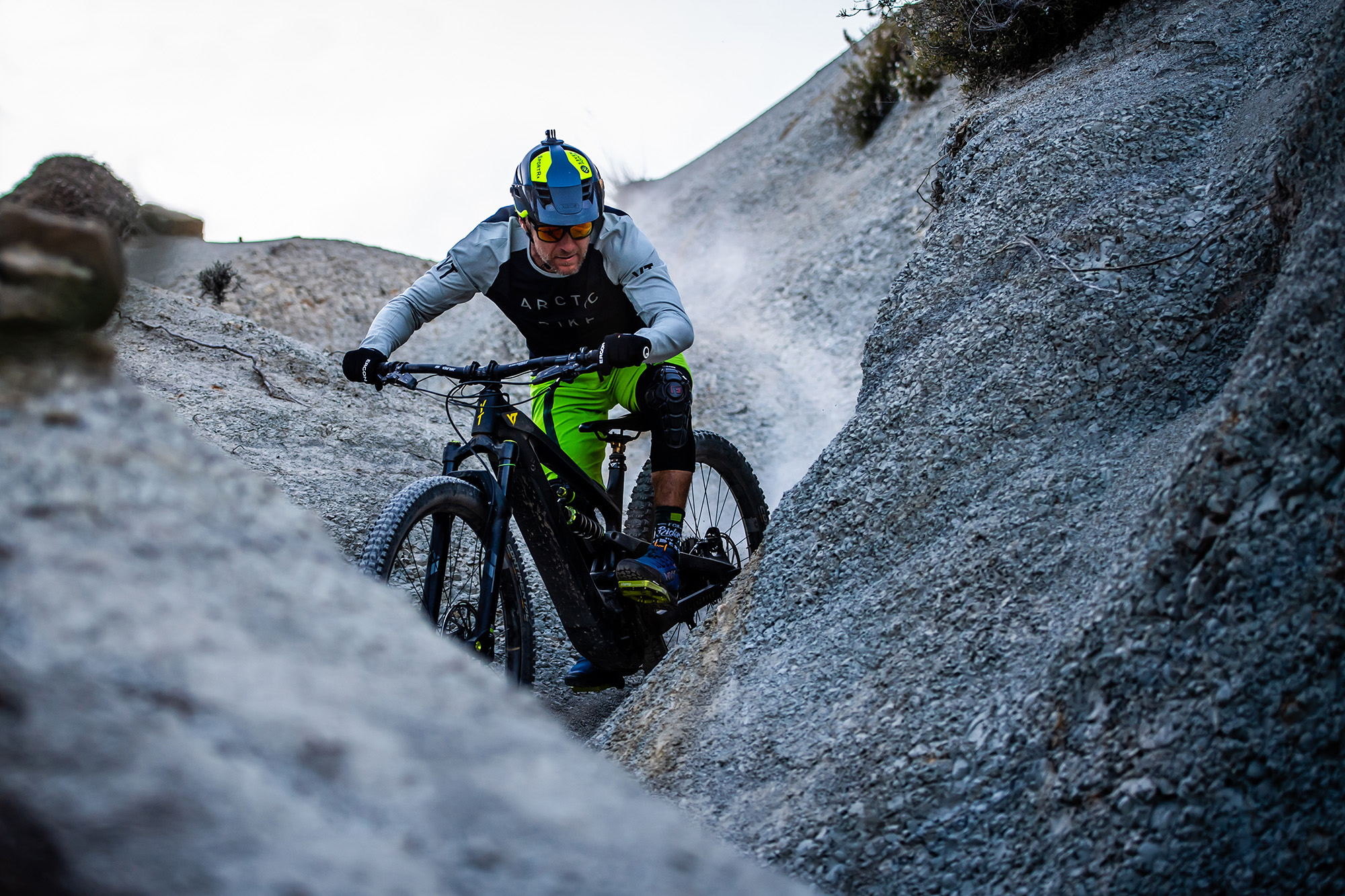 Using their race proven V4L (virtual 4 link) suspension that has been developed under the control of the fastest in the world, the bike is undoubtedly going to haul ass going down. Packing 165mm of travel in the rear (with a 27.5 x 2.8 wheel) and 160mm up front (with a 29×2.4) it is going to remain extremely stable through the rough stuff. The difference in wheel/tyre size is going to provide more rear traction through the loose uphill and confidence inspiring rollover up front. This combo of subtle traction thanks to the suspension and mixed wheel sizes is going to love going up just as much as it goes down.
The geometry is modern but, not silly. On a size large the reach is 455 which would leave me wanting to ride an XL at 470mm, which is unusual. However YT nailed the size range offering a Small right through to double extra large, leading to a better fitting bike because there is less of a jump between sizing.  The Decoy runs a flip chip that provides .5 of a degree adjustment in the headangle and a 7mm drop/rise in the BB in order to change the ride characteristics in order to suit the trails you ride. Because YT wanted the bike to perform as well uphill as down they have left the chainstays at 442 to provide climbing prowess along with down hill stability.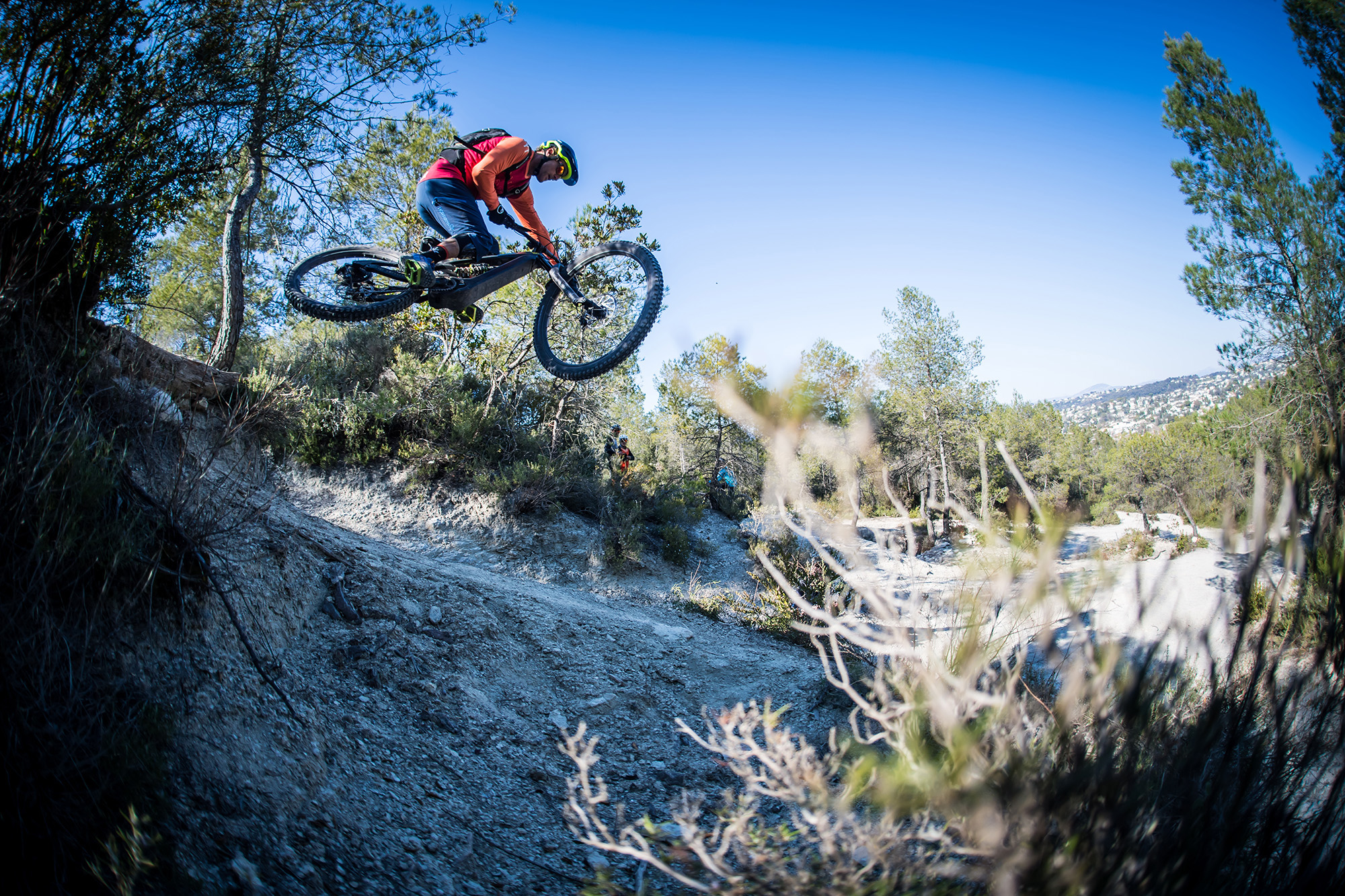 YT are offering the Decoy in 3 build kits and 5 colours, the CF Pro Race (black/yellow),  the CF PRO (magnesium white/clean blue, matte black/glossy black/silver), and the CF Base (lava red/light grey, matte black/glossy black/silver).the top two models are smoothing out the terrain using suspension from FOX and the CF base model has Rockshox providing traction. While all models are using a sensible blend of SRAM and Shimano componentry.  Looking at the CF Pro Race you can tell that YT set out to create a no compromise bike. Sitting pretty on the Renthal bars are a set of SRAM CODE RSC brakes ready to pull you up hard enough your eyeballs may fall into your goggles. And you can rest assured that the 'e-Specific' FOX 36 fork and X2 rear shock are going to provide close to infinite tuning options with a smooth subtle movement. The wheels are provided by E13 and are known to be reliable. As a cherry on the top of the Sunday is the Di2 shifting, as usual the motor, battery, and shifting is all linked. All of which is user tuneable via the E-Tube App.
Whilst we haven't had a chance to ride the bike yet (we do have a test bike currently on route to our office though) we have chatted to a few people that have ridden it and we're assured it boasts an awesome trail temperament. Its frame is said to feel lovely and stiff, whilst the bike constantly feels lively and ready to gap from any little lip in front of you. Its composure on the climbs is going to leave riders with energy to thoroughly enjoy the bike on the way down. The flip chip and wide range of size options mean people will be able to really select a frame that works for their needs. Sure, with a starting price of $8,999 it isn't the cheapest e-MTB on the market however we're quietly confident that its frame package and ride performance will outweigh the price tag by far. Stay tuned to [E]volution for an in-depth review of this beast in the near future.