Welcome to 2018, Pivot Cycles has gone and jumped the gun and unleashed a very impressive new model called the Mach 5.5 carbon! [R]evolution recently attended the bike's Australian launch down at the trail utopia know as Mount Stromlo.
Pivot Cycles' Global Sales Manager, Daniel Limburg, had flown out from the States to introduce us to the new machine, and then with a brain full of theory, we headed to the trails to put it to the test first hand. A few exhilarating hours later, as the sun began to set, I found myself not wanting to give the bike back. Come on JetBlack, can't I just keep riding it (for a few more years)? Pretty please!
[soundcloud url="https://api.soundcloud.com/tracks/336181963″ params="auto_play=false&hide_related=false&show_comments=true&show_user=true&show_reposts=false&visual=true" width="100%" height="100″ iframe="true" /]
Click above to listen to Daniel Limburg, Pivot Cycles Global Sales Manager, discuss the new bike. 
So in a nutshell, the Mach 5.5 is a full carbon fiber, 27.5" wheeled 'jack of all trades' machine which Pivot are calling the ultimate quintessential modern day trail bike. It's one part enduro race bike, one part all-mountain adventurer, one part trail bike, and as I quickly discovered that afternoon, the Mach 5.5 is also one part 'bloody fun to ride no matter where you are riding it'! Travel wise, as the name suggests, 5.5 refers to the bike's rear travel, with 5.5" roughly equivalent to 140mm. Interestingly, up front the bike is not matched with a 140mm fork, instead Pivot have designed the Mach specifically around a 160mm travel fork. But more on that later in the article. Just like the rest of its brothers and sisters in Pivot's duel suspension range, the Mach 5.5 utilizes a DW-Link suspension design. The bike's 140mm of DW-Link rear travel is designed to work with the progressiveness of a large volume 7.875 x 2.0-inch air shock with medium compression valving and medium rebound damping. The Mach 5.5's rear end definitely feels quite supple when you push it up and down in the carpark but then when you start riding you begin to appreciate the bike's plushness and playfulness. 
Daniel explained Mach 5.5's frame utilizes a new carbon lay-up method that Pivot have recently developed, consisting of high module carbon fibres, which are reputed to nail the balance of high stiffness and a low weight. The bike's cables are routed into the frame through large entry ports. On the downtube, there's a slot where you can integrate a Di2 battery. Not that anyone will ever use it but the Mach 5.5 also features front mech compatibility.
Another unique and highly effective aspect of the new Mach 5.5 is that the frame was designed with the new generation of 'large volume' tyres in mind. The back end of the bike is the business end which features a fast rolling Maxxis Rekon 2.6 tyre, whilst up front in the 'party end' you'll find an aggressive 2.6" Minion DHF. The traction that these tyres deliver is awesome. It actually takes a little getting used to when you first hop on board the bike. Forget washing out on loose corners or having the back end slide out when riding off camber sections of trail with gravel of loose surface coverings. These Maxxis 2.6" tyres stick to the trail like pine tree sap sticks to your skin (for eternity)!
When you take a gander at the Mach 5.5's geometry chart you see a seat angle reading of 73.5 and a head angle of 66.5. I wondered why they didn't go with a more current 74 degree seat angle and then we remembered that this bike was originally designed with a 150mm fork in mind. But during the bike's extensive field testing, Pivot's R&D team discovered that they enjoyed the bike much more with a 160mm fork.
Ask anyone that has owned or even just ridden a Pivot and they'll tell you that Pivot's have a well know reputation for solid pedalling performance. The Mach 5.5 doesn't break from tradition in this respect, though the suspension kinematics and shock tune have been refined over time to balance anti-squat with compression damping to allow the rear end to be more forgiving.
What a fun bike. I honestly had a ball riding the Mach 5.5 for those couple of hours down at Stromlo that afternoon. There's only so much you can learn about a bike's personality after only one ride and I feel there is a lot more left to discover about the Mach 5.5. I'd love to spend more time on this bike on my local trails to get more comfortable on it and ultimately try to find its limits of capability. With that said, first impressions do mean a lot and I've only got positive things to say about this beast after my first ride on the new bike. Pivot Cycles are onto a real winner here.
The Mach 5.5 is available right now at Pivot dealers around the country. For more information and to check the different spec levels, visit www.jetblackproducts.com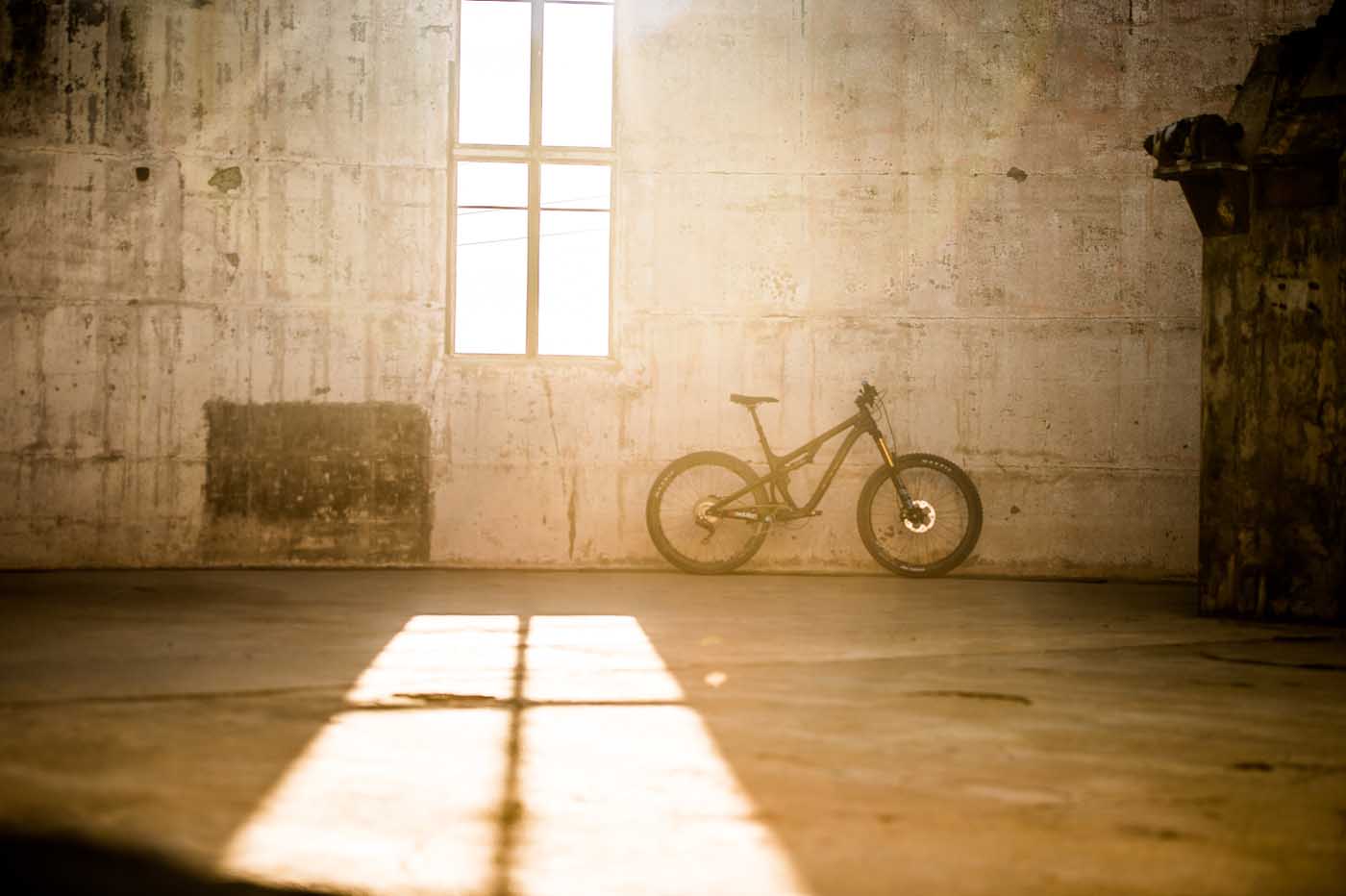 Mach 5.5 
27.5-inch wheels
140mm (5.5-inches) of rear wheel travel // 160mm up front
High-modulus carbon frame
DW-Link rear suspension with mid-travel specific linkage design
Clearance for 2.6-inch Wide Trail tyres
5 frame sizes
12x148mm Boost rear axle spacing
Pivot Cable Port system
Shimano Di2 electronic drivetrain integration
FOX Live* electronic suspension integration (yet to be released)
Enduro Max cartridge bearings
Front derailleur compatible
Low durometer rubberized frame protection
180mm post mount rear brake
Press Fit 92mm bottom bracket with ISCG05 mounts
Frame weight (with shock) 2.35kg
Suggested sizing:
XS: 4'11" – 5'4″
Small: 5'4″ – 5'8″
Medium: 5'8″ – 5'11"
Large: 5'11" – 6'3″
XL: 6'2″ – 6'7″
Words // JT
Photos // Damian Breach