The 22 year old Intense Factory rider from Morisset, on NSW Central Coast, has just gotten home from his best season on the international DH circuit that saw him chisel a string of podiums and top finishes into record books. We recently caught up with Jack to hear about what it is that fuels his drive.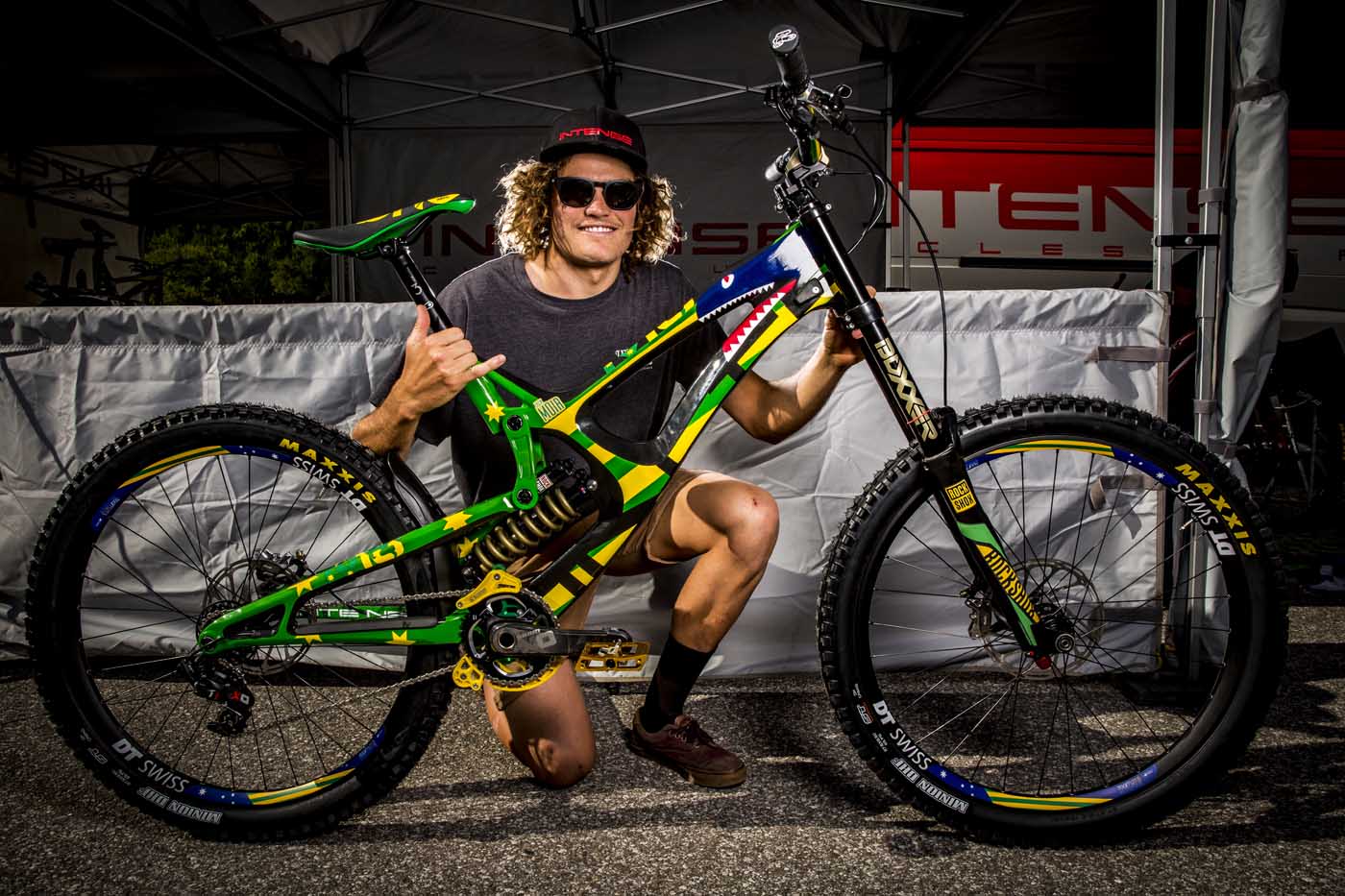 [R]evolution: It's been a hell of a season for you mate. Tell us a bit about how it all started falling into place for you?
Jack: Yeah thanks! It didn't really fall into place at any one point. It was more about easing into the first couple of races, building off my performance from each round, and slowly progressing throughout the year. My main goal was to get back into the top 10, which is where I was before my injury. I trained really hard this year, and decided to stay in Europe all year to get as much bike time as possible, so I was really stoked to achieve that goal by getting in the top 10 at the last couple of World Cups and even snag an 8th place at an Enduro World Series event.
You had an awesome Crankworx too, yeah? What is it like racing at that event as opposed to a World Cup or an Aussie National?
Jack: Yeah I ended up grabbing 3 Podiums at Crankworx rounds this year, and finished first in the downhill overall. Crankworx events are a good time! They are a bit more laid back than a World Cup but still have half the world cup field at them. The round in Les Gets was so much fun. It was hands down the muddiest race I have ever done and probably will do… I don't think it could get any muddier. People were going over the bars because their wheels were just locking up with mud and stopping. The whistler round needs no introduction, probably the biggest mountain bike race/festival in the world. The amount of people there is ridiculous, and makes for a great atmosphere.
"I was out surfing with some mates when I was 13 and I got bitten by a shark…  500 internal and 110 external stitches later and I was back in one piece! …things could have turned out a lot worse!"
Speaking of which, you won yourself a couple of Aussie Nationals at the end of last year. What's it feel like to dominate on home soil against the big boys?
Yeah I love being at national rounds. It's always cool racing with all my mates I grew up with. Apart from having a good time and catching up with everyone, it's also really good to get a couple of these rounds in leading up to the world cup circuit, just to get familiar with racing again after a long off season.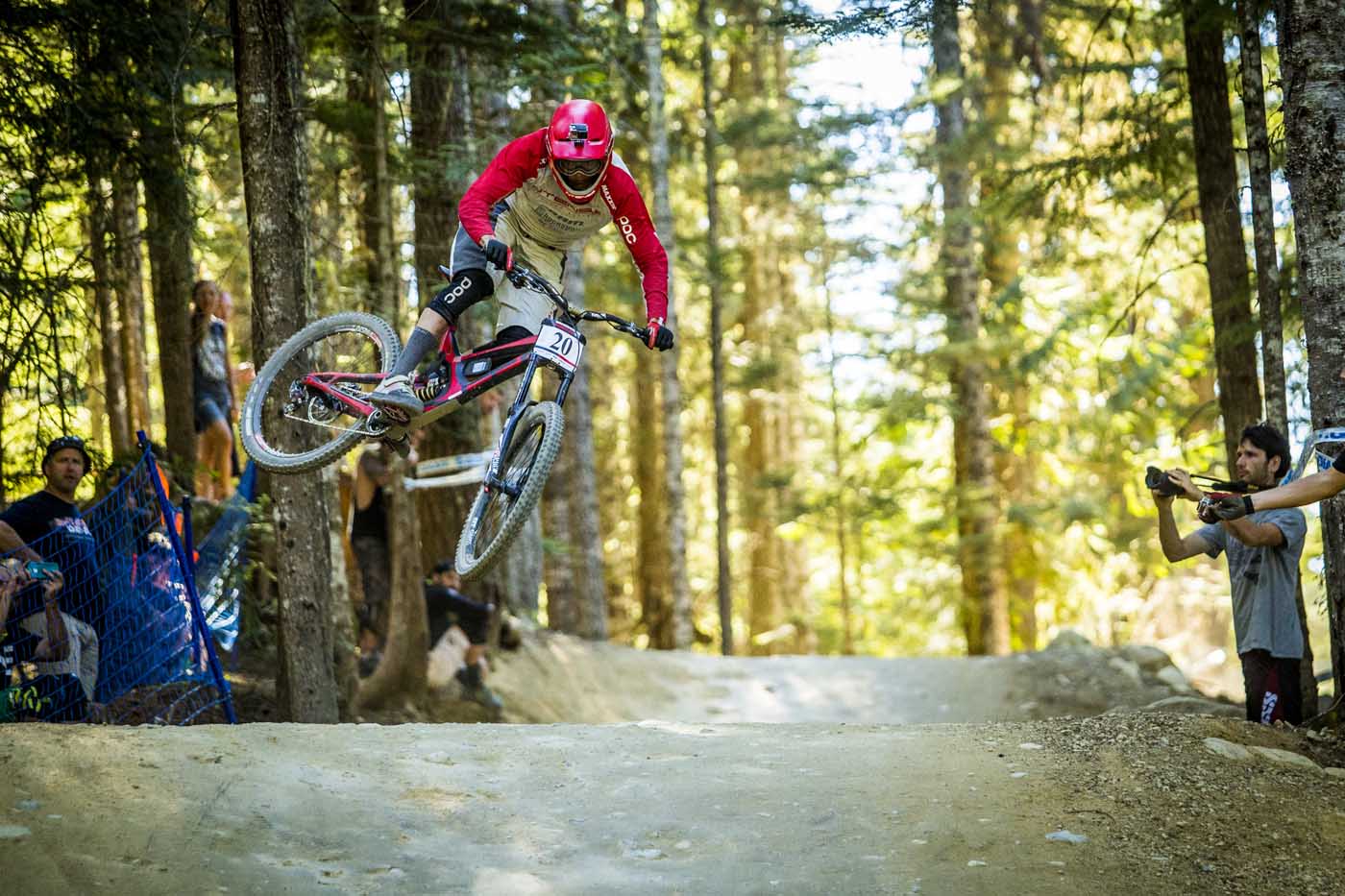 Let's talk a little about your team. You've been on board with Factory Intense Cycles for the past two seasons. How's that been?
Jack: I can't thank these guys enough for looking after me after a shocker first year, and I am really stoked to have renewed my contract with them for another two years! I love everything about the team at the moment. We all get along really well, we are running the best gear possible, I am super comfortable on the bike and we have my set up dialed. It's also really cool to have one of my good mates Dean Lucas on the same team. We have been racing together for years, and I never thought that one day we would be travelling the world together racing bikes!
You've been racing an Intense M16cc. How do you find it?
I ride a stock XL M16c with TISPRINGS.com offset bushes just to slacken the head angle and drop the bottom bracket a little bit for those steep, fast world cup courses. The XL is the perfect size for me and the whole setup seems to fit my riding style really well. There's also two travel adjust settings to play around with which is really handy when racing a range of different style tracks. For example, Val Di Sole wasn't as fast in some sections but it was super loose and rough, so I was running it in the 9.5 inch setting there to smooth out a few of the harsh holes and gain a bit more traction on the rough off cambers.
How do you have your suspension set-up?
It changes a bit depending on the track. Most of the time I have the setup pretty stiff so it doesn't bog down in big g-outs or holes. If I run it a bit stiffer I tend to run my rebound more on the slow side so I don't get bucked around. For a select few tracks like stated above, I might run the setup a little softer so it tracks up better. When I run it a bit softer I speed the rebound up a little as I'm using more travel, I don't want it to bog down, but rather bounce back in time, ready for the next hole.
Are you the type of rider that is constantly tweaking your settings at the races during the season?
I never really touch my settings. I have my 40mm rise Renthal bars and offset bushes which I leave the same for every track. Then I just play around with the suspension a little bit to suit the style of track I am riding. World champs this year was the most I have played around with my bike. It was real cool having Jeff Steber at the last couple of races to share some of his expertise and get our setups dialed.
[R]: What tyres have you been running at most races?
I pretty much always run the 2.5 Maxxis Minion DHF in dry conditions. If it gets muddy I run the Shorty or Wetscream depending on how sticky it is. I normally run about 27 psi in the front and 29 in the rear.
Intense Cycles did an amazing job with the custom paint job on your World Champs bike this year. Were you stoked when they first showed it to you?
You wouldn't believe how stoked I was when I first saw it! This is my first ever custom bike and it was so crazy to see how much detail everyone put into it. A big shout out to all my sponsors for making that happen, it definitely made it a special race! Glad I only put one scratch in it ha ha. It's definitely going to look good on the wall.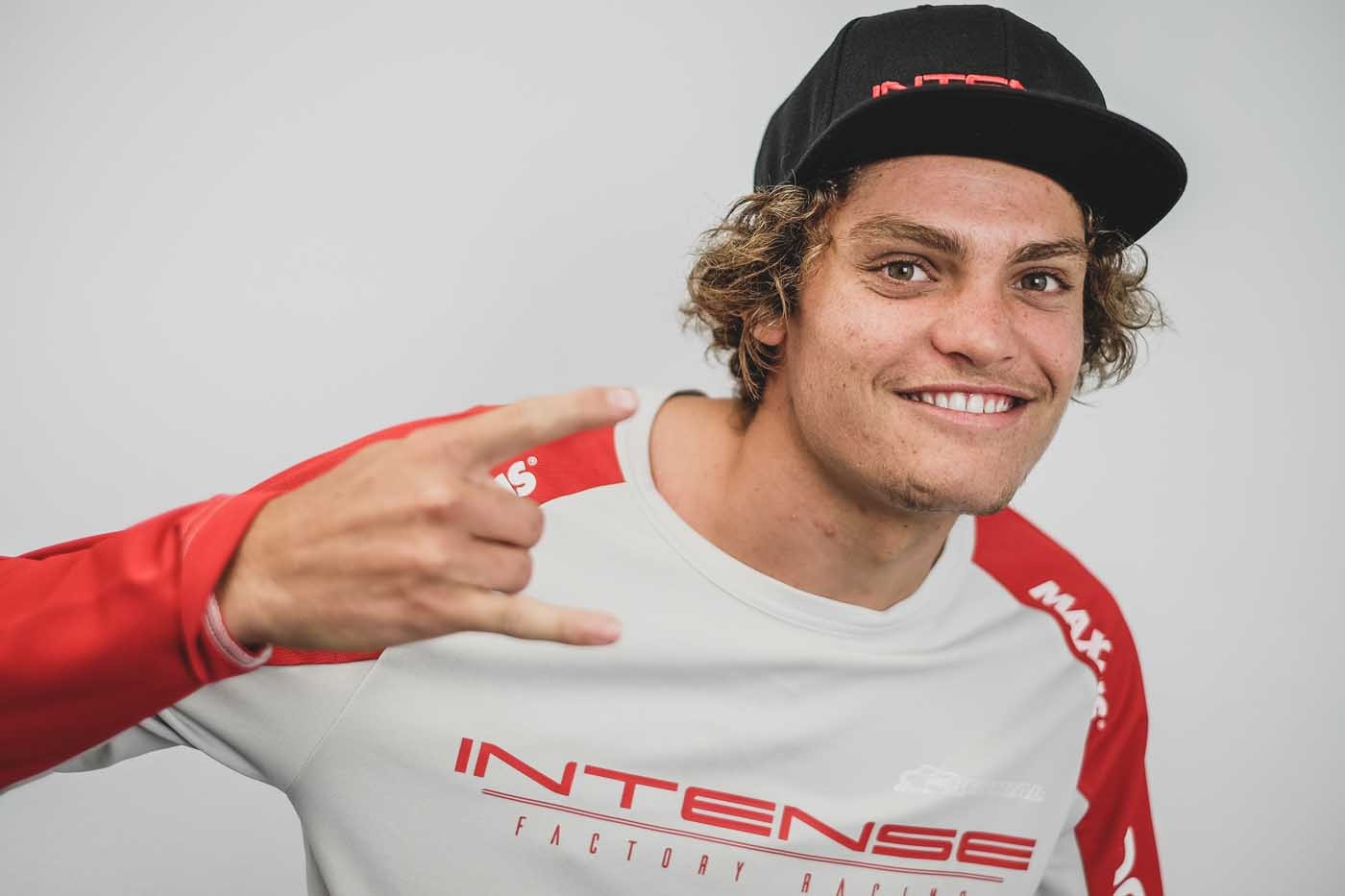 So your nickname, 'Shark Attack Jack', tell us the messed up story about how that came about?
Basically, I was just surfing with some mates up the coast back in 2007 when I was 13 and got bitten by a shark. I had just caught a wave in and was standing up in waist deep water jumping over the next waves when it grabbed my leg. I kicked it off and it grabbed my heel, but the water started to suck out and it got really shallow so the shark started thrashing its way off the sand bank back out to deeper water. 500 internal and 110 external stitches later and I was back in one piece! I was really lucky and am so fortunate that I can still use my leg and enjoy all of my hobbies. Things could have turned out a lot worse!
610 stitches, what the hell!! And even though you've been bitten by one of those bastards, you still get out there and surf these days?
Ha ha yeah it didn't actually worry me too much. After the accident, I was bodyboarding before I could even walk…. I go surfing pretty much every day in the offseason if there are waves. Definitely a few moments where I get scared, like after a big set when I'm out by myself and there is just white wash all around ha ha. But at the end of the day, I love surfing just as much as riding. I grew up at the beach and it's a huge part of my life.
Jack and the Team's sponsors: Intense Factory Racing, SRAM, Rock Shox, POC Sports, Maxxis, Renthal, GoPro, Fabric, Crankbrothers
Photo credits: Sven Martin and Carmen Herrero