One fork family bound by a common bond of race-ready performance, driven to help you deliver your very best just added a new heavy hitter to the party.
In 2005, Fox changed the game with the introduction of the 36, pioneering a new category in mountain bike suspension—and Enduro was born. The very same year, Fox introduced a big brother into the fold with the 40, forever changing the landscape of downhill racing—defying both gravity and expectations of what dual crown suspension should be.
15 years and countless world cup and EWS wins later, Fox's award-winning suspension family is poised to redefine the game once again with the brand new 38. This rebellious middle child is a hard-hitting, long travel enduro menace, set to carry on the evolution and winning traditions of its champion pedigree. The 3 new models will be available at bike store across Australia towards the end of April. For now though, lets take a closer look at the new tech and features.
What's new? A floating axle!
Floating axles might look similar to other axles, but in fact they offer a distinct performance advantage due to their unique ability to match the exact width of the fork's wheel mounting surface precisely to the front hub flange spacing, thus creating perfect chassis alignment and eliminating unwanted friction between the upper and lower fork legs. Floating axles provide much smoother suspension movement throughout the entire range of the fork's travel, notably improving sensitivity and overall ride quality.
The all-new 36 and 38 come equipped with a new quick-release lever operated patent-pending floating axle system, combining the benefit of a floating axle with the ease of a tool-free quick-release. With this system, spacing is locked in via a floating sleeve, allowing repeated front wheel removal and reinstallation while maintaining perfect fork alignment. Floating sleeve positioning comes preset from the factory so if you are unsure of how to operate the floating axle system or simply don't want to bother with it, you can just install the front wheel and get on with your ride.
Available optionally is the new Kabolt-X, a lightweight bolt-on floating axle exclusively for the all-new 36 and 38 that not only shaves grams but also increases torsional stiffness via its sleeveless, single-sided pinch bolt design. The all-new 40 utilizes a double-pinch bolt floating axle design to provide maximum stiffness for
Downhill racing applications. Chassis alignment must be reset each time the front wheel is removed and reinstalled on both the Kabolt-X and 40 floating axles, but the end result is the same – perfect alignment and perfect performance.

Lower leg channels
As a fork compresses, the air volume within the lower legs decreases, increasing air pressure. The more the fork compresses, the more pressure increases. This effect can have the unintended consequence of preventing full travel from being achieved. Our lower leg channels help alleviate this issue by dramatically increasing air volume within the lower legs and thereby reducing the amount of additional unintended pressure ramping.
Another benefit of these channels is that lower leg bath oil is circulated to the upper reaches of the lower legs, continuously lubricating the foam rings and bushings as the fork compresses and extends through its travel.
Bleeders
Lower leg bleeders allow for atmospheric pressure equalization at the simple press of a button. Pressure build-up in the lower legs dramatically decreases fork performance, preventing full travel from being achieved, and diminishing small bump sensitivity and responsiveness.
Lower leg arch
Stiffness-to-weight is the ultimate metric for bicycle design. Engineers invest countless hours poring over every ounce of material in an effort to optimize this critical ratio. The all-new 38 pulls out all the stops, shaving every possible gram while making sure not to compromise stiffness or strength requirements of modern, hard-hitting long-travel Enduro riding. Modern frame designs and geometry trends require modern suspension design solutions. The arch design of the all-new 36, 38, and 40 is designed to pair perfectly with modern Enduro and Downhill bikes. Head tube profiles have grown larger and larger, and fork offsets shorter and shorter. Our new arch shape takes this need into account by jutting forward to provide ample headtube clearance at full compression. State-of-the-art computer modeling techniques helped us to create an organic lower leg shape that optimizes stiffness with the absolute minimal amount of material.
Elliptical steerer (38 ONLY)
The 38's elliptical steer tube is one of many ways we've further optimized stiffness-to-weight, placing more material only where it is needed, and eliminating every ounce of it where it's not.
Grip 2
Our GRIP2 damper is the benchmark for unparalleled ride quality and ultra-precise on-the-fly adjustability. For 2021, we've taken GRIP2 to the next level by adding our patented VVC technology to the compression circuit. VVC is a proprietary variable valve control system that allows for external fine-tuning of suspension performance. GRIP2 achieves with the twist of a knob what typically requires the time consuming and complicated task of completely disassembling and reassembling the fork.
FLOAT EVOL
EVOL technology increases negative air spring volume, optimizing small bump sensitivity. EVOL's linear spring curve delivers plushness off the top, extra mid-stroke support, and more tunable bottom-out progression. The benefits of EVOL are further enhanced by our new Lower Leg channels and Bleeders, which both function to reduce air pressure captured in the lower legs, allowing the EVOL air spring to operate freely without unintended interference.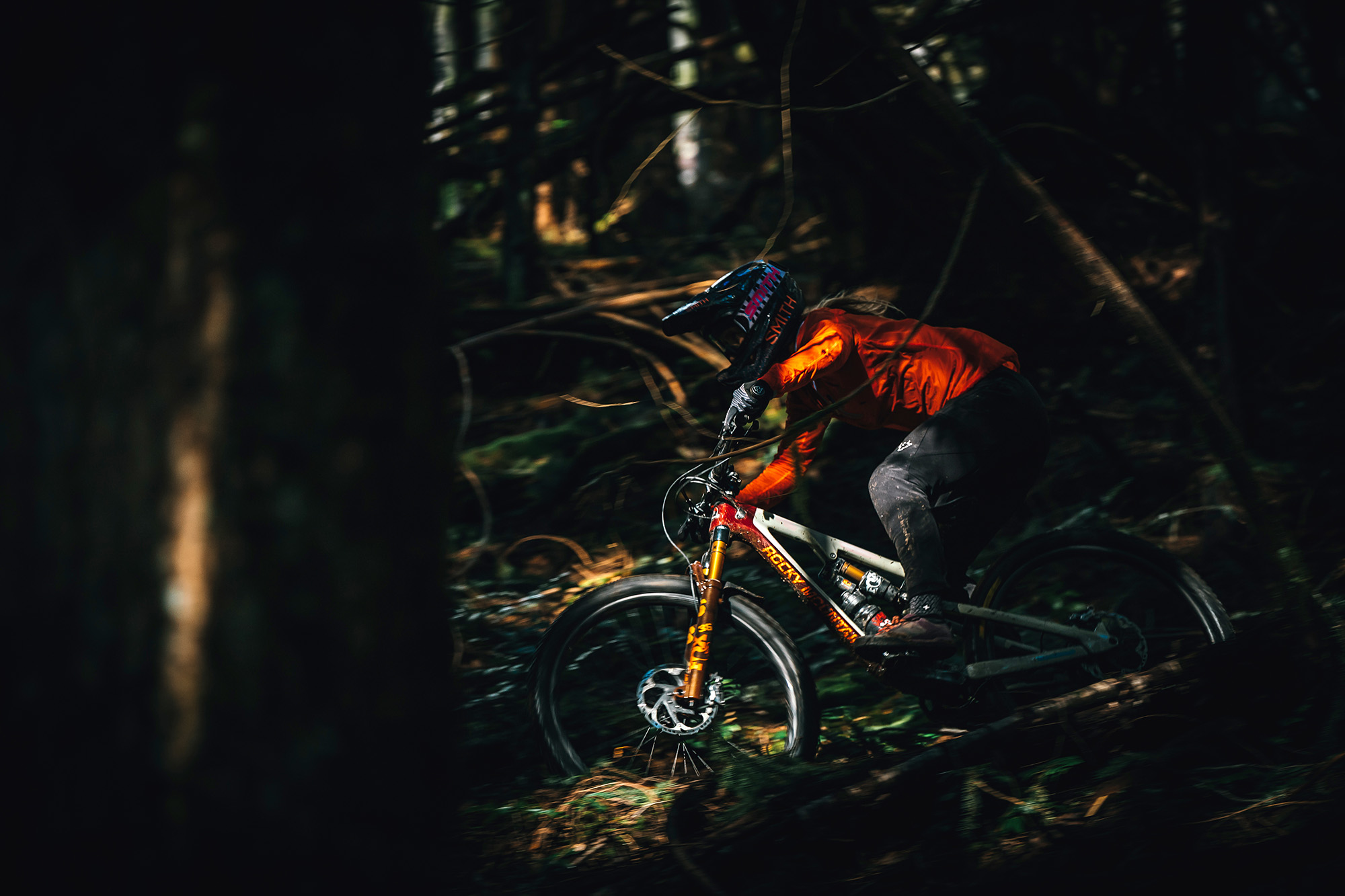 'Believe the hype because the new fork from Fox rides insane! The stiffer front end makes my E-Reign feel even better and makes the extra weight of the E bike disappear.The progression and overall feel is better than anything I have ever ridden before. I can't wait to take this new suspension racing when the world reopens again'

Josh Carlson