Sales volume wise the world's most popular trail e-Bikes platform was overhauled midway through last year when Merida updated their eONE SIXTY and eONE FORTY models.
The rather clumsy looking 'lunch box' vanished from the bike's downtube and that rather bulky frame went on a much needed diet. The results? A pair of incredibly sleek looking, ultra-modern, fully integrated e-Bikes. The only issue, for some potential buyers, was that the bikes were only available in carbon. That was, until now. Say hello to the recently released Merida alloy eONE SIXTY and alloy eONE FORTY LIMITED EDITION.
Woah, with the massive success of carbon, why bother going with the alloy? Well not everyone has an extra 10,000 fun tokens to spend on a top-level carbon e-Bike, so bringing out both the OneForty and OneSixty in alloy has helped more people get into the sport for less. It is also an option for those who feel they're likely to damage a beautiful sleek carbon machine out on the trails and instead would prefer something that offers little more durability.
Doesn't that mean you will lose all the rad integration and features? No, the bike still retains its fully integrated battery that can be removed quickly if needed. Hidden by the "Energy Guard" and thanks to Merida's smart designing, you can barely tell this bike has a battery. While the battery requiring a 4mm to be removed does seem like a hassle, if you pull out the axle lever, there is one cleverly hidden in the axle.
Where have all the extra cables gone? The LE bikes come kitted with Merida's bars which have channels to hide the nasty looking wires. The brake and shift cables are also neatly tucked away in the frame leading to the bike resembling a single speed. Merida even supplies their mudguards that match the aesthetics of the overall bike.
If this bike is so sleek and refined, why is it rocking a mullet? Wait, who said mullets weren't refined though? Merida has indeed, put a 29-inch wheel up front for business and a 27.5-inch wheel out back to party hard. The 29-inch wheel will not only roll over stuff easier thanks to its size, but the 29er's increased inertia also helps with stability and holding a line. The 27.5 wheel is snappier and more natural to turn, as well as increase the ease of pulling up the front. This split wheel size also compliments the balanced geometry the eONE FORTY and SIXTY are famous for.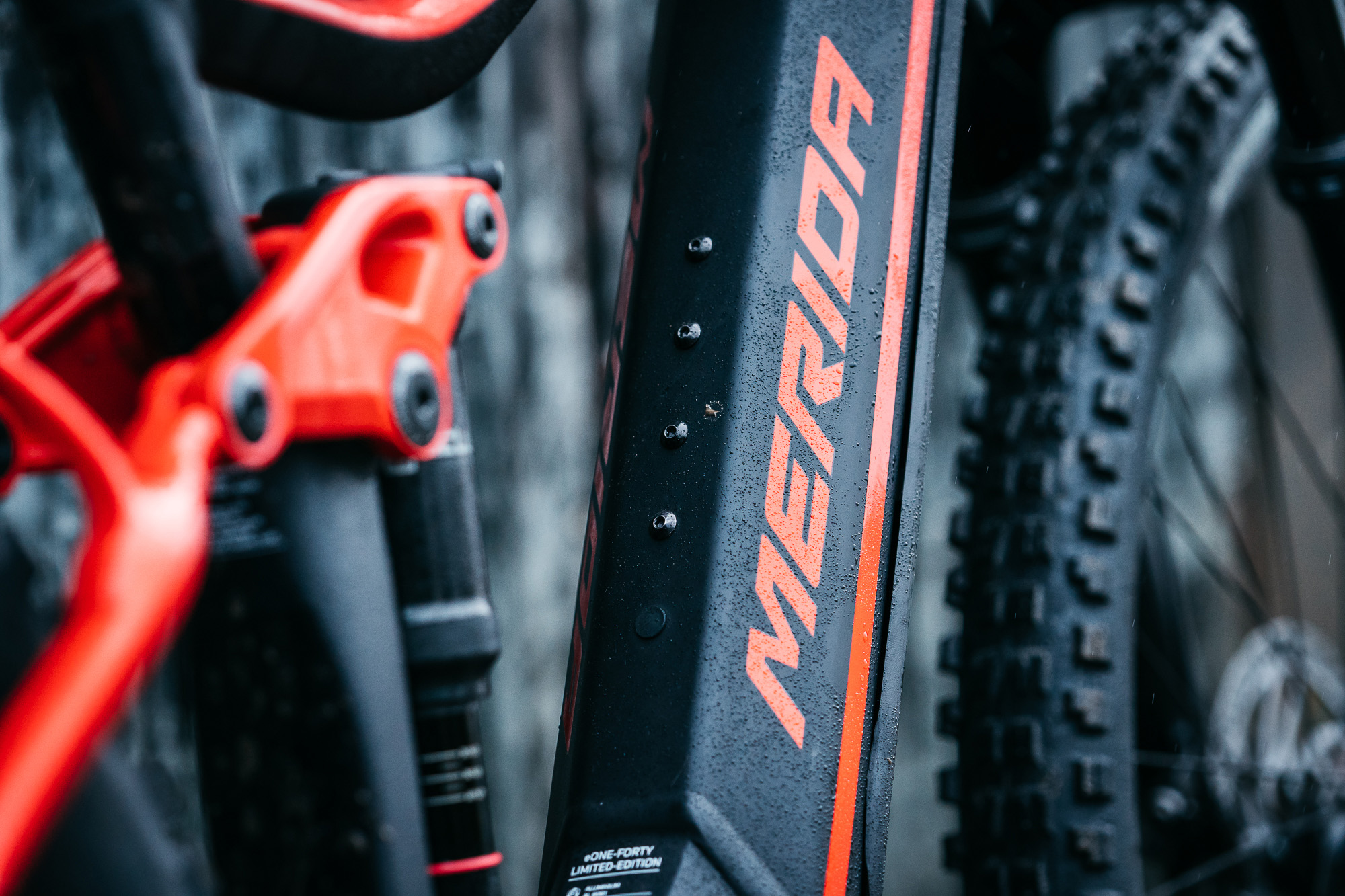 Ok, enough about the frame and hairstyles, what parts are on these things? Well, both bikes come with the tried and proven Shimano E8000 motor and a 504w battery. The shifting is taken care of by a Shimano SLX shifter operating an XT derailleur. The braking is taken care of by Shimano's base level yet super powerful MT-520 Four pot brakes. A RockShox Super Deluxe/ Deluxe partnered with a 35 fork up front provide the traction while Merida branded wheels keep you rolling. Maxxis supply the tyres and all contact points are Merida's parts.
At $6,499 for the eONE FORTY and $6,699 for the eONE SIXTY, it's not hard to say you will see a bunch of these on the trails in the future. With a solid history in the e-Bike market and strong value for money Merida could very well be looking at another home run with these new Limited Edition models.