By now you guys are probably all over the news that earlier this year Jack made the rather bold switch from racing DH full time for the Intense Factory Team and decided to take his talents to German mega brand Canyon Bikes where he signed a factory deal to race enduro full time.
Curious to find out how Jack was getting on adjusting to piloting a shorter travel bike down gnarly trails at warp speeds [R]evolution recently headed to Jack's home trails on the NSW Central Coast, and whilst of course maintaining strict social distancing, we sat down with him for a chat about his new impressive looking Canyon Strive race bike.     
Words // JT   Photos // Matt Staggs Visuals
[R]: First up Jack it looks like you're running about 46,000 spacers under your stem! Talk us through what it's been like playing around with frame sizing and setting up the new bike so that it's comfortable? 
Jack: Ha yeah, I was tossing up between a size large and an XL frame for a while, but after testing in France I decided to go with the large. It just feels a little nimbler and easier to throw around in the tight stuff. Once I had the frame size sorted, I just set the bar height etc up how I like it.
You made the switch back to RockShox suspension as part of your new season deal. Did it take long to get dialled in and up to speed with the new fork and rear shock? 
No, to be honest I have ridden RockShox my whole career apart from last year, so the switch back was easy. It was a successful test camp with those guys, I came home feeling really comfy on the bike.
One of the unique features of Canyon Strive is the Shapeshifter lever on the left-hand side of the bars. Tell us a bit about how it works? 
That thing is hectic good! You just flip the switch on the lever and it changes the bike's travel from 150 to 130. It works awesome and it's really effective especially back home for training out at the local XC tracks in the 130mm mode and then swapping back to 150mm with the flick of a switch for riding downhill trails. It's like having 2 bikes in 1!
Looks like you've been running that 'Gucci' wireless SRAM AXS drivetrain and dropper. What's that stuff like to ride? 
Yeah, I have been using the AXS on the trail bike and roadie. It's crisp as, and no cables will make it insanely easy to do quick swap outs at races if need be. It just feels crazy to be running wireless components. I guess this is going to be the new normal.
You're back on Maxxis rubber this year. What tyre combo's have you been playing around with and what set-up do you think you'll be racing on when the season finally kicks off? 
Hell yeah! I have ridden the DHF for ever, but love the Assegai now as well, so it will definitely be between those two tyres depending on terrain/conditions.
Do you have tyre inserts or anything funky hidden away in there?  
Nah mate, just the standard setup.
How are you finding the DT wheels so far? 
Yeah, they are sweet, I have ridden for DT before and always liked the wheels. I'm experimenting with carbon and alloy at the moment to see what I will end up racing on.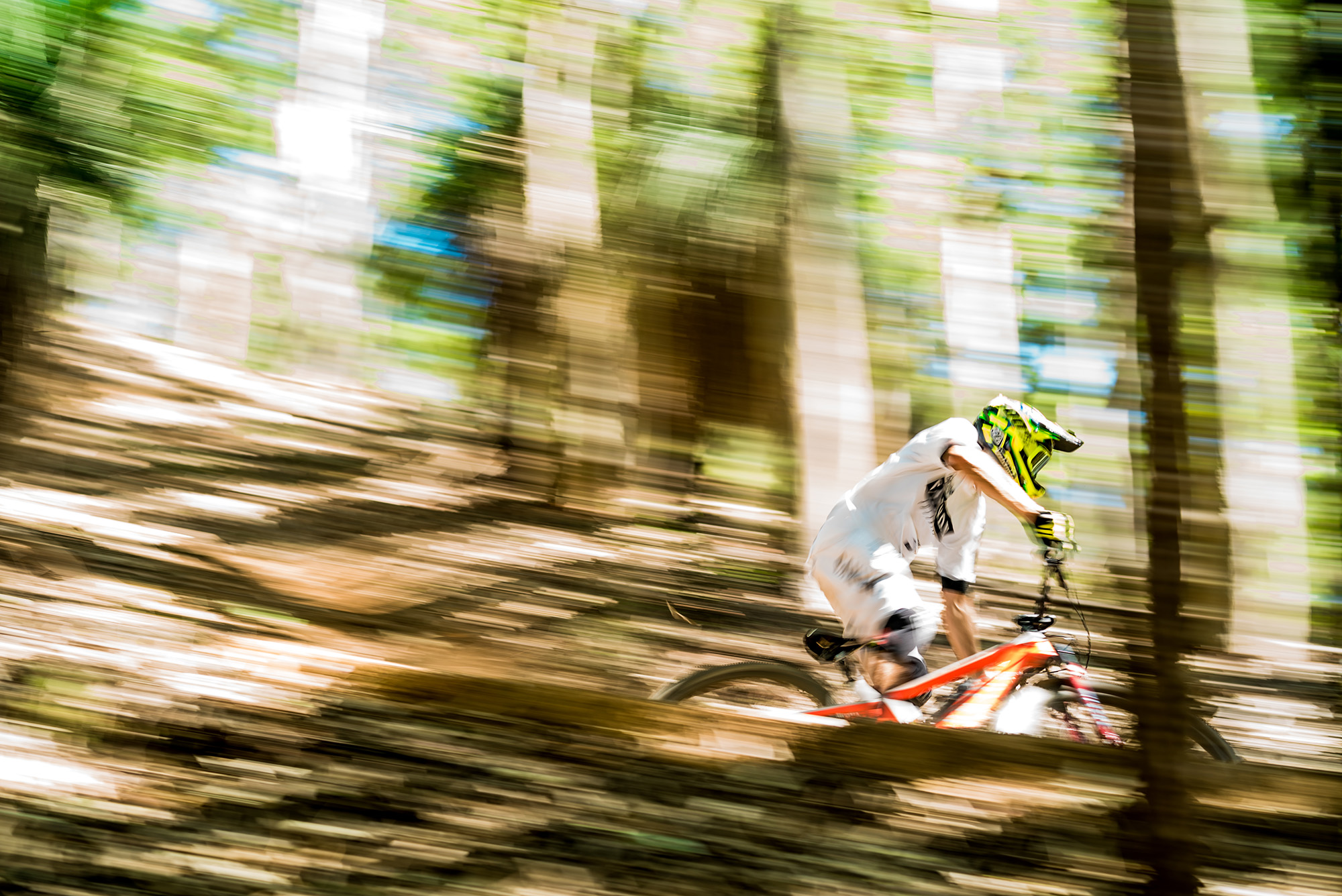 As part of your training for the upcoming season have you been riding DH tracks on your Strive and if so, have you been doing any timed runs? How do your times on the enduro bike compare to what you were clocking on a DH bike last season down the same tracks? 
Yeah, I have been doing a fair bit of downhill riding on the Strive. I am yet to time the runs so I couldn't tell you the difference yet. 
 With a full enduro race focus this season how are you going getting the confidence up to hit gnarly sections of track fully pinned on a shorter travel bike? 
It was hard at the start riding super rough/fast tracks on the trail bike, knowing that I could go a lot faster on a downhill bike.
The more I ride the trail bike though the more comfortable I feel and am definitely starting to ride it with a lot more confidence.
Are you still all about the 'clips or have you been experimenting with flat pedals on your trail bike for racing? 
I'm still clipped in for racing. I do love wackin' the flats on in the off season and mucking around but come race time I always go back to clips.
Jack's Canyon Strive Specifications
Frame // Canyon Strive
Size // L
Fork // RockShox Lyrik
Travel // 180mm
Shock // RockShox Super Deluxe
Travel // 150mm
Wheelset // DTSwiss 
Tyres // Maxxis Assegai
Brakes // SRAM Codes
Rotor size // 220
Dropper Post // RockShox Reverb AXS
Travel // 170mm
Saddle // Ergon
Derailleur // SRAM Eagle AXS
Cassette // SRAM Eagle
Chain // XX1 Eagle
Chain Guide // E*thirteen TRS Plus chainguide
Cranks // SRAM Eagle X01 Carbons
Crank length // 170mm
Pedals //  Crankbrothers Mallet
Bars // Canyon G5
Rise // 30mm
Width // 760mm
Stem // Canyon G5 Vorbau
Length // 50mm
Grips // Ergon