Rolling into the car park at Mt Stromlo for our first session out on the trails with the Canyon Spectral AL 7.0 EX on the roof, it became clear to me that the full red frame with ghost logos and graphics is quite the head turner. People all around are paying attention to see not only what kind of bike it is, but also to check out the not-so-common-yet SRAM Eagle XO cassette.

 

These two things alone certainly seem to get the conversation going as you pull it off the roof.
Now here is the perfect time to stop and point out a few of the talking points about the Spectral AL 7.0 EX: this bike is not carbon fibre although it has smooth lines and 12.7kg weight (without pedals) may have you thinking otherwise. The Spectral AL 7.0 EX is at the top of the line for alloy-based bikes in the Canyon Spectral range banging out 140mm of rear travel and as you would expect comes with an outstanding spec at the cost saving of an alloy frame over a carbon frame.
For your hard earned cash you get a spec that does not need any changing and reads more like a list of parts off a wish list for a custom build. Starting off with the top of the line award winning 150mm travel Rock Shox Pike RCT3 matched with a Rock Shok Monarch RT3 with Debon air can. Moving on from there we have a full Renthal cockpit (including Fatbar Lite and Apex stem), covered in a set of Ergon grips and a set of SRAM Guide RS brakes with the new S4 calliper that is much stiffer than the old one and offers better power and a unique drip free bleeding port. From here you have your Reverb B1 stealth dropper remote. Perhaps the only upgrade you might want to do before you hit the trails is switch out the old Reverb remote to the new 1x remote which should be in stores now. With that installed you will find yourself using your dropper post more often, meaning you can sit where you used to always stand, saving your legs in the process so you can hammer your new Spectral AL 7.0 EX even longer.
Now here is the icing on the cake with the spec – wait for it….! Pushing all of this up the hills is the new SRAM XO Eagle 12 speed group set; yep that's right, EAGLE 12 SPEED! This is the new benchmark group set that everyone is talking about: it's smooth and much, much, much quieter than the 11 speed group sets by SRAM (even in the wet) and really opens up the trails with the 10-50 tooth cassette.  Another big ticket highlight is the new Mavic XA wheels wrapped in Maxxis 3C tyres. Now these are not part of the new crop of super wide rims but what they lack in width they make up for in stiffness and great rolling speed.
"One of the first things you notice, even when riding around the car park, is just how nimble and playful the Spectral AL 7.0 EX is!"
Its stiff Mavic wheels and progressive suspension really help it pop out of turns and change direction even on the loosest of trails with ease. Slotting into the mid-travel trail bike range you could be forgiven for thinking that the Spectral AL 7.0 EX is not a do-it-all bike like most in this category and probably not as able to get rowdy on the descents likes its big brother the Strive, especially with how light and lively it feels ripping around the car park.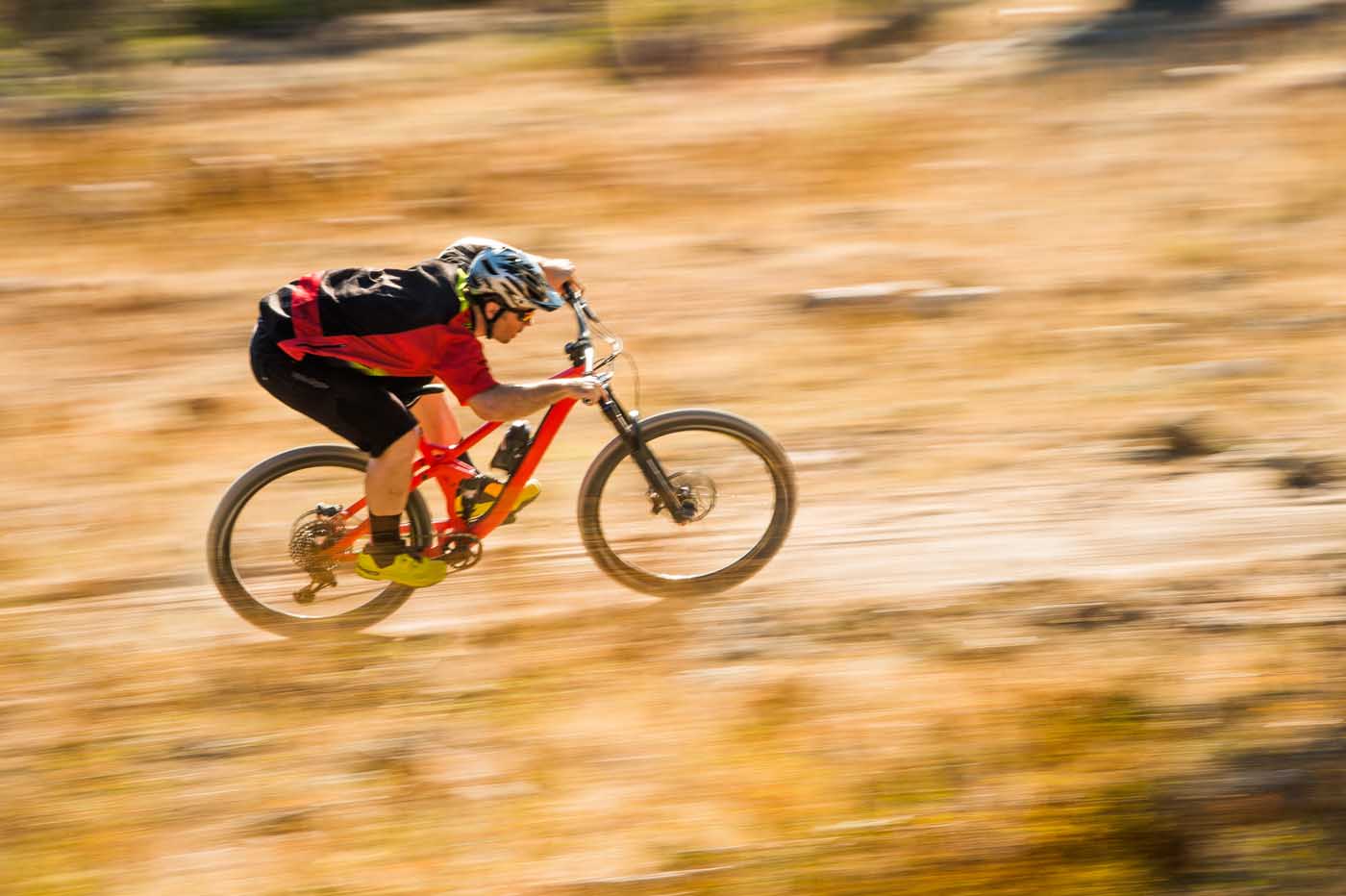 But with this ever more popular "new school geometry" of longer top tubes and slacker head angles, it sure does tell a different story out on the trails. When climbing on the Spectral AL 7.0 EX you notice almost right away the steep seat tube angle, mixed with running the bars as high as we could, made you feel more like you were sitting on top of the bike and not in it as you climb with the Reverb post fully extended. This feeling of being on top of the bike really does help when you're climbing and mixed with the excellent factory tuning of the Rock Shox Monarch,  it's probably one of the reasons why we often found that only on the longest and steepest climbs did we have to move out of descend mode and into trail mode. We never reached for full lockout (like we have done on the Strive previously), even when it is in the reduced travel XC mode – which also happens to be 140mm travel. So wouldn't you now be thinking that all this great climbing prowess, steeper seat angle, coupled with the Spectral AL 7.0 EX's low weight would surely become an issue once you have tackled the climb and are ready to earn your reward?! Wrong – and this is where it gets interesting… Canyon have the Strive which uses an item called the Shape Shifter to adjust the travel from 160mm rear to 135mm rear along with the geometry of the bike. Now this is a great bike and is used in many races at the Enduro World Series with great results. But then there is the Spectral AL 7.0 EX range 140mm bikes with a 150mm fork that weighs over 1kg less than the Strive that has also taken some impressive race results on the Enduro World Series.  It will be used by both Joe Barnes and Justin Leov across numerous rounds of the Enduro World Series again this year. So what does this all tell us? Could Canyon's Spectral AL 7.0 EX be a do-it-all bike in the right hands out on the right trails?! The angles of the 150mm fork in the Spectral AL 7.0 EX range over the 140mm fork on other bikes in the Spectral range is sure to play a part with this; but honestly this bike can take an absolute beating once you're comfortable with it. It's not one of those bikes that pretends to be two bikes and is actually only really good at climbing or descending, it is actually very good at both… Not amazing at both, but still very good and in most cases better than a lot of more expensive carbon fibre bikes out there with a lesser spec list and higher price tag.
We have often found that on all but the longest climbs we tended to very rarely use the trail mode on the Rock Shox Monarch, leaving it fully open or effectively in the descend setting 90% of the time. Having a bike that you can just get on and ride up a hill and then back down is very welcome in this day and age where you have bikes relying on lockouts and other contraptions in order to help get you up the hill and still have energy to slay the decent. Even with its reasonably low weight and efficient climbing this is not the strongest point of the Spectral AL 7.0 EX abilities. The Spectral AL 7.0 EX strongest suit is really in its handling and ability to descend like a much bigger travel bike.
The Spectral AL 7.0 EX range comes with a slightly longer fork than other bikes in the Spectral range bumping the travel up from 140mm to 150mm of travel, which really helps make light work of all but some of the roughest trails at speed. When comparing the Spectral AL 7.0 EX with other bikes of similar travel we have found that we keep relating its ability to hold and carry speed like some of today's modern 29ers but with the pop and acceleration associated with its 27.5 wheels. This makes for a very capable and fun bike that is not really held back too much by the great wheel size debate.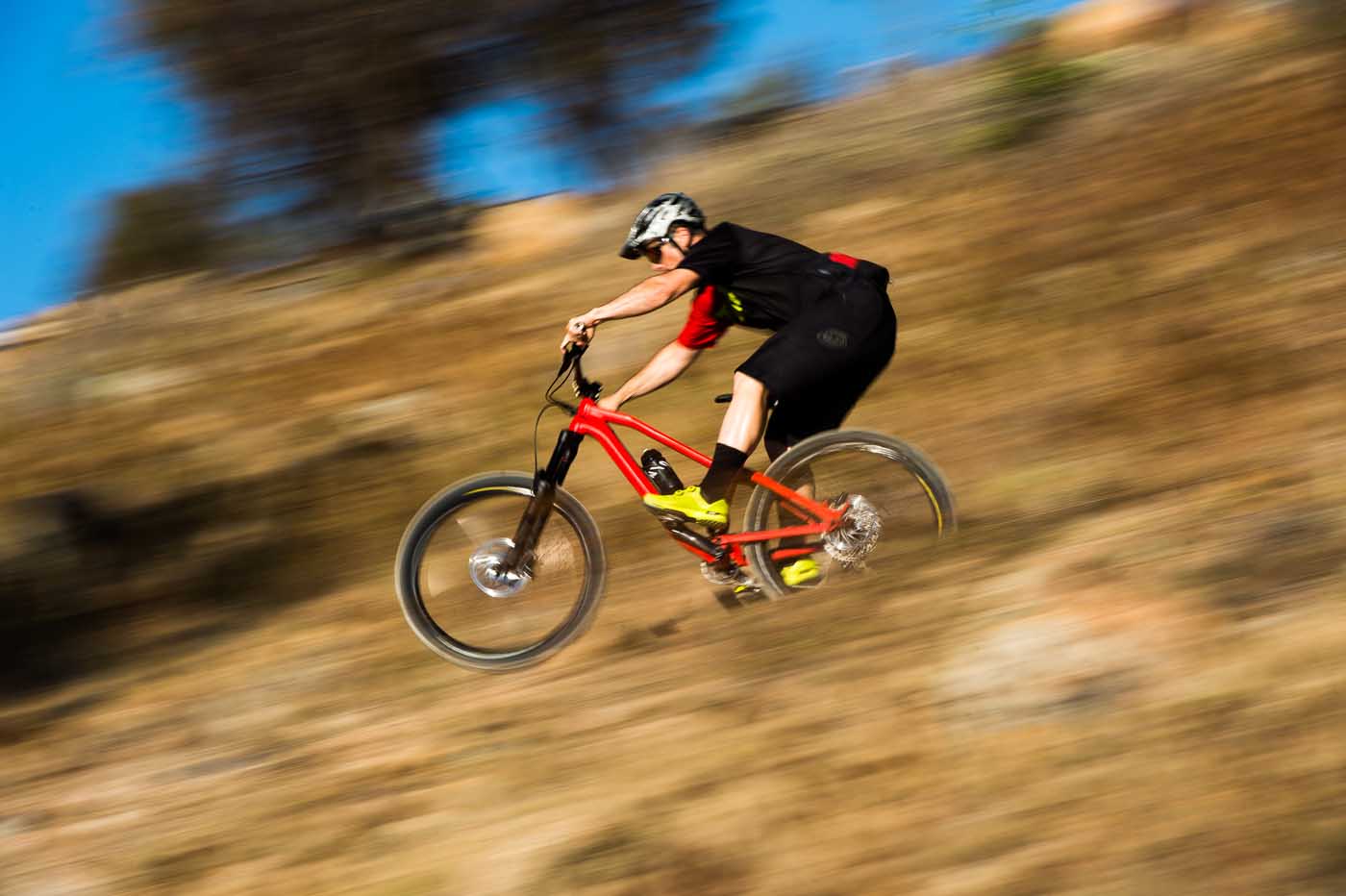 Now no bike is perfect for everyone out there, some of us have long arms, short legs and giraffe necks but the tape measure can still read the same as the person next to you. Our test rider is 176cm and around 84kg or so we are told. The sizing of our medium Spectral AL 7.0 EX was pretty spot on with a few exceptions. The 50mm Renthal Apex stem while definitely delivering some of its great handling at times made our test rider feel like the bike was perhaps a tad short when spending long amounts of time on the bike. A 60mm Renthal Apex stem was installed and this improved comfort and positon on the bike along with raising confidence at speed which was already there, but the longer stem boosted this on the high speed trails of Thredbo. Keep in mind that the slightly shorter feel of the Spectral AL 7.0 EX is due to the seat tube angle, not the top tube length and adding a longer stem won't be for everyone so have a bit of a play and do what works for you and your riding style. Now all of this confidence descending brings in the question of bar height. The Spectral AL 7.0 EX comes with only one spacer above the stem and a low rise bar. Our test rider did not find this an issue but if your preference is for a higher rise cockpit you may find yourself looking for a higher rise pair of Renthals to suit your needs. The only other small niggle would be the Ergon Grips, they were a bit firm for us and given the chance we would switch out for a set of the new Elite Series ODI grips. But this is all personal preference and realistically any changes would most likely be done when parts were worn and needing replacement.
Some people might argue that the Spectral AL 7.0 EX might become outdated soon with the adding of Metric shocks and now the ever popular boost wheels sizing trickling down from 29" wheels to 27.5" wheels in an effort to make some kind of standard in the mountain bike world. Metric shocks are brand new and have their advantages when it comes to jamming all of that technology into a tiny area, but there are some bike designs that will not allow them and we are seeing brand new bikes like the Specialized Enduro coming out that are not featuring a metric shock and getting rave reviews from their owners. With the large amount of great wheels and forks out there it should not really ever be an issue when purchasing your new bike if it is not boost. (Our test rider recently bought a high end 27.5 bike that is non-boost and said they were more concerned about lack of water bottle mounts on a frame than lack of boost wheels when making a purchase). There are some sweet deals on non-boost carbon wheels out there right now and having tried a set on the Spectral 7.0 AL EX just for a giggle we have to say….yes they do make it faster and handle better.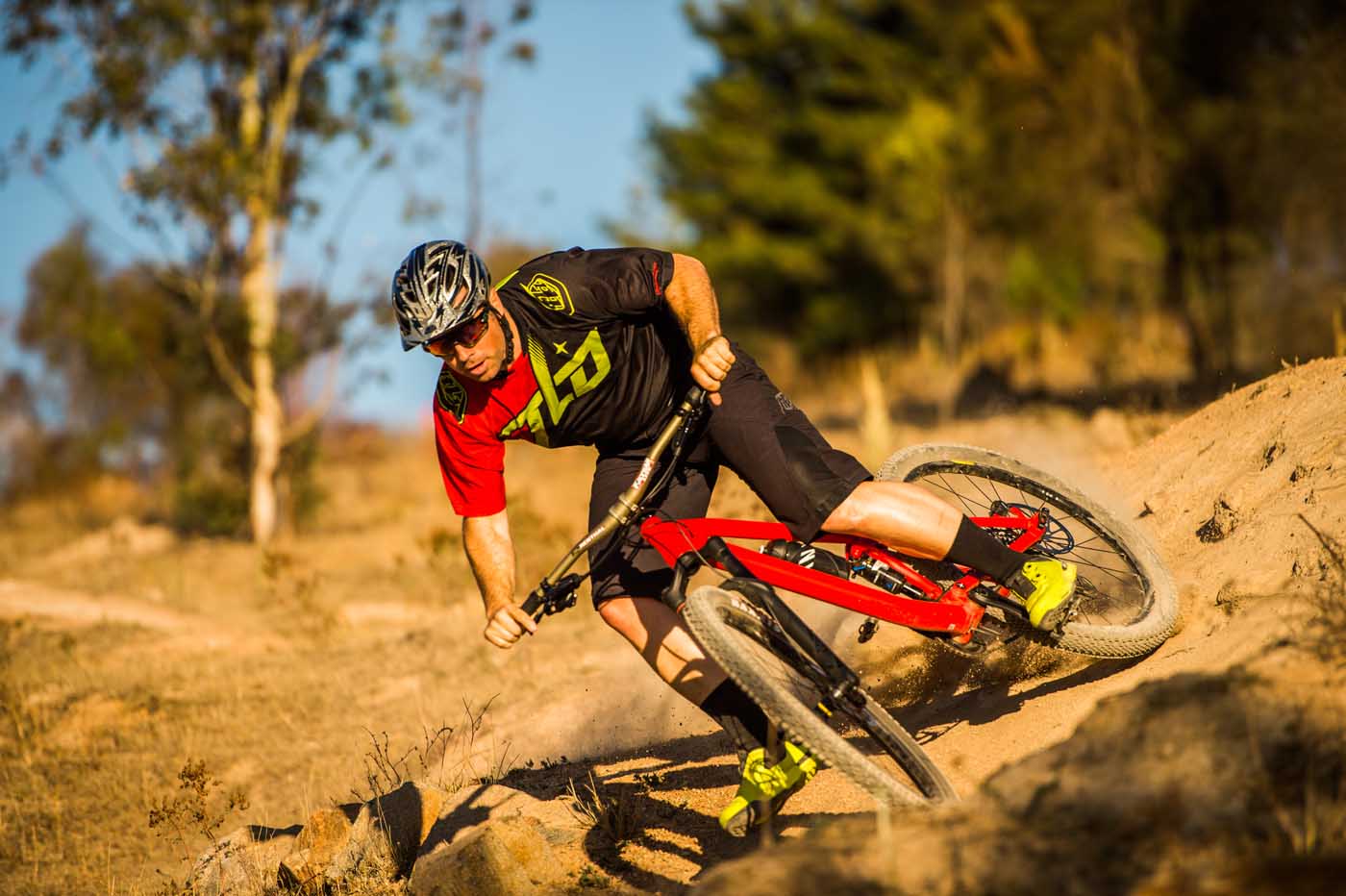 To cut a long story short (too late we know), the Spectral 7.0 AL EX is an excellent bike that is great value for money and its blood red paint job stands out in a field of bikes that can all do an amazing job of putting a smile on your face… It just does it at a better price!
Canyon Spectral AL 7.0 EX
Frame // Full alloy frame, 150mm front / 140mm rear travel
Rear Shock // RockShox Monarch RT3 shock
Fork // RockShox Pike RCT3 fork
Drivetrain // SRAM XO1 Eagle drivetrain
Brakes // SRAM Guide RS brakes
Wheelset // Mavic XA Elite wheels
Bars // Renthal
Stem // Renthal
Seat Post // RockShox Reverb dropper post. 
Sizes // XS, S, M, L, XL
Weight // 12.7kg
Price // $4799.00
Browse // www.canyon.com
Reviewer // Ben 'Moshy' Morrison
Photos // Damian Breach