What's going to stop you when it matters?
Sounds like an easy question, right? Well not really. With the variety of bikes and specific disciplines within the world of MTB naturally we see a succession of components developed specifically to suit your whip, riding style and how you like your bike to feel. The team at SRAM are no different in the sense they have a line-up of components which are super compatible from your novice rider right up to our world cup downhill racer. A little missing link in their chain of components was an 'enduro' specific brake. Think of a brake with the power of a downhill brake yet the weight and feel of a trail brake. Well, that's exactly what we are talking about so without further ado, let's introduce the brand new G2 Ultimates.
Reviewer // Scott Prendergast  Photos // Matt Staggs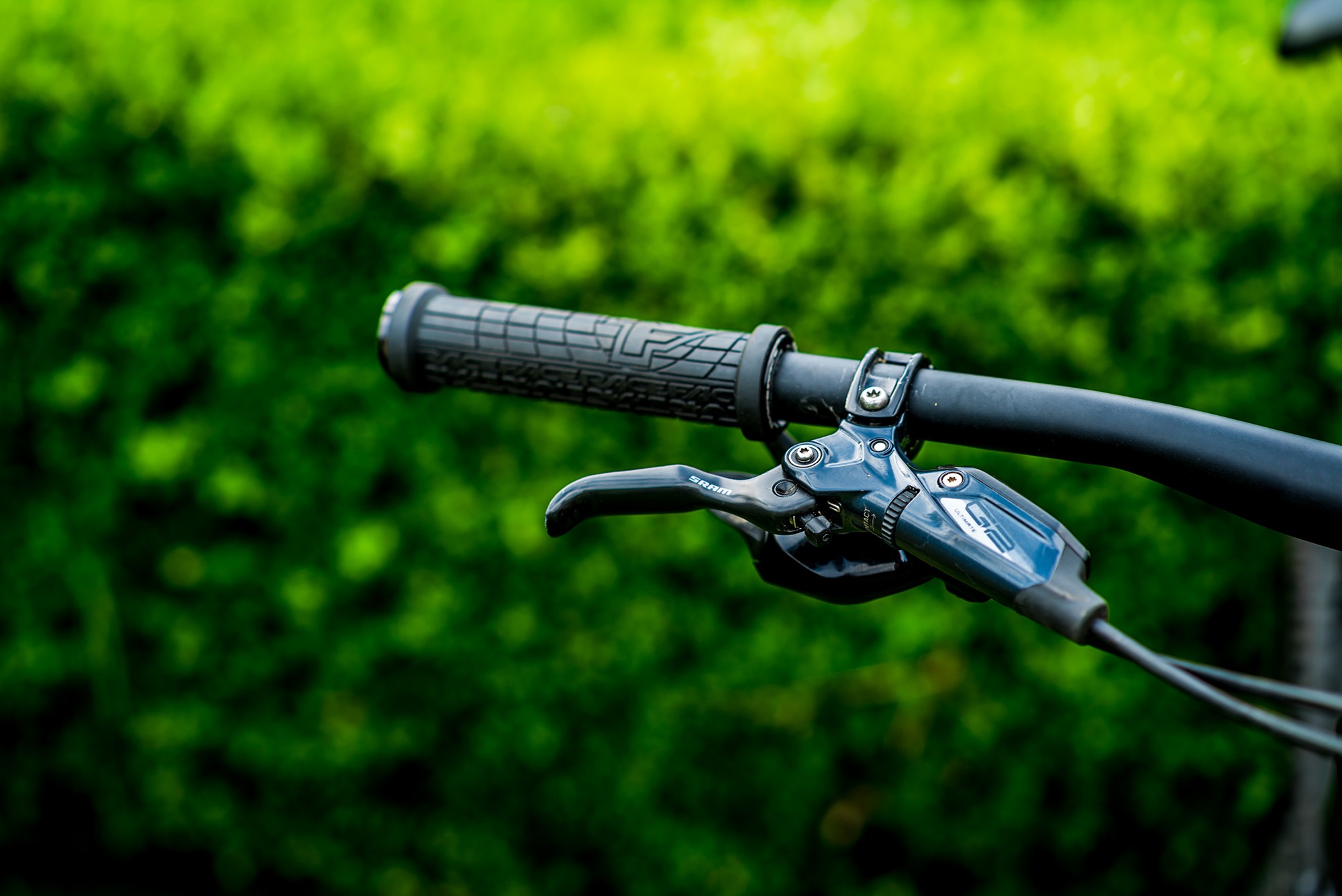 So, how's about some insight into exactly what type of rider SRAM have designed these brakes to suit?
As mentioned above the G2 brakes are made and marketed towards all of you trail and enduro shredders, however they are more directed at the heavy duty enduro style rider. We did say heavy yet there is nothing heavy about these brakes, trust us. These are a 4-piston brake which are designed to have better modulation and a nicer feel than the RSC guide, not to mention they are a more powerful brake similar to the Code. The cool cats at SRAM were kind enough to swing us the Ultimates which also runs a cool carbon lever however if you have more of a budget in mind and you don't need the added stopping power there is nothing wrong with the RSC guide, however the G2 is about 13 grams lighter than the RSC.
Ok cool what's new with this brake? Give us a break down of the G2.
No worries, to give it to you in simple terms this brake boasts; a four-piston calliper, tool free pad contact adjustment, tool free lever reach adjustment, phenolic pistons, three pad compound options, DOT 5.1 brake fluid, titanium hardware and weighs about 242 grams (without rotors). The new calliper design is said by SRAM to be stiffer due to them leaving more material around the two mounting bolts. This basically gives you a more direct, consistent feel and SRAM claim about 7% percent more stopping power output. That along with the fact this this is the lightest four piston brake in SRAM's line up we reckon they have nailed it with this product. SRAM have also changed the calliper pistons from aluminium with an insulator in their centre to four 14/15mm phenolic pistons, these pistons are made from a type of resin rather than metal and are claimed to be better a dispersing heat. You also have the option with these brakes of running your standard fibre organic brake pads or your metal pads depending on what you prefer.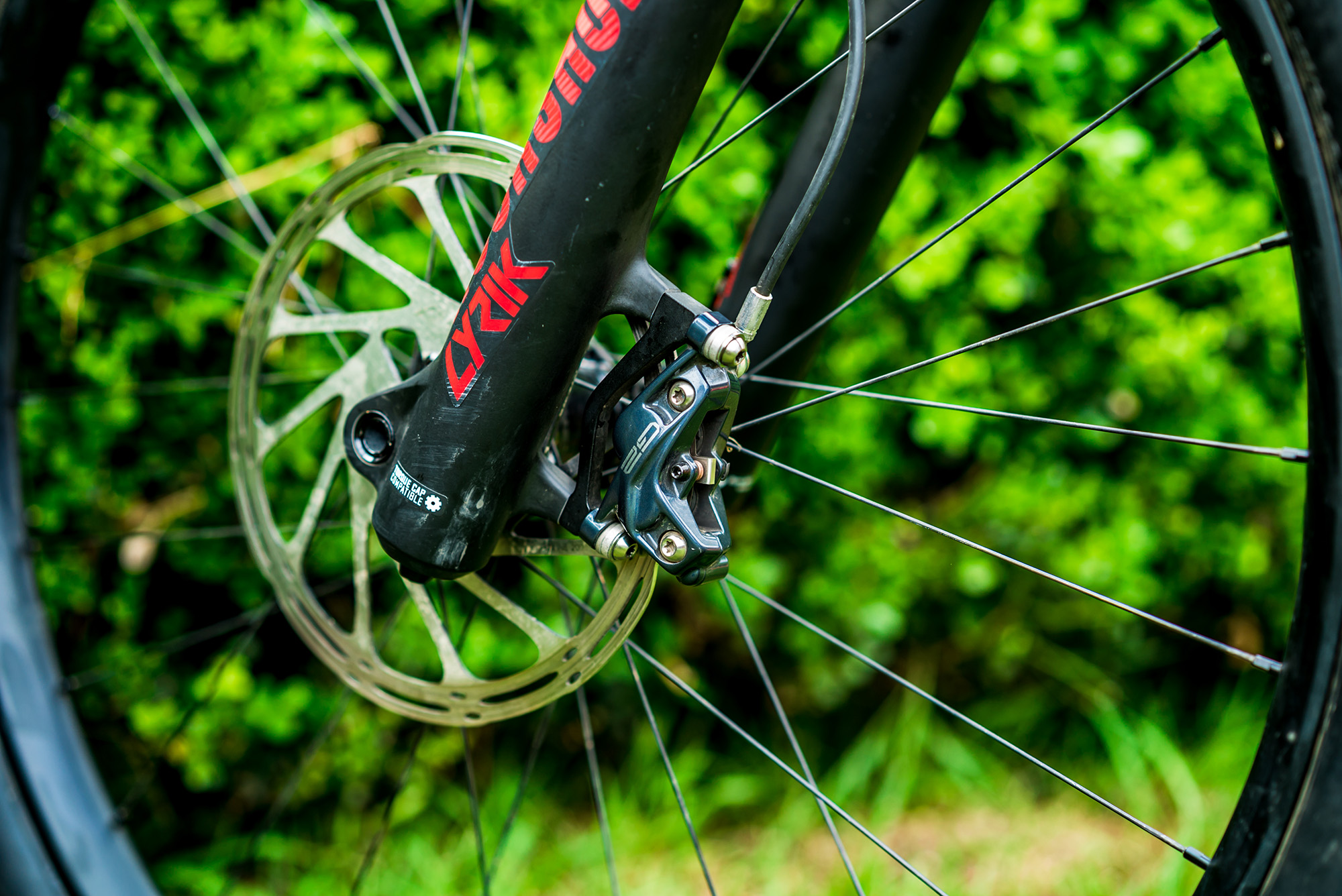 That all sounds pretty cool but how did they go on the trails and what did you like about the brake?
As mentioned above, SRAM were kind enough to swing the crew at Revolution a couple of sets of these brakes to try out. As a result, we have had these suckers bolted to a couple of sleds for about 4 months now and we have ridden them in a number of places and trail conditions including about 10 days of solid back to back downhill runs in Whistler BC. Even on that trip alone it's fair enough to say we have put these suckers through the absolute ringer.
Even from the setup phase these brakes were super easy to mount, build and bleed. All of SRAM's fittings are really easy to work with and the brakes felt super nice from the onset. We opted to run full metal pads as the majority of the time we spent riding these brakes it has been gravity orientated. Let's start by saying these brakes look super cool, with a nice gun metal grey finish, carbon levers (which pivot on a bearing) and with the new calliper design these suckers look trick. One thing we really like with these brakes is obviously the ability to adjust the contact and reach adjustment at the lever with no tool required, especially when your riding huge days and in a variety of conditions and altitude at times your brake feel can slightly change depending on the elements.
"That ability to adjust your brake on the fly and keep a consistent feel all day long was bloody awesome."
Can you describe how this brake feels?
The best way we could describe how these brakes feel is exactly how they have been marketed. They have a nice light feel with plenty of modulation, yet they feel super solid when you need to grab a handful. We would describe them as having the feel of an RSC however with the braking performance of the Code. Yep, we are serious when we say that we absolutely cooked these brakes on some super tech descents and at times we were descending for more than 15 minutes at a time. The feel of these brakes remained super consistent and we never felt like we were running out of braking power. These brakes have remained super reliable, they feel and look amazing and they have been pretty much maintenance free from day dot. I'm not sure what else you could ask for?
Any let downs from this product or final thoughts?
One rumour we heard prior to riding this brake was you they were a bit noisy as you could hear a bit of pad rattle in the calliper. We didn't agree as we didn't have that issue at all, as a matter of fact we found this brake remained really nice a quiet on the trail and we never noticed any noise at all, the fact this brake was so quiet we thought was another great selling point. To make it simple people if you want a brake that works well, has plenty of adjustment, looks amazing and is going to save your life when it matters, get yourself a set of G2 ultimates. [R]