Arguably one of the all-time most popular bike models of any MTB on the planet, the 'Fuel Ex' has been at the peak of Trek's MTB line-up for as long as anyone can remember and it has had no fewer than six major design overhauls during that time.
Late last year Trek unveiled their newest reinvention of the 'do it all trail bike' which rolls out of the store boasting a ton of rider customisation features, including a choice of frame material, geo adjustment, an internal frame storage compartment and three wheel size options.
Words // Scotty Prendergast  Photos // Matt Staggs
Over the years the 'mid travel' Fuel Ex has always been known for its outstanding pedaling performance, durability, and superb capabilities to eat a variety of terrain. So, the big question is, have Trek managed to up the ante in terms of handling and performance with their latest version of the Fuel Ex, or have they missed the mark? In this review we'll be answering that question and a whole lot more. 
Ok so let's talk a little about the nuts and bolts, what's different about this new rig, give us the scoop and a little tech talk? 
Sure, well as you all know we tend to try and not get bogged down with too much ultra-nerdy tech mumbo jumbo with our bike reviews which would likely bore you to death so let's go ahead and keep this one chill as well, sound like a plan? Rad, okay so overall the new Fuel EX's frame is beefier and has a broader trail capability than what we've seen with their previous Fuel models. Not only that this bike has more scope to tweak and adjust, but you can also make it slacker/steeper in the seat tube and/or head angle, the bike is a little longer for additional stability and it has a burley new reenforced carbon frame construction. Not only that, this bike is also suitable for 27.5-inch wheel in rear, yep, it's 279/mullet compatible. 
Trek have pumped out the suspension travel with an additional 10mm at both ends with 140mm of rear wheel travel and 150mm of fork travel. Trek also offer this bike in a variety of build options depending on what you like, your budget, and they also offer this new model with carbon or alloy frame material construction. 
Cool, can you give us a bit more detail on the new build with the Trek Fuel EX?
For sure, there have been some changes to the frame design, linkage, along with 2 different shock positions which adjust the suspension kinematics and leverage curve. This is adjusted via a flip chip with setting 1 providing a less progressive rate and the second setting providing the opposite. Trek have made it more user friendly when adding or removing shock volume spacers and another cool thing is the new EX is compatible with coil shocks. There is also plenty of rubber frame impact protection. Trek have stuck with their 'ABP' suspension system along with their 'Mino Link' flip chip in the rocker link. No doubt Trek have put this bike through its paces prior to release however there was no doubt Trek would have had some quiet nerves considering they were completely revamping a super important and popular model in their range of bikes. 
Can you give us a bit more insight in the build options depending on budget and what to keep in mind if you're in the market for new Fuel Ex? 
Here in Oz Trek have released this whip with eight different spec build options, comprising of 3 x alloy models available and 5 x carbon fibre models as well which all have a variety of parts and options depending on your budget, the components you like and frame material you prefer.  One cool thing is they still offer a build option being their Fuel EX 5 which still runs the tried and tested 130mm frame platform which still runs a 140mm fork, we though that was pretty cool considering the popularity of the previous version. Again, the weights of the bikes will vary with frame sizes, 7 in total, which are offered from X-Small up to X-Large. 
We tested an XL for review (192cm tall test rider) which really felt like a proper X-Large especially as they all come as stock 29'rs front and rear. One other cool option with Trek bikes is the fact they still run the 'Project One' option, which is a program where you can customize your own whip, frame colour and build options for those people who want something a little unique and extra fancy.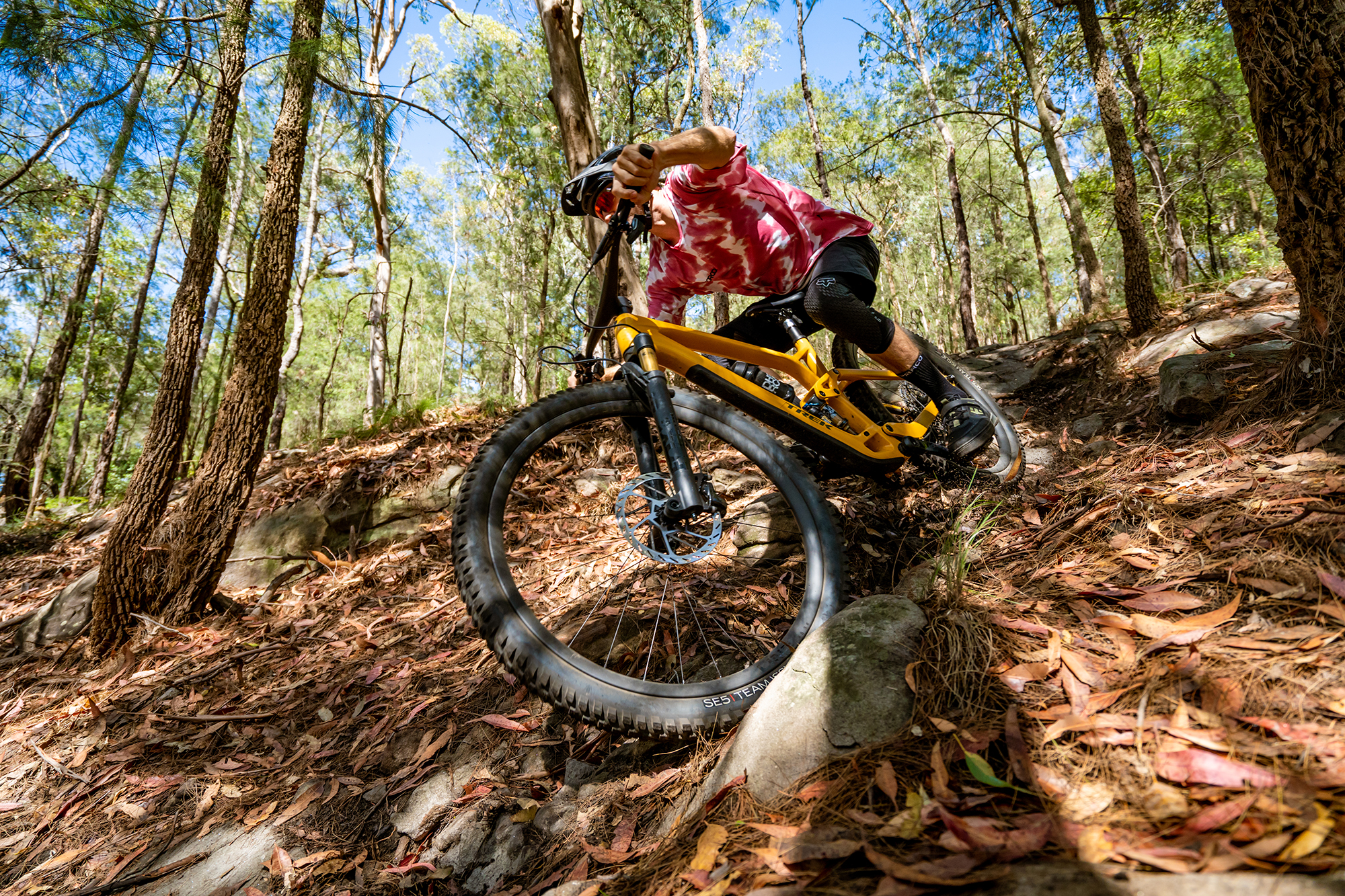 So, give us a bit more gossip on some of the newer features with the new Fuel Ex in comparison to the previous gen? 
Apart from the additional travel the other big change to the bike the rider can now make is with the flip-chip which not only affects the 'reach', 'BB height' and 'seat angle' but is also provides a dramatic change in the suspension kinematics with a more or less progressive suspension settings, the EX is best suited for an air shock but is now compatible with a coil shock, the beefier head tube isn't just for looks as the bike is also designed to fit a larger fork such as a FOX 38 or a ROCKSHOX ZEB and will take a fork up 160mm in travel for those crew who want a more aggressive version of the Fuel but don't want a full blown enduro sled. 
The frame is a little longer in the reach, steeper in the seat tube (depending on the flip chip setting) and 1.5 degrees slacker in the head tube, another cool thing is the adjustable head set cups. So, what's this all mean? Well as you can see there is a pleather of options with adjustability, and options for parts so that you can customize your EX for exactly what you want and how you like your bike to feel for specific trails. Some other cool features of note are the neat internal cable routing, frame glove box storage unit for all your tools and parts, plenty of room for a drink bottle, along with ample frame protection to negate any impacts on the trail and keep your bike quiet over the trail chatter. The bottom bracket is threaded which we think is a whole lot better option for MTB's especially a carbon frame, oh and there are ICG mounts for a chain guide as well. 
I guess the golden question you all want to know, is what it rides like on the trails, right?
One thing is Trek have really thought about a variety of elements when developing this new whip. From additional travel, durability, ride performance, storage, frame protection. We know this is a 'trail' style bike but we'd put it more in the realm of your jack of all trades whip, it was difficult for us to envisage how Trek could take such a proven product, make such dramatic changes and yet still deliver a bike that was going to be as popular with the fans, they haven't disappointed because this thing is absolutely next level in comparison to its predecessor. 
What type of rider is going to dig the new Fuel EX the most? 
We have done a ton of riding aboard this bike, XC laps, enduro sessions along with bombing some pretty gnarly trails in a variety of conditions. Is it an enduro bike? No, but at times it felt just as capable on the heavier lines as some of the bigger travel bikes, we have tested. Sure, we had this bike stretched on some bigger lines, but we never felt like the bike was twitchy or sketchy at speed, it felt really planted at speed, the suspension platform works amazing and generated a lot of traction to the rubber below. For what this bike is designed for it still inspired aggressive confident riding. So, would we call this a trail bike? Well not really, its kind of in between your trail bike and enduro big hitter. Well, that's how we felt it rode anyhow.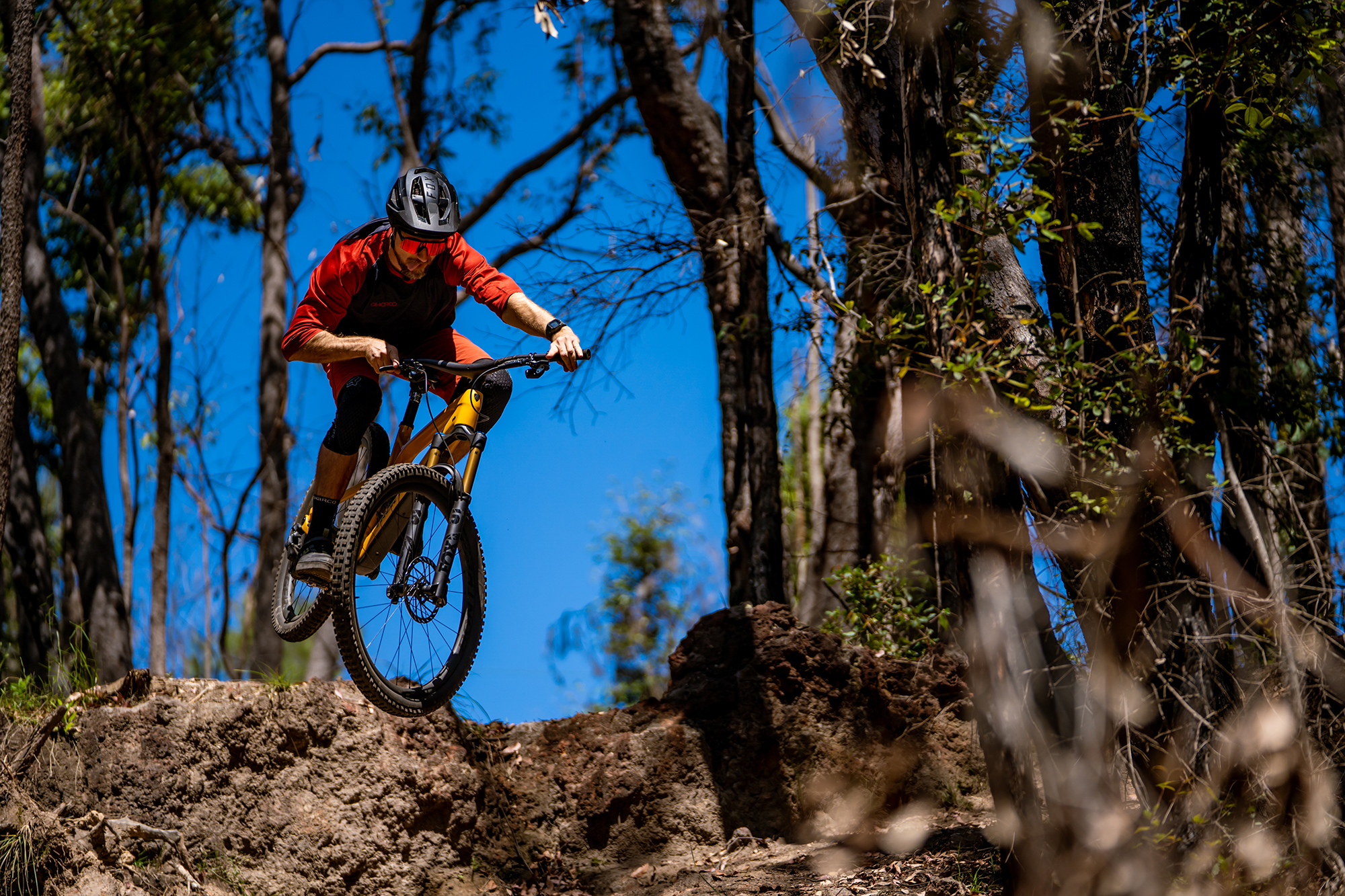 And finally, is this version of the Fuel Ex the best performing Fuel Ex Trek have ever made?
We think so, yep. This bike is super light but not too light, it pedals amazing and climbs extremely well to boot. With so much scope to adjust this bike you could set it up for an XC ride or even and enduro race or anything in between it's that versatile. I guess if you're into a bit of everything, you enjoy a long pedal, but you want a bike you could still take to a bike park for some hots laps then this whip has you covered. If this sounds like your style and you're only interested in owning and or maintaining one bike, then this bike would also be ideal. Overall, what's not to like about the new Fuel Ex? This bike has proven itself to be incredibly versatile, plus the fact that it's very easy on the eyes with its beefier new frame lines. We also really dig that Trek are offering the Fuel EX is so many different spec levels as it makes the bike a lot more accessible to riders with all different budgets and part preferences.
Is there a Fuel Ex tailored to pretty much every style of rider? Well, yeah, in 2023 there now is! 
Specs
Frame: Choice of either full carbon (as reviewed here) of full alloy.
Travel: 150mm front, 140mm rear.
Wheels: 27.5", mullet or 29"
Sizing: XS through to XL
Price: Carbon models starting from $7199, alloy models from $5199
Browse: www.trekbikes.com/au