Hot toast with lashings of butter. Sugar and spice. Strawberries and cream… Some things in life are just perfect combinations that were always meant to be. It was always just a matter of time before Giant re-adapted their mega popular Trance trail bike platform to the performance benefits of the 29 wheel size, and for 2019 they've done just that.
But I assure you, there is a lot more to this surprise package than just the bigger wheels. Giant have built the 2019 Trance 29 from the ground up, utilising custom reduced fork offset and ultra modern frame geometry. Will the combination prove to be a winning alchemy? 
[R]evolution recently traveled to the Santa Caterina region, high in the Italian Alps, for the Trance 29's official launch and we got to spend several days out on the trails discovering the bike's true personality. 
The Trance is without doubt the quintessential trail bike and it continues to be the crown jewel within Giant's line-up each year. It is by far their highest selling MTB range and understandably the brand does not hold back in ensuring that the ride performance of the Trance stays at the very top of it's game with the latest technology trends. This latest version is, in fact the 7th generation of the Trance to grace Giant's line-up over the years. Trance was one of the first Giant models to utilise the Maestro suspension system, so they already had a heap of knowledge to draw upon when they developed the new bike. However, interestingly, far from just an adaptation of the current 27.5" Trance, which would seem like the easy/obvious route for Giant to have gone by simply shoving some big wheels onto their existing package. The new 29'er Trance shares practically nothing with its little brother and boasts a completely new way of thinking in terms of the way Giant designed the bike.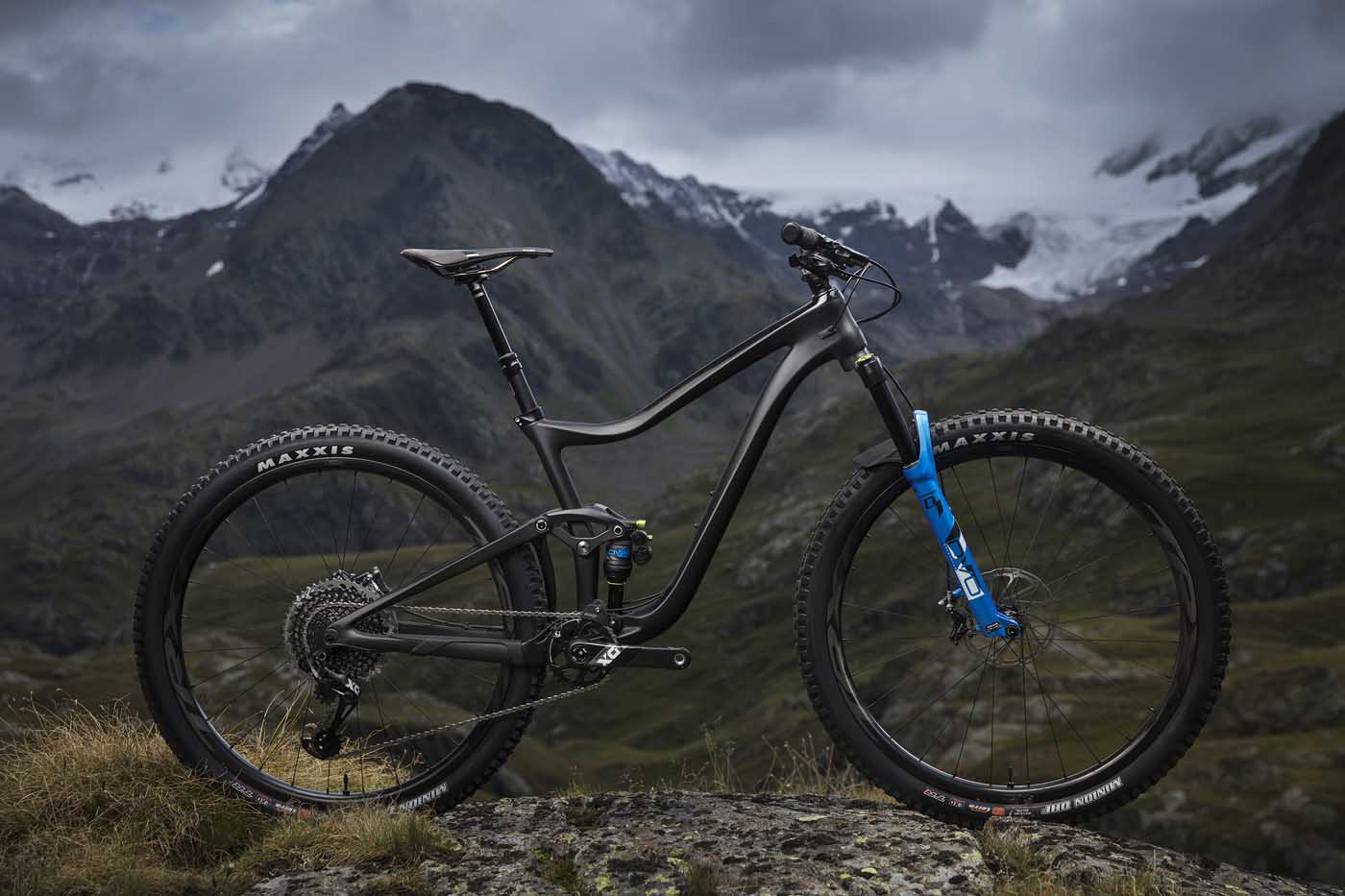 "When we first began working on the Trance 29 we knew that we could develop a bike that felt like it had a lot more travel than it actually does, which would then allow us to put together a unique geometry package to create an amazing handling bike. It doesn't just feel like it has a little bit more travel it feels like it has a lot more! We know that there will be some people that take a look at the numbers and scoff at the bike's 115mm of rear travel, but we guarantee that once they throw a leg over this bike and take it for a ride they'll have their minds blown. The fact is, its not the amount of travel that a bike has, it's the quality of that travel that matters."

Kevin Dana – MTB Product Manager, Giant Bikes. 
Okay, okay, now I'm not much of a betting man (except for 2-Up on Australia Day, which I absolutely suck at most years) but if I had to take a punt on one thing that a lot of people will be skeptical about with the new Trance 29 is it's amount of rear wheel travel. Just 115mm, is that enough travel to firmly place this bike into the modern day trail category, a position that is already firmly being held by its 27.5" brother? Having spent several days riding the bike I can confidently attest that my answer is 'yes'. It does not feel or ride, at all, like a short travel bike. I almost wish Giant's team held back on telling us how much travel the bike had when they first presented the bike, and instead sent us all out on the trails for a day of riding and then ran a pop quiz at dinner that night asking how much travel we felt that it had. I'd bet next years '2-up' kitty that none of us would have picked anything less than 140mm. And I'd have won! This bike punches well above its weight in terms of the amount of suspension we assume we need. It goes a long way to prove that when a bike has clever geometry it doesn't actually require any excess baggage. 
Make no mistake, this bike's rear shock is a stroke of engineering genius! During the launch I rode the top of the line carbon 'Trance Pro Advanced 0' which is spec'd with the new DVO Topaz 2 Trunnion mounted rear shock. Giant partnered with DVO and they spent 2 full years developing the shock specifically for the bike and no other bike on the market. During that time, they built and trail tested a mind boggling 100+ different shock configurations! Similar to current Trance 27.5" and Reign models, the new Trance 29 has been designed to ride quite high in its travel, so it's nice and active and sensitive to small bumps, giving you bucket loads of trail grip traction whilst still leaving plenty of juice in the tanks when you need it to soak up the big hits. Giant Australia's technicians have been fully trained by DVO and will cover tech support and spare parts for all Giant spec'd DVO suspension products. 
Reduced fork off-sets are quickly becoming the new 'big thing' in trail bike design. In simple terms the way it works is the bike's head angle can be slackened, which makes the bike far more stable at speed etc, but at the same time the reduced offset in the fork's crown then brings the front wheel back towards the rest of the bike, in turn reducing the overall wheelbase length which makes the bike more agile and better at climbing. Essentially, by reducing the fork's offset you get 'the best of both worlds' and a heap more front end grip across all conditions.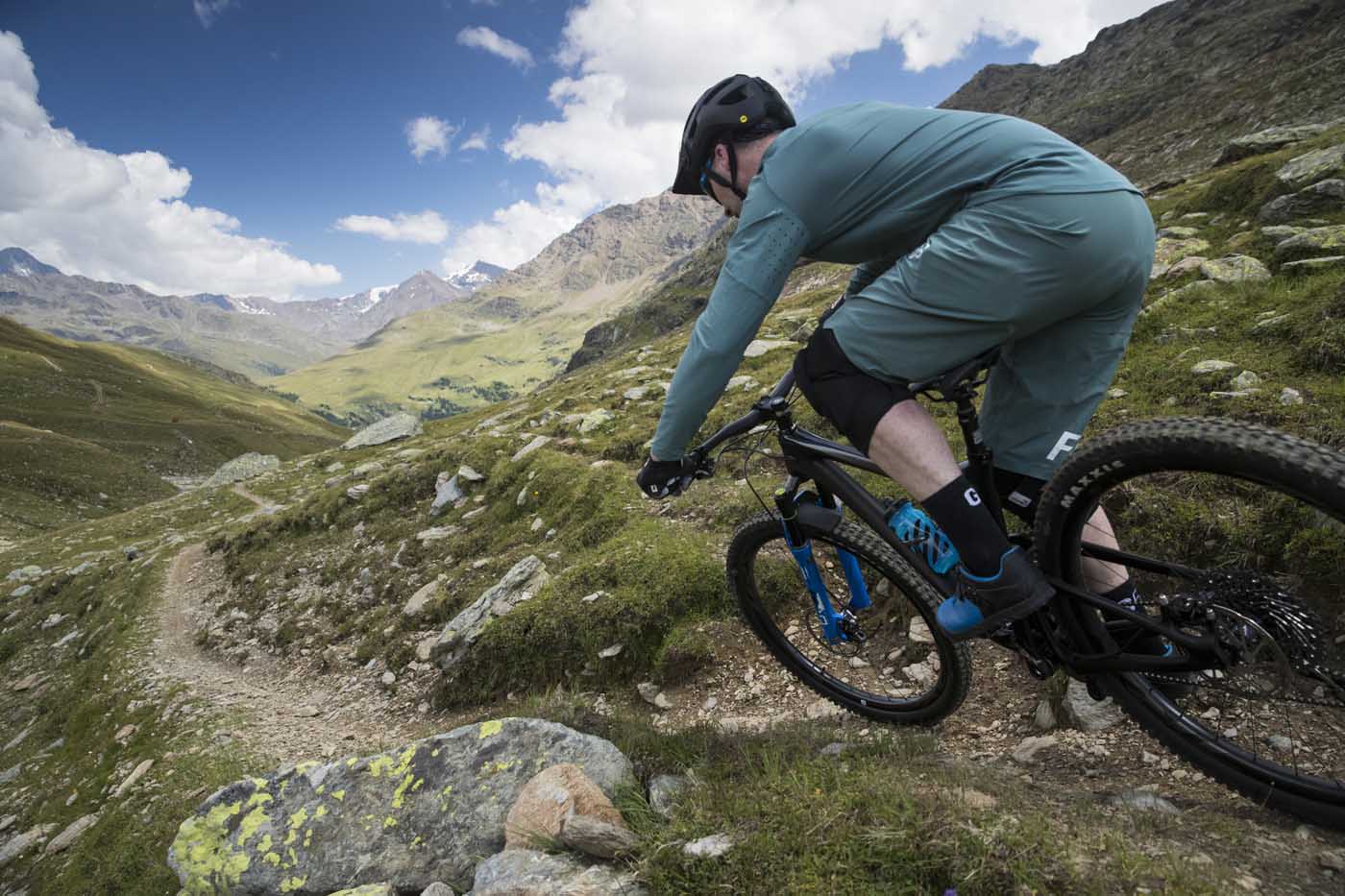 So how does the new Trance 29 ride? Quite simply put, it shreds!
The bike is super comfortable. When you sit on the bike and when you're riding, it instantly feels very natural. The reach, the sizing of where everything is, it all feels spot on. And when a bike feels this comfortable you can't help but have a heap more confidence whilst you're out riding to hit bigger lines or carry more speed than you usually would. The combination of the DVO suspension and the Maestro give the new Trance 29 a very planted and stable feel. The bike really hugs the ground and tracks across the trail beautifully. The added amount of front wheel 'grip' provided by the bike's reduced fork offset is definitely noticeable and the volume only gets turned up the faster you go and the harder you push it.
I wouldn't say it's as 'poppy' and keen to get airborne as some other 29'ers that I've ridden, but with that said the Trance 29 is still super easy to pick up and choose a different line or change direction in the blink of an eye. Those short 435mm chain stays make lifting the front wheel virtually effortless. I guess the thing that really surprised me the most was that it never felt like a little bike. I never found myself wanting more travel. We rode a real variety of trails at the launch, lots of really long fast descents, heaps of really technical sections, and at no point did I feel that the Trance 29 ever ran out of talent (except perhaps from its pilot!) 
How did we settle on the 115mm number? It was purely a case of knowing the geometry numbers that we wanted to hit and then testing, and testing, and testing a heap of different configurations to get the exact ride performance that we were after and it just happened to land on 115mm. It could just as easily have been 106mm or 138mm, it didn't matter, all we were focused on was creating the ultimate handling 29'er trail bike." 

Kevin Dana – MTB Product Manager, Giant Bikes. 
Have we got a strong candidate for the best looking trail bike of 2019 on our hands here? The appearance of the new bike, as you can see for yourself, is incredibly easy on the eyes. From the smooth clean lines of its frame, to the lack of any 'noise' and clutter up on the handlebars, and let's not forget to mention the ultra-stealth graphics package. Yep, this is one fine looking pony.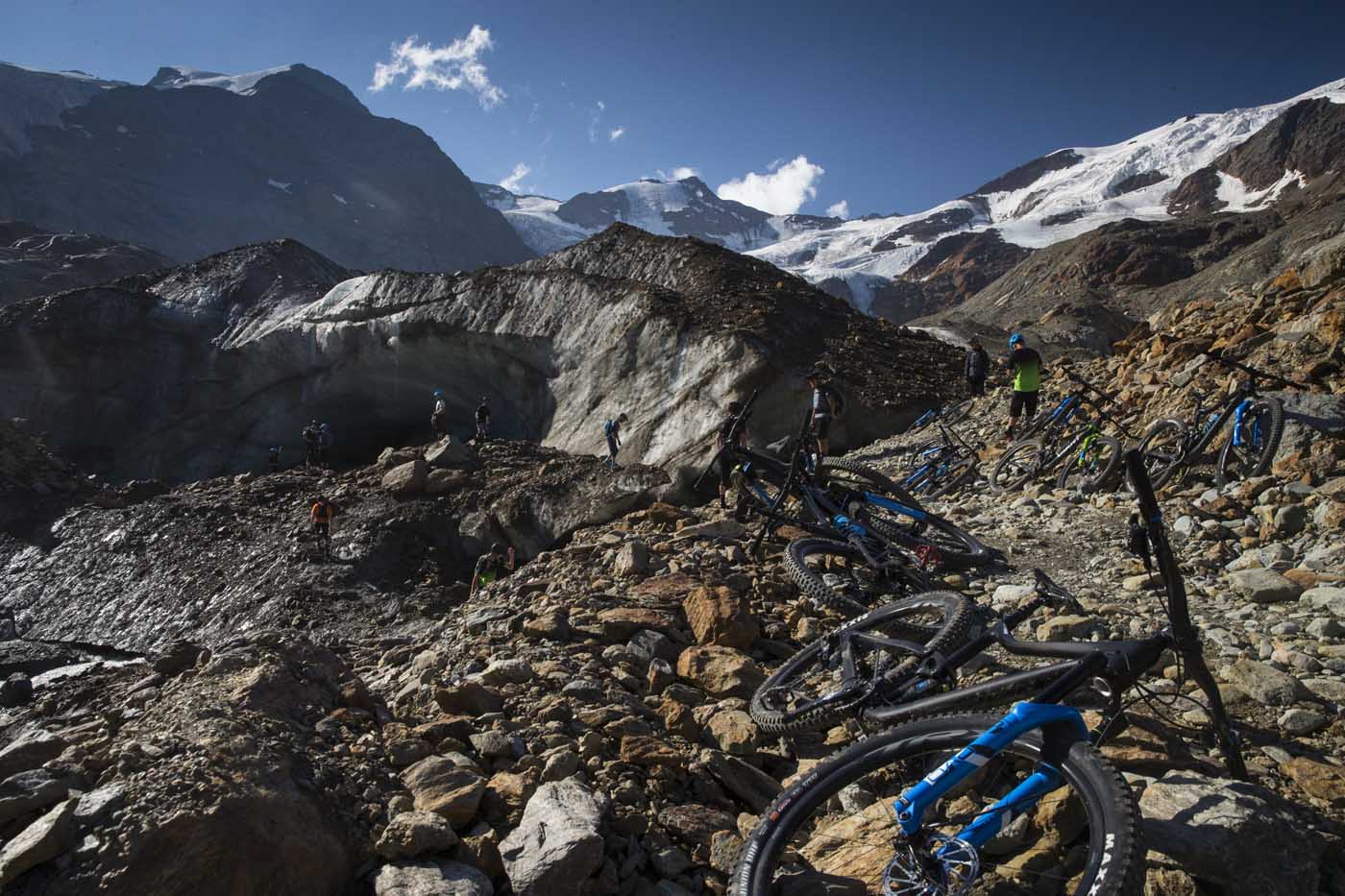 "This is probably my favourite bike I've ever ridden. It's amazing what the engineers have been able to accomplish, creating a 29er that's totally versatile and super fun to ride on all types of terrain. It's ready for steep climbs and technical descents, just a great option for enduro events, big days in the backcountry, or daily rips on your local trails." 

Adam Craig – Giant Factory Pro Test Pilot 
One of the things that makes Giant so popular amongst consumers is that they're really good about trickling down their bike tech with an extensive range of models, meaning there's a bike for pretty much anyone's budget. This Spring at Giant dealers across Australia the new Trance 29 will be available in 2 frame material options; either a full carbon frame (Advanced) or a full alloy frame, and both versions will be offered in several spec levels. Both frame options share identical geometry and reach numbers. All Trance 29 models feature a new Advanced Forged Composite (carbon) upper rocker arm, which is lighter, stiffer and stronger than the previous alloy version.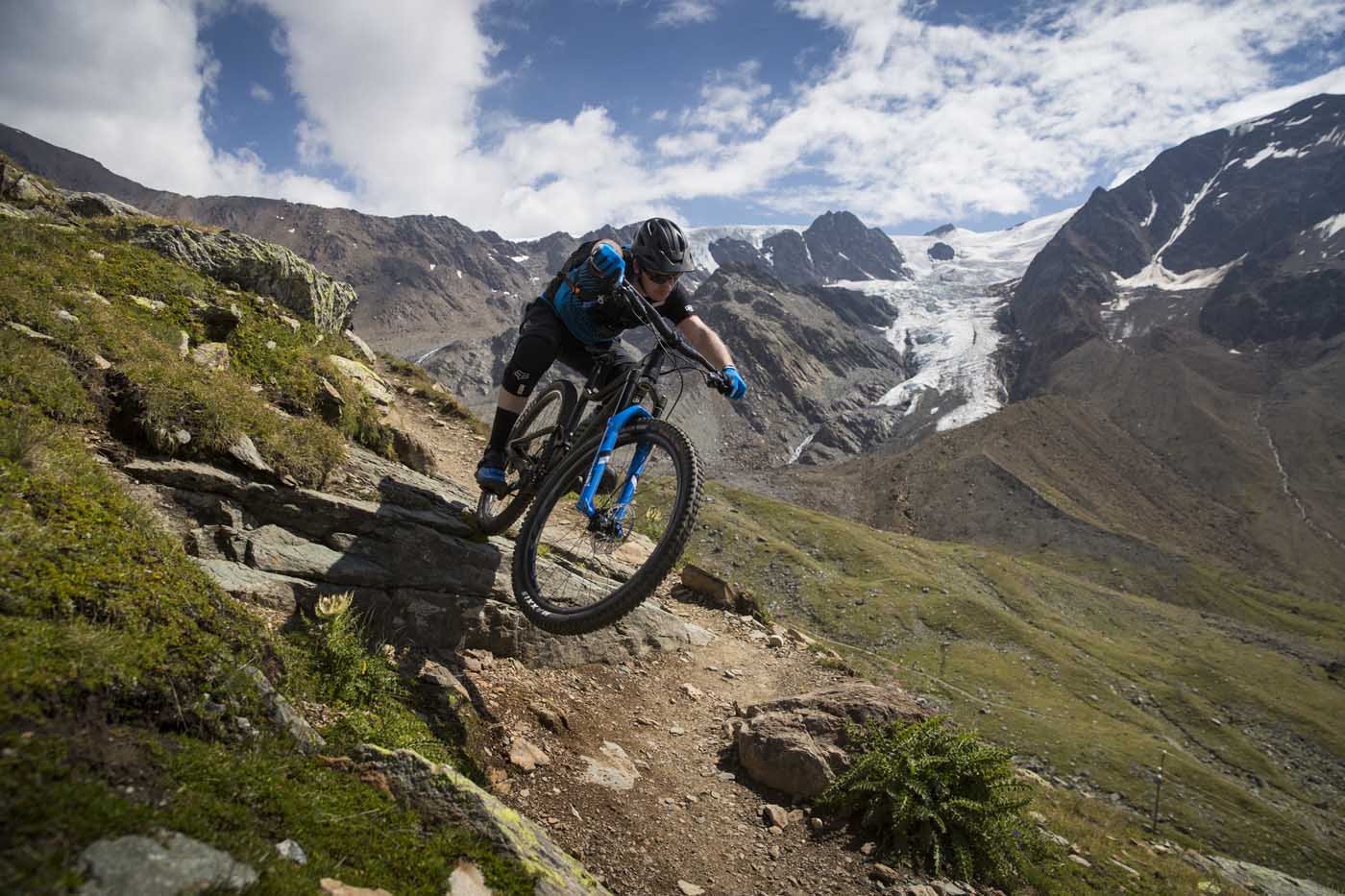 Visit your local Giant dealer or www.giant-bicycles.com/au for full spec details and pricing. And be sure to keep an eye out for our upcoming Spring/September magazine for a whole lot more insight about this little trail rocket ship.
Australian Models Available
Trance Advanced Pro 29 / Trance 29 Geometry
| | | | | |
| --- | --- | --- | --- | --- |
| | S | M | L | XL |
| Seat tube length (mm) | 380 | 431 | 464 | 496 |
| Seat tube angle (Degrees) | 74.5 | 74.5 | 74.5 | 74.5 |
| Top tube length (mm) | 592 | 612 | 632 | 652 |
| Head tube length (mm) | 95 | 110 | 110 | 120 |
| Head tube angle (Degrees) | 66.5 | 66.5 | 66.5 | 66.5 |
| Fork rake (mm) | 44 | 44 | 44 | 44 |
| Trail (mm) | 117 | 117 | 117 | 117 |
| Wheelbase (mm) | 1154 | 1176 | 1196 | 1218 |
| Chain stay length (mm) | 435 | 435 | 435 | 435 |
| Bottom bracket drop (mm) | 35 | 35 | 35 | 35 |
| Stack (mm) | 599 | 613 | 613 | 622 |
| Reach (mm) | 426 | 442 | 462 | 480 |
| Stand over height (mm) | 708 | 740 | 761 | 785 |
| Handlebar width (mm) | 780 | 780 | 780 | 780 |
| Stem length (mm) | 40 | 40 | 50 | 60 |
| Crank length (mm) | 170 | 175 | 175 | 175 |
| Wheel size (Inches) | 29 | 29 | 29 | 29 |
For more information hit up: www.giant-bicycles.com/au
Words // JT   Photos // Sterling Lorence