Last year Giant released the Trance E+ which went on to become one of the most popular 'trail' e-Bikes on the planet, and now the brand is looking to replicate that success as they unveil the brand new 'big, beefy, all-mountain hungry' Reign E+ Pro!

 
Story // Dave Ludenia
Sporting 170mm of travel up front, 160mm in the rear, 27.5" wheels, a super slack 64.5 degree head angle and the performance of Yamaha's recently updated powerful SyncDrive Pro motor, the Reign E+ Pro certainly looks set to pack a mighty punch! [E]volution was recently invited to Les Gets, France, to experience the new bike first hand at an exclusive pre-launch event. What did we discover when we arrived? Read on…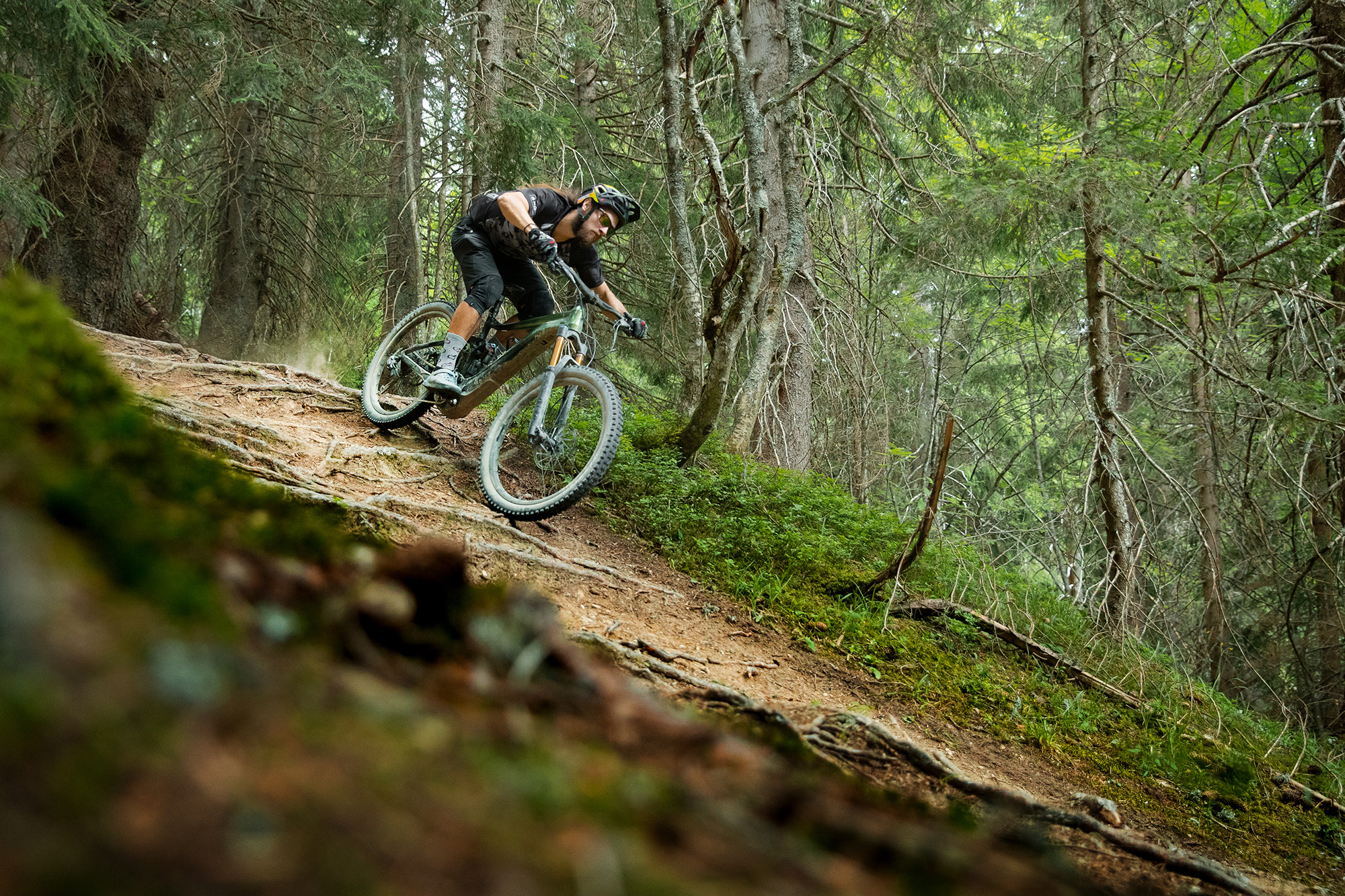 To begin by stating the obvious, the new Reign E+ clearly shares a lot in common with the super popular Trance E+ that Giant introduced last season, eh? Well yes, the Reign E+ definitely carries across some DNA from the proven Trance E+ however don't be fooled into thinking that it's just a jacked up big brother. The Product Design team in Europe have developed this rig fit for purpose, ensuring the Reign E+ has not only the feel and appeal of a mega mountain slayer but also the tech and refinement to back it up. Shared linkage design, motor and frame quality kitted up with custom tuning everywhere and girth where it counts.
The bike showcases Yamaha's top of the line 'SyncDrive Pro' motor. Is that a straight carry over from the Trance E+ or has it been tailored specifically for the Reign E+? In a nutshell, its more powerful and has an updated tune. For 2020, the latest Yamaha motor delivers 80nm of grunt to help this burly rig along, with an improved support ratio up to 360%, ie; less pedal input, more motor output. "Ooooft!!!" The tune is optimised for the Reign E+ and using 6 sets of sensors, including slope detection and acceleration, it is well informed on how to best cater to your ride. The increased cadence range allows full torque to be delivered from 40-130rpm and continued input up to a blurry swirl of 170rpm! If your pins are moving like that, you may not need the motor after all…
"For 2020, the latest Yamaha motor delivers 80nm of grunt to help this burly rig along, with an improved support ratio up to 360%, ie; less pedal input, more motor output. "Ooooft!!!"

What size battery are we talking? The EnergyPak serves a healthy 500wh of juice across the Reign E+ range. In the real world, that meant after around 60km and over 1800vm of pedalling, indications showed at least 1/4 remaining on our test rig. The detachable battery has improved rubber protection and seals with a simple clip in action and a T25 security screw for peace of mind. In the guts of the aluminium casing there's a honeycomb cell protection structure, boasting to be the only known e-Bike battery built to EN1564 standards. Sleep easy on your explosion paranoia, your steed won't become a fireball anytime soon! An additional 250wh battery range extender can be bolted in place of the bottle and plugged straight in. The 2.5kg penalty will be worthwhile for those desiring a true all day epic or even an overnighter, or just to keep your phone charged through the USBC charger.
Run us through the different power modes you'll have at your fingertips? There are 4 standard power modes to select from which are displayed simply with battery level on the RideControl ONE cockpit. The SmartAssist support mode is where the real brains come in, sampling a bunch of live data from your bike and terrain, then optimising how best to deliver maximum power, naturally and mindful of your battery consumption.
The bike also features a new level of connectivity and rider customisation via the new Giant E-Bike App. How does it all work? The Ride Control ONE is now ANT+ compatible for connection to just about any wireless device but notably Giant's new smart phone app. Here you can check out your own fitness data, navigation and motor tune. Giant are also working on an inhouse computer with some tech to even control their new lights… Stay tuned for more on that later to come.

The geometry numbers on this thing are super aggressive. Are we pretty close to the realms of being able to call this a self-shuttle DH bike? With a 64.5 degree head angle and very generous wheelbase, this doesn't claim to be your standard trail riding e-Bike. Although just a notch up from what's out there already, this is truly tipping into the DH game, and reinforced when you throw your leg over and look out to the front wheel, you don't desire meandering down a flow trail that's for sure. The reach figures are also longer relative to the Trance E+, with my test bike in size large probably more akin to a size XL.
How much travel does the Reign E+ boast at each end? Custom tuned Fox pumpers on both ends, with 170mm up front and 160mm out the back.
Okay, so tell us about the rest of the frame's details and features? Greeting us for bike setup, the clean lines and chameleon green fade caught our eye for all the right reasons. The Maestro linkage is very familiar, with neat integration of the speed sensor in the dropouts of the gloss Aluxx SL frame.  Our top specc'd E+0 test rigs were decked out with some of the finest parts in all of MTB including a set of stealthy Fox 36 forks and a Fox X2 shock, SRAM's brand new wireless AXS and a pair of Giant's own E-TRX carbon wheels. Yes indeed, this is very much a 'top of the top shelf' spec!
Interestingly Giant have just announced that the new Reign will feature 29'er wheels, however for the new Reign E+ they've opted for 27.5+ instead. What's the low down on that decision? Like many of the foundations of this bike, Giant have proven with their Reign 27.5 that 27.5" wheels work and work bloody well. But of course if you're after even more proof that 27.5" are the best choice for an e-Bike you need look no further than the super popular Trance E+. Also keep in mind that the new Reign 29 has been a long time in the making and honestly, in e-form, this is a big bike already. You've got a lot of weight to play with and riding an e-Bike is still a different sensation to 'throwing down' on a 29'er enduro race rig. The hoops perform work really well here, especially with a healthy bag on the Maxxis treads, leaving more than enough comfort and speed to be concerned about the numbers.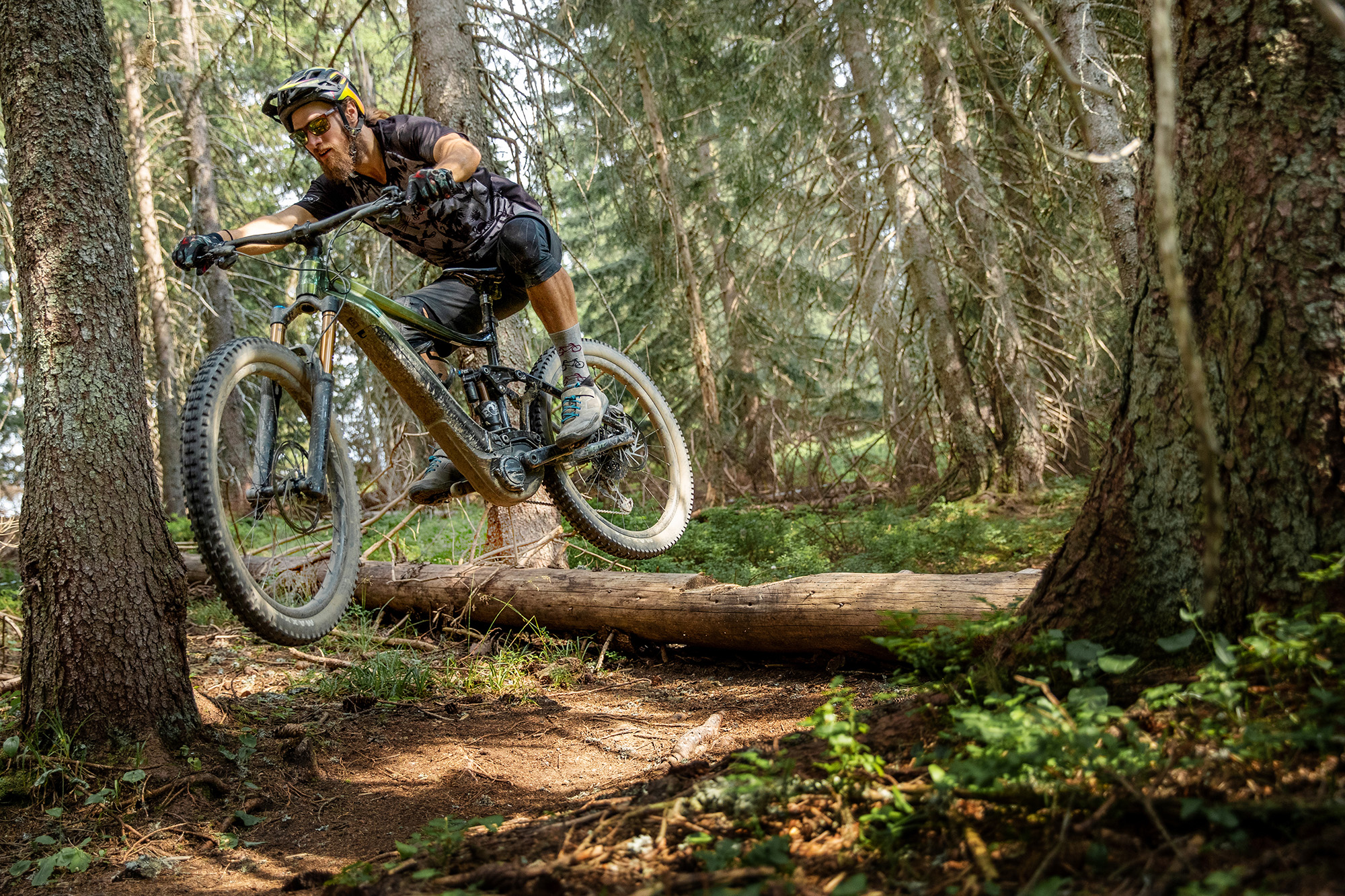 Right'o, enough theory and spreadsheet data analytics, tell us about where you took this thing and how it rides already!? Saddled up and rolling out to the trails for the very first time it was very easy to get settled on the smooth power delivery and settings; simply switch on, and pedal off. After jumping on the Les Gets chairlift and taking a cruisy pedal further into the alpine backcountry, the first descents to greet us were typically French; steep and cambered goat tracks in the mountains above the bike park; exactly where this bike is designed to take you.  Turning downhill for the first time, this trail eater scoffed up the rocks and roots for breakfast, just like we did with our local deli treats. There isn't any hiding the weight beneath you, though the beauty of that is in the speed, exactly what this machine lusts for; get it moving at pace and it'll take care of the rest.
Is peer pressure from a bike a thing? Well, it is now… "Have you tried going fast? Get off the brakes!" She'll be screaming up at you.

Giant's Maestro linkage design is a well proven performer. How does it handle on the big Reign e-Bike? The feel is plush and progressive, especially through the first half of its travel. Maestro ramps up quickly as needed on the bigger hits though and unlocks the full range when you want it. You can see how Giant landed on the X2 shock to compliment the linkage perfectly, barely feeling a chatter over the Les Gets root nests that litter the trails. 
The 'regular DIY pedal' version of the Reign is one of the most popular big mountain enduro bikes on the planet, does the new e-Version come to life just as much when the trail falls away? Oh there was no questions about the ability of this machine once we pointed it downhill. After cutting through fields and farms in the Savoie sunshine, we dropped into Morzine, greeted with some of the steepest trails in the bike park. This is where having that raked out front end begins to really shine! Watching the talented local guide Papi disappear down a seemingly cliff like forest slope, the Reign E+ drew me straight in behind, with an impressive ease of control through the dust, bringing about ski like sensations on the off-piste terrain. Spitting out the bottom of the trail, there were plenty of beaming smiles smacked across the media rider's faces, and admittedly some of the loosest chutes I've had a go at. Sucking up the roots, steps and holes along the way, the wheels never felt undersized or hung up, adding to the confidence this ride encourages.
What about the bikes pedalling performance, is there enough grunt in the motor to whisk all that suspension travel, slack geo and big wheels along the trail with relative ease? It churned through the rutted out fields we climbed without a blip, even testing myself crawling straight up some seriously steep ski runs with minimal wheel wander. I stayed in SmartAssist mode most of the day, including on the extended descents, where a welcome, steady pull was delivered out of the turns to keep the pace up. Pedalling traction was unphased by the trail features either. Sure, a bit of predictable wallow in there meant your climbing couldn't be lazy but the rig still did the bulk of the hauling, making for an enjoyable meander.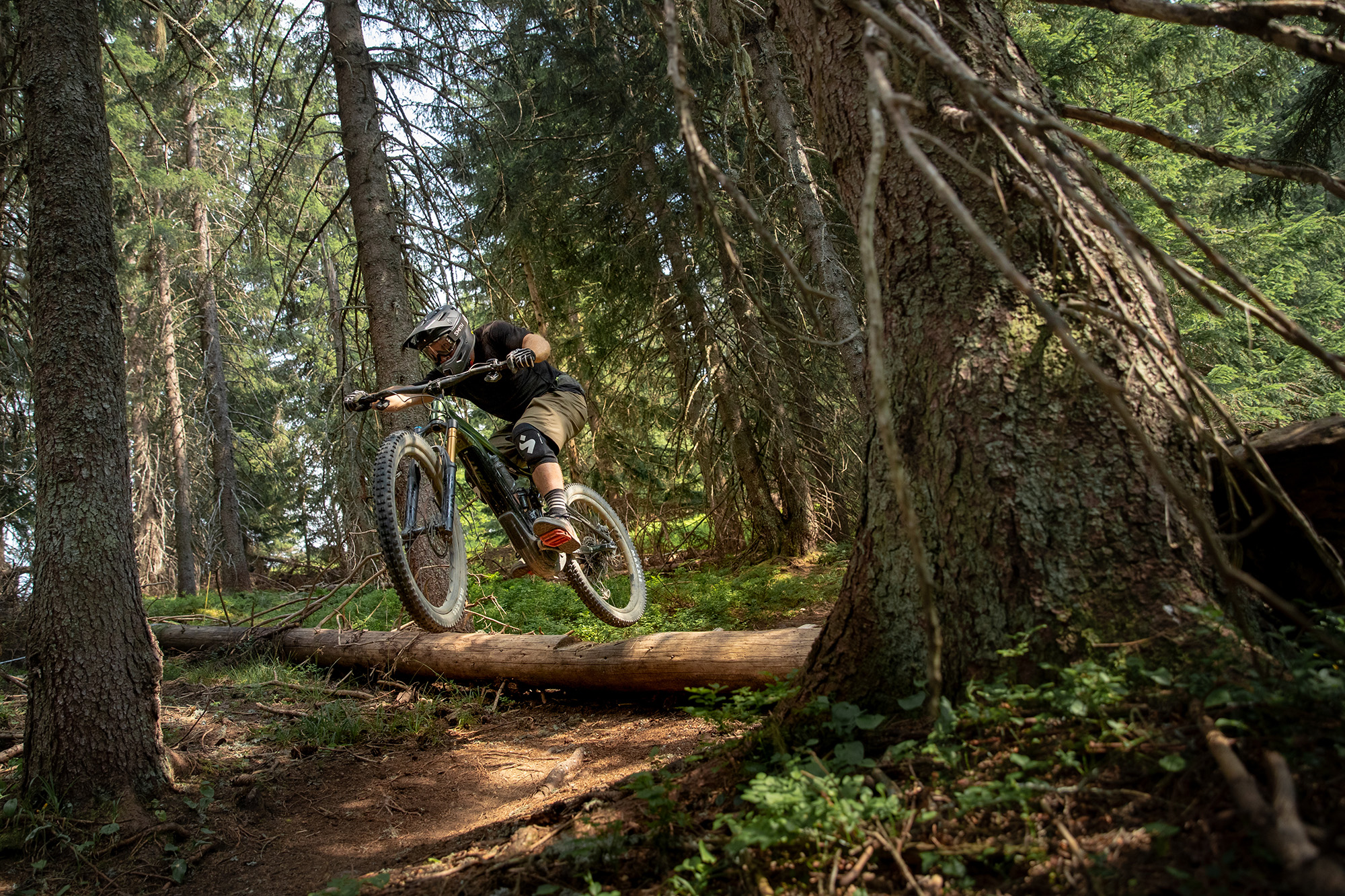 e-Bikes aren't usually known for their jumping prowess, but how does the Reign E+ feel once you pull up off a decent sized kicker? In the bike park, you could tell the Reign E+ shared the same blood as it's old descendant, the Glory DH. Launching over a few decent park hits, the bigger the better really, with the weight and manoeuvrability less of a factor once you have the confidence to get it properly airborne. Weight distribution is quite balanced so learning to go big would be quite forgiving aboard this steed.
As much as the Reign E+ won us over during the first few days of getting to know it over at the launch, was there anything that might hold it back? The Reign E+ is a lot of bike, there can be no denying that. To ensure that the bike is stable at speed and also whilst climbing Giant have pushed the bike's chainstays out to 469.5mm which meant that getting the front end to pop up for a manual up does take some getting used to. However, much like any e-Bike, shifting the weight around tight turns is a bit of a learning curve as well. In saying that, once I started to confidently load the front and unweight the back end to steer from the rear, the bike then began to dance with more familiarity and it didn't take long to begin riding effortlessly again.
e-Bikes tend to suit a wider range of riders compared to regular MTB's, that said though, what type of rider is the Reign E+ going to be a perfect match for? This machine is unquestionably made for the burly trails, so a certain level of skill and confidence is a prerequisite to unlock it's potential. Lusting for speed and enticing a big mountain rider to redefine their limits, this bike will suit anyone with a desire to push themselves whilst capturing maximum value from their time out in the elements we know and love; dirt, trees and the summer breeze. All in all, the Reign E+ is an exhilarating package which will be sure to keep you coming back day after day, after day for more!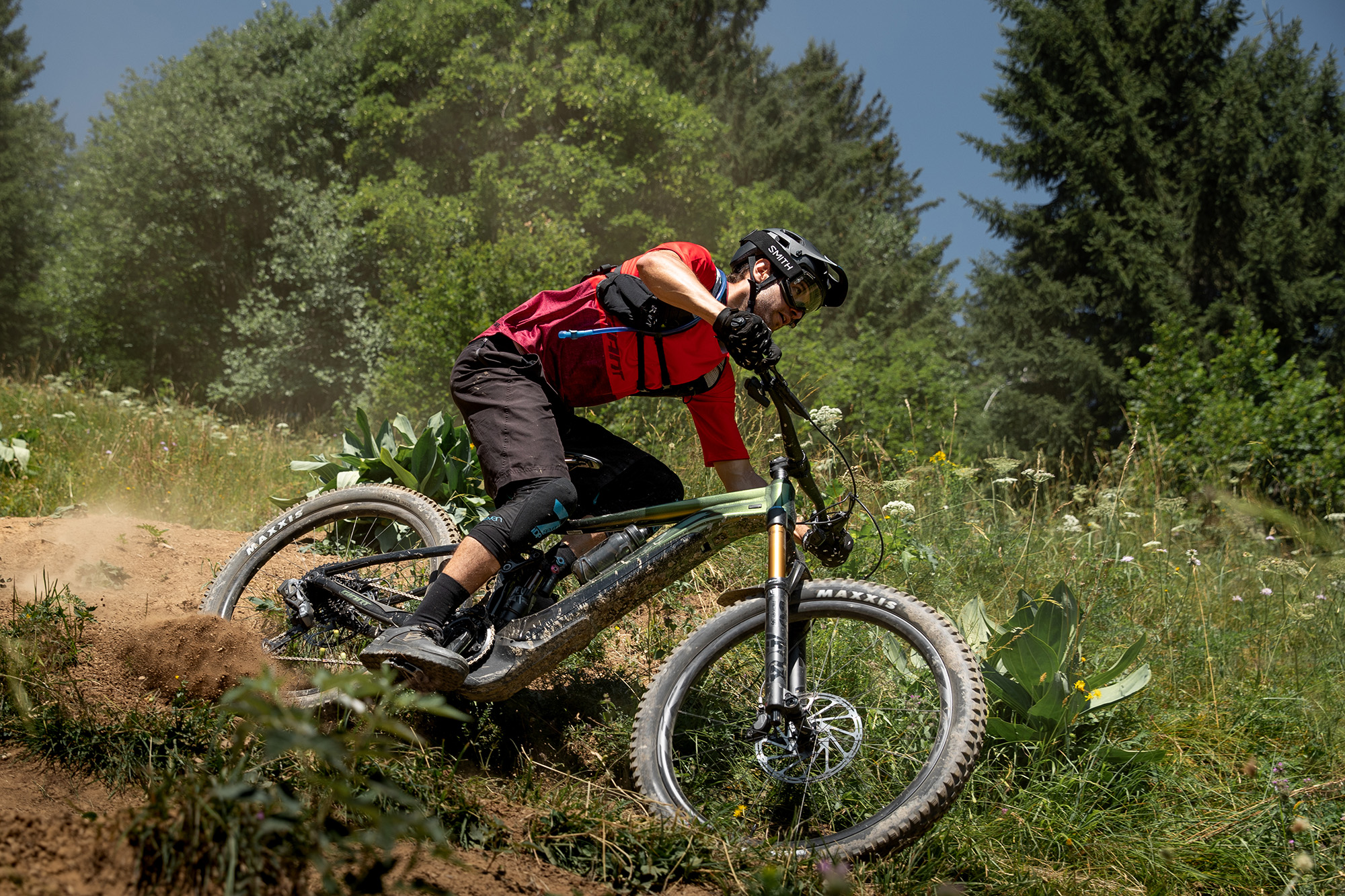 The 2020 Giant Reign E+ Pro will be available at Giant dealers across Australia in 3 different spec models.
Learn more right now over at www.giant-bicycles.com/Reign-E