Rob Potter and two mates channel their inner EWS pro rider to take on the now infamous EWS/Derby trails just like they did on race day…
When it was announced that Derby, Tasmania, was to set to host a round of the Enduro World Series, myself and the lads were bloody pumped! When the weekend final came around and the focus of the world's mountain bike media shifted toward Derby for that week in April. I, along with anyone with eyes and an interest in mountain biking was subject to a hail of images and video of the worlds best riders contending with trails that created the perfect opportunity for them to demonstrate their super-human style, aggression and consistency amidst landscapes unique and beautiful enough to nudge anyone off the couch and into their riding kit.
Derby will again host an EWS round in 2019, so the opportunity to approach the challenge of the EWS course and share the adventure with friends exists now. A few short calls after realising this and we had a crew of three assembled around the simple concept of riding the course, as it was raced, in a day.
While we weren't racing, the task was still significant and I was very aware of the physical challenge it presented.
I knew I'd have to get some more pedalling done in the weeks leading up to ensure I was something more than a semi-conscious passenger by the days end. Knowing something and doing something are of course very different things.
In the early stages of the Blue Derby's development, the logistical challenges that had to be overcome to do this were a little greater. As we pieced together a plan, it became very clear that this is no longer the case.
Flights into Launceston; the nearest major airport, if booked far enough in advance can be secured for less than couple of days parking fee's in a capital city. For groups of 6 or more Vertigo MTB can organise airport transfers to Derby complete with a stop at the excellent Little Rivers Brewery for refreshments and the nearest supermarket for supplies. Alternatively, a rental vehicle allows ultimate flexibility and the opportunity to explore. There is also the Spirit of Tasmania ferry that operates between Melbourne and Devonport, which is a comfortable two and a half hour drive from Derby; a great option if you've got some time, a heap of gear and don't mind a roadie.
Accommodation options are now varied and many; for an up to date list of options complete with contact information head to www.ridebluederby.com.au. We chose to stay at Cascade Cottages, which for our small party was palatial and could comfortably accommodate 6 including the loft that sits above the excellent bike storage and workshop.
In between and Après ride food options are increasing all the time with The Hub being a favourite for Pizza and a comprehensive range of refreshments to close out a day of riding.
We assembled in Derby the afternoon before and over some local fare discussed the task ahead. After talking it through and realising that we'd actually have to climb to or past Black Stump FOUR times the idea of shuttling what we could was attractive.
It wasn't a simple decision though as despite appealing to my passion for avoiding spending time climbing that could be spent descending it meant that we obviously weren't riding the course as racers had experienced it and that was a big part of the concept.
For us, it proved to be the right decision that allowed us to indulge in sessioning sections of trail that we otherwise would have had to leave the way we'd ridden them on the first and only pass. The opportunity to come back and ride it under our own steam would always be available and could be the better option for others with a different disposition. We got in touch with the mayor of Derby; Buck Gibson of Vertigo MTB and he was happy to oblige with transport as we required it.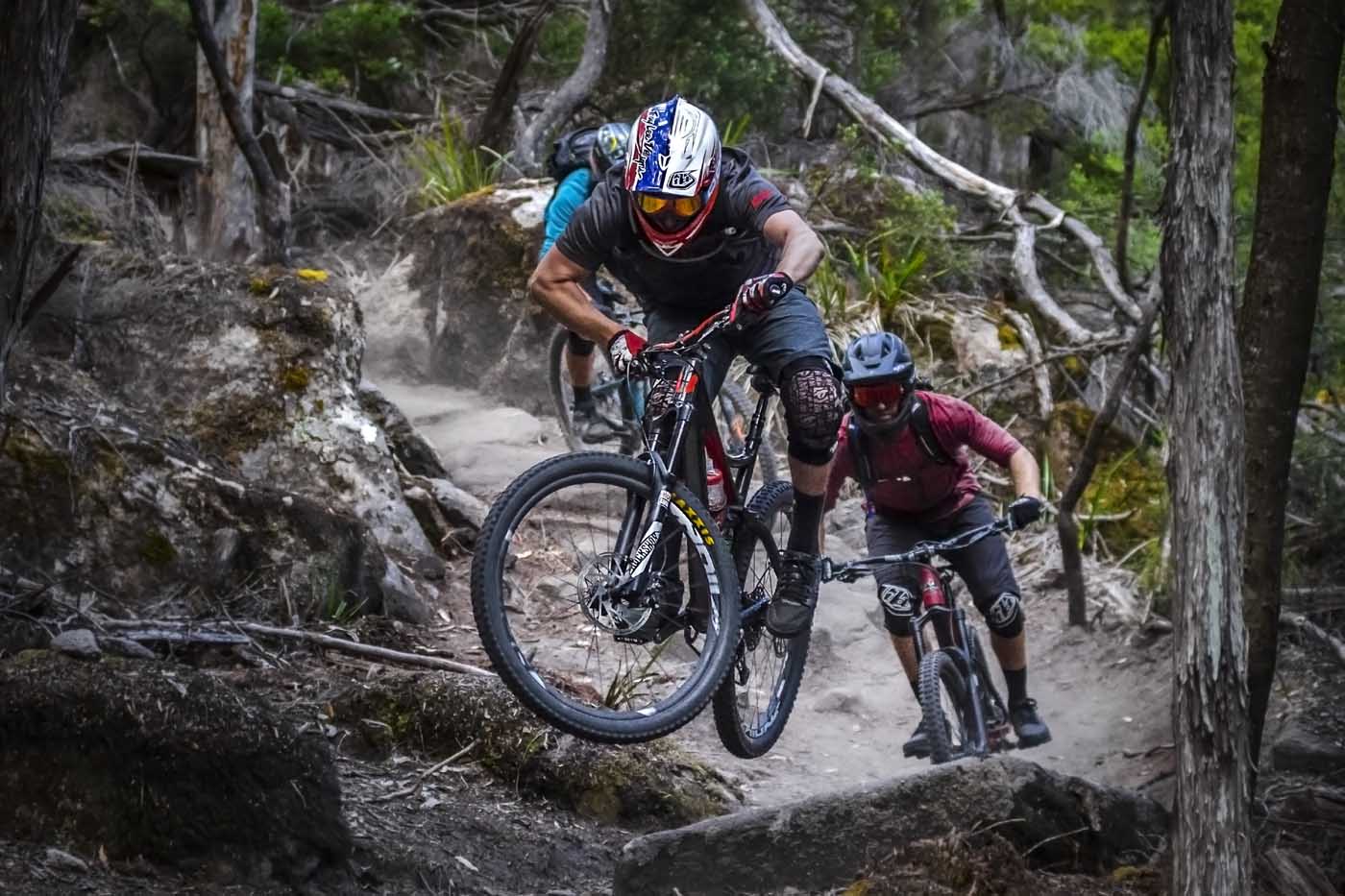 Okay lets begin this thing, track 1 'Dam Busters'
The liaison to Dam Busters would have been the longest of our day had we not chosen to shuttle the first half of it. We were delivered to Black Stump by Buck and armed with some simple instructions describing how to get onto the Dambusters loop, we got underway.
At this stage, spirits were high, cutties were left wherever there was a corner to square-off and wheelies filled any section of trail that didn't require an alternative approach.
The Dambusters Stage is an interesting mix of high-speed rock slabs up top that opened up into a series of long traverses punctuated by bermed switch-backs. There are quite a few hits to the side of the trail and some less obvious rock-lips higher up that approached at the right speed and with a fair pull up on the bars create some fun natural gaps.
Still fairly fresh, we took the opportunity to session every feature we came across, a luxury that our choice to shuttle some of the other liason's allowed.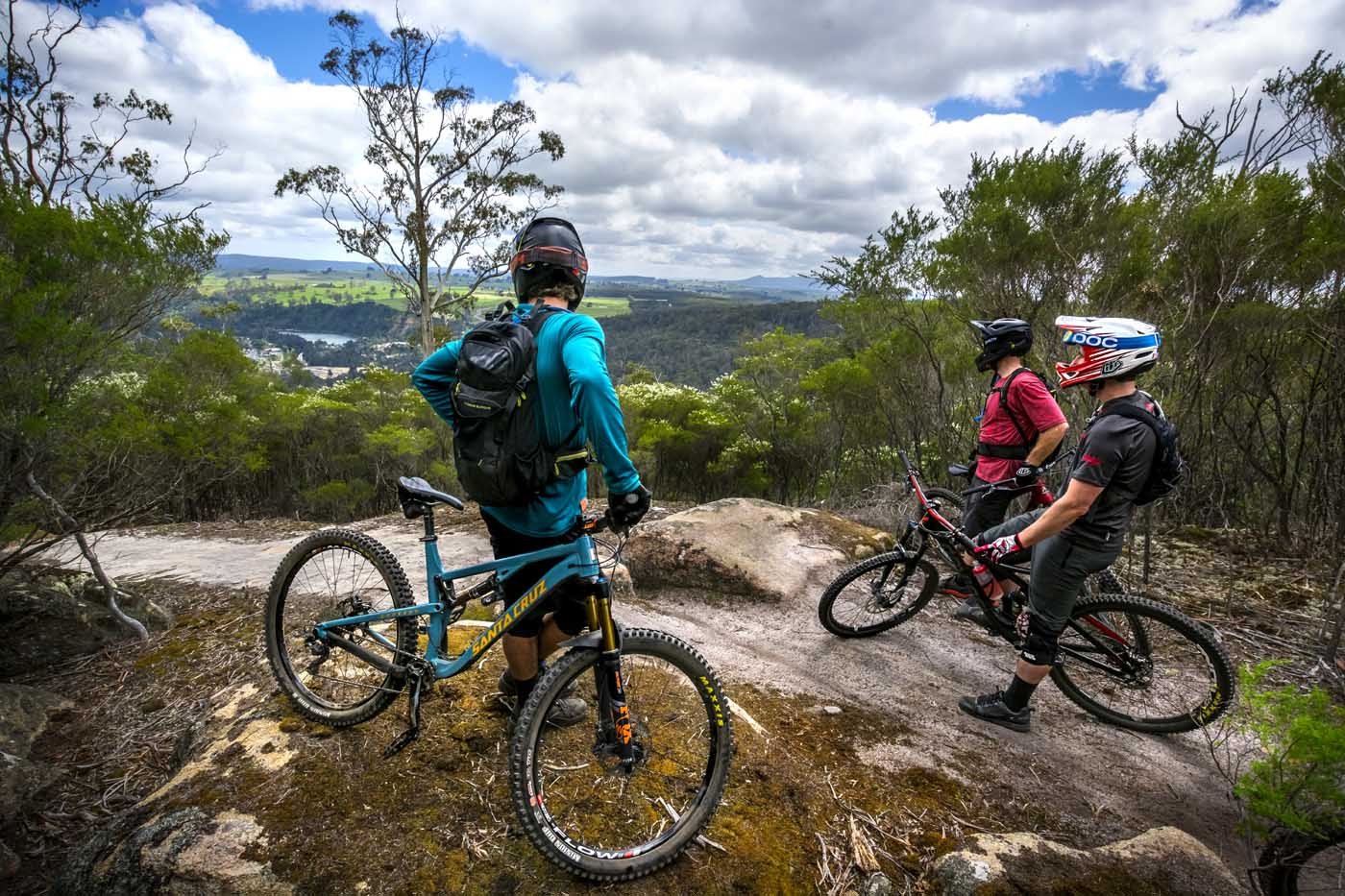 Lets check out track 2, 'Detonate'
EWS stage of the year, the most photographed feature of the event and an example of creative trail building that will torment riders as long as the trail remains in use.
The upper section of detonate is a mix of fast slabs, chunky boulder sections and a little set of whoops before the trail steepens and we found ourselves staring through the gap between a pair of rocks. It's easy to understand why this trail was a rider favourite.
We approached the slot with a quick inspection, discussion about the best entry line (high to straighten it out) and a short push back up the trail and we got through with no more than a scraped pedal and a grazed grip.
Anyone that's ridden Detonate will know that there are actually two chutes with the second being steeper, longer and narrower than the first. It seems it's a common experience to get through the first, breath out, carry on thinking the trail's been conquered only to find yourself staring down chute number two…
Two of us had a few passes, which were mostly successful; the worst outcome being an enthusiastic exit from the low side of the trail because of an ironically cautious reluctance to brake through the chute. This day, one of the crew did elect to take a walk murmuring something about risk, reward and riding tomorrow. It's always good to have something to come back for.
Post-chute, or to be specific one corner after the chute, detonate again opens up into some of the most fun trail there is to be ridden. Relieved by having made it through the slots, we settled in to trying to straight-line the gently turning fall-line sections. The wider than single-track allows some real line choice and Detonate would reward spending some time trying to work out the fastest way through the lumpy, linked turns.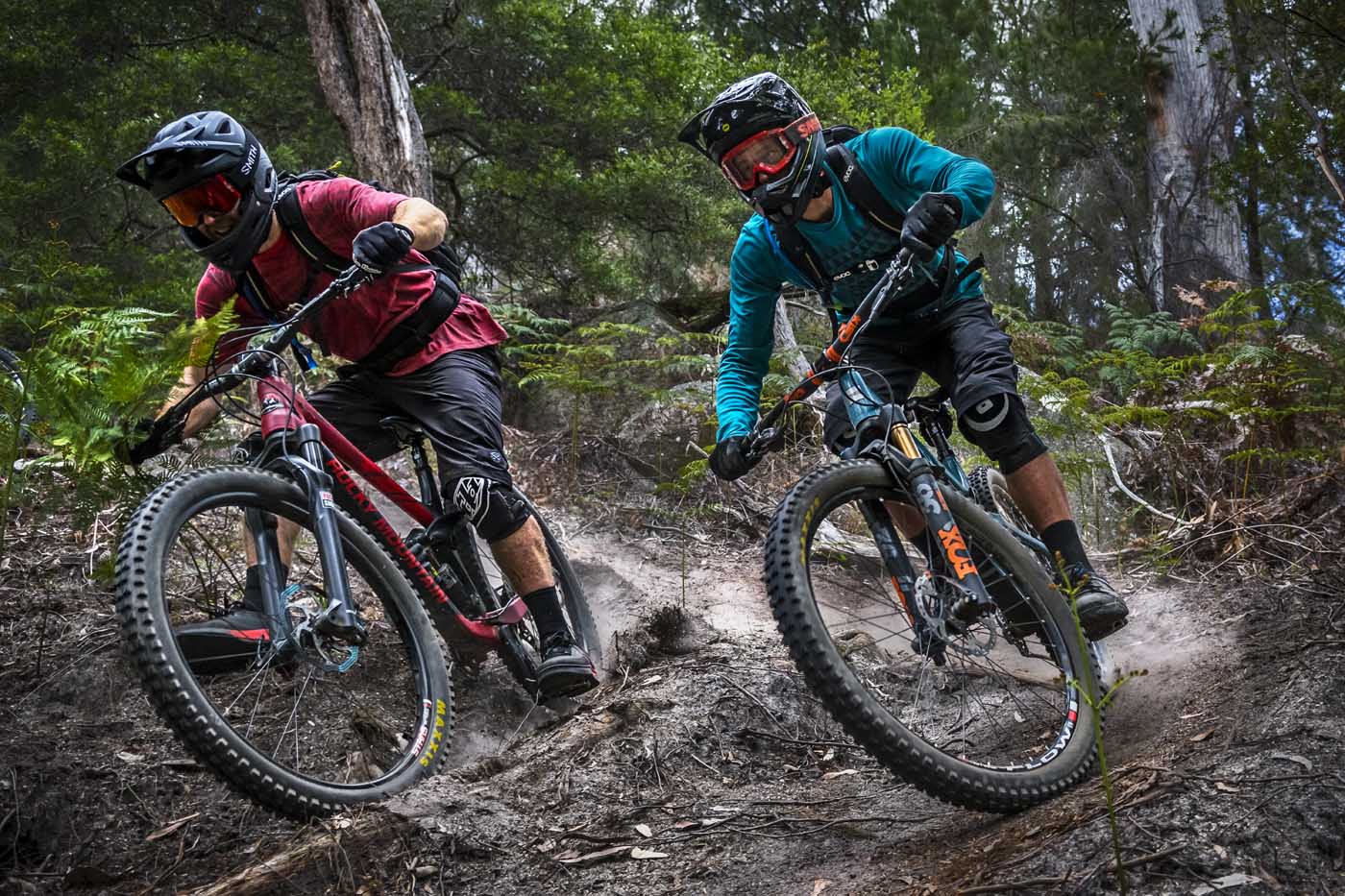 Now we're well into the swing, bring on 'Return to Sender'
Despite shuttling most of the vertical metres required to get to the start of the race stage, the first part of Return to Sender manages to create an awareness in our legs that some distance had already been covered or maybe it was just that enough distance hadn't been covered in the weeks before…
The trail undulates gently for it's first two thirds before you get the sense you're about to drop off something. The final third of the trail is generally pretty high speed, it feels like Dambusters tipped up a few degrees. There are sneaky and not so sneaky gaps all the way down and the final section feels unlike anything else we rode that day. Bike-parky turns but steeper and some super-fun straight lines that at pace become quite a handful.
It's a surprise to find, Return to Sender deposits you right in the middle of town. At this stage we took advantage of one of the steadily increasing number of places to eat.
Refuled and ready to check out track 4 'Upper Shearpin'
Our final trip to Black Stump for the day. The climb to Upper Shearpin is the same used to access detonate. Second time around it was a little harder, but despite my desire to avoid climbing wherever the opportunity exists, I actually like this climb. It's just the right pitch to be achievable for most riders, you feel like you're making direct progress to where you need to be and it has enough pokey turns and janky roots and rocks to focus your attention on the trail and shift it away from the sweating and wheezing it requires.
You could spend days on the first section of Upper Shearpin trying to stitch together the series of line choices required to ride it at speed and emerge with both wheels intact. Like Detonate but different, the trail is wide and there's so much line choice through the massive rocky straight and the corners that follow it. I love this kind of trail problem and seeing the way different riders approach it. We spend a little time pushing back up trying to improve the fluidity of our approach with each pass. It's great to do this with a crew with different approaches to riding as inevitably someone works out a line you hadn't considered that works better than the one you were on. We're all a little French it seems.
The chunky rocks soon give way to a couple of traverses that deliver you to Twenty Three Stitches. I can't comprehend the timing of pedal strokes and strength required to cover these at competitive pace.
Twenty Three Stiches is Derby's Black Diamond jump trail. It starts out with a series of compressions through which you quickly generate speed and have to work to stay composed through. There are a couple of smaller hits before you find yourself hitting a small step-down into a three-pack and it's on from there.
The jumps work perfectly with the speed you generate through the trail that comes before them and despite their size feel mellow and safe.
We spent a lot more time than we should have pushing sections until we all managed every hit all the way to the trails end. Sharing the excitement with mates as they get something they haven't done before and thought they couldn't is a good reason to ride bikes.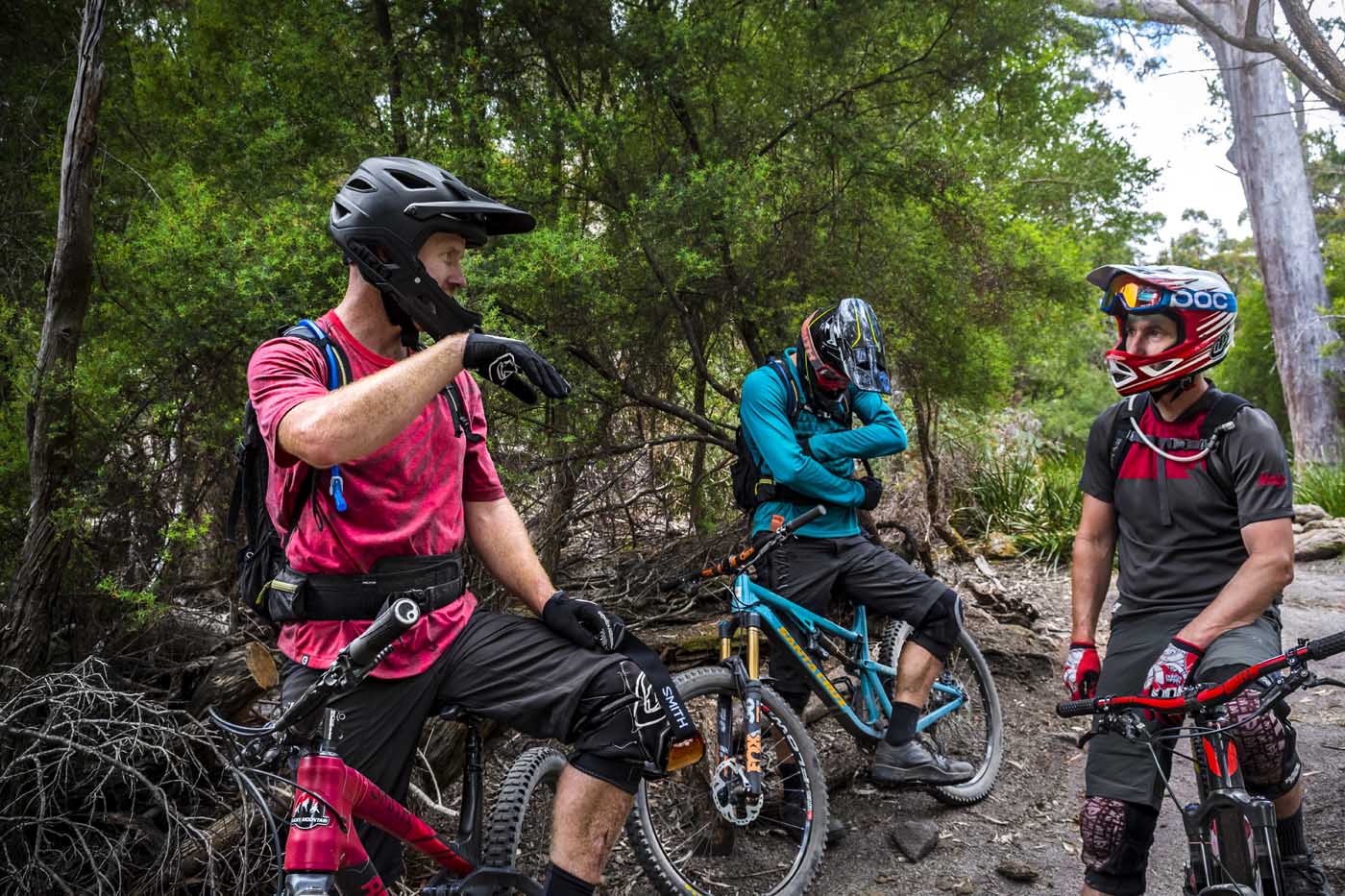 Over halfway now, time to sample track 5 'Black Dragon'
If the shared climb to Detonate and Shear-Pin is just right for me, the climb to Black Dragon is one increment too far for my fitness and climbing finesse. Fortunately it's a nice walk.
The start of the race-stage is a modest gradient, again a nice wide corridor but with more obvious lines than Shear-Pin. There are a couple of good straight-lines that reward more commitment. Things quickly get steeper and compared to the other stages, slower.
I really enjoy this kind of riding and loved the contrast between the other stages.
There are a series of slabs linked together by rough traverses and some awkward falling turns full of things trying to stop your front wheel moving forward. Despite the roughness, there always seems just the right amount of gradient available to keep you rolling without too much input. There are even multiple opportunities for  entirely appropriate 'Euro entries' to corners or steeps.
Toward the bottom of the stage the trail becomes a series of rock steps and there's a short gap onto a bike-length boulder before another small drop onto the trail. It's not large and not particularly high consequence but the timing it involves is unusual.
This time a different two of our three chose to hit it, one of which at a speed twice what I thought was necessary which left me wondering why we spent the rest of our time so hard on the brakes.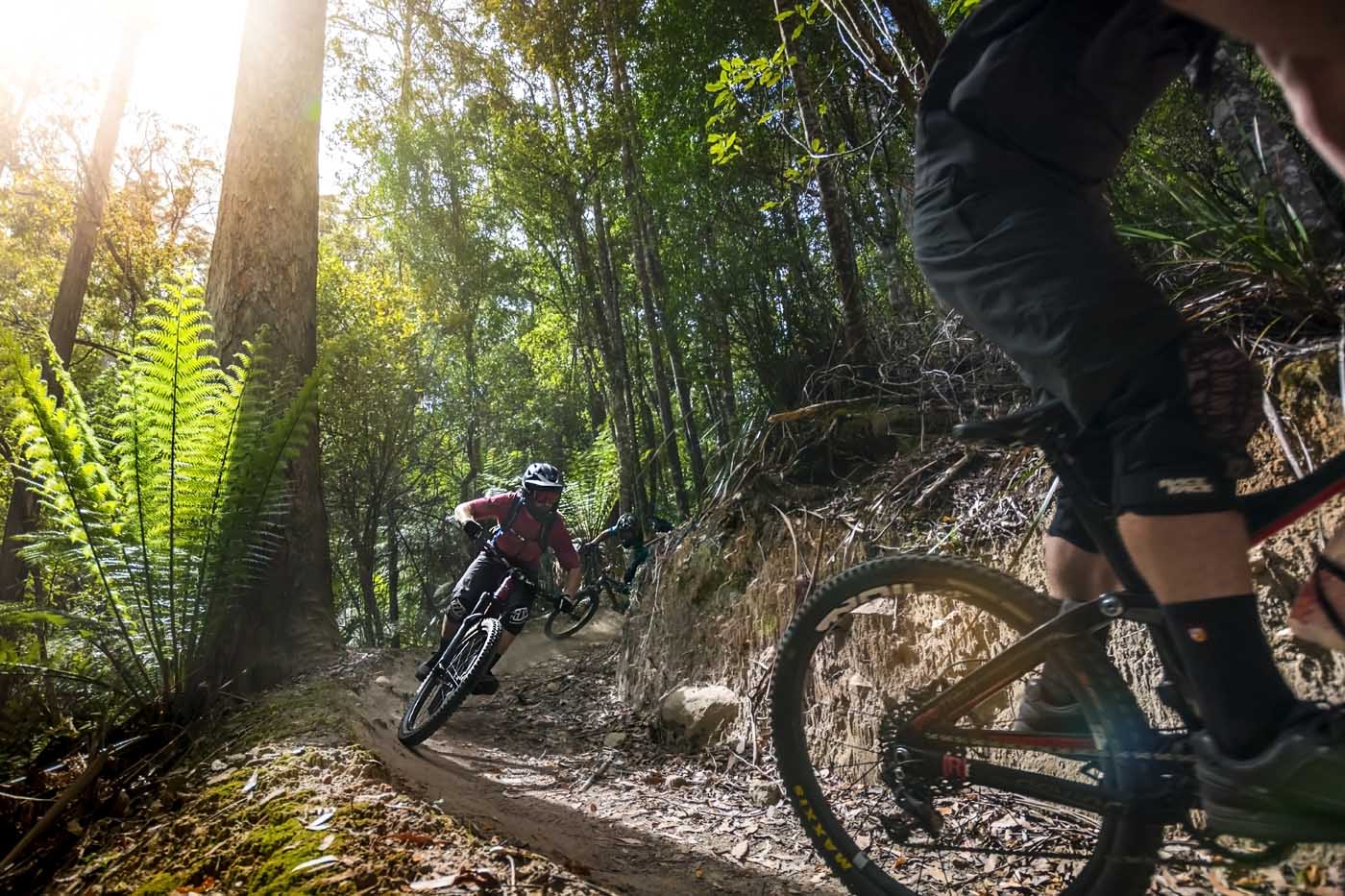 The one we've all been waiting for awaits, track 6 'Trouty'
From the bottom of Black Dragon we embarked on the climb up Krushka's. None of the climb is particularly arduous, but it does cover some ground and at this stage of the day, it was an effort. The investment was justified by the reward that was to follow.
I can only guess that 51 percent of riders voted for Detonate as the stage of the year and that the other 49 for Trouty. There's nothing as challenging on Trouty as you'll find on Upper Shear-Pin or Detonate, but it goes down hill at just the right angle for the turns in the upper section to not require much braking and you find yourself simply trying to nail turns and hold on through the straights. There is a fun jump section that signals the break between the mainly dirt and fast upper section and rocky, slightly lower speed bottom half. Again, we spent some time here and after a few pushes back up the hill we'd all hit them in some fashion or other. It's nice to make progress and it seems like we'd created an environment that day to accelerate it.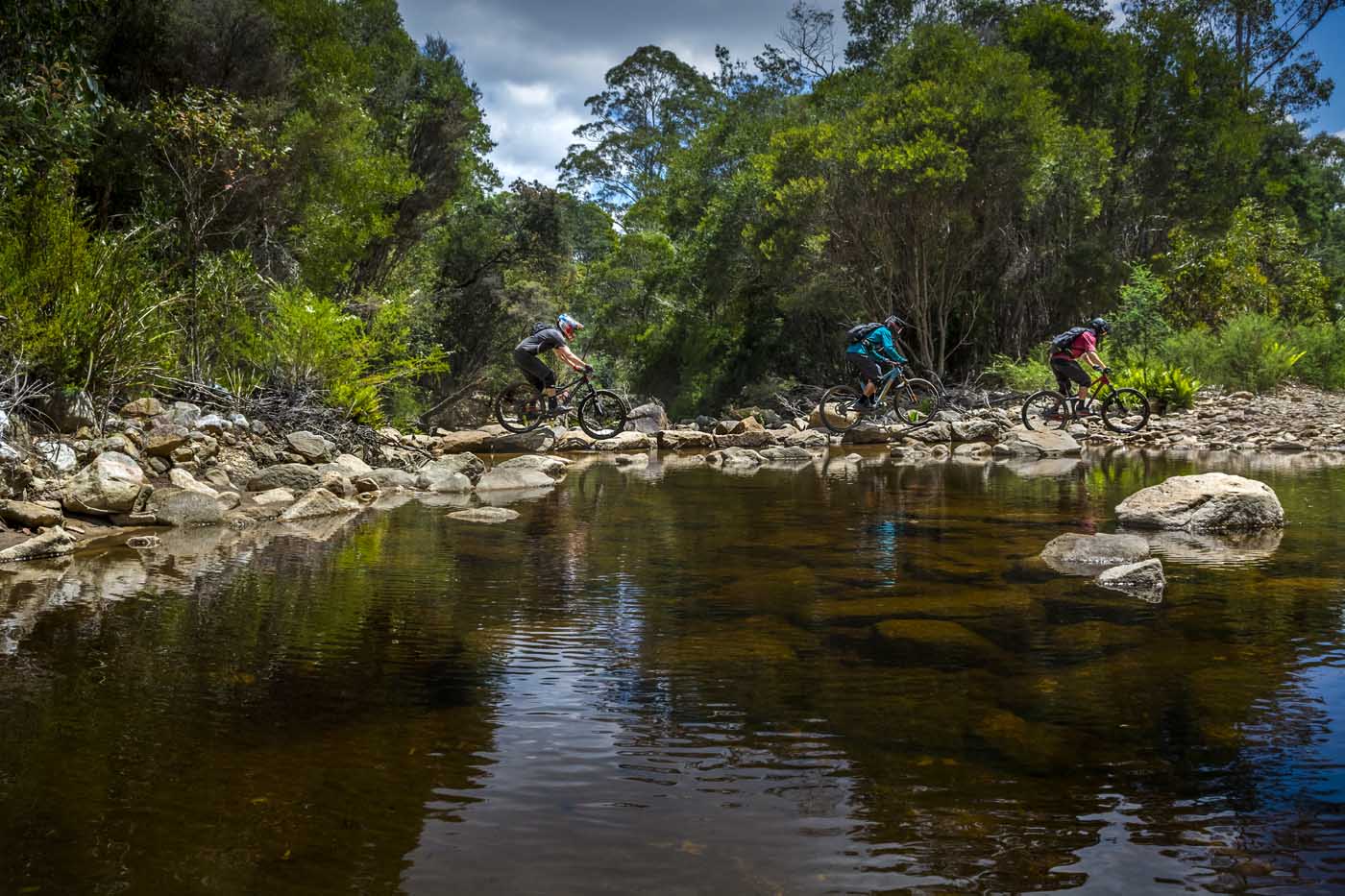 Lets end this with a bang, track 7 'Monument'
Monument was our way back to town. The stage start of monument was a short climb from town level but in the opposite direction from the beer and pizza that our attention had shifted toward.
The stage itself really is incredibly short and straightforward compared to those that we'd already ridden and this was fortunate.
I'm guilty of getting inappropriately excited about corners sometimes and the first one Monument involves is a good one.
The entry is a slab that feeds into a perfectly rutted arc that tempts you to keep feet planted on pedals and fingers off the brakes. It then dives into a gully through a series of drops in before exiting with a couple of jumps, the final of which nearly had me looping out backwards in my best goon style. I'm going to blame this on fatigue.
Buzzing with satisfaction from the epic day, we all made it back to our accommodation in one piece (bikes and bodies)! After a quick bike-wash, person wash and kit change and strolled into town and ate, drank and laughed the night away at 'The Hub' pizzeria. There were so many tales from the trails to re-live that night. And as we cheered our final beer as the clock ticked midnight we all agreed that we'll be coming back to Derby to do it all over again real soon!
Words // Rob Potter
Photos // Ben Stevens