Earlier this year Yeti quietly released a 100mm travel, 29" wheel exclusive, new model called the SB100. Visually it's a striking machine and it marked a new direction in frame design for the Colorado based company. However, being more targeted towards the XC market, it wasn't really ever quite going to be our cup of tea here at [R]evo Mag. We're more 'coffee' and 'beer' types I guess! But, when the SB100 launched a little birdy whispered in our ear to sit tight and be patient because Yeti was working on something special for Richie Rude to race…
Here it is and what a looker! It must be damn near impossible to find a rider that wouldn't think Yeti's brand new SB150 is an absolutely stunning machine. Surely this bike is destined to be featured on the cover of Sports Illustrated next issue, right? Those curves and lines, the chunkiness and smoothness of every tube, oh my, should it even be ridden or simply hung on display in an art gallery?
As any true mountain biker will attest, Yeti have an impressive track record of producing some of the most lust worthy bikes in all of MTB, and now this new long travel 29 Enduro bike appears set to continue that tradition into the future. If looks aren't enough, you need only take a peep at the SB150's 'progressive geometry' numbers in order to get excited.
It features a crazy slack 64.5 degree headtube angle but when that is combined with the reduced offset fork crown (44mm) the front wheel is brought back towards the rest of the bike meaning the overall wheelbase remains on point whilst you get the benefits of the racked front-end pitch. Travel wise the bike has been designed around a 170mm fork which is met with 150mm at the rear produced via Yeti's patented Switch Infinity suspension design. The bike also boasts all of your favorite mod-cons; long reach, low standover, tiny chainstays, boost front and rear, etc, etc.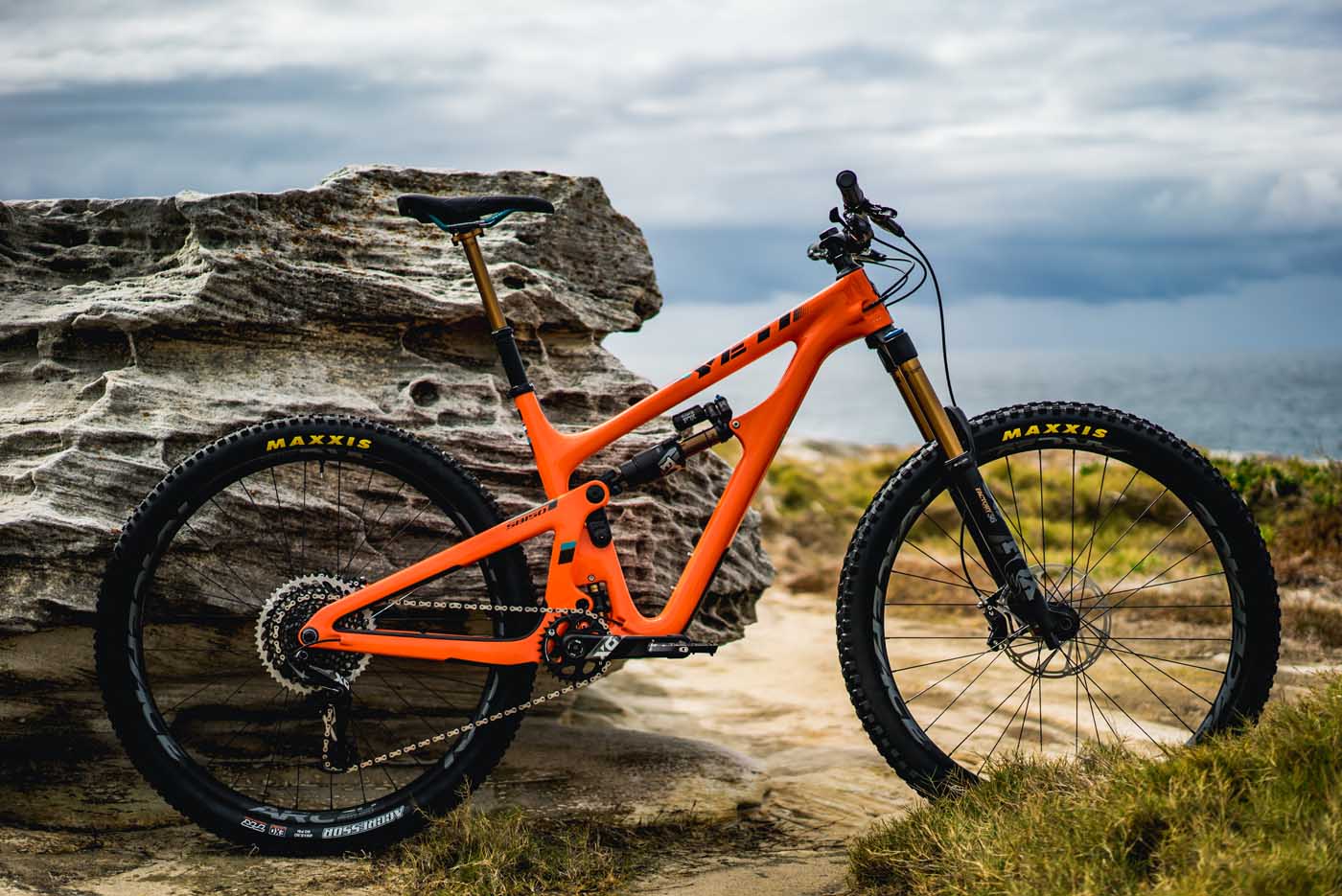 SB150 Highlights
Full carbon fiber frame front and rear

29-inch wheels

170mm travel fork with shorter 44mm offset

150mm rear travel

Switch Infinity suspension system with two-piece wishbone-style shock extender

230x60mm Metric shock

Compatible with both air and coil-sprung shocks

Clearance for standard-sized water bottle inside frame
Tapered integrated headtube

Custom downtube protector and chain guards

Internally molded carbon tubes inside of frame for improved cable routing

Integrated axle and derailleur hanger system

Boost hub spacing, front and rear

29×2.5-inch tyre clearance

Press fit 92 bottom bracket with ISCG05 mounts
[R]evolution Mag recently had the opportunity to explore and discover how the SB150 was created by talking first hand with Yeti Cycles president, Chris Conroy, as well as Yeti's head of engineering, Peter "Stretch" Zawistowski. Want to know what we know about this insane new machine? Of course you do, read on…
Chris Conroy // Yeti Cycles President
[R]: The SB150 is a big departure from the style of bikes that we're seeing on the market at the moment, and it represents a new direction for you guys as a brand. What was the brief when you and your team started working on the new bike?
CC: From our very early days, we built our bikes long, slack and low because our racers preferred bikes that excelled at speed. Over the past several years, the industry pushed the envelope on how slack you could make a bike. We thought many went too far and it resulted in a cumbersome bike that was only fun to ride downhill. The shorter offset forks have been a game changer and allowed us to build a longer, slacker bike that is poppy and fun to ride. 
How instrumental was Richie in the development process of the SB150?
Richie is instrumental in all our development efforts. When we showed him the initial concepts over a year and a half ago, he was on board straight away and together we worked on fine tuning each of the prototype frames we made until he felt that the SB150 was perfect. So yes, Richie played a big roll in developing this new bike.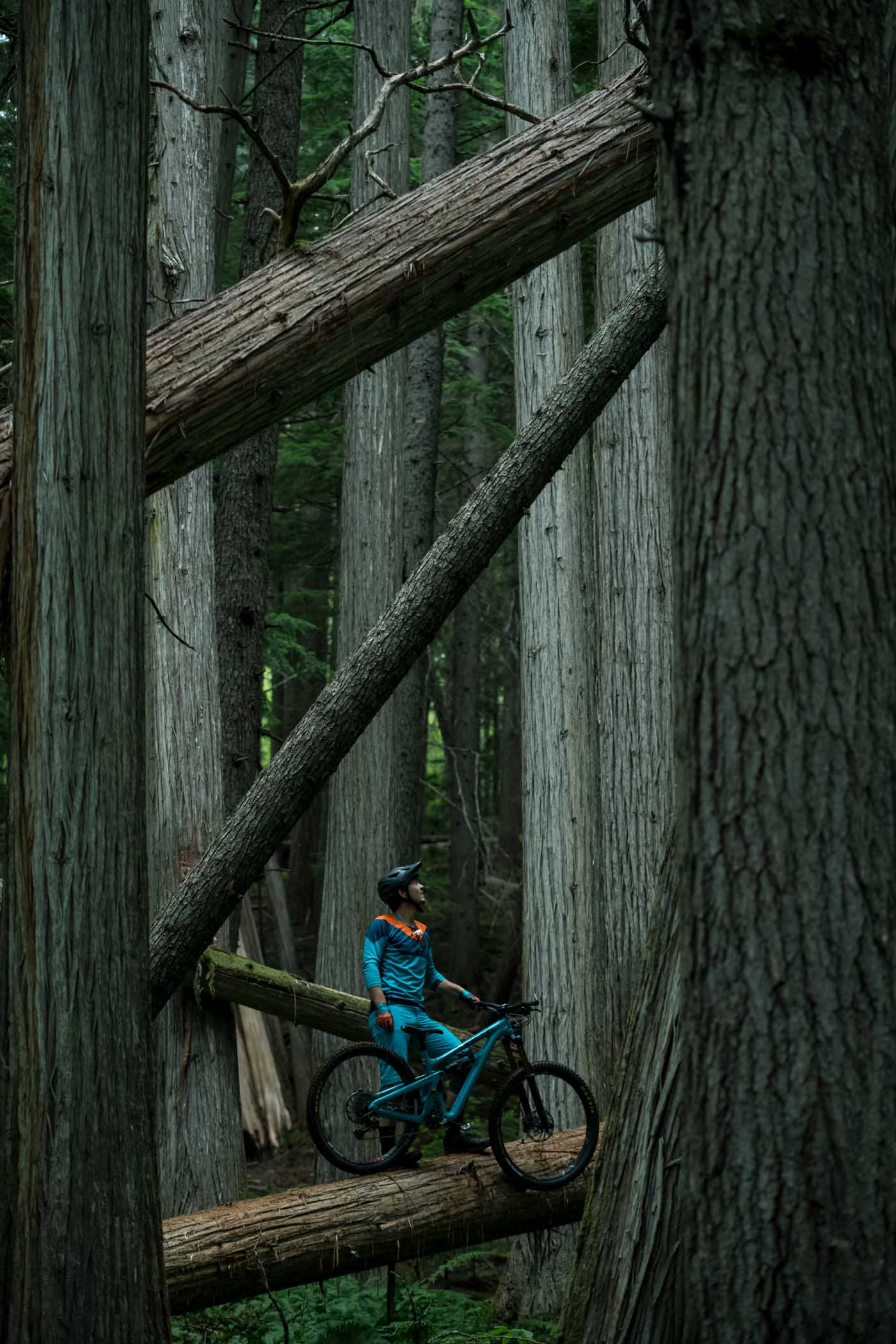 Who do you guys imagine is going to be the quintessential SB150 rider?  
Someone with an enduro type of mindset. A racer or wannabe racer who wants a bike that can handle big terrain, but will also pedal all day in the backcountry. It's not a surprise the SB150 descends well, but its climbing ability is exceptional so you can ride it all day and not be crushed.
As a brand, you guys certainly don't just churn out new models for the sake of it. The 'shelf life' of your bikes often seems to be two to three times that of other brands before needing an update. For that reason, when Yeti introduces a new bike it's almost a certainty that it will become an iconic bike across the biking scene. Let me ask, how do you guys manage to 'get it right' so often with your bike designs? 
It's funny you say that. We are on an 18 month design cycle – meaning from start to finish, it takes about 18 months to get a new bike to the market. The SB5.5 is only two years old – think about that… Every other bike in our line has had a major update in the last year, so we feel like we're always updating our line.
"As for getting it right, we are a rider driven company and we're building bikes for us and our team. If we can satisfy both, we typically have a bike that works well in the market."
Not that they ever really went away, but, 29'ers are enjoying a strong resurgence at the moment. As your new SB150 highlights, the market is hungry for long travel, burly, 29'ers. What has fuelled the recent surge of 29'ers back on to trend do you think?
In our case, our racers and staff have pushed us to produce more capable 29ers. When we first came out with our SB5.5, there weren't many bikes in that category and it took a while for people to understand it. Once they did, it became our best-selling bike. We were intrigued by how we could make it better and got to work on the SB130 and SB150.
And finally, you've no doubt spent a lot of time out riding the new bike yourself, how would you describe the way it handles and reacts out on the trails? 
I just got back from 10 days in Scotland on the SB150. The trails were steep, rocky, wet and generally unforgiving. Not entirely different than what we ride here, except every trail is wet and generally steeper than we ride in Colorado. I already knew what to expect on the downhill with SB150 and it saved my ass more than once… but, I just couldn't wrap my head around how well it climbed on steep techy stuff. So much so that I came back saying it could be my "one" bike. Then I rode the SB130 again… Good problems to have!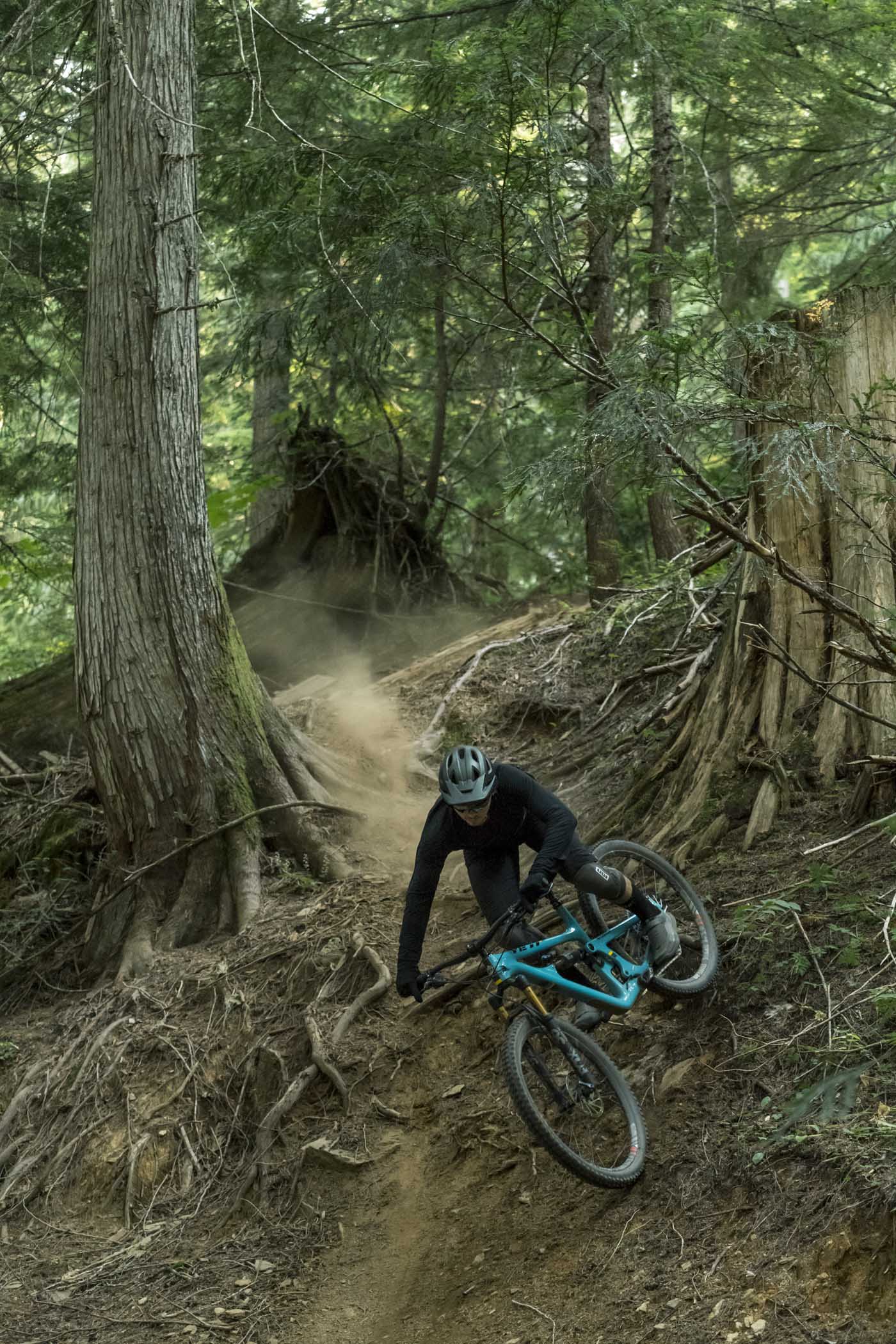 Peter "Stretch" Zawistowski // Yeti's Head of Engineering
First up, what sets the new SB150 apart from the field? 
It's the total package; the latest blend of Switch Infinity efficiency and suspension feel and progressive geometry. 
We talked earlier with Chris about the original 'design brief' that you guys started out with for the SB150 project. Could you perhaps expand on that a little by telling us about some of the 'goals' that you guys set yourselves to achieve with the new bike? 
We had several design goals with the SB130/SB150: Explore and implement progressive geometry, add a size small to the size lineup (previously the SB55 was M-XL), fit a real-sized water bottle within the front triangle with a piggyback shock, lower the stand over height, maintain the pedaling efficiency/anti-squat properties of Switch Infinity, and modify the leverage rate to allow for greater shock compatibility and a larger tuning window for varying rider weights and styles. 
This is the bike that Richie will be racing the EWS aboard and obviously he played a key roll throughout the bike's development. When you handed him the final prototype version and you guys decided that it was ready for production, what was his final feedback? 
Richie was stoked with the geometry, suspension and feel of the bike. He's been aware of these changes for over a year. Richie usually withholds comments until he has raced a bike for several races and can give race specific feedback. It's all been very positive to this point. 
"He has already ridden it to its first victory in the Northstar stop of the California Enduro Series. He will also race it for the remainder of the EWS season "
'Progressive geometry' appears to have become the 'must have' flavour for trail bikes launching in 2018. And, yep, the SB150 ticks that box. Tell us a bit about the bike's geo and fork off-set package that you've built it all around? 
The big change here was the latest offerings in shorter fork offsets. In the past, this was not a variable we had the freedom to play with as it was set by fork manufacturers. We started out by modifying and riding existing frames. We rode one size larger to mimic a longer reach, installed an angle-adjust headset to slacken the HT angle, moved to a short offset fork, and pushed the saddle far forward to mimic a steeper ST angle. We based the SB130 and SB150's geometry on our findings. Despite our initial reactions to the geometry we had on paper, and the huge mechanical trail value due to the slack HT angle and short fork offset, the result is a win-win for both descending and climbing. We gained stability and traction descending, while the forward riding position combined with the short fork offset keeps the front wheel on the ground, the power to the pedals and the steering quick and nimble when climbing. We also shortened the ST lengths for longer dropper post compatibility. 
The new bike utilises a slightly revised version of your Switch Infinity suspension system. Tell us a bit about how the new design works?
Switch Infinity (SI) is incredibly versatile in that it works regardless of wheel size or travel. The system has huge benefits whether we are designing an XC/trail bike like the SB100, or and Enduro focused SB150 for Richie Rude. The SI mechanism allows the main pivot to translate (fancy for move in a straight line) as opposed to move in an arc like a traditional link. In addition, the translation also "Switches" direction as the swingarm moves from extended to compressed states (It first moves up, and then moves down). These properties allow for unique kinematic tuning. For example, we have great control over both our anti-squat and leverage rate curves, which, among other variables, ultimately are responsible for the suspension's feel. We are aiming for a relatively flat and high anti-squat curve within a wide range of travel around the sag point which is a result of the SI body moving upwards.
What kind of shock tune does the bike come with out of the box? 
Each Yeti model has a custom shock tune that works in conjunction with the leverage rate and anti-squat properties of the frame. We have the unique ability to develop custom tunes in-house and to then qualify with FOX's engineering team.  This allows us to quickly iterate and to experiment with our own, moto-inspired valving further optimizing our suspension. Through this process, we were able to push the performance of the SB150 and derive a tune that enhanced small bump sensitivity, mid-stoke, and bottom-out control. 
When I was reading the 150's press release one thing that jumped out was that the new bike meets 'Yeti's DH testing standards'… Sounds cool, but what does it actually mean? 
The SB130 is tested to Yeti's Trail standards while the SB150 is tested to our DH standards. The greatest change to the layup between trail and DH standards can be seen near the HT/TT/DT. The SB150 has a 2mm greater wall thickness at the HT for added strength. This is just one example. In short and without getting too technical, our DH standards are extremely rigorous. 
Final question, might we be seeing an SB150 Beti version specifically for female trail riders at some point in the future? 
Currently we do not have plans for a Beti specific SB150, but who knows what the future may bring.