For mountain bikers and their families, Cairns is one of Australia's ultimate holiday destinations. The region is covered by trail riding opportunities and due to the gorgeous tropical climate up there, the riding is prime 365 days a year. Besides the awesome riding, Tropical North Queensland offers so much to see, do and explore. From the Great Barrier Reef and endless kilometers of pristine coastline, to the lush green cane fields and rolling tropical rainforest that covers mountains that stretch as far as the eye can see. This idyllic part of the world is a melting pot of adventure, beauty and relaxation. Did we mention that Cairns was the birthplace of the Australian mountain biking scene and that it is home to some of the funnest, and oldest, trails imaginable?
Last year [R]evolution decided to escape winter for a few days and we packed up our bikes and camera gear and flew to Cairns. We had a great trip but we quickly came to realize that with a handful of days you only just begin to scratch the surface of the riding and exploring potential up there. A second trip was soon on the cards and this time we planned to really up the ante and spend a full week living the 'Cairns dream'. Each day would be filled with riding, roadtripping, adventure activities, sightseeing, swimming, chillin' and eating some awesome foods.
There's no such thing as a great holiday unless you can share it with great people, right? So we figured who better to invite along for our adventure to TNQ than one of the worlds fastest riders that just so happened to grow up and honed all his skills in the area, our good buddy Bryn Atkinson. Bryn now lives over in the States nowadays but Cairns still holds a firm place in his heart and he jumped at the chance to fly out for the week. With Bryn locked in, the next rider on our list for the trip was an obvious choice, younger brother Rhys Atkinson. A former Australian Elite DH National Champ, Rhys certainly isn't lacking in speed or style on a bike. As they say, the apple never falls to far from the tree!
We then invited one of Australia's top female riders, Jaclyn Schapel. Jac is straight up fearless on a bike, her skill level and the way that she attacks gnarly steep trails is incredible. She is also a gifted writer, of which you are about to experience first hand as you journey through the pages of this article (as soon as I get done with this intro). Rounding out our crew for the trip was one of Australia's best bike photographers, Tim Bardsley-Smith, and a handful of [R]evo staffers who weren't going to pass up an opportunity of leaving winter down south to go riding in paradise for a week. Let the adventure begin…

Kuranda
Winding up the Kennedy Highway it's easy to just sit back, take in the walls of foliage that tower over you and enjoy the scenery that is the Kuranda hills. But, given we were here to ride one of Australia's oldest trails it wasn't the day for daydreaming. As we approached the Henry Ross Lookout which is conveniently the shuttle point for this trail, it's hard to believe the town centre of Cairns is only 30 minutes away. You could get off a plane and be riding this thing within an hour. What a way to travel.
Standing at the lookout, deep in Djabugandji land, Cairns just falls away before you. The elevation you get so close to town is considerable, and possibly why it became a downhill mountain bike trail before the bikes even knew what was up. Back in the 1980's when most downhill tracks had one turn (out the start gate) Kuranda still wove its way down the slope similarly to the trails we all ride today.
As is the norm in Cairns the fauna was lush, green and almost fluorescent. Splitting this up is the bright red dirt snaking its way down with a few choose your own adventure options for riders.
The drop-in takes you straight into a big berm to slap, follow this down the hill and it changes from the lush tropics, to rainforest to wide open fire roads that sit underneath huge power lines. It's slick and red, rooty, rocky and fast and straight all in one run. Even though it has had work done on it over the years, it's still raw enough to give away that this just started as a way to get to the bottom.
Bryn and Rhys would struggle to count up how many times they have lapped this track. Both were in agreement that riding a trail bike brings a whole new element of fun and skill to it, a way to make it new again if you will. On a whole though, it is still a great place to ride, and a must do when in Cairns. A trail bike is ample but it could be ridden on either a DH or XC bike.
Atherton & Davies Creek
To escape the humidity and heat and see more of what Tropical North Queensland has to offer, one can create a side trip to head inland to visit Davies Creek (and Atherton is then just a little further up the road too). Both excellent options in their own right, they are easily accessible via an hour or so drive west into the Tablelands.
Davies Creek has a 21km network of single track and fire roads for riders to explore. The park has a series of trails with varying degrees of difficulty so it is a place suitable for novices and old hands alike. As you enter the car park, the main trailhead has an easy to follow map, just be sure to take all the water you need with you as there is no access to any here and riders will get quite hot and dusty.
It's hard to believe you are only 50kms or so away from the tropics here. The landscape is just such a contrast to Cairns. What was lush rainforest and mountains is replaced by rolling hills and the green and brown of the Australian Outback. It does feel far away from anything here, but in a good way. The sound of your tyres on the grit is only broken up by the cattle grazing in paddocks down the hill and the occasional motocross bike heading up the access road.
The sandy, loose tracks weave their way around granite outcrops and creek crossings and take riders through all of the iconically Australian flora; bloodwoods, stringybarks, she-oaks, cycads and grass trees.
Whilst it may not seem that technical from the outset, the trails here in Davies Creek can still challenge the most advanced rider. The sweeping turns are great for finding the traction point and for those who love to drift round corners, this place is a must. We spent golden hours chasing each other through the rocks and sand here. And those previously mentioned traction points were thoroughly tested with everyone having a few unplanned adventures into the long grass. But who doesn't love an afternoon with a long train of mates, heckling and sliding around with each other.
To complete the cool off even further, you can head up to the creek itself for a refreshing dip. Whilst we won't give any guarantees here, we are assured that it is free of crocodiles!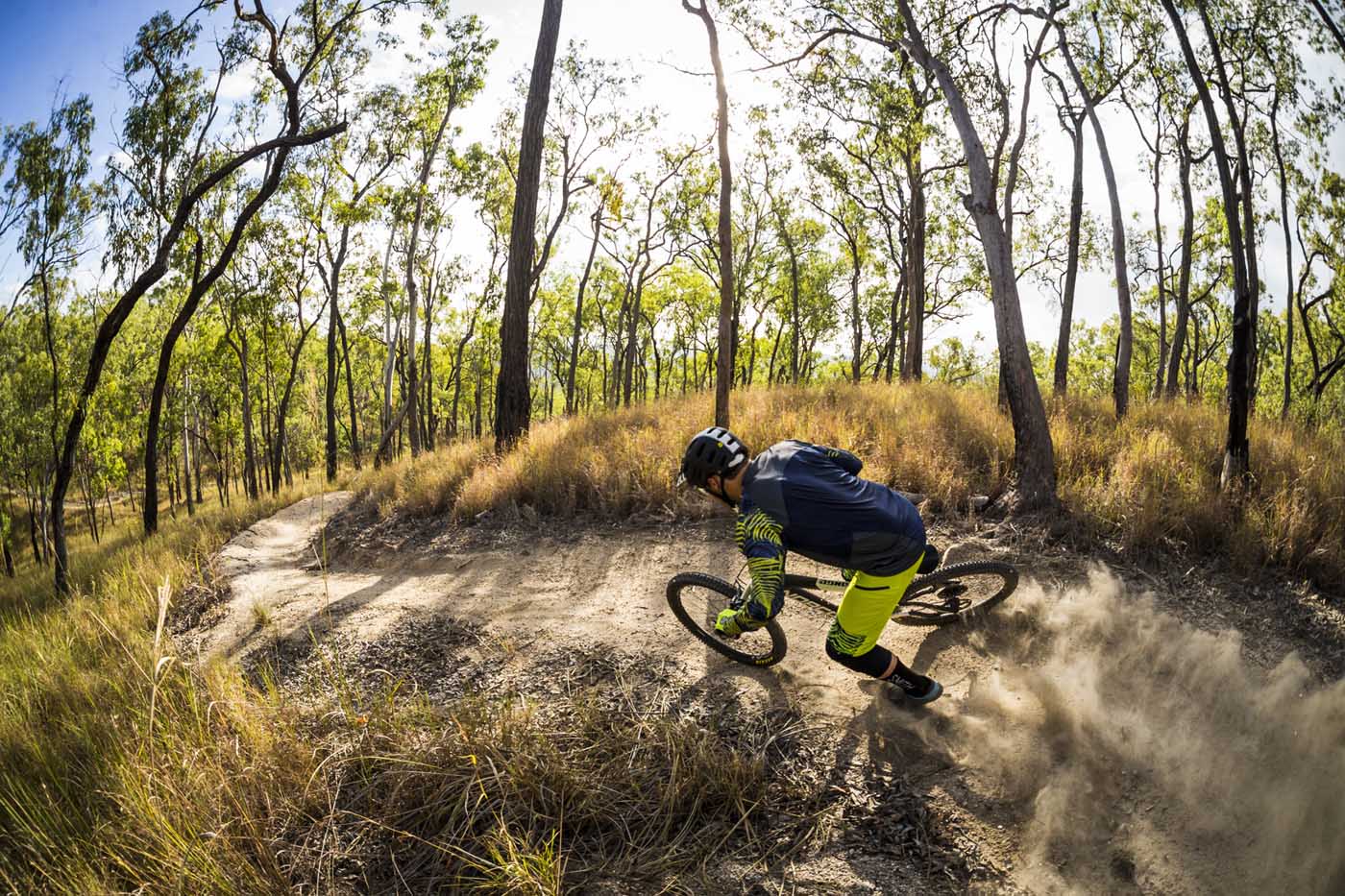 Atherton
Atherton is a quaint little town with more than enough to keep you entertained when you're off the bike. The Big 4 Caravan Park is set up specifically to cater for mountain bikers with a workshop, wash bay and build area and tools available from the reception if need be.
The Atherton MTB Park is vast. All in all, the network boasts 60kms of trails that make up the park here. There are a total of 17 trails combining green for beginners and blue for the more advanced riders. Atherton has hosted many an event with the Marathon MTB Championships and the Croc Trophy, enabling local and international riders to put down times that count here.
To make the best of it here allow a full day or at least a couple of half days. The trail network here combines the handy work of World Trail and Dirt Art and snakes its way up and down the range.
There are two trail hubs to access the park from. The main located just behind the centre of town, and one just as you enter the park itself. This is handy for those looking to base themselves right in town and ride out, or those looking to drive up for the day.
Winding our way up the climbs it was nice to get into a rhythm. You can tap up these easily on a trail bike and still have enough air to catch up on all the teasing you haven't been able to dish out to your brother and take in the amazing views. Looking out over the cane fields to Wooroonooran National Park, the green of the rainforest creeps up the mountains off in the distance and it again highlights the amazing terrain TNQ has to offer.
The trails here are manufactured, but that isn't a bad thing. When mountain bikers create the trails they really stand out. Atherton is a blast, the descents carve down the hills and make for a really fun day in the saddle. The dirt here is quite sandy, but does also change throughout the network. There isn't anything here that will scare you like the features on a World Cup track, but that doesn't mean it's a boring garden path either.
Here speed is easy to gain, but to hold and control it is another thing altogether. Berm's lead to whoops, to flat turns and armoured corners ensuring there is enough variety to keep every rider keen.
Given one Atkinson built out here and the other Atkinson spends his time riding full time here, it was going to be interesting to see who would take out the days unofficial, but highly contested fastest rider. They called it a draw so I guess everyone won this time round. I was firmly challenged for the title of how many times you can get your back wheel in front of your front wheel, something I seemed to take pretty seriously.

Smithfield
As we rolled into Smithfield the workers were still packing up the infrastructure from the World Cup just gone. Whilst the pro's were long gone, it also meant the trails were deserted and primed for a good session.  Hosting a World Cup could hint towards the trails being too challenging for the everyday rider, the Smithfield MTB Park has ensured that for every trail that will scare the bejesus out of a seasoned expert, there is one that can be ridden for fun and without fear of (too much) injury.
Nestled deep in the rainforest, it sure is a striking place. Here the reason a trail might not follow a certain contour isn't just due to choice, it's usually the massive, overgrown vine that is sharp as razor blades. This also makes you pretty aware of the fact the jungle will always be boss.
There is a great range of trails to take in at Smithfield. The older tighter trails are now complemented by some wider more bike park options like the Nationals Trail. This means that whatever bike you take out will give you bang for your buck across the park. The fire road climbs here are steep, but they are infinitely rewarding, so much fun is to be had on the way down with so many options. A full day exploring will leave you pretty worked over.
You can see why international riders love coming to this place, the challenging trails, rainforest and reef just out on the ocean. It's a great place to catch up for a ride and to hold just about any MTB discipline race.

Cassowary Coast
For less experienced riders seeking a far more mellow trail experience, or for a great place where the family and kids can all share a day on the bikes together, head south from Cairns to the Cassowary Coast. The lush World Heritage-listed rainforest of the Cassowary Coast is where you will find a variety of category 'green' and 'blue' trails. Ranging from short loops through to 40km stretches, the vast majority of the trails in the area are made up of old reclaimed 4WD tracks and original bushman roads. And as an added bonus there are plenty of great swimming holes and waterfalls where you can cool off after your ride.
Set your navigation to the town of Mission Beach where most of the mountain bike trails are located. Nature takes centre stage at Mission Beach with its long unspoilt beaches, deserted islands and white-water rivers fringed by rainforest.
To learn more about the different trails down on the Cassowary Coast, check out the Ride Cairns website or even better download the Ride Cairns App to your smartphone.
Other activities on the Cassowary Coast include skydiving, the Mamu Tropical skywalk, Murdering Point Winery, and of course the world famous Paronella Park – a stunning five hectare Spanish themed property featuring a castle, bridges, caves, waterfalls and picnic areas, ideal for the family. To discover more check out the Tropical Coast website at www.tropicalcoasttourism.com.au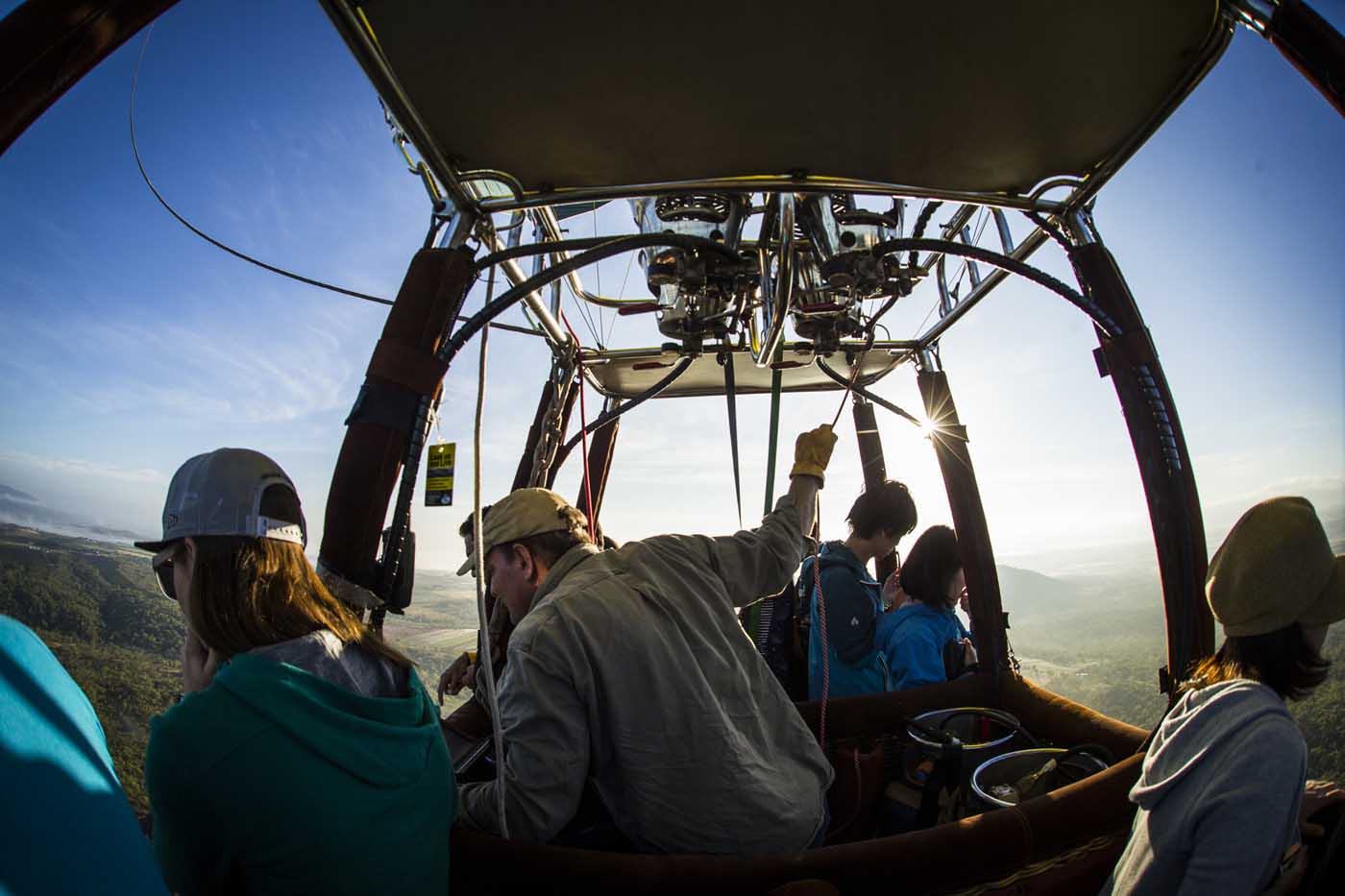 Hot air ballooning is a must!
This is one of those real 'once in a lifetime' type experiences. First things first however you have to set your alarm for a 3am wakeup – which is brutal. And credit where credit is due, it shows real maturity for a bunch of mountain bikers to go to bed early! However with the opportunity to float over the Atherton Tablelands at sunrise we all scraped ourselves out of bed and out of the house and into the car that morning. Now, ballooning is probably one of those things that you think the less adventurous do, that is until you are reminded that it's just some hot air, some parachute material and a fair amount of physics is involved. What could go wrong?
The key to a successful journey is no wind, not even enough for you to feel on your face. Thankfully we didn't get to see what happens when some proper weather came on through, but after the pre flight check including being told that Bardso's camera bag was going to make us too heavy to get off the ground, up we went. The pilot had it dialed, floating us up so we just grazed the sunflower fields to end up high enough to see the entire tablelands. Breathtaking, serene and SO BLOODY HIGH.
Raging Thunder has been flying hot air balloons in the Cairns region since 1993 and they seem to know the Tablelands like the back of their hand. We drifted over a reserve full of granite and rock wallabies, and low enough over a mango plantation to be able to pick them – if I was actually ever in Cairns for mango season!! The landing is quite something, going back to that hi tech system of hot air means that there aren't any actual brakes, and every single flight ends with a crash landing. Luckily the team in charge is well experienced and you'll be back on the ground safe and sound before you know it. We highly, highly recommend booking a hot air ballooning experience when you're up in Cairns.

Feed a croc!
Hartley's Crocodile Adventures is a seriously awesome place to visit. Just a quick 30 minute drive from the centre of Cairns, it's a great way to spend a day off or fill in an afternoon when the weather isn't ideal to ride. This is how we chose to spend one of our afternoons, wandering around seeing all of the things that might maim you in Australia from the safety of a nice big boat.
Hartley's has been operating in one way or another for over 80 years and has even had Prince Charles pop in. In its current formation it has a bunch of crocodiles that you can see being fed and many of Australia's iconic native animals, including some vicious paddy melons.
Even if you are from Australia, seeing crocodiles that close up is definitely exhilarating (and a little intimidating), and indicates quite clearly why these animals have survived so long with little change in their evolution. If you haven't managed to scare yourself enough on the trails around Cairns, Hartley's is a good place to hit up! You can even balance it out with a good old koala cuddle.
Story: Jaclyn Schapel Photos: Tim Bardsley-Smith